These easy SPICY CARROT REFRIGERATOR PICKLES will satisfy your hot pickle craving! They're the perfect addition to a party hors d'oeuvres tray and great for snacking too!
If you give me a choice of sweet or salty, I'm going to pick salty 90% of the time. The same goes for mild or spicy. I like my food with a little kick.
And I'm pretty much addicted to pickles.
If you love pickles, you might want to also try my Spicy Pickled Red Onions or Pickled Shallots.
I actually made these spicy carrot refrigerator pickles several times last summer but never got around to taking pictures or putting them on the blog.
Spicy Carrot Refrigerator Pickles
If you're looking for easy pickles to make, refrigerator pickles are the way to go. I like hot spicy pickles so that is what I usually make.
Here's what you are going to do.
Combine your water, vinegar, and sugar in a sauce pot and cook over medium heat, until the sugar is dissolved.
Remove from heat and let it sit while you're cutting your carrots, garlics, and jalapenos.
Add your garlic to the vinegar mixture and your carrots, jalapenos and cilantro into your storage jars.
Pour your vinegar into the jars, and let it sit until the liquid has cooled. Once it has cooled, you can go ahead and put it in the refrigerator.
I told you this was an easy pickles recipe!
Your pickles will keep for about a week…if they last that long! Ours never do!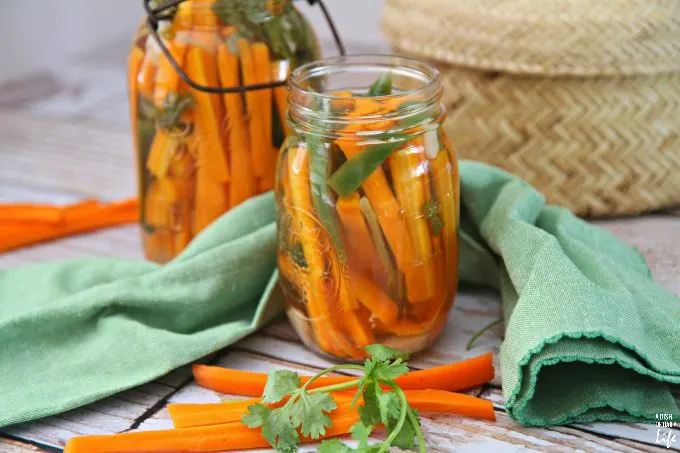 Ready for your Mexican carrots recipe?!
Spicy Carrot Refrigerator Pickles
Ingredients
2 lbs of carrots, peeled and chopped
1 1/2 cups of water
3 cups of white vinegar
1 cup of granuated sugar
6 cloves of garlic, peeled and cut into rounds
2 -3 jalapeno peppers, cut in half or fourths and seeded
one bunch of cilantro
Instructions
Add water, vinegar and sugar to a sauce pot. Cook over medium heat until sugar is dissolved. Mix with a whisk.
Remove from heat and set aside.
Peel garlic, chop into rounds and add to vinegar mixture.
Chop your carrots into lengthwise pieces; cut and seed jalapeno peppers as well.
Add carrots, cilantro and jalapenos to storage jars.
Pour vinegar mixture into jars.
Keep at room temperature until cooled; then store in your refrigerator in an airtight container.
Notes
They'll be ready to eat after about an hour or so, but they'll taste even better if you let them sit overnight. You should eat these within a week.
Nutrition Information:
Serving Size:

1
Amount Per Serving:
Calories:

2442
Total Fat:

9g
Saturated Fat:

1g
Sodium:

5322mg
Carbohydrates:

571g
Sugar:

258g
Protein:

63g
Have you ever made refrigerator pickles? I hope you love this spicy carrot refrigerator pickles recipe as much as we do!