Disclosure: Thank you to Arla Dofino for sponsoring my Spinach, Roasted Pepper, and Havarti Quiche recipe. All opinions are my own.
This delicious Spinach and Roasted Pepper Quiche with Arla Dofino Havarti is perfect for a holiday breakfast or brunch!
Weekends and holidays are the only time we ever really make breakfast. Our mornings are always rushed.
On weekend mornings, my husband, usually takes over the kitchen, and makes pancakes.
But the holidays call for something a little more special.
We usually have a packed house over the holidays. My husband has four siblings, and there are eleven cousins. I love those big family breakfasts when everyone is here. It's nice to be able to actually sit down and enjoy each other's company, without having to rush off somewhere.
My father in law, when he was still with us, was known for his frittatas, which we would all line up for. He was an amazing cook. But making frittatas means standing over a hot stove. Quiches are easy. Once they're assembled, you simply put them in the oven and wait. Personally, I'm going to pick easy this year.
Spinach and roasted peppers is one of my favorite combinations, probably because they're two of my favorite vegetables.
I start out by combining my eggs and light cream with a little salt and pepper in the food processor. A few whirrs around, and they're ready to go.
I sauté a chopped onion, and then layer the spinach, onion, and roasted red peppers on the bottom layer of the pie crust. You'll want to pat those roasted red peppers dry before they go into the pie shell…you really don't want the extra liquid.
Then I add the grated cheese, and the eggs get poured on top. Just a quick tip on grating the cheese…cheese (and especially soft cheeses like this creamy Havarti) is easier to grate if you put it in the freezer for 20-30 minutes beforehand.
Pop your quiche in the oven for 40-45 minutes, until the egg has set. Easy peasy. No standing over a hot stove.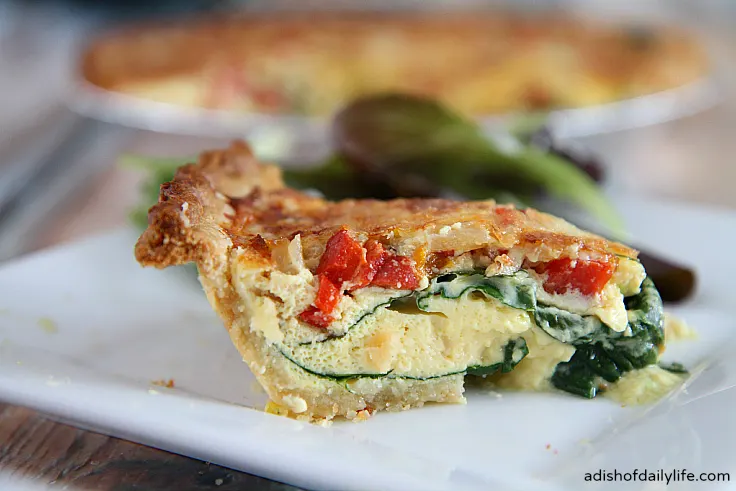 In my opinion, no quiche is complete without cheese.
Arla Dofino offers a variety of delicious family-friendly cheeses, such as Havarti, Gouda, Edam, Muenster and Fontina. I've purchased their cheeses many times from the deli section at my local grocery store, and I love them all. Their cheeses are free of added hormones and preservatives, and this is something I consider important when I am planning our menu.
Ready for the recipe?
Just one more quick note…you may have noticed that there were two quiches in one of the pictures above. I actually also made a delicious sausage and spinach quiche as well. If you're cooking for a crowd like I am, you may want to have on hand a couple different options. For the spinach and sausage version, I simply took out the roasted red peppers and added some sausage. I included the actual quantities in the notes section of the recipe, so if you'd like to change it up, you can.

Yield: 8
Spinach, Roasted Peppers and Havarti Quiche
Ingredients
1 pie crust
6 eggs
3/4 cup light cream
2 cups spinach
1 small onion, chopped
3/4 cup roasted peppers, chopped, pat dry of extra liquid before adding to the pie crust
1 1/2 cups Arla Dofino Havarti cheese
Salt and pepper
Instructions
Preheat your oven to 375 degrees.
In your food processor, blend together the eggs and light cream, along with a few grinds of salt and pepper.
Sauté your onion in a little bit of oil, until translucent.
Layer your spinach at the bottom of the pie crust, and then add the onion and roasted peppers.
Top with cheese.
Pour your egg mixture over the top.
Bake for 40-45 minutes.
Notes
To make a Sausage, Spinach, and Havarti Quiche:
Brown 1/2 lb of sweet Italian sausage, breaking it up into "crumbles" as you cook it. Once the sausage starts to brown, add in your chopped onion.
Drain on paper towels before adding it to the quiche.
Layer the sausage and onion mixture on top of the spinach.
The rest of the instructions are the same!
Happy Holidays!