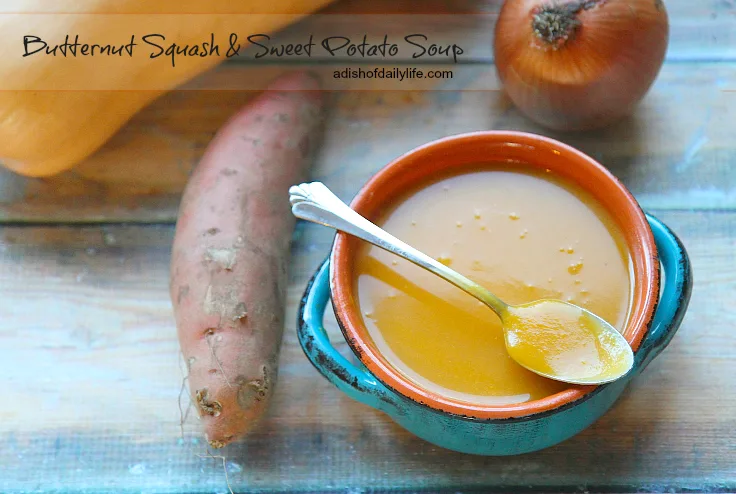 I stocked up on butternut squash at our final CSA sale. I didn't get as much as I would have liked though because I'm kind of nervous about long term vegetable storage. I'm not storing at the ideal temperature right now, although I do have it in dark storage.
The garage is supposed to be excellent for storage, but I can't really keep my vegetables there because we have a cat door, and other animals can get in if they try. The last thing I need is wildlife in my garage getting into my veggies. Now, if we had room to put an old dresser out there that might work, but our garage is pretty cramped as it is, and what little space we do have is taken up by fire wood.
So the next best space is our mudroom near the electronic dog door. The dogs go in and out all day, letting cold air into that room. It's one of the colder rooms in the house. So, that's where it's all being stored right now in a dark bin.
Butternut squash soup is one of my favorites this time of year, and quite honestly, I usually wing it, because it's pretty hard to mess up. Butternut squash, a couple Granny Smith apples, some chicken or vegetable broth, and a little seasoning, and you're good to go.
The other night we tried something a little different though. We had homemade chicken broth that we'd made the night before, but we didn't have any Granny Smith apples. We did have sweet potatoes and apple cider. We threw together this simple butternut squash and sweet potato soup with what we had in the house, and it came out so good, we'll definitely be making it again.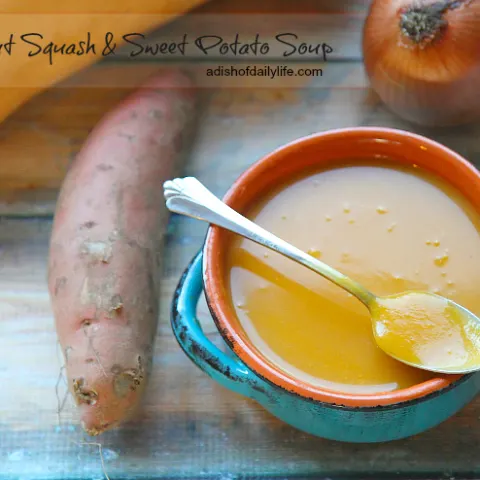 Butternut Squash and Sweet Potato Soup
Ingredients
6 cups broth (we usually make our own chicken broth, but you can also use vegetable broth)
1/2 cup onion, chopped (1 small onion)
3 tablespoons of butter, for sautéing
2 1/2 cups of butternut squash, peeled and cubed (1 medium butternut squash)
2/3 cup sweet potato, peeled and cubed (1 medium sweet potato)
1 1/2 cups apple cider
Salt and pepper
Instructions
Melt butter in stock pot.
Add onion, and sauté until soft.
Add broth, butternut squash, sweet potato, and apple cider to pot, and bring to a boil.
Lower to heat to a simmer, and cook until squash and sweet potato are soft.
Puree with blender.
Season with salt and pepper.
Notes
This recipe can easily be adapted to be vegetarian by using vegetable broth, or vegan by using an olive oil or another light oil as an alternative to butter.