The perfect filling for lettuce wraps, this no fuss slow cooker sweet and spicy chicken with beans is also gluten free and can be made paleo too.
Hi, it's Kristen from A Mind "Full" Mom, joining you here on Michelle's blog again.
To me just about nothing beats Mexican food. I love the how creative you can be with the recipes and there are endless combinations of ways to create a fiesta for your taste buds.
If you tell me that I can have easy Mexican that can be made without heating up my kitchen and is friendly to my waistline but still filling–I am doing a happy dance.
And if you peeked into my kitchen right now, I am doing a happy dance.
You see, I have created the ULTIMATE Mexican dish: Sweet and Spicy Pineapple Chicken Lettuce Wraps
That may sound odd, throwing pineapple into a savory main course, but think of how well apples work with pork. Fruit lends itself well to many cuts of meat. And who doesn't love to drink a fruity Pina Colada to wash down their spicy Mexican? I sure do!
So let me introduce you to the one of the easiest, most flavorful dishes that will ever grace your dinner table.
The Key Players: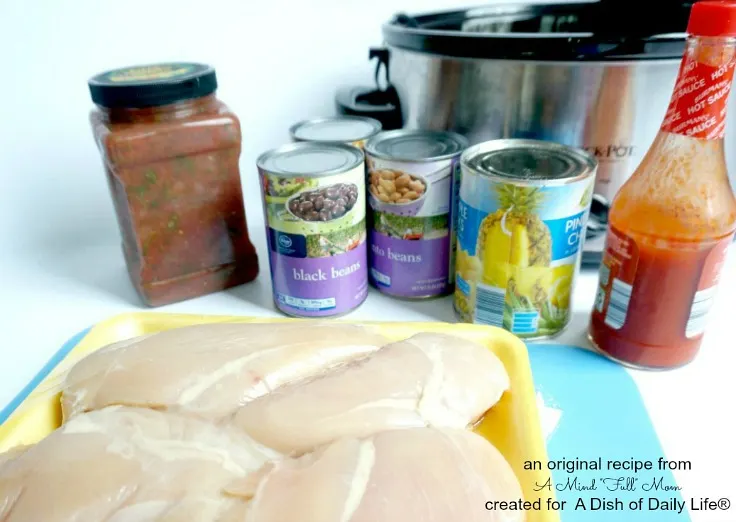 Chicken
Beans (any variety)
Salsa (your favorite)
Hot Sauce
Diced pineapple in 100% juice
The Procedure:
Throw into slow-cooker with a few spices and stir. Set it and FORGET about it!!
The Result:
There you have it! To truly make this dish something worth inviting your friends over and throwing a Fiesta for, set out toppings and lettuce cups for a make your own Sweet and Spicy Pineapple Chicken Lettuce Wrap Party.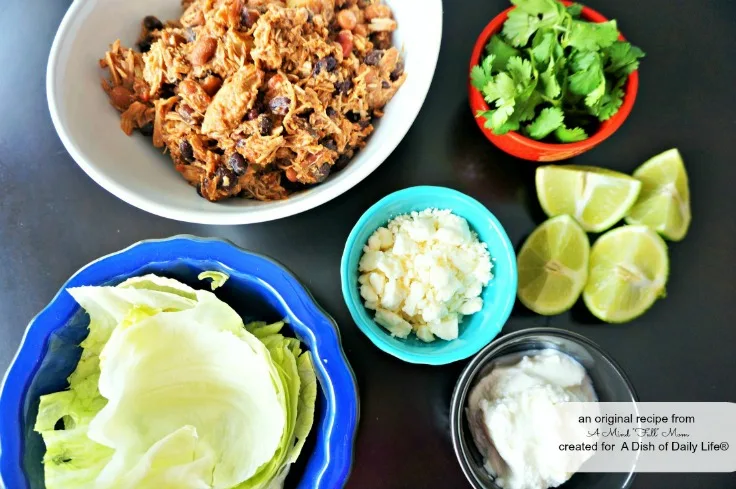 The Problem:
Your friends may ALWAYS ask you to host the parties from now on. This dish is something they will remember and want to repeat!
So grab a few things you probably already have on hand and let your slow cooker work for you. When your friends ask what they can bring, suggest the toppings for the lettuce wraps. Then go sit by the pool and fool everyone into thinking you worked like a dog to get a delicious dinner on the table. It will be our little secret.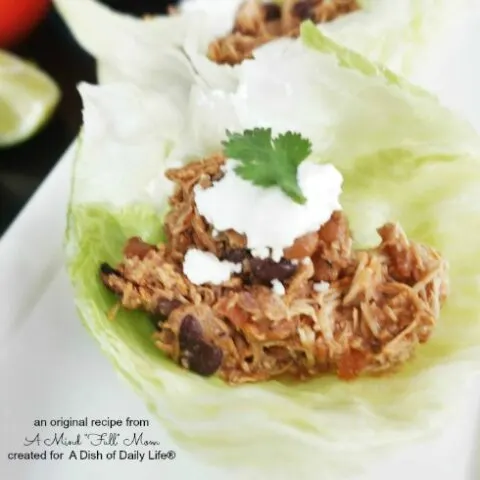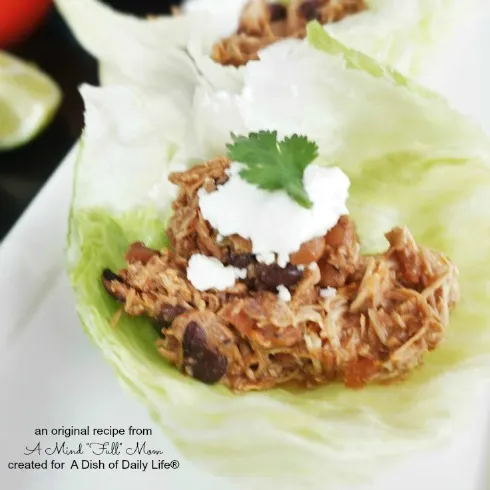 Slow Cooker Sweet and Spicy Pineapple Chicken Lettuce Wraps
Total Time:
8 hours
5 minutes
Ingredients
3 pounds chicken
3 cans (or 6 cups) beans, rinsed and drained--I used a combination of black beans and pinto beans
1/4 cup hot sauce
1 (20 ounce) can pineapple tidbits or chunks in 100% juice (Do NOT drain juice)
1 cup salsa
1 tablespoon cumin
1 tablespoon minced garlic (or 2 teaspoons garlic powder)
1 teaspoon salt (if your salsa is not high in salt)
To Serve:
-1 head iceberg lettuce, cut into fourths and then leaves sectioned apart
-1 bunch of cilantro, chopped
-2 limes for squeezing juice over wraps
-shredded cheddar cheese or crumbled queso fresco or feta
-plain Greek yogurt or sour cream
Instructions
Place all ingredients in slow cooker and stir. Cook on low for 8-10 hours or on high 4-5 hours.
Shred chicken with a fork.
Serve on lettuce wraps with desired toppings.
Notes
To make this recipe Paleo, simply omit the beans and add a half pound more of meat.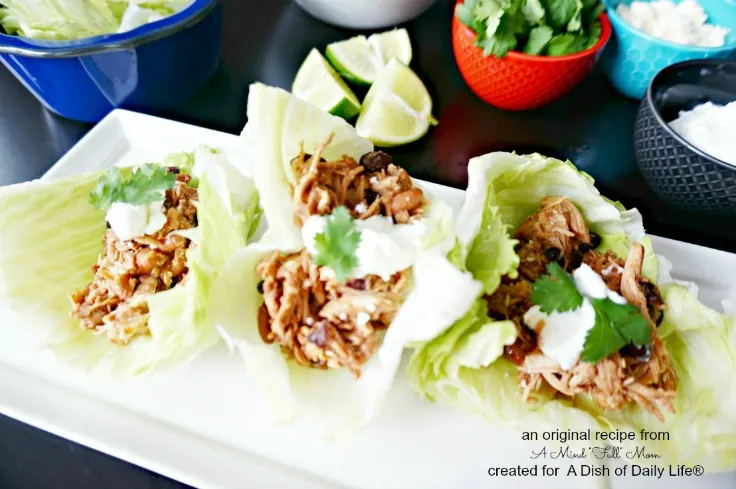 This chicken is also great topped on potatoes, on tortillas, on taco shells, for nachos, on rice or quinoa or even as a taco salad.