Spicy buffalo sauce meets creamy muenster in this delicious finger licking gourmet grilled cheese recipe!
I love a good gourmet grilled cheese recipe.
I've been known to use leftovers from my Four Cheese Roasted Garlic Bread (if I am lucky enough to have any) to create a gourmet grilled cheese. Spread a little honey mustard on, some turkey, and greens, cook it over low heat for a few minutes, and you have a really yummy sandwich. Then there was my Turkey Club Havarti Grilled Cheese…another delicious option!
This time we're going the buffalo chicken route. Have I told you yet how much I love that buffalo sauce flavor?!
I actually eat buffalo chicken grilled cheese sandwiches almost every Thursday. That's the one day of the week I go down to our local coffee shop, park myself at a table, and treat myself to a sandwich for lunch while I work. It's gotten to the point where they know exactly what I am going to order.
The other weekend I decided to make my own at home…because one day a week isn't possibly enough. (I really wasn't kidding about my buffalo chicken obsession.)
Gourmet Grilled Cheese Recipe: Buffalo Chicken Grilled Cheese Sandwiches
I used some leftover chicken that we had (this is an excellent way to use up leftovers), but you could also use a rotisserie chicken.
I make a yummy Buffalo Chicken Dip and used that sauce as the base for some cut up chicken. I then added some Muenster cheese, buttered my bread and cooked it over low heat, waiting for the cheese to get nice and gooey.
Doesn't it look finger licking good?!
This is a simple gourmet grilled cheese recipe that can easily be adapted to make for a crowd, or just for one person.
I actually made several of these yummy buffalo chicken grilled cheese sandwiches, since there were a few of us home at the time. Lucky I did too, because I walked out of the room for just a second, and one of our dogs stole my sandwich. I was not a happy camper. I might have lost it just a little. Don't get between me and my grilled cheese.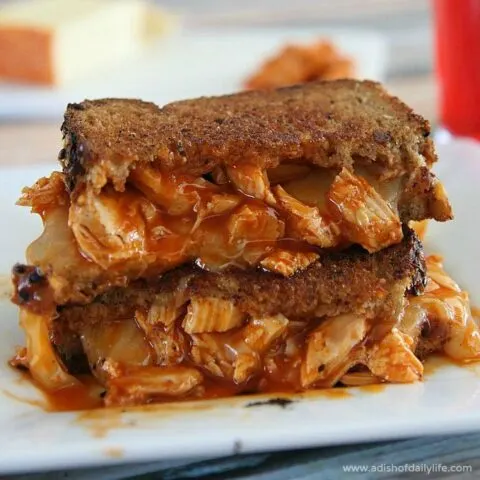 Buffalo Chicken Grilled Cheese Sandwiches.
Ingredients
1 bottle of buffalo wing sauce (I use Texas Pete's most of the time)
1/4 cup honey
1 lb cooked chicken, cut into chunks (you could also use rotisserie chicken)
8 oz of Muenster cheese (2 oz per sandwich)
8 slices of good quality bread
butter
Instructions
Add the honey and buffalo wing sauce to a .saucepot and heat until bubbly. Add chicken and stir to mix.
Butter both sides of your bread.
Place your cheese slices on one side of the bread,
Add chicken pieces in buffalo sauce over the top.
Cover with your other piece of bread.
Add your sandwich to pan; cook on low until bread browns and cheese melts, about 2-3 minutes each side.
Notes
Cook time is approximately 5 minutes for one sandwich. My recipe cook time reflects using a large enough pan to cook 2 sandwiches at a time.

I usually put a lid on my pan to help the melting process.
What is your favorite gourmet grilled cheese recipe? Or do you prefer the traditional grilled cheese?