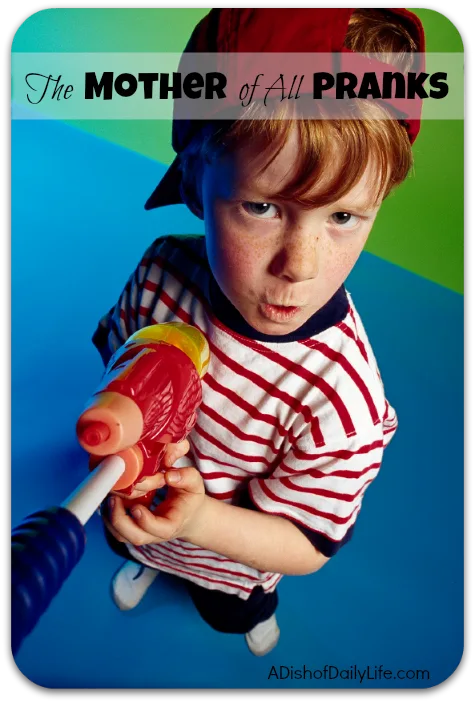 Remember that old song "Snips and snails, and puppy dog tails…that's what little boys are made of?" Little boys are very different from little girls. My boys were always into something…the dirtier the better. They thought nothing of wearing the same clothes to bed that they'd played in all day, or even wearing the same clothes to school two days in a row. Apparently I wasn't always the most observant mother in the mornings. I'm not a morning person. Please don't judge. They're clean boys now. I promise.
But back in the day, there was a definite grossness factor. The first time my oldest son went to sleep away camp, I made the mistake of asking him afterwards if he'd brushed his teeth. He looked as though he had to think about it and then said, "Yes, we (as in he and his roommate) brushed our teeth the first day." I didn't even ask my second son when he went to his first sleep away camp. I didn't want to know.
They found great amusement in whoopee cushions and farting. And at one point, my oldest decided it would be easier to pee in the trash can in his room than actually go to the bathroom. You can just imagine my reaction! When I told my mother in law about it, she informed me I'd better nip that in the bud right away because my husband and his brother did that for a week before she caught them. When I asked my husband about it, he just laughed and said the trash can actually rusted.
But I have a mother of all prank stories…and it's a doozy. I'm sure this is one my boys will be telling their boys at some point, as their wives cringe all the while thinking "please don't let this give our boys any ideas!" It's really quite disgusting, but at the same time, it's pretty funny too. If you want to hear the rest of the story, come visit me over The Mother of All Meltdowns' blog. I promise, you won't be disappointed.
Speaking of Mom meltdown stories, check out our new book!
Here's an excerpt from my story, Take Two Meltdowns and Call Me in the Morning:
The day that my world turned upside down started out like any other day. My preschool-age daughter has a friend over, and they were eating macaroni and cheese on the back porch. My youngest son, who was a little over one at the time, had eaten his lunch inside the kitchen, where I was, and just kind of toddling around the room. And then all of the sudden, he wasn't toddling around the room. He was on the floor, turning blue, and foaming at the mouth. His eyes rolled back; I thought he was choking. He passed out. Everything I learned in infant CPR slipped away. I had NO idea what to do. Panicked, I called 911. Fortunately he started breathing again on his own before the paramedics arrived, since it took them forever! Actually, it was only fifteen or twenty minutes, but when something like this happens, every minute seems like an eternity. So, he wasn't choking after all. But the paramedics had no idea what had happened so they wanted to transport him to the hospital. My husband couldn't understand why I hadn't just put our son in the car and run to the hospital myself, since it's literally five minutes from our house. But it's hard to explain how paralyzed I was. I was in panic mode. I couldn't think. I couldn't act.
Honestly, the rest of that first day was a blur. I don't remember much other than the picture of him I have in my mind, lying on the ground, turning blue. That image will be imprinted in my mind forever.
Linking up with the Friendly Friday Blog Hop!