White Bean Chicken Chili is a healthy and delicious easy weeknight meal, but it's also perfect for game day. Guaranteed to be a hit with kids and adults alike!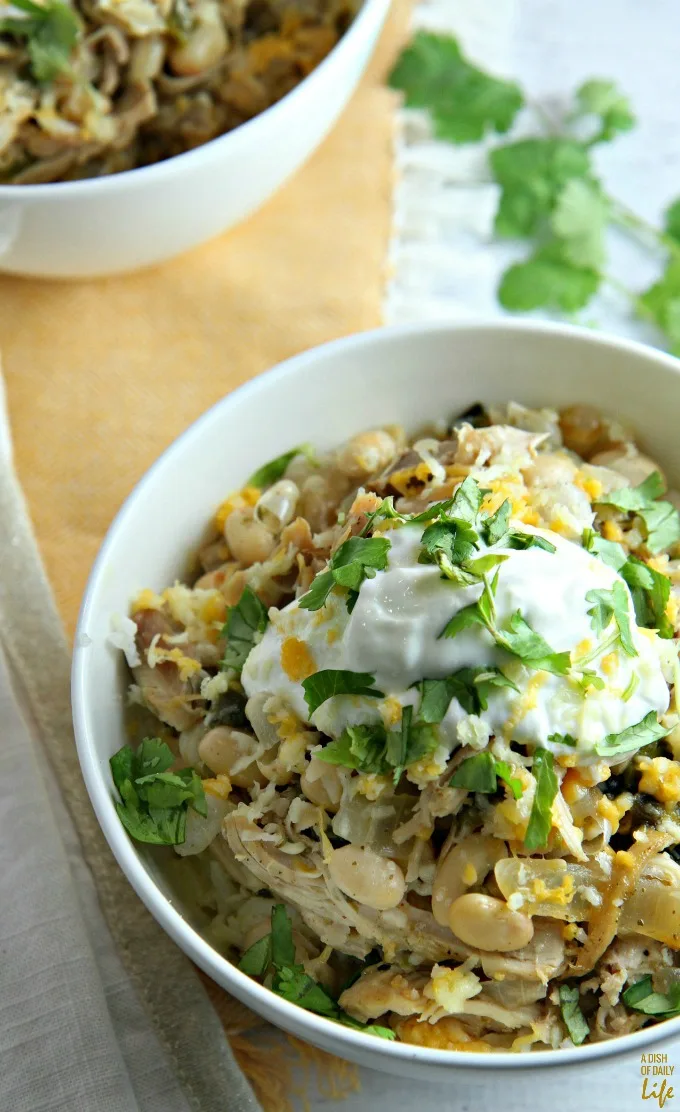 White Bean Chicken Chili
There is nothing better than chili on a cold winter day.
I don't know about you, but I crave chili when the temperatures drop. It's comfort food at it's finest. But unlike other comfort foods, this one could help you drop a few pounds.
There are some great health benefits to cooking with beans, including helping promote weight loss. If eating healthier and losing weight was part of your New Year's resolutions, then you'll love this recipe even more.
Other than the fact that it is healthy, I love how easy of a meal this white bean chicken chili is for me to put together.
I love to cook. But our weeknights are usually so hectic with the kids' sports schedules that most nights I don't have much time to spend in the kitchen. Quick and easy meals are crucial for us, but I'm not willing to sacrifice healthy options for convenience. This White Bean Chicken Chili comes together fast…it's perfect for a family that is constantly on the go. I can prep it ahead of time and have it ready to go in about a half hour. And best of all, it gets a thumbs up from all of the kids!
It's also the perfect dish for game day. Who wants to spend all day in the kitchen when you can make a big pot of white bean chicken chili to feed the crowd?! Adults and kids alike will love this recipe.
Often times I buy a rotisserie chicken to use in this dish, but since I tend to use shredded chicken in a lot of my recipes, I think I am going to start buying my chicken in larger packages and using this handy little time saving trick I saw over at The Pinning Mama for shredding my chicken, and then freeze dinner size portions to pull out as I need it.
To put this White Bean Chicken Chili together, you'll start by roasting your Anaheim chiles. Flip them half way through to blacken on both sides. Once blackened, peel skin, remove seeds, and chop roughly.
Saute your onion and garlic until the onion turns translucent. Add the oregano, cumin and chili powder and saute for another minute or so. Then it's time to add the chicken broth, shredded chicken, white beans, and chopped Anaheim chiles. Bring to boil, lower heat, and simmer for about 25-30 minutes. While your chili is cooking, cook your rice. Your chili will be served over the rice.
You can also change the recipe to meet your needs. Want your chili a little spicier? Use poblano chiles instead of Anaheim chiles. You can also turn up the heat by using a spicier chili powder.
Allergic to dairy? Skip the sour cream and shredded cheese.
Hate the taste of cilantro? Use parsley instead.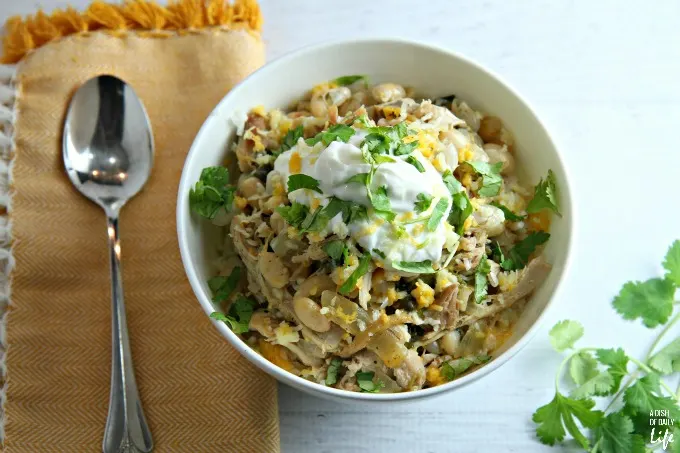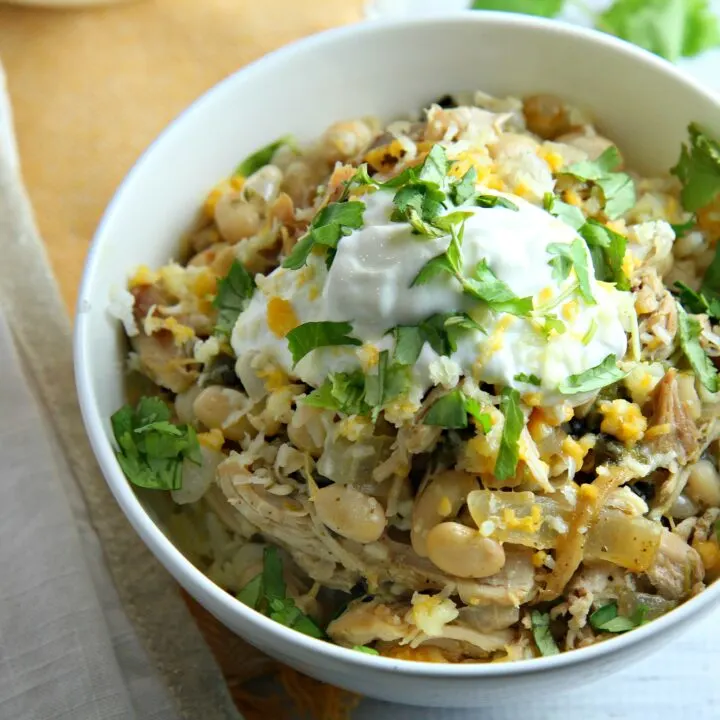 White Bean Chicken Chili
White Bean Chicken Chili is perfect for a chilly evening!
Ingredients
1 small white or yellow onion, chopped
4 cloves garlic, crushed
3 tablespoons olive oil to saute
1 tsp dried oregano
1 tsp cumin
1/2 tsp chili powder
8 cups chicken broth
4 cups shredded chicken from cooked chicken
2 15.5 oz cans white beans, rinsed
3-4 Anaheim chiles, roasted, peeled and chopped
1.5 cups rice, prepare according to package directions
handful of chopped cilantro
salt and pepper to taste
shredded cheese (optional)
sour cream (optional)
Instructions
Roast the two chiles in the oven at high heat until blackened. Peel blackened skin and chop, remove seeds.
Sauté onion and crushed garlic in olive oil until onion is translucent. Add oregano, cumin and chili powder; sauté for another minute or so. Add chicken broth, shredded chicken, white beans, and chopped Anaheim chiles. Bring to boil, lower heat, and simmer for about 25-30 minutes.
Serve over rice.
Top with shredded cheddar cheese, cilantro, and sour cream.
Note: This post was originally written in March 2014 but has been updated with new photos.