The nice thing about #AskAwayFriday is getting to know your blog friends better. Maybe you have a picture of them in your mind because of something they wrote. But when you get to ask the questions, you learn so much more about a person!
I honestly can't remember how I met Tiffany. Maybe it was through the SITS Girls, maybe it was through Twitter. But one thing I do know is she has been a loyal online friend for the entire time I have known her.
She is a mom to six, ranging in age from preschool all the way to almost 20! I thought my schedule was crazy, but Tiffany is one busy mom! Reading her schedule is mind boggling. I hope you'll go over to her blog and see how she answered my questions too — you just might make a new friend while you're there!
Here's what Tiffany wanted to know:
I just read your post about the 2 reasons to include the date within your URL. I am so glad I did! I was going back and forth on whether to do this. I agree with you and have made the switch. How do you come up with the ideas for you Blog Tips? Do you go by things you learned or what you feel may be a popular question at the time?
I probably should pay more attention as to what is a popular topic at the time for SEO purposes. I tend to pick topics that are of interest to me at the time. Yesterday's post was about Canva, a new online graphic design tool that I just discovered and I am in love with!
So, I just grabbed my copy of The Mother Of All Meltdowns and I am hooked! Do you plan on writing a book as a solo author? If so, what genre would it be?
I never planned on being published in a book, period! I was quite nervous that I wasn't a good enough writer to be a part of it. Then I was nervous because my story was one of the few that wasn't funny. But I am very thankful to Crystal Ponti from Mommifried, who was our organizer, publisher, and grand master of it all, for asking me to be a part of the group!
For those of you who haven't read it, the Kindle version is on sale for 99 cents at Amazon right now! The link on my sidebar will take you there. And if you want a print copy, it's on sale at Create Space.
On a typical day, what is your favorite time to take a moment for Michelle? If you don't get that what would it be and what would you do?
Me time? Does time sitting at practices waiting for kids count?
My run is usually my "me time." I also like to read before bed. Right now I am reading A Lady in France by Jennie Goutet who blogs at A Lady in France. It's a wonderful book…I highly recommend it. It's hard to put down!
You're a sports mom. I am a band mom. Both require a lot of commitment from us and our Kids. What do you think is the biggest reason to encourage children to participate in extracurricular activities?
I think it's important for kids to be part of something that is bigger than themselves, meaning that it's not just about them. There is something about being part of a team. You play for the team as much as you play for yourself.
Super Fan Moment: I love your Blog and think you are a great example of what a great Blogger is. What piece of advice would you offer a Mom who is trying to make a splash in Bloggerville?
What a nice thing to say…thank you! When I first started blogging, I had no idea what I was doing. When I discovered the SITS Girls, I met some very kind people who made me feel like I belonged. And then I got to meet a few of them in real life as well!
I simply try to pay it forward the same way they did with me. I would tell anyone to do the same. If someone helps you, find someone else to help. Be genuine. What comes around goes around.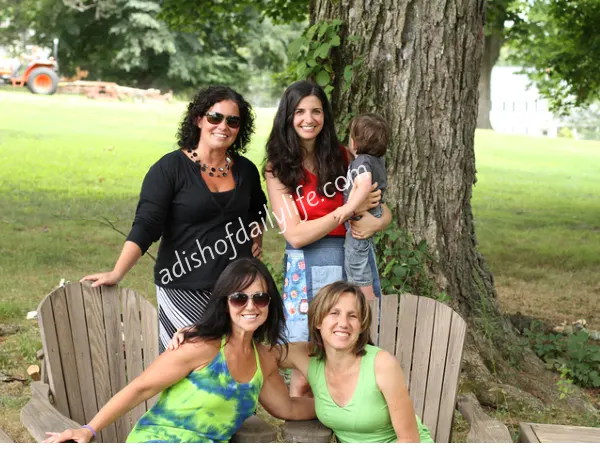 What is your favorite 'Sweet Tooth' indulgence?
I guess I would say my daughter's chocolate chip cookies. She makes amazing cookies.
But if you really want to send a treat my way, I love Rick's Picks pickles! I pretty much like pickled anything…Mean Beans, Smokra, and bee 'n' beez are my Rick's Picks favorites, but you could pretty much give me anything but the Hotties, and I'd be deliriously happy.
When on a long road trip do you prefer to ride or drive?
I don't mind driving, but if I am with my husband, I prefer to ride (and take naps). I have a hard time staying awake if he's driving. The movement of the car lulls me to sleep.
When is the last time you had an adventure? What was it and what made it one?
Traveling with Steph from So, I've Been Thinking always turns out to be an adventure. Steph lives in the same town as me; our boys went to preschool together, and they're still friends.
We went to two blog conferences together last year. The first one we almost missed our flight on the way there, because we were running late and then hit a ton of traffic. Steph could probably drive a race car, she is so good at defensive driving.
Then on the way home, we were really early to the airport and we almost missed our flight again! Since we had all that extra time, we sat down and had lunch and lost track of time. We literally were running in as they were closing the doors!
We must be completely jinxed though, or we're just really bad (or perhaps distracted) travel companions. The next time we travelled together, we got to the airport in plenty of time, and our flight was delayed for hours. We missed our connecting flight and had to stay overnight in another state and catch a different flight in the morning, which is another story in itself. But going back to the delayed flight…we lost track of time once again, and almost missed yet another flight.
Are you starting to see a pattern here?
If you could be anywhere in the world at anytime in history where would you be?
I think I'd stay put, because I can't imagine changing my life. The whole concept of time travel makes me nervous, because one small thing could completely change history.
Signature Question: Are you on the Coffee Crew or Team Tea? What is your preferred hot beverage?
I didn't even drink coffee until the last year. But I am starting to like it. But I will go with tea, because I drink that a lot more often…mostly chamomile and green tea with honey.
If you enjoyed this post, you might also enjoy: