Canva is a free online graphic design tool. If you are looking for a quick and easy way to make graphics for your website and blog, you'll want to check it out. It's a great program for beginners, but I think even a seasoned design professional will find Canva helpful. I just started using it about a week ago, but I can already tell you I am a huge fan! Here's why:
Template designs that allow you to create your graphics with ease
You have your choice of a variety of template designs for social media, blog graphics, presentations, posters, invitations, business cards, and more. You can also add and subtract elements to make each template uniquely your own! There is also a custom option, which is what I tend to use for my designs.
Here's a screenshot of a few blog templates.
Tons of great design element options
One of my favorite things about this program is all the design elements available. With simple search and drag and drop functionality, graphic design is easy! Here's what you can expect:
Many of the options are different from what you see in other programs, which means your graphic won't look like everyone else's.
Personally I love all the options that are available to me here. I could play with my design in this section for hours!
Numerous background choices
For the graphics I have created so far, I have used both premium images and my own, but there are also great free background papers available as well.
Many of these are free, and the premium images (think stock photos) are only a dollar. I was given the option to purchase 11 images for $10 when I paid for my first premium image.
I use stock images on occasion so I love having this reasonably priced option. There's no need to download the photo and bring it in from another program…you can do everything right in Canva! I used one of their premium images in this post as well as in my Money Saving Tips for College post.
You can try out multiple images as you are designing…you don't actually pay until you are ready to download. One thing I did not like is that you can't use the premium image in more than one Canva design. If I am designing a blog graphic but want to use the same graphic to make the featured image which shows to the side of my post on my blog, I have to buy the image a second time.
Ability to upload your own images
You can upload any of your own images from your computer and Facebook. Canva will save your images in your account for future use as well. This can be a big timesaver if you have images that you want to use more than once. This feature has proven to be quite helpful to me already.
Easy Customization
You can customize any element in your design. Simply click on it to change the color, bring it forward or send it backward, change the transparency, or even add a link!
Collaboration Options
Canva also makes it easy to collaborate and share with others. You can share your design on Facebook and Twitter, or even email a link to your design to someone else. You also have the option of allowing anyone with the link to edit your design, which is helpful when you're working with a team on a project.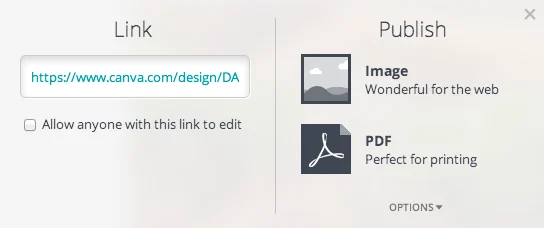 Canva Saves Your Designs
Need to make a change to your design later? Canva saves your designs right in your account, so you can come back to them and make any changes you need to make. Can I tell you how much I love this feature?! It's so nice to be able to go back and tweak your designs later.
I have to say I am pretty much hooked on Canva's graphic design tool. There are, however, a few things I do wish I could do…photo editing for one! I also wish there was an alignment tool, and an eye dropper option for matching colors. I am sure if I really sat down and thought about it, I could come up with more. But those are the things that jumped out at me right away. However, given the fact that Canva is still in beta, I would guess we're going to see a lot more features rolled out down the road.
Would you like to see the graphics I designed using Canva? Check out these two posts and tell me what you think!
Have you tried Canva's graphic design tool? What did you think?
Linking up with Doing You Well Wednesday, Wake Up Wednesday Linky Party, Pin It Party – Week 40, Something Fabulous Wednesday, Weekend Blog Block Party, diy Sunday Showcase, Friday Flash Blog, Pin-It Party #36, Tatertots and Jello Link Party Palooza, Turn it Up Tuesday Linkup, February Monthly Review Linkup