Trade the traditional romaine lettuce for baby kale in this Baby Kale Caesar Salad with Homemade Garlic Croutons!
Ever since our CSA ended a few weeks ago, I've been in a little panic.
I love being able to pick up my share of local greens, and afterwards, I stop by the farmer's market to supplement for the week. Don't get me wrong, there are plenty of veggies in my CSA share, but we always go through it and then some. We do love our veggies here!
Thankfully, the farmer's market is going to continue on for a while longer! They're going to move inside for the winter.
Last week our CSA had their annual after-the-season sale. I went twice. I stopped at the farmer's market on the way home, as is my usual practice, and then when I got home, I started second guessing myself. Maybe I should have gotten more butternut squash or brussels sprouts. What if I didn't get enough beets?
My husband was laughing at me. But I wanted to stock up on the things that would last.
Of course kale isn't something I can store long term, but I did pick that up too.
And I made this delicious baby kale salad. I knew the kale would hold up to a heavier dressing, and I've been craving my father in law's caesar dressing lately. His recipe is one of our family favorites.
Of course, you can't have a good Caesar salad without croutons, and I won't buy the store-bought kind. Making your own takes a little more time, but it is so worth it!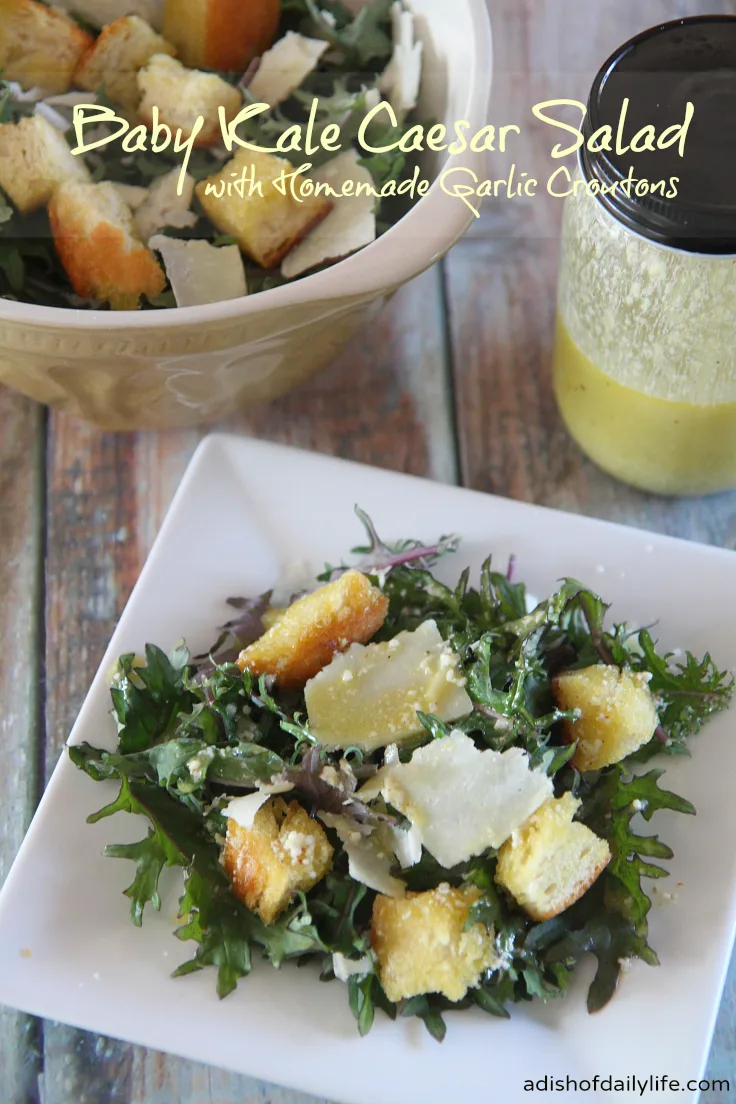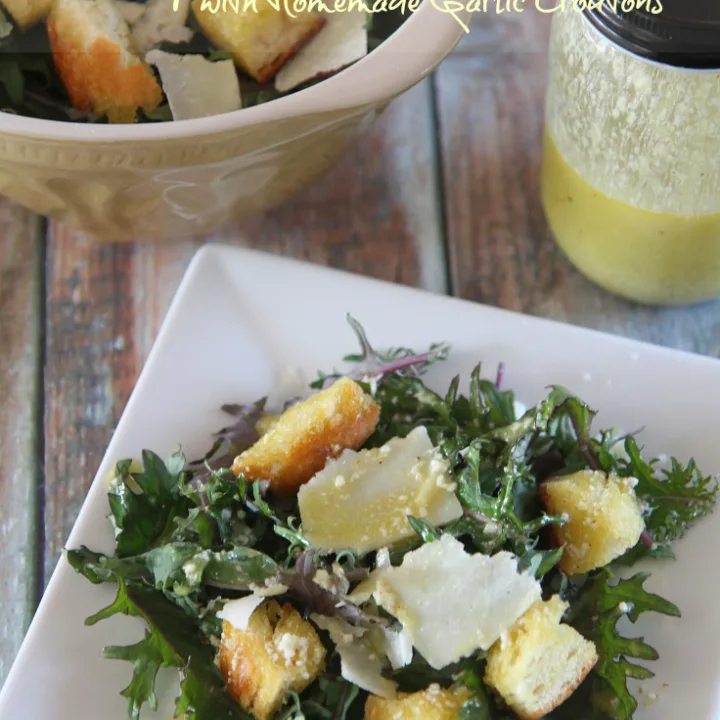 Baby Kale Caesar Salad with Homemade Garlic Croutons
Ingredients
Salad
4-5 cups baby kale
slivers of parmesan cheese for garnish
Homemade Garlic Croutons
Several slices of a crusty bread, cubed
1/4 cup olive oil
2 cloves of garlic, minced
Instructions
To make the Homemade Garlic Croutons
Cut a few slices of a crusty bread, and cube them.
Preheat your oven to 300 degrees.
Heat 1/4 cup olive oil on the stove in a saucepan.
Add in the two cloves of minced garlic and sauté until fragrant.
Remove from heat.
Add the bread cubes in and toss to coat.
Place on cookie sheet, making sure to keep the cubes separated, and bake in the oven for 10 minutes.
Let cool.
Salad
Divide your baby kale among 4 plates.
Garnish with slivers of parmesan cheese and croutons.
Drizzle with caesar dressing.