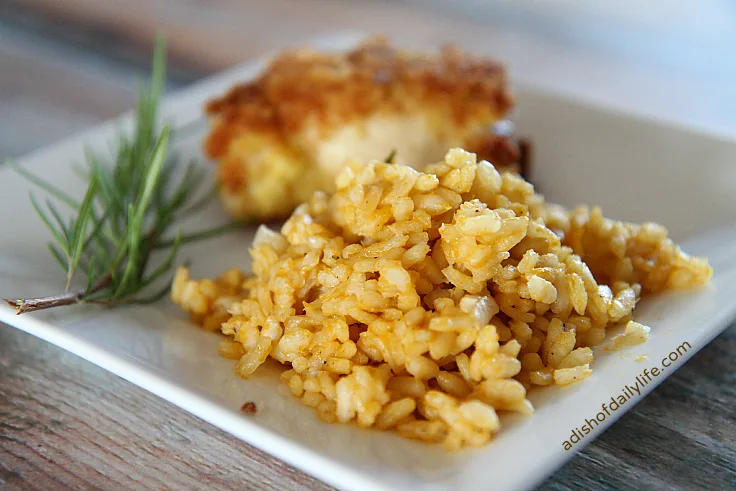 When I'm cooking for my family, I try to include more than one vegetable in our meal when I can. We all love our veggies here, so it's quite easy to do. Sometimes we have two vegetables with dinner, but other times it's a matter of a salad, or including them in a soup, or in the case of this risotto, adding them in as flavoring for the risotto.
A couple weeks ago I shared with you our newest favorite butternut squash soup. Today I thought I would share with you a way to use up some of the leftovers (if you have any!) to make this delicious and easy butternut squash and sweet potato risotto. Of course you don't have to use my soup recipe. You really could use any butternut squash soup.
I actually paired the risotto with my Stuffed Chicken with Goat Cheese and Caramelized Onions…it was a lovely combination. I believe we had roasted brussels sprouts with the dinner although I don't have them in the pictures here, because I took this picture early in the day before I roasted the brussels sprouts. With the natural light waning for me with the shorter winter days, I've struggled a little with my food photography.
Enjoy!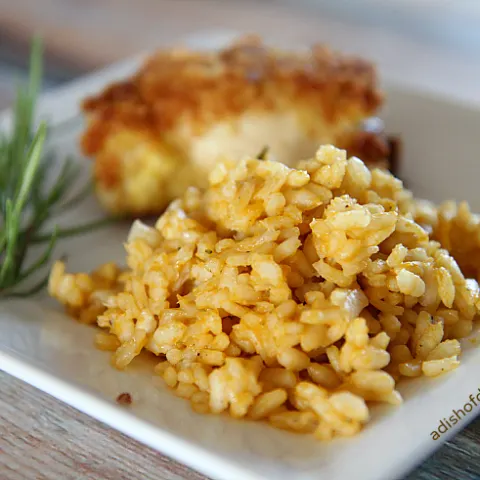 Butternut Squash Risotto
Instructions
Saute the onion until soft.
While you are sautéing the onion, heat your chicken broth.
Add your Aborio rice, and stir until a little white dot appears in the middle of the rice, about 1 minute.
Start adding your chicken broth slowly, in about 1/2 cup increments.
Add the sprig of rosemary now too.
Stir continuously. I keep the heat on low so the liquid doesn't disappear too fast.
Once the chicken broth is gone, you can start adding the soup the same way
You want your rice to be tender, but not crunchy when done.
Serve immediately.