Disclosure: I will be receiving a free Essio starter kit. Notice that I said "will be receiving." I already have one installed in my shower that I ordered and paid for, and am quite thrilled with…my daughter will be the lucky recipient of the one that is en route. I agreed to write this post for Essio after making my purchase, and Essio sent me another completely on their own. I am not receiving any other compensation for this review. The fact that I am receiving one anyway had no bearing on my review. I fell in love with this product completely on my own.
Experience zen and relaxation with Essio, the world's first aromatherapy device that turns your shower into a spa-like experience.
Relaxation is not one of my strengths.
I'm always on the go, running a million miles a minute, and between 3 kids, their sports schedules, the house, my blog and being a work at home mom, there's always more on my plate than I ever get done. In fact, one of my goals for 2015, is to prioritize and organize…and acknowledge (at least to myself) that I cannot do it all. But that's a discussion for another day.
But the fact of the matter is, I often start my day already stressed. I start thinking about all the things on my to-do list that I need to get done, and then the stress starts kicking in.
Recently, I discovered the benefits of aromatherapy. Essential oils actually have a therapeutic effect…they are calming, help lower stress levels, and even have beneficial effects on our immune and circulatory systems. All of this means big benefits for your mind and body.
Hello, where has this been all my life?! I have been needing something like this for the last ten years at least! I'm wondering why it took me so long to realize what a difference this could make in my life…better late than never though! My Essio has turned into a "morning routine must."
Now you can turn your shower into a spa-like aromatherapy experience with Essio. The Essio device attaches easily to any shower…it simply snaps into place and is ready to dispense aromatherapy right away. It literally takes about a minute to set it up. The essential oils are dispensed through disposable pods that you tilt downward into the water stream when you're ready to use them, or upward when not in use (see below). Easy peasy.
[Tweet "Turn your shower into a spa experience with @essioshower! It's a morning routine must!"]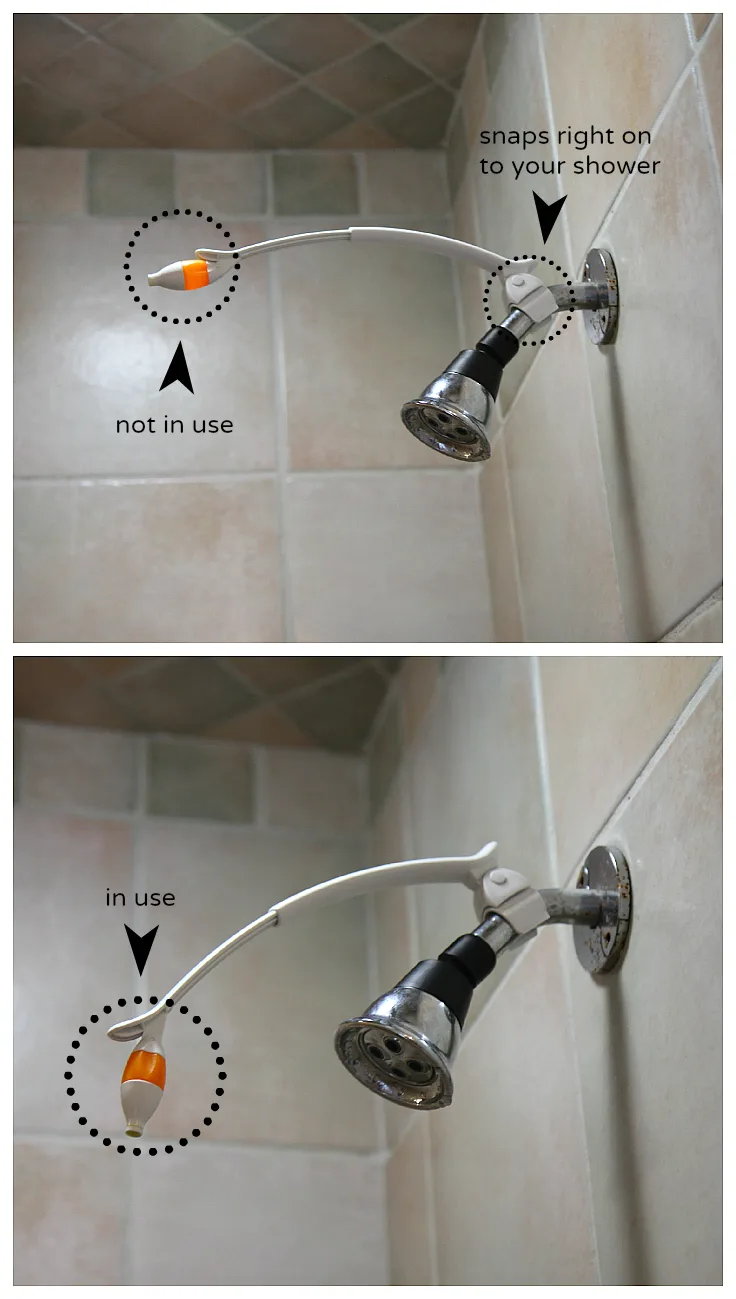 The Essio starter kit, which I've shown in the first picture above, comes with the shower device, plus 3 essential oil pods. Essio only uses USDA-certified organic essential oils. One thing you might want to keep in mind is that it really is important to read the labels on the products you use, because so many products package themselves as "natural" when in reality they're full of chemicals. I'm trying very hard these days to stay away from chemicals and additives that I can't pronounce and never heard of. You don't have to worry about that with Essio.
The blend combinations they offer have been designed with specific benefits in mind. My personal favorite is the Breathe blend, which is a blend of eucalyptus and peppermint, which I find decongests and energizes me…it's the perfect way to start my day. But I also often have problems winding down at the end of the night, and the Night blend of lavender, bergamot and sage helps me fall asleep. I haven't tried the Clear blend yet, but that one is intriguing to me. The benefits listed are focus and concentration, and those are two things I could use more when I have an especially packed work day.
I also like that Essio is environmentally conscious…they're completely recyclable and additionally, they plant a tree for every product shipped.
I have to admit it's nice having a bit of a spa experience in my own shower, but Essio also makes a great gift! In fact, I actually did purchase one as a gift in addition to the one I purchased for myself. Valentine's Day is coming up…maybe you know someone that needs an Essio!
If you decide to try it out, let me know what you think. But I have a feeling Essio might turn into a "morning routine must" for you too!