Effortlessly increase the amount of fresh produce in your life with this quick and easy side dish. It's the "little black dress" of springtime side dishes because it goes with everything.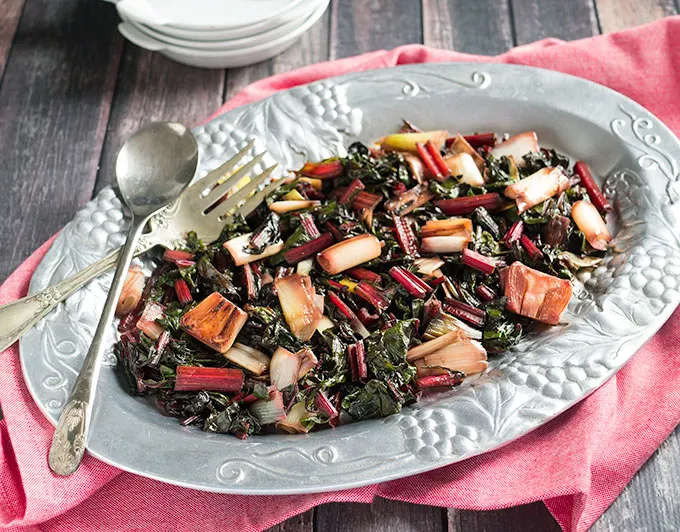 Charred Leeks and Red Swiss Chard Side Dish
I'm a little beside myself with all the fresh, Spring produce that's hitting the farmer's markets right now.
I have to restrain myself. Handcuffs are not completely out of the question because I can't seem to keep my hands off of it! For example, my family and I recently took a jaunt to Eataly. If you don't know Eataly, it's a culinary paradise. They have a Nutella bar. Need I say more??
Apparently, yes, because I'm continuing on here. Basically, you can belly right up to this sweet little bar and order ALLTHENUTELLA you want, pretty much however you want it.
Nivana, right???
Not for me. I was getting all twitchy on the line and, before my family could even place their orders, I blurted out, "I'll be by the produce" and practically RAN in the direction of the asparagus.
If you get even half as excited about fresh vegetables as I do, you'll be very happy to have this recipe. You can get leeks and red swiss chard year round in the US (woo hoo), but peak chard season starts in June which means you're about to start seeing it everywhere (even woo hoo-er) And, with this recipe up your sleeve, you'll have another way to use it.
I feel like swiss chard suffers from Middle Child Syndrome. It's the Peter Brady of the leafy green Veggie Bunch. Stuck thanklessly between star-of-the-moment kale and old-guard-reliable spinach. Let's give red swiss chard some well-deserved and overdue attention, m'kay?
Leeks are most abundant in the cooler months so we tend to associate their earthy flavor with heartier dishes made with potatoes or root vegetables. Charring them for this dish helps them taste spring-ier so they compliment these light leafy greens very well.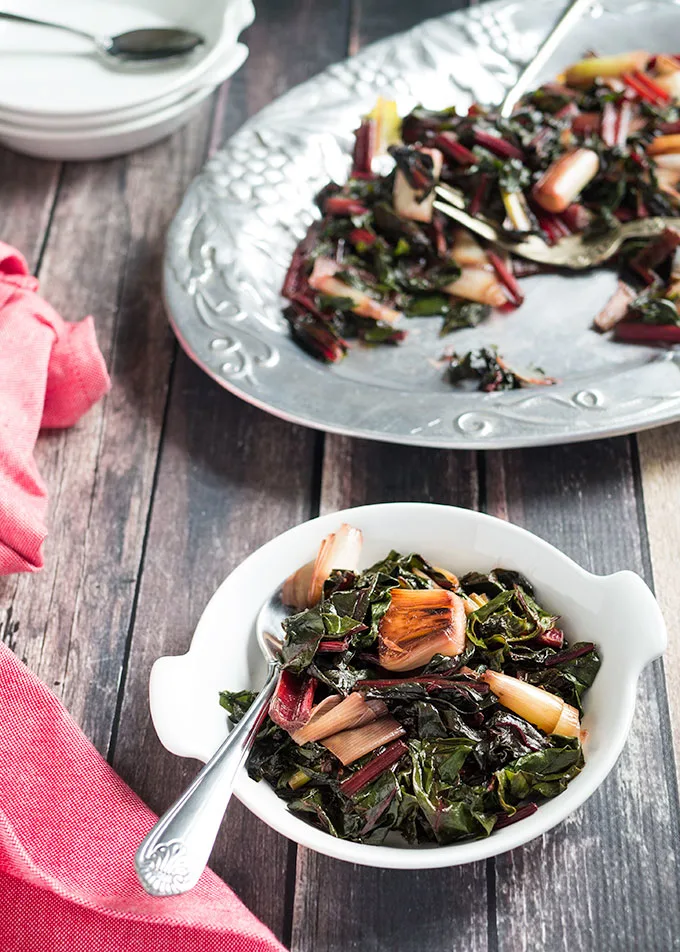 This dish is incredibly simple. There are no secret ingredients. No tricks. I have two simple notes for you.
Try to avoid the temptation to overcrowd your skillet (like I did. Did I mention I get excited by fresh produce?) This dish tastes a lot better when all the veggies get nice contact with the bottom of the pan.
Make sure the leeks and chard are dry, dry, dry before you add them to your skillet. They cook up much nicer that way.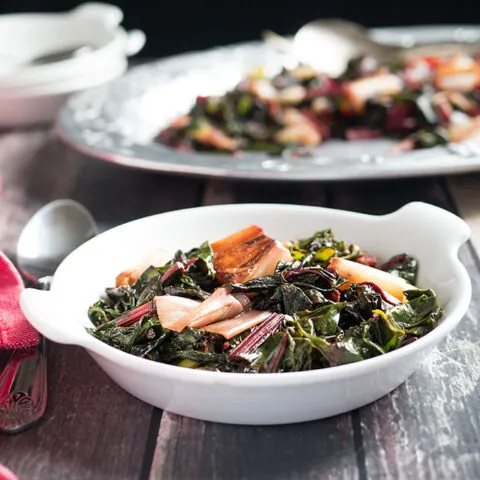 Charred Leeks and Red Swiss Chard Side Dish
Ingredients
3 medium sized leeks, white and light green parts. Halved lengthwise, then cut in half inch pieces crosswise.
1 bunch of swiss chard, any color (I used red.) Cut stems in half inch pieces crosswise. Cut leaves in quarter inch strips crosswise.
2 tablespoons unsalted butter
splash of rice vinegar (optional)
salt and freshly ground black pepper to taste
Instructions
Heat your largest cast-iron skillet over medium-high heat to super hot.
Place leeks in the dry skillet, cut side down, and press down with a spatula to ensure good contact with the bottom of the pan.
Heat until blackened (about 5 minutes.)
Add butter and swirl around the pan as it melts.
Add chard stems and leaves. As much as possible without over-crowding the skillet.
Stir occasionally until the chard cooks down, about 10 minutes.
When it starts sticking a little to the bottom of the skillet, deglaze with a little rice vinegar, if you like. Plate and serve immediately
Notes
Make sure the vegetables are dry before you put them in the skillet. You want to sautée them, not steam them.
You may not use all the vegetables you prepped. It's hard not to pack them in but it will taste better if you leave them a little space in the skillet.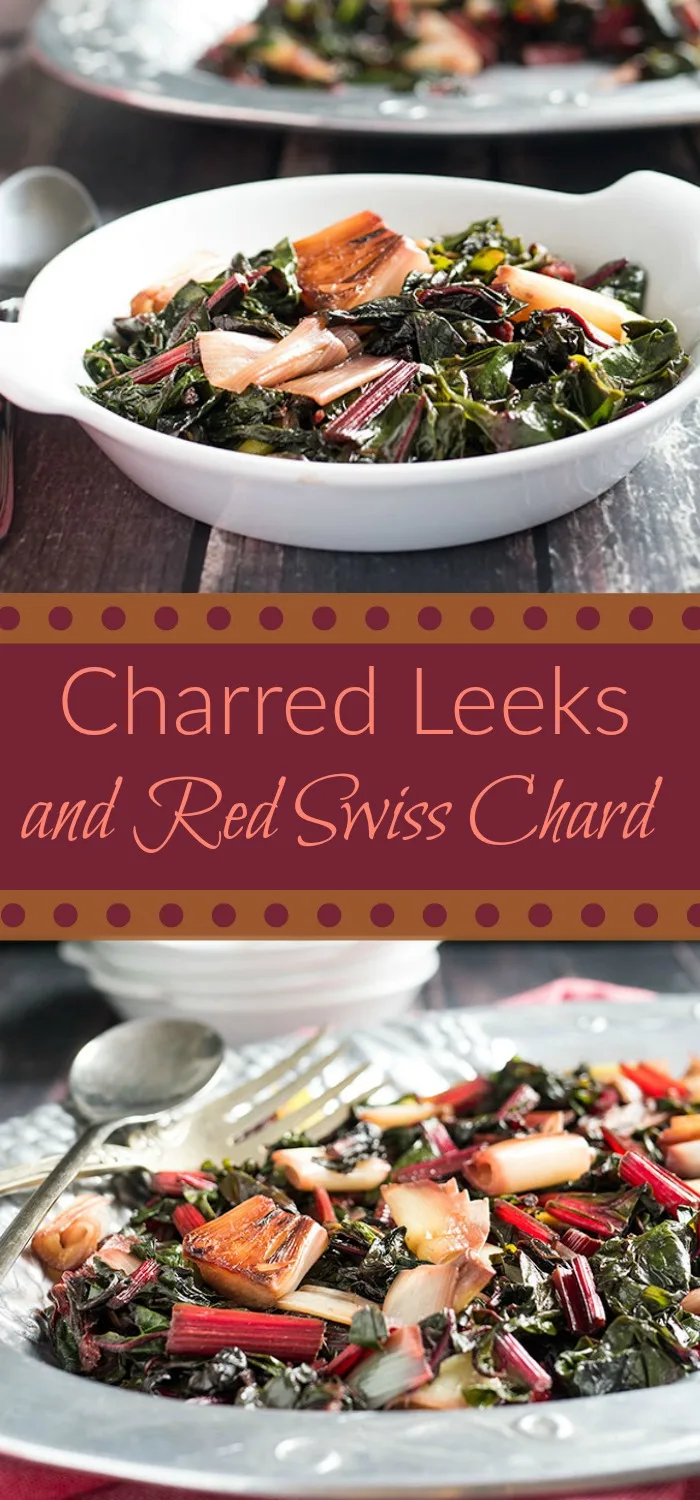 I also want to point out that I use most of the stem, in addition to the leaves. Unlike stems of some other leafy greens…ahem, ahem KALE…it cooks up at the same rate as the leaves so there's no timing rigamarole and adds really nice texture similar to rhubarb.