Chicken Enchiladas with Southwestern Molé Sauce…a cross cultural recipe combination inspired by my husband's grandmother.
Chicken Enchiladas with Southwestern Molé Sauce
My husband's grandmother emigrated to the United States from Lebanon, via Mexico.
She was an amazing cook…we all miss her grape leaves. But another favorite recipe of mine that she used to make was an chicken enchiladas with molé sauce.
It's no secret that I love Mexican food. I grew up out West where great Mexican food was plentiful, and I ate it all the time. Where I live now, I don't have as many options, so I cook it as often as I can.
You're probably looking at this dish and wondering where the Lebanese influence came in. Some of the spices his grandmother cooked with were used often in both cultures, like cumin and allspice. Both of those spices are used in this recipe.
But Situ's chicken enchiladas had another twist to them.
Situ rolled her enchiladas in Syrian bread (also known as pita bread) rather than tortillas. Using this makes for a much more "pillowy" enchilada, and a fun cross-culture recipe.
Unfortunately she passed away before I learned the recipe for her molé sauce, but I am giving it my best shot here based on what I know about the recipe.
This was actually the first recipe I thought of when I was challenged to come up with an Infusion recipe using NESTLÉ® TOLL HOUSE dark chocolate morsels. Rather than going with a sweet baked treat, I decided to go with a savory baked dinner, Chicken Enchiladas with Southwestern Molé Sauce, combining flavors and ingredients that aren't normally paired together to create an ethnic mash-up that I have fond memories of.
This Southwestern Molé Sauce combines onions, canned tomatoes, chili powder, cinnamon, cumin, allspice, pumpkin pie spice, apple cider vinegar and NESTLÉ® TOLL HOUSE dark chocolate morsels for a delicious flavor sensation! Look at how rich and thick that sauce looks! And it only takes 10 minutes to make it.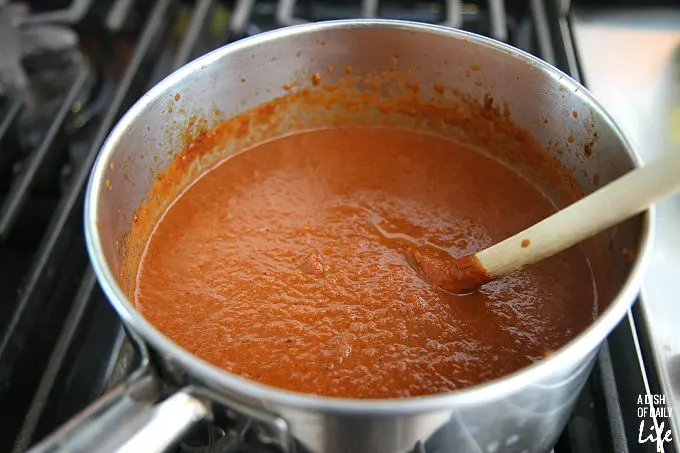 Syrian bread has two layers. I thought it would be a bit too much to wrap the enchiladas in two layers of bread, so I tore around the edges to make each piece into two. It doesn't have to look perfect obviously…you're rolling it and pouring sauce over the top.
You're going to put a mixture of chicken, cheese and a little sauce inside each of the enchiladas and roll them up.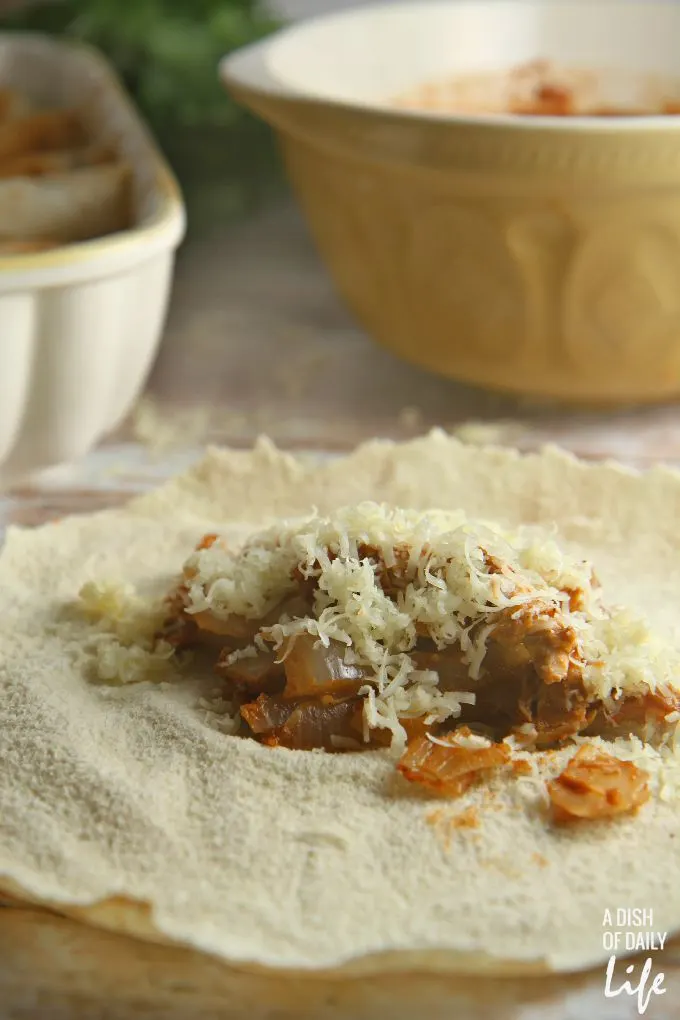 Then pour the sauce over the top and top with cheese!
Doesn't it look delicious?!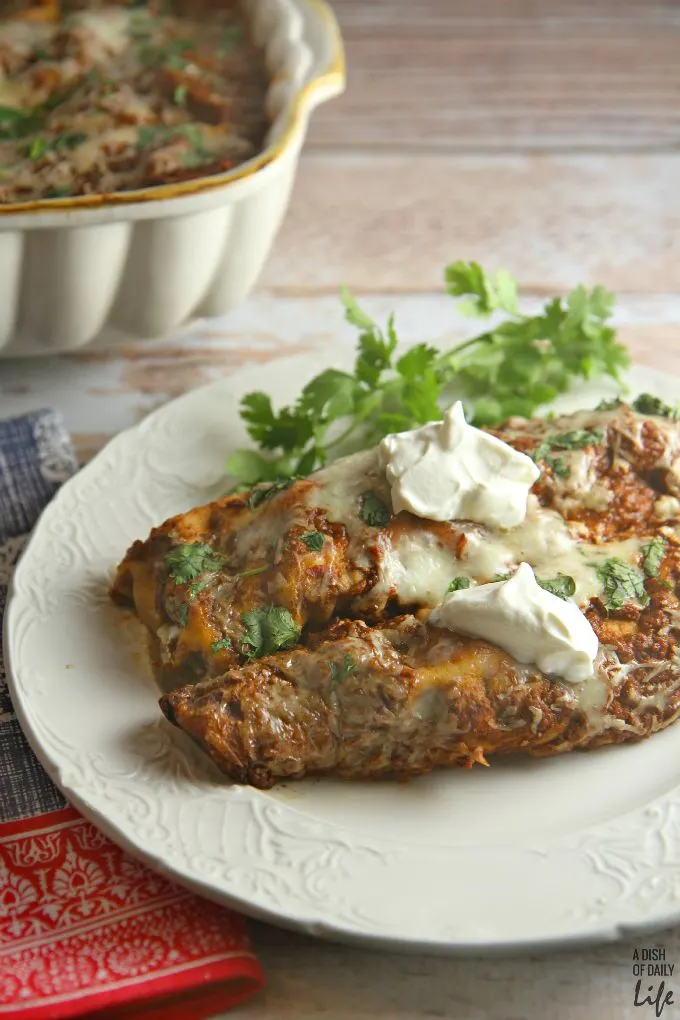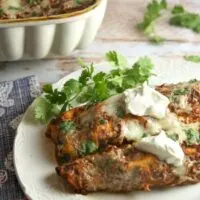 Chicken Enchiladas with Southwestern Molé Sauce
Ingredients
Enchiladas
1 package of Syrian (pita) bread
3 cups diced or shredded chicken
2 - 3 cups of Monterey Jack cheese, depending on level of cheesiness desired
Southwestern Molé Sauce
2 cups chopped yellow onion
2 tablespoons olive oil
1 28 oz + 1 14.5 oz can of tomatoes
1/4 cup chili powder
1 teaspoon ground cinnamon
1 teaspoon ground cumin
1/2 teaspoon ground allspice
1/2 teaspoon pumpkin pie spice
1/2 cup dark chocolate chips
2 tablespoons apple cider vinegar
salt and pepper to taste
sour cream (optional)
Instructions
Preheat oven to 350 degrees.
Southwestern Molé Sauce
Saute your onion in olive oil until translucent.
Add canned tomatoes, all spices, vinegar and dark chocolate chips.
Cook over medium heat for 10 minutes.
Blend well. (I use a hand blender)
Enchilada assembly
Place some sauce in the bottom of your baking dish to avoid sticking.
Tear the edges from the Syrian bread, making each one into 2 pieces.
Fill bread with chicken, cheese and a little bit of sauce.
Roll and line up enchiladas in baking dish.
Top with sauce and the remainder of the cheese.
Cook until sauce is bubbly and cheese is melted, about 20 minutes or so.
Top with sour cream if you'd like.