These chocolate chip coffee toffee cookies may look like an ordinary chocolate chip cookie, but bite into one and you are in for a delicious surprise! The toffee bits and a hint of coffee take the flavor of these chocolate chip cookies to a new level. You're definitely going to want to add them to your holiday baking list!
Chocolate Chip Coffee Toffee Cookies
I know I've mentioned before I'm not a big baker.
It's not that I don't like my sweets, because I do.
Mostly it's because I'm "a little of this, a little of that" type of cook. You can't do that with baking. Baking is precise. Which is why I had to test these cookies out several times before I got it right. I can't say it was horrible having all those extra cookies to taste test though. Believe me, every single one of them got eaten, perfect or not.
What I really wanted was a cookie recipe that had enough of a hint of coffee to make a difference in the flavor, since these are meant to be coffee cookies. That took some experimenting. You could probably put even more coffee in than I did, depending on how strong of a taste you want. But you might need to compensate with a little extra of the dry ingredients. The cookie mixture is already pretty sticky.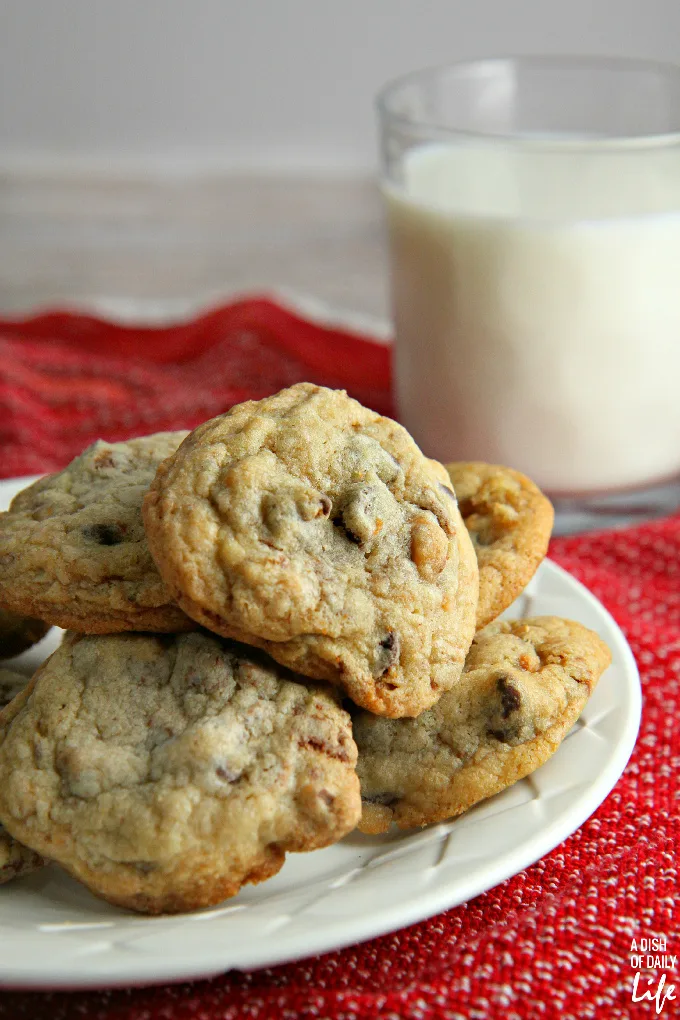 Honestly, my pictures do not do these cookies justice. They look like your traditional chocolate chip cookie but bite into one and you will be surprised by the delicious mixture of chocolate, toffee and coffee!
Don't forget your glass of milk!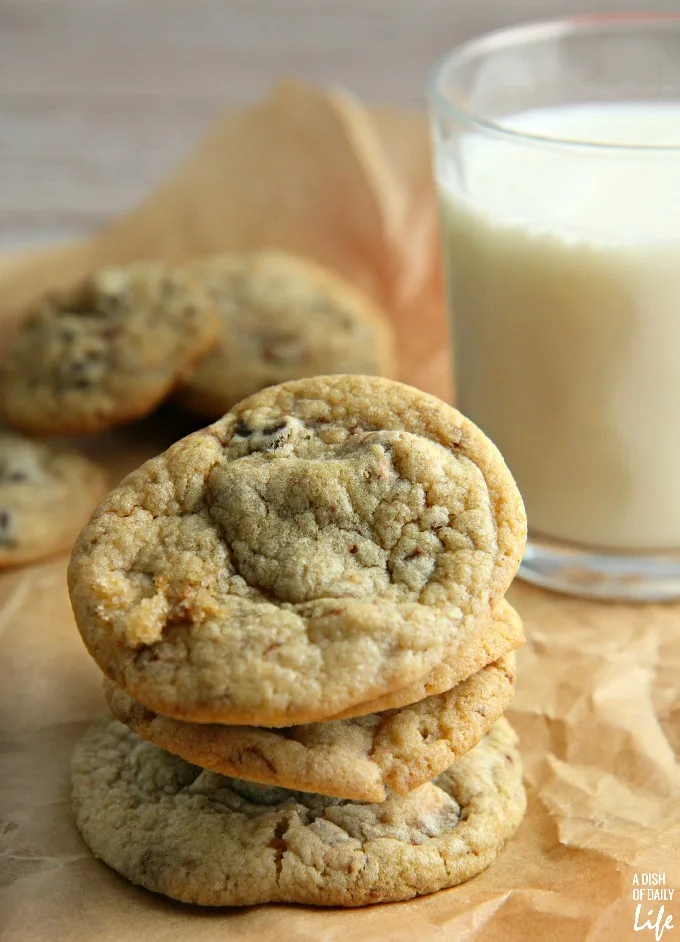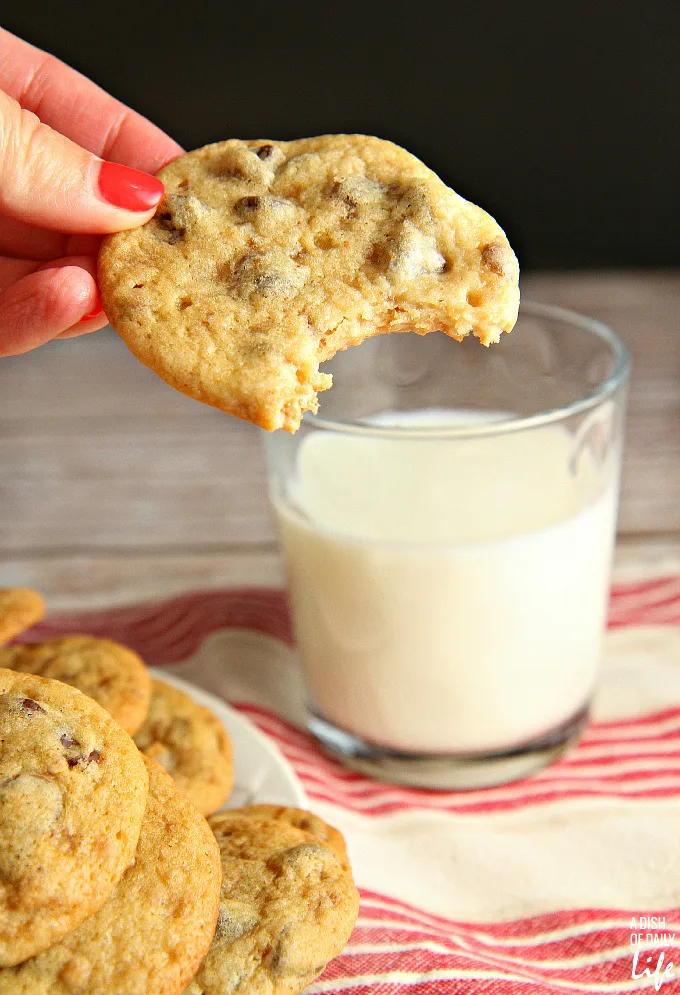 I plan to make these yummy coffee cookies again for the holidays!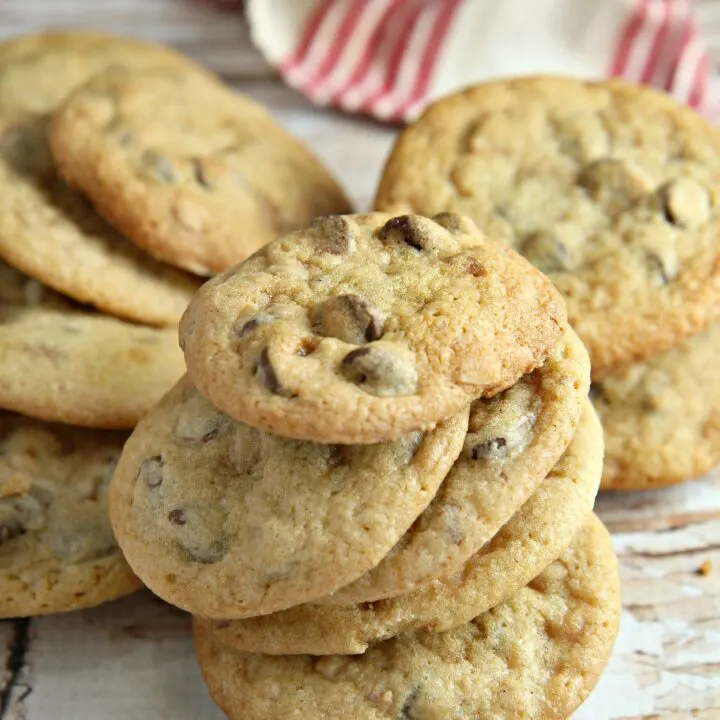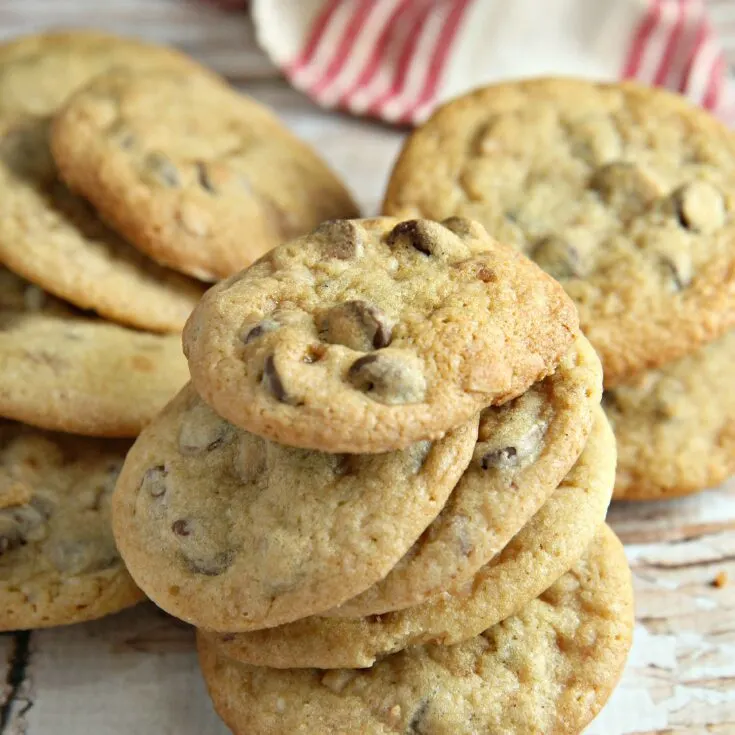 Chocolate Chip Toffee Coffee Cookies
Ingredients
2 1/2 cups all purpose flour
1 teaspoon baking soda
1 teaspoon salt
2 sticks of unsalted butter, softened
1 cup packed brown sugar
1/2 cup granulated sugar
1 teaspoon vanilla extract
2 tablespoons brewed coffee
2 large eggs
1 1/2 cups semi sweet chocolate chips
1 cup toffee bits
Instructions
Preheat oven to 375 degrees.
Combine flour, baking soda, and salt in bowl.
Add butter, brown sugar, granulated white sugar, vanilla extract and brewed coffee in large mixing bowl, and beat until creamy.
Add eggs, beat well.
Add flour mixture, slowly blending in. I use a spoon for this portion, rather than the mixer.
Blend in semi sweet chocolate chips and toffee bits.
Line your baking sheets with parchment paper.
Create balls with dough, cook for about 10 minutes. Cool for a couple minutes on baking sheets before removing for further cooling on your wire rack.
Notes
*10 mins baking time per batch.
Looking for a great cookie recipe for your annual Christmas cookie exchange? Check out my Christmas Cookie Exchange Pinterest board! You'll find great recipes here!