Quick and colorful, this easy Corn and Feta Salad is perfect for picnics and hot summer days. Serve this salad as an appetizer, a topping for whole grains, or as a salsa with grilled chicken or fish.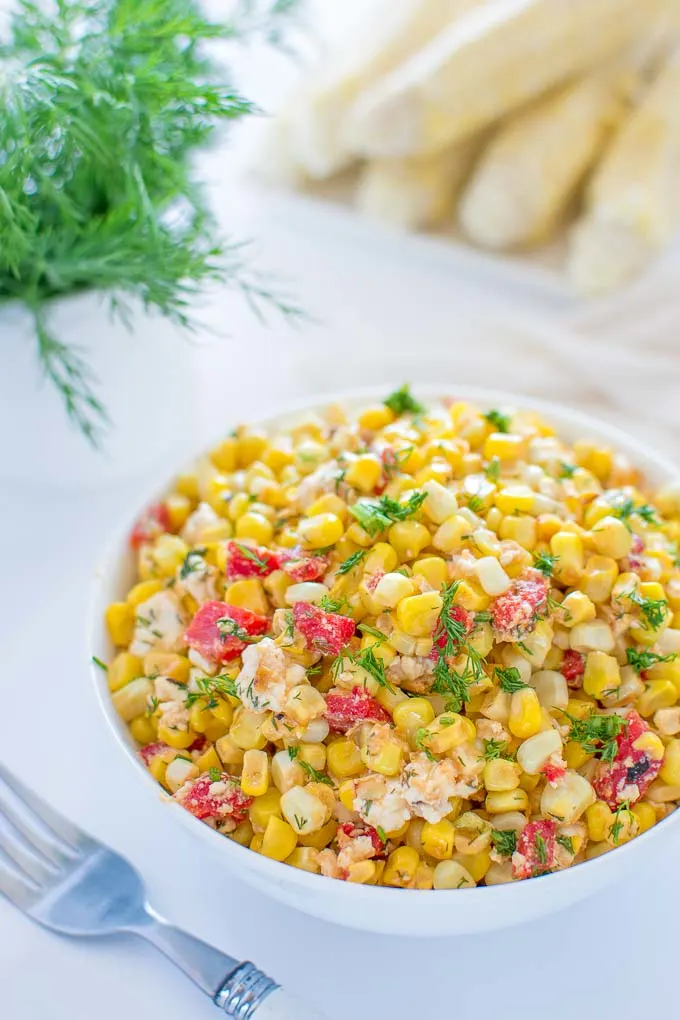 Corn and Feta Salad
Hello there, A Dish of Daily Life readers! Tania from Cooktoria here, sharing this quick, summer inspired salad with you. A combination of sweet corn sautéed in butter, mixed with flavorful roasted peppers and salty feta is just what you are craving! Mmm… I am telling you, it is tasty. My favorite part is the aroma that fills the kitchen while I cook the corn in butter. It reminds me of my childhood and summer.
I love serving this salad over a bowl of white rice; it makes quick and filling lunch. It is also a great idea to serve it over some grilled fish, chicken, steak or burgers.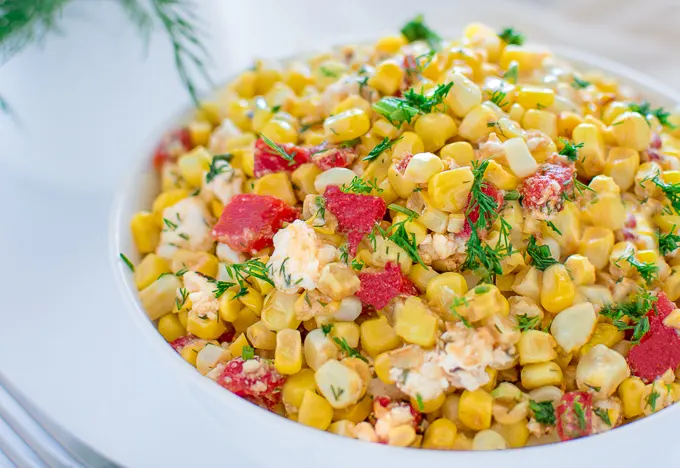 If you don't have roasted peppers on hand, feel free to use fresh bell peppers or jalapenos. I've also made this salad with fresh tomatoes before and it worked out great too! I've added ingredient measurements for the dill and feta cheese, but, in my opinion, you can't have too much of either so add more to fit your taste buds. Just remember that feta cheese is salty, so taste the salad before you add any salt to it. Lastly, if you are not very fond of dill, use parsley or cilantro instead.
I cannot wait to hear how you enjoyed this corn and feta salad!!!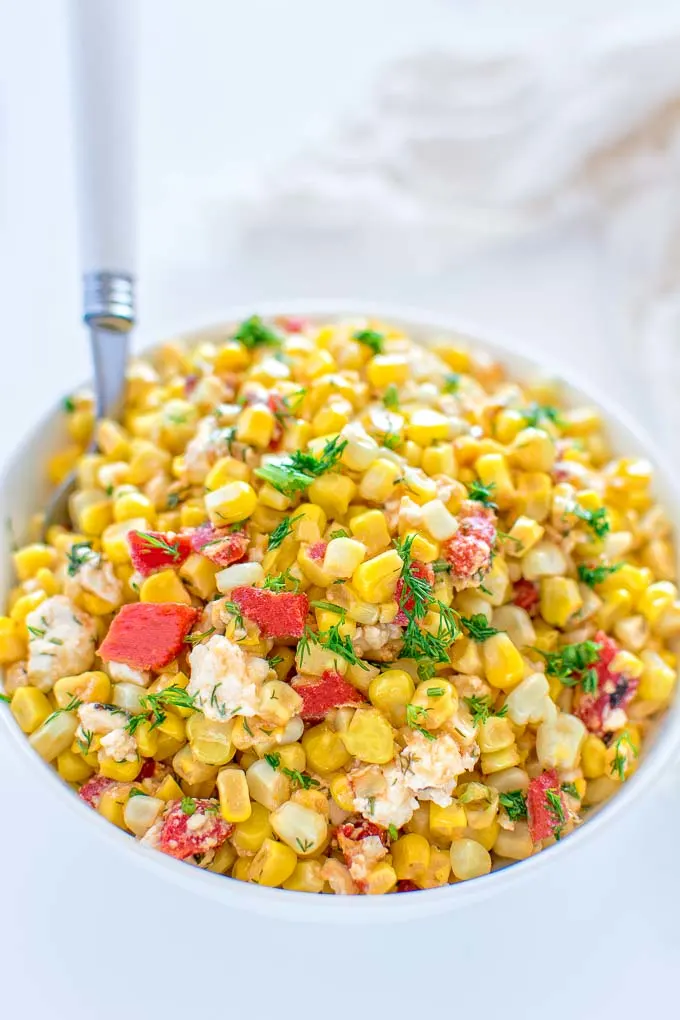 Note: I've been using this Sheep's Milk White Feta Cheese for many years now. It is really tasty, so you might want to give it a try. Bon appetit!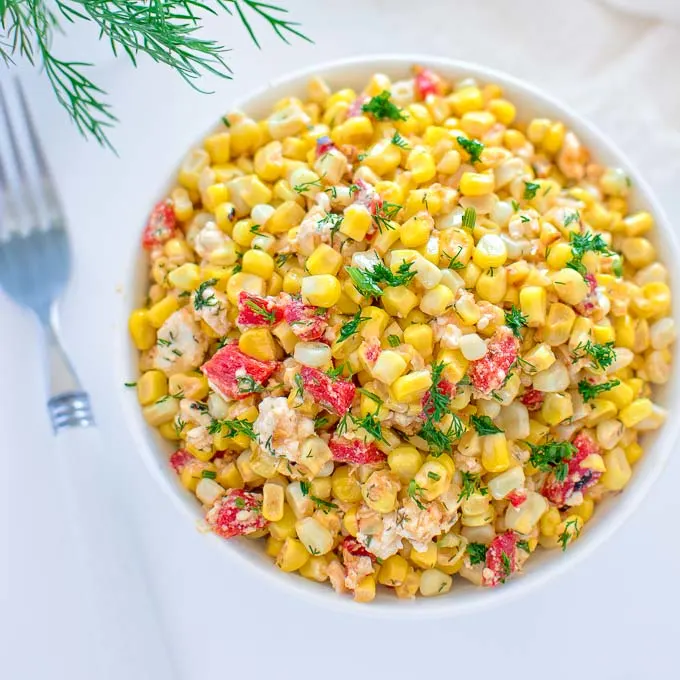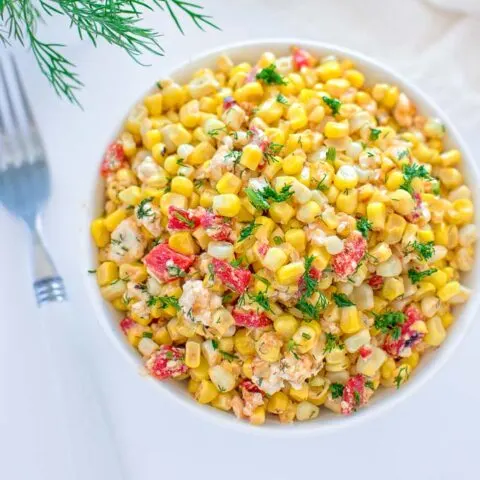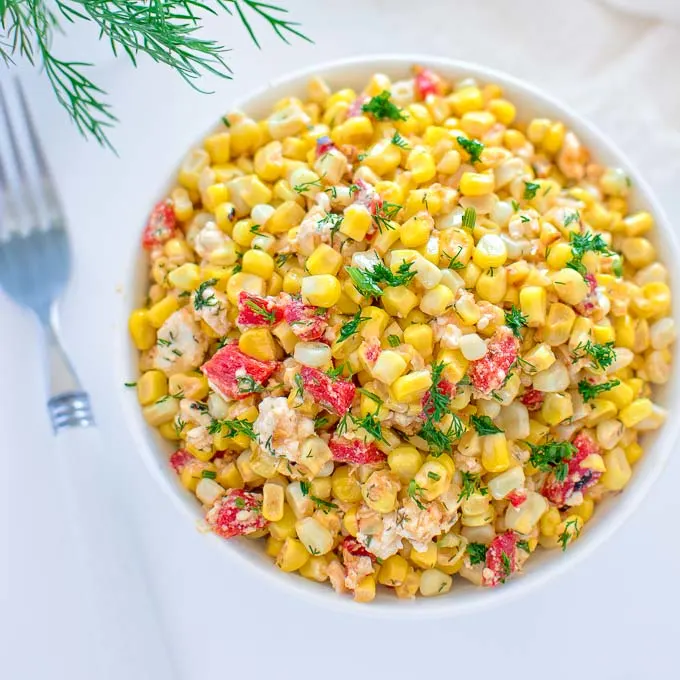 Corn and Feta Salad
Ingredients
6 small corn ears, husks removed
2 tbsp butter
1 cup feta cheese
1/4 cup roasted peppers, chopped
1/4 cup fresh dill, chopped
lemon juice (optional)
Instructions
Remove corn kernels from cobs and place in a bowl.
In a large skillet, cook the butter over medium heat for about 1 minute, until it starts turning slightly golden.
Add the corn and cook it in butter for 5-7 minutes.
Remove the corn from the heat and let it cool to room temperature.
Add roasted peppers, feta cheese, and dill and stir everything together.
Sprinkle some lime juice on top if you wish