This easy (and delicious!) Corn Chowder is packed with sweet corn and potatoes, and topped with bacon and chopped green onions. A family favorite, it's hearty enough for a weeknight supper paired with a light salad, versatile enough for game day, and you can even use it as a holiday starter!
CORN CHOWDER
We're one of those families that eats soup year round. In fact, there is almost always at least one or two pots of soup in our refrigerator that we've made ahead for dinner.
What inevitably happens though, is that the kids start eating it instead of their snacks, and we don't have enough for dinner.
It's hard to complain about the fact that my kids would rather eat soup after school than cookies or potato chips though. And personally, I love a nice bowl of soup for lunch. There's just something comforting about a bowl of soup, any time of day.
But because of that, I've started making double batches when I make soups.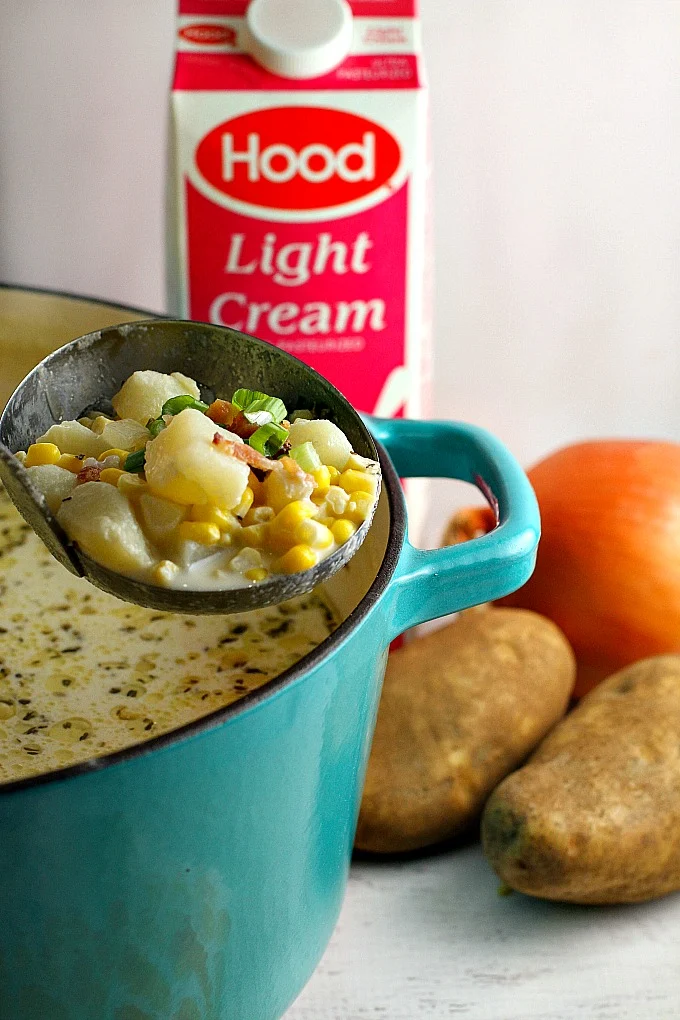 HOW TO MAKE CORN CHOWDER
My corn chowder includes bacon. If you want to make a vegetarian chowder, you can use vegetable broth and skip the bacon. But that usually doesn't happen in our house, because we're all pretty much addicted to bacon.
In fact, we are so addicted to bacon that one year my father-in-law used bacon in every single recipe at Thanksgiving, except dessert. My oldest son was beside himself with joy. Several years later, he's still talking about it and asking for a repeat.
But I digress.
If you're using bacon, cook your bacon over medium heat until it's crispy, then remove it and drain the pieces on paper towels. You can cut them into smaller pieces when they cool down.
If you have a lot of extra bacon grease, you can drain it out. I like to keep a little in with the butter to cook the veggies. I probably keep too much. But oh, the taste…
Next, add your butter to the pot and allow it to melt. Add your chopped onions and potatoes, celery and thyme, increase your heat to medium and cook it for about 5 minutes or until the onion becomes translucent. You can chop your celery, but I don't because I like to remove my stalks from the chowder at the end. My kids don't like celery, but I like the flavor it gives soup. So I remove the stalks unless I'm pureeing the soup. If I'm pureeing, I'll chop the celery and puree it.
After cooking the veggies, add the chicken broth and bring it to a boil. Then reduce the heat and simmer it for about ten minutes or until the potatoes are tender.
Stir in the light cream and the corn. In the summer, you can cut fresh corn right off the cob for this. But once corn season is over, I'd recommend using frozen. Most vegetables are frozen immediately after harvest so you'll get the taste of fresh corn.
Reduce the heat to low and cook your corn chowder for about 20 minutes. If you didn't chop up your celery, remove your stalks right before serving. Add salt and pepper to taste, ladle into bowls and garnish with chopped green onions and bacon bits.
Doesn't that look good?!
You know you want a bowl! I know I do!
As I mentioned above, I tend to make big batches of soup these days. If you go with the recipe as is, it's perfect for a game day crowd or a holiday starter. Or of course, if you're like us and want the leftovers. If not, you can easily cut it in half.
THE IMPORTANCE OF QUALITY INGREDIENTS
Let's talk about cream, an important ingredient in my corn chowder. If you live in New England like me, you're probably familiar with Hood®. Their roots are in Boston, as they were founded back in 1846 by Harvey Perley Hood, in Charlestown, Massachusetts, the oldest neighborhood in Boston. Their milk and cream products are distributed regionally throughout the Northeast. Although their distribution is regional, Hood is actually one of the largest branded dairy operators in the United States!
AND NOW FOR THE RECIPE!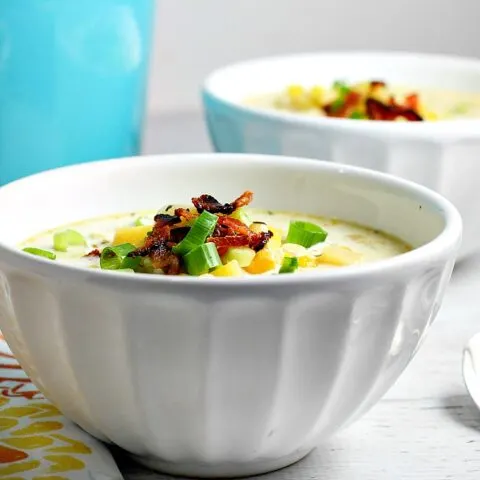 Corn Chowder with Potatoes and Bacon
Ingredients
5 pieces thick cut bacon, chopped into pieces
1 tablespoon of butter
2 medium yellow onions, chopped
4 cups potatoes, chopped
2 celery stalks
2 teaspoons dried thyme
10 cups chicken broth
8 cups frozen corn,thawed (can also use corn cut from the cob)
4 cups Hood Light Cream
2-3 green onions, chopped
salt and pepper to taste
garnish: bacon bits, chopped green onion
Instructions
In large pot, cook bacon over medium low heat until crispy. Remove and drain on paper towels. Cut into bacon bits when cool. Drain excess bacon grease.
Add butter and allow to melt.
Add onions, potatoes, celery and thyme. Increase heat to medium, and cook for about 5 minutes or until onion becomes translucent.
Add chicken broth'; bring to a boil.
Reduce heat and simmer for about 10 minutes or until potatoes are tender.
Stir in light cream and corn.
Reduce heat to low and cook for about 20 minutes.
Remove celery stalks.
Add salt and pepper to taste.
Ladle into bowls and garnish with chopped green onions and bacon bits.
Nutrition Information:
Amount Per Serving:
Calories:

431
Total Fat:

5g
Carbohydrates:

95g
Protein:

13g