Disclosure: This shop has been compensated by Collective Bias, Inc. and its advertiser. All opinions are mine alone. #BrightMind #CollectiveBias
It's me, Clara. I'm back again. I promised you I was coming back for Part 2!
My Mom has been feeding me Purina Pro Plan Bright Mind for the past 30 days. We picked it up at PetSmart together. I don't usually go with Mom to pick up my food, but this was a special occasion.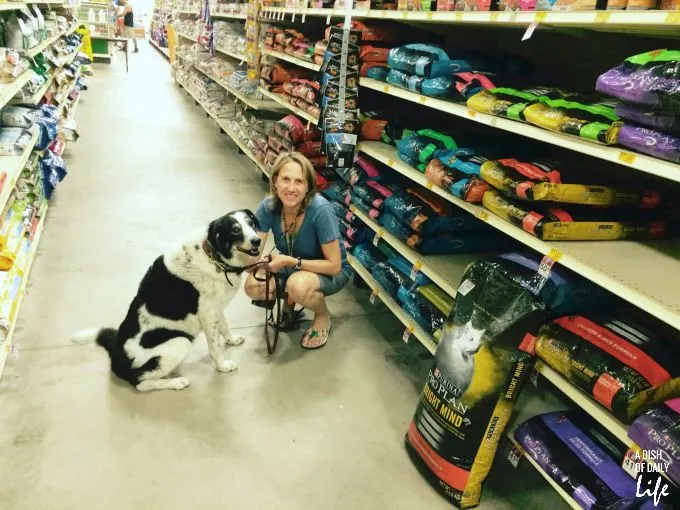 As I mentioned last time, they introduced me to my new food slowly. I have been known to have a sensitive stomach. Once they changed my food, and I refused to eat it because it bothered my tummy. That happens when you get older. Now they know better than to do that again. This time, they mixed some in with my food each day, more and more each time, until the switch was complete.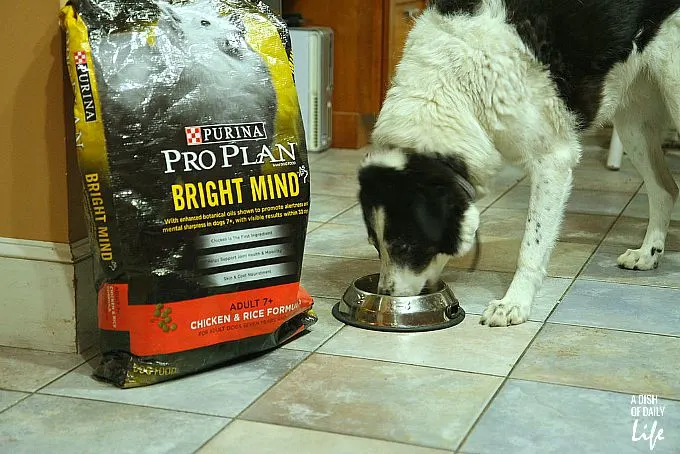 I'm a senior dog. Did you know that when a dog reaches age 7, she's considered a senior? And that there are about 87 million dogs in the US and 44% of them are considered seniors? That's a lot of senior dogs. I have a senior dog sister too.
Once a dog gets to be around 7, the glucose metabolism in our brains changes, which affects our memory, how we learn, our awareness and our decision making. Purina ProPlan discovered that botanical oils can help with memory and attention span. So they've added them to their Bright Mind food.
Mom wanted to try it for me because she was hoping to see a difference in the way I interact with the family, and she also wanted to help me to adapt and deal better with change. There are always changes going on in this house. I have a very busy family.
My Mom said she noticed visible results within the 30 days. She was very happy. In fact, she just bought me more Purina Pro Plan Bright Mind because we ran out!
I'm hanging out with the family a lot more. I like hanging out by myself, but lately I've discovered that its pretty fun to hang out with my family as well. And they seem very happy about it too!
I'm more affectionate these days too. I might have mentioned in my last post that I had kind of a rough life in my younger years. My brother and sister are a lot more forthcoming with their affections. It's not that I don't love my family. But I don't give a lot of kisses. I'm starting to give more now. Dad caught me giving Mom a kiss on the video.
I'm also rediscovering some of my old tricks. I like to be up high like the cats. When I was younger, if Mom wasn't home, I'd sleep on the dining room or patio table outside. You should have seen Mom's face the first time she caught me sleeping on the dining room table! After that, I got down as soon as I heard the garage door going up. I don't think Mom was a real fan of that stunt. I really haven't been up on a table in a long time. It's a big jump for an old girl like me. But the other day Mom caught me on a table they had set up out in the pool area. She took this picture from upstairs. She couldn't believe it!
My parents take me running or walking every day. I also like to swim. Sometimes my parents take me to ponds or lakes or rivers. I used to be able to go for forever and they'd have to beg me to get out. I did laps. I would drive my parents crazy ignoring them so I could stay in the water longer. I pretended I didn't hear them. Don't tell them! Now I don't stay in as long, because I get tired.
But guess what I got to do the other day! Did you see me launch myself into that water?! That was fun! I went really far out, and I swam for a long time…much longer than my sister and brother!
If you want to try Purina Pro Plan Bright Mind out for your senior dog, I have a special to share. Between 8/31 and 10/4, if you spend $10 on any Purina Pro Plan Dry Dog or Cat Food* at PetSmart, you can save $10 on your next Purina Pro Plan Dry Food purchase, 14-lb. or more, on or before 11/1. I think that's a great deal. I hope your senior dog likes it as much as I do.
Do you have a senior dog? What is your dog's favorite activity? Would you like to see your senior dog up to some of her old tricks again?
*Subject to availability. Transaction total is after discounts and before taxes.