This is the only pumpkin bread recipe you will ever need! This bread is incredibly moist and perfectly spiced with the cinnamon, nutmeg, fresh ginger and maple syrup. Naturally sweetened, this whole wheat pumpkin bread is actually made a bit healthier with the addition of Greek yogurt and whole wheat flour. However, it tastes so decadent, you will never know!
Hello again to my friends at A Dish or Daily Life! It's Kristen here again from A Mind "Full" Mom.
It is fall y'all.
Look around and everything is pumpkin this or pumpkin that. And I am ALL for it. Although truth be told, I could skip the famous Pumpkin Spice Latte–I know, crazy, right?!
But give me pumpkin roll, pumpkin cake, pumpkin pie,pumpkin muffin, pumpkin bread, pumpkin in savory dishes—and I am all in. Pumpkin bread is one of my absolute favorite ways to enjoy pumpkin in the cooler fall months. I want a cup of coffee, a cozy blanket, and a slice of this pumpkin bread. I guess that is how I get my PSL fix, eat the pumkin spice and drink a plain latte 🙂
Whether you are a pumpkin latte lover or a pumpkin bread lover, this recipe is for you.
Healthy Whole Wheat Pumpkin Bread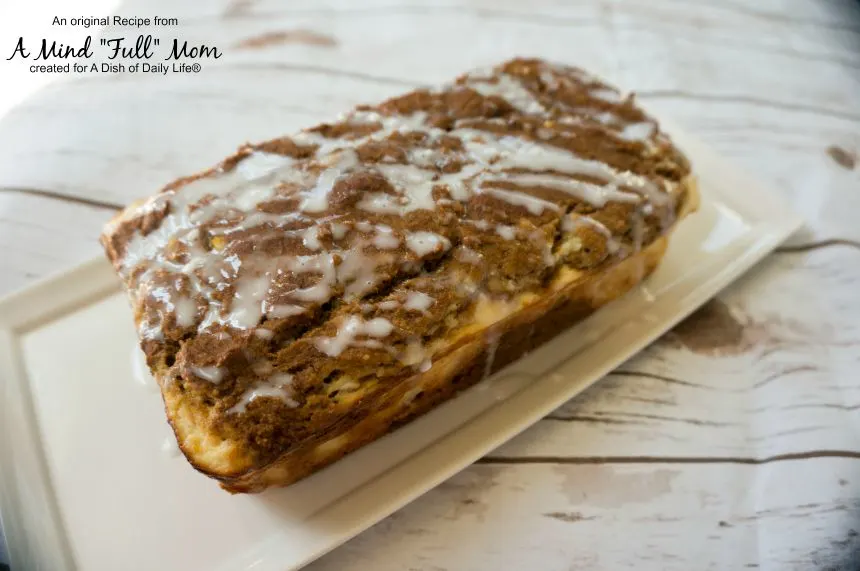 The bread is made with whole wheat flour and is naturally sweetened, but no one will believe you. This bread almost needs eaten with a fork it is so moist and the sweetness sings through every bite.
Maple syrup and Greek yogurt are the keys to this bread. The Greek yogurt keeps the bread light and moist (and not to mention lighter in calories and higher in protein), and the maple syrup is the perfect flavor companion to pumpkin. It is slightly smokey and blends well with cinnamon and nutmeg.
And even though the recipe looks complicated, it is pretty easy. There are just 3 layers. Don't let that stop you or intimidate you–it is 3 layers of heaven, that come together very quickly.
The hardest part is waiting for the bread to bake as your house is being filled with better aromas than any candle can provide you with. Well, actually, the hardest part is waiting for the bread to cool before slicing. It is beyond tempting. I had to keep telling myself you would not want a photo of a loaf of pumpkin bread with a big bite out of it. But I did dig in before I even put the camera away!
Do yourself a favor and celebrate pumpkin season with this bread. I bet it is better than any latte out there!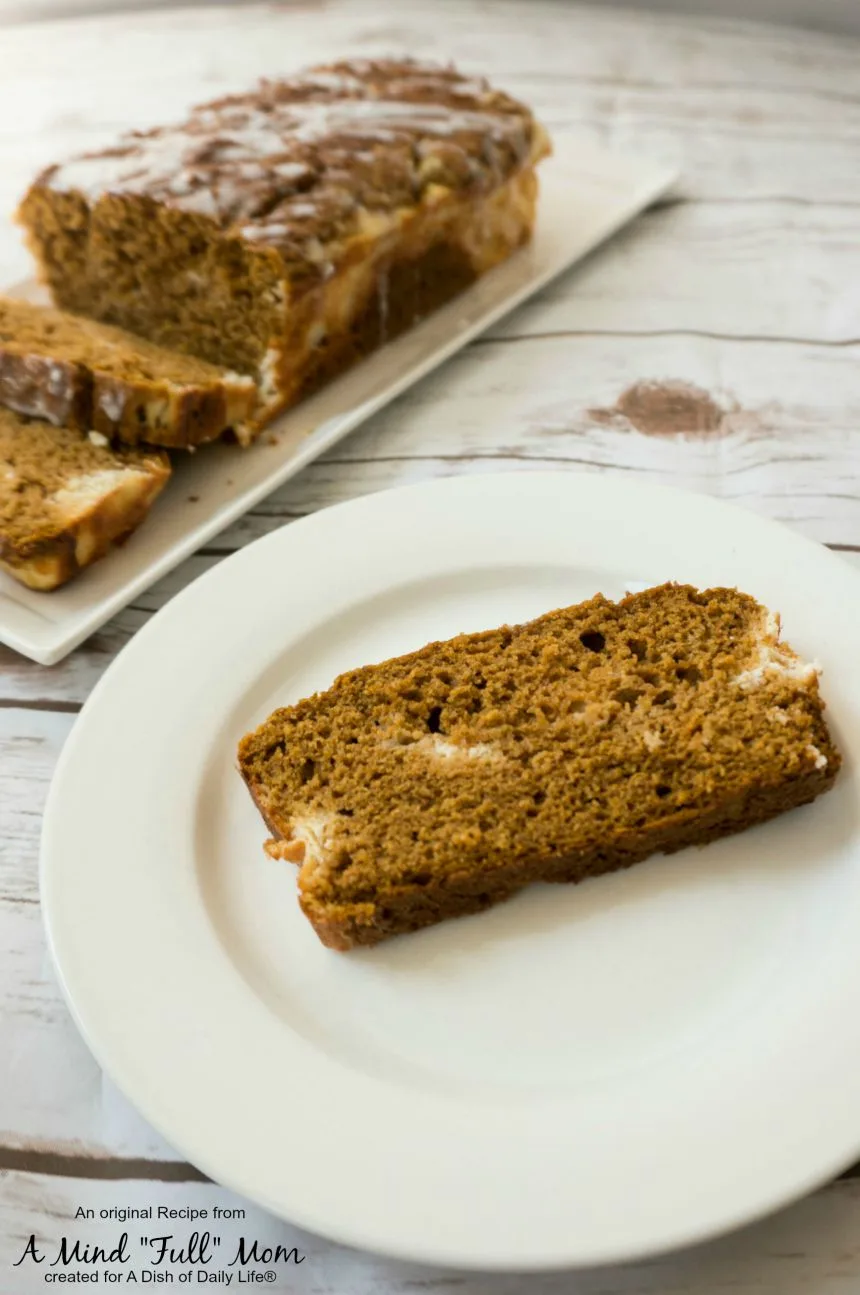 Whole Wheat Pumpkin Bread with Maple Spiced Cream Cheese Filling
Total Time:
1 hour
5 minutes
Ingredients
For the Bread:
1 1/2 cups whole wheat flour
1 1/2 teaspoon cinnamon
1 teaspoon freshly grated ginger
1/2 teaspoon freshly grated nutmeg
1 teaspoon baking soda
1/2 teaspoon baking powder
1/2 teaspoon salt
2 eggs
1/2 Cup Maple Syrup
1/4 cup canola oil
1/4 cup plain Greek yogurt
1 cup pumpkin puree
1 teaspoon vanilla
For the Filling:
1/4 cup softened cream cheese
1/4 cup plain Greek yogurt
1 egg
1/4 cup pure maple syrup
For the Glaze (optional):
1/4 cup powdered sugar
1/2 tablespoon milk
Instructions
Preheat the oven to 350 degrees.
Grease a 9 inch loaf pan and set aside.
In large bowl, mix together flour, spices, baking soda, baking powder and salt.
In separate bowl, mix together eggs, yogurt, oil, syrup, pumpkin puree, and vanilla. Add into the dry ingredients and mix until just combined.
Prepare the filling: Mix together cream cheese, yogurt, egg, and maple syrup until smooth.
Pour 1/2 the bread batter into loaf pan. Pour the filling on top of that. Then finish by gently dolloping the remaining bread batter onto the filling. (It is okay if it is not perfectly covered.)
Bake for 45 to 50 minutes or until a toothpick comes out clean.
Cool on cooling rack for 10 minutes and then remove from pan and allow to cool to room temperature.
li class="instruction">If desired, mix together powdered sugar and milk until smooth and drizzle over cooled bread.
Store leftovers in refrigerator.