If you're looking for an easy shrimp cocktail recipe with tender shrimp and a delicious homemade cocktail sauce, this is it! I'm excited to be sharing my favorite trick for cooking the most flavorful shrimp.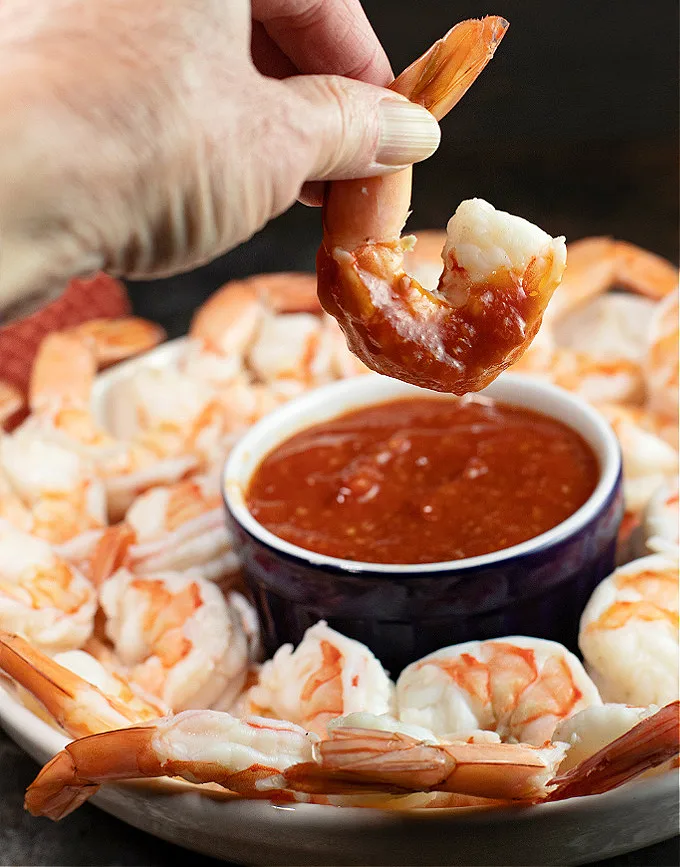 Whether you need an elegant appetizer for a party or special occasion, this shrimp cocktail recipe is sure to please! This particular appetizer dish is always requested by my oldest son over the holidays.
Best of all, you can even make it ahead of time, which eases your day-of cooking workload during holidays or special occasions.
WHAT SIZE SHRIMP SHOULD YOU USE FOR SHRIMP COCKTAIL?
In my opinion, larger shrimp are better for shrimp cocktail. I prefer to use shrimp that come packaged 16-20 per pound, but you can also use medium shrimp as well, which would be 21-25 per pound.
HOW TO COOK YOUR SHRIMP
Remove all of the shell, except the tail. The tail serves as a "handle."
Flavoring the cooking water with a few herbs and vegetables will give the shrimp a subtle flavor. I like to add a celery rib, onion, bay leaves, thyme, and peppercorns to the water.
Bring your water to a boil; then reduce the heat down to a simmer before adding the shrimp. Cook uncovered until the shrimp turn pink. This will only take a few minutes. How fast they will cook will depend on the temperature of the water, as well as the size of the shrimp. You can overcook your shrimp easily, so don't walk away from your pot! It takes very little time for shrimp to go from tender to rubbery. Once they turn pink, it's time to drain them.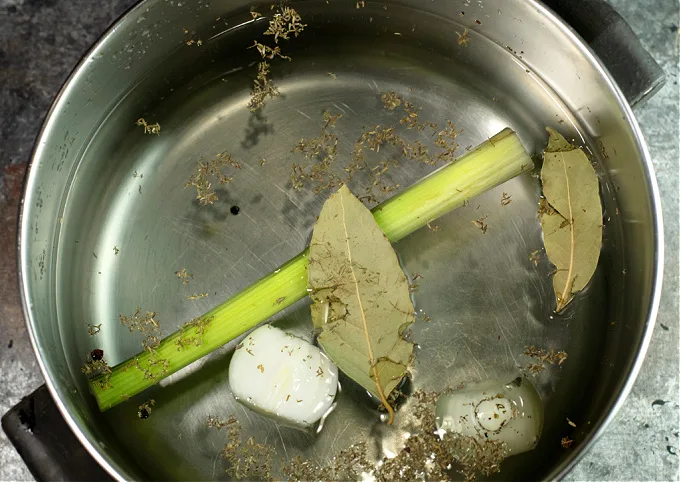 I like to get my ice bath ready while I'm heating the water (before I put my shrimp in) so it's ready to go as soon as my shrimp are done. Simply add lots of ice and cold water to either a large bowl or a clean pot. Immediately after draining your shrimp, plunge them directly into the ice bath, and allow them to chill completely before removing them. At this point, refrigerate them for at least one hour and up to one day, until you are ready to serve them.
Helpful hint: You can use less shrimp (or even an extra pound more), but there is no need to alter the amounts of the herbs and vegetables used in the cooking water.
HOW TO MAKE HOMEMADE SHRIMP COCKTAIL SAUCE
This recipe comes from my mother-in-law, and it is quite simple…only 4 ingredients!
Whisk together the catsup, chili sauce, horseradish, and lemon juice; refrigerate until ready to serve. It's not only easy, but also delicious!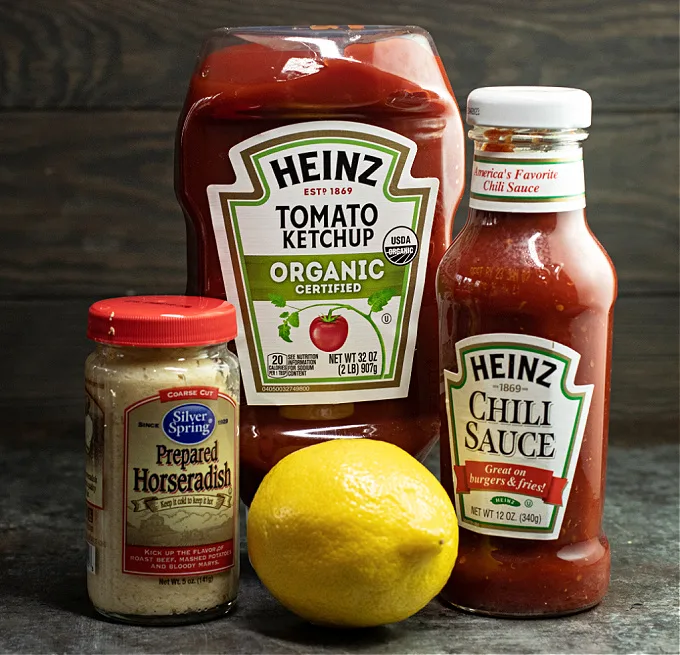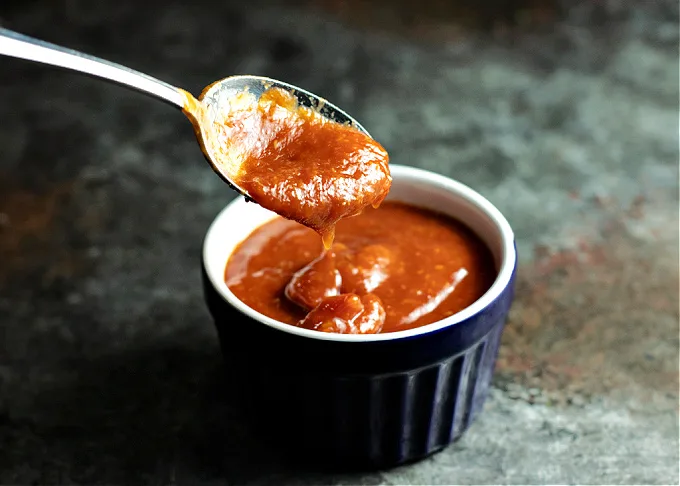 HOW TO SERVE SHRIMP COCKTAIL
Keep the shrimp and homemade cocktail sauce refrigerated until ready to serve. You can serve individual portions or on a plate or platter.
INDIVIDUAL SERVINGS
If you're serving individual servings, wine glasses and fun cocktail classes work well and are a fun look.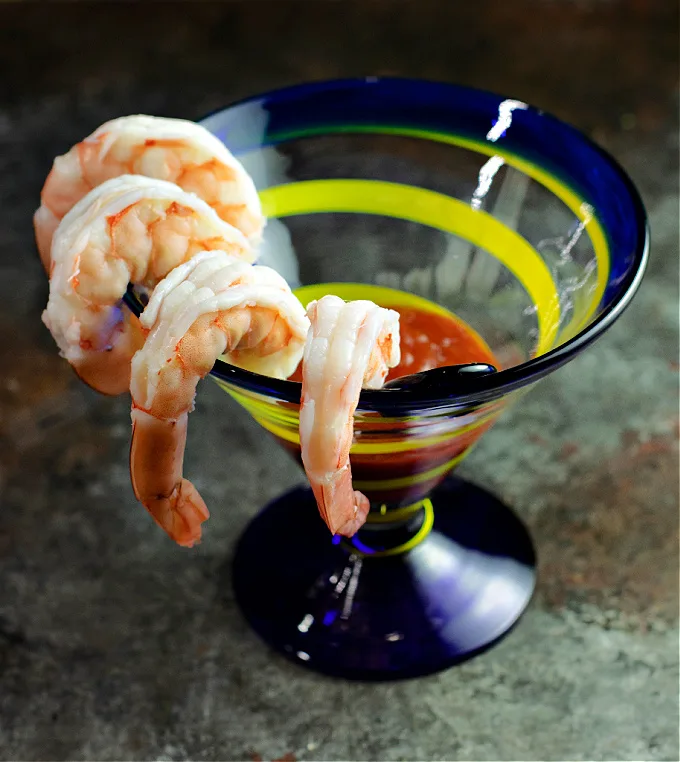 SERVING ON A PLATE OR PLATTER
You should never leave perishable food out of the refrigerator for more than a couple hours because of potential bacterial growth. For that reason, it is recommended that you chill shrimp cocktail up until it is ready to be served.
For food safety, you could serve it on a chilled stainless steel platter or with ice as a base under the shrimp.
Although I left them off, you can also garnish your platter with lemon wedges.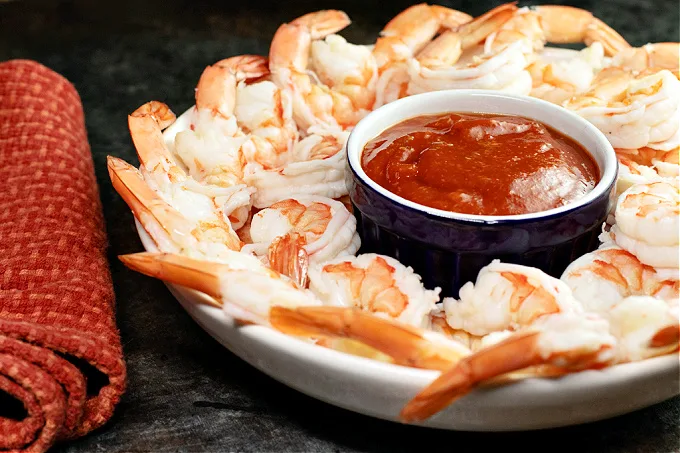 OTHER GREAT APPETIZERS FOR HOLIDAYS AND SPECIAL OCCASIONS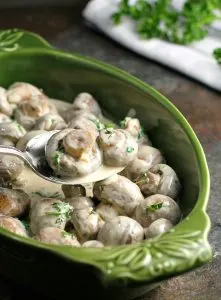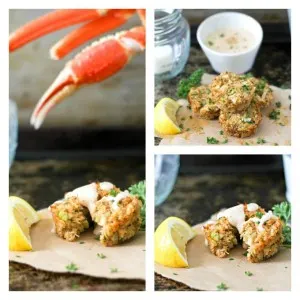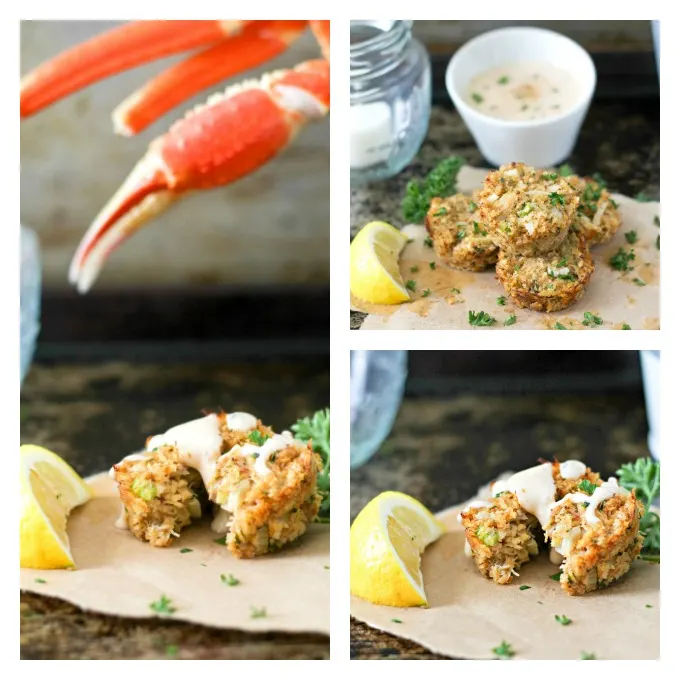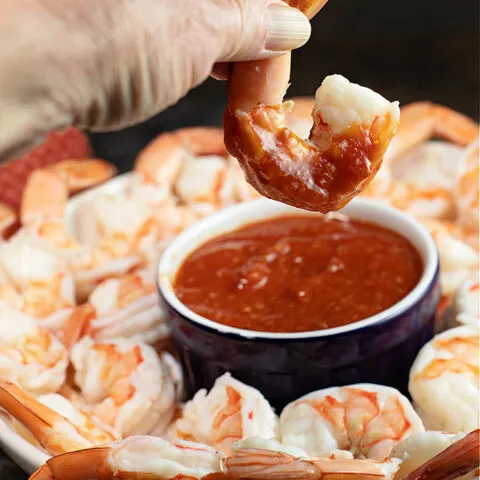 Easy Shrimp Cocktail Recipe
Ingredients
Cooking the Shrimp
Water
1 rib celery, left whole
1 small onion, halved
2 bay leaves
1/4 teaspoon dried thyme
6 peppercorns
3 lbs uncooked large shrimp, peeled and deveined (leave tails on)
Homemade Cocktail Sauce
1/2 cup catsup
1/2 cup chili sauce
2 tablespoons horseradish
1 tablespoon lemon juice
Garnish
Instructions
How to Boil Shrimp for Shrimp Cocktail
Fill a large pot 3/4 of the way full with water. Add celery, halved onion, bay leaves, thyme and peppercorns, and bring to a boil. Reduce heat to simmer; add shrimp. Simmer uncovered until shrimp turn pink.
As soon as shrimp turn pink, drain, and place in ice bath until chilled completely. Refrigerate for at least 1 hour and up to 1 day until ready to use.
*Cooking tip: If using fewer shrimp (or even up to a pound more), you can use a smaller pot. Just avoid crowding in the pot. But there is no need to alter the amounts of the herbs and vegetables.
Homemade Shrimp Cocktail
Whisk together catsup, chili sauce, horseradish and lemon juice. Refridgerate until ready to use.
Nutrition Information:
Amount Per Serving:
Calories:

108
Total Fat:

1g
Saturated Fat:

0g
Cholesterol:

143mg
Sodium:

898mg
Fiber:

1g
Sugar:

4g
Protein:

16g