Roasting the garlic kicks the deliciousness up a notch on this Four Cheese Roasted Garlic Bread Recipe!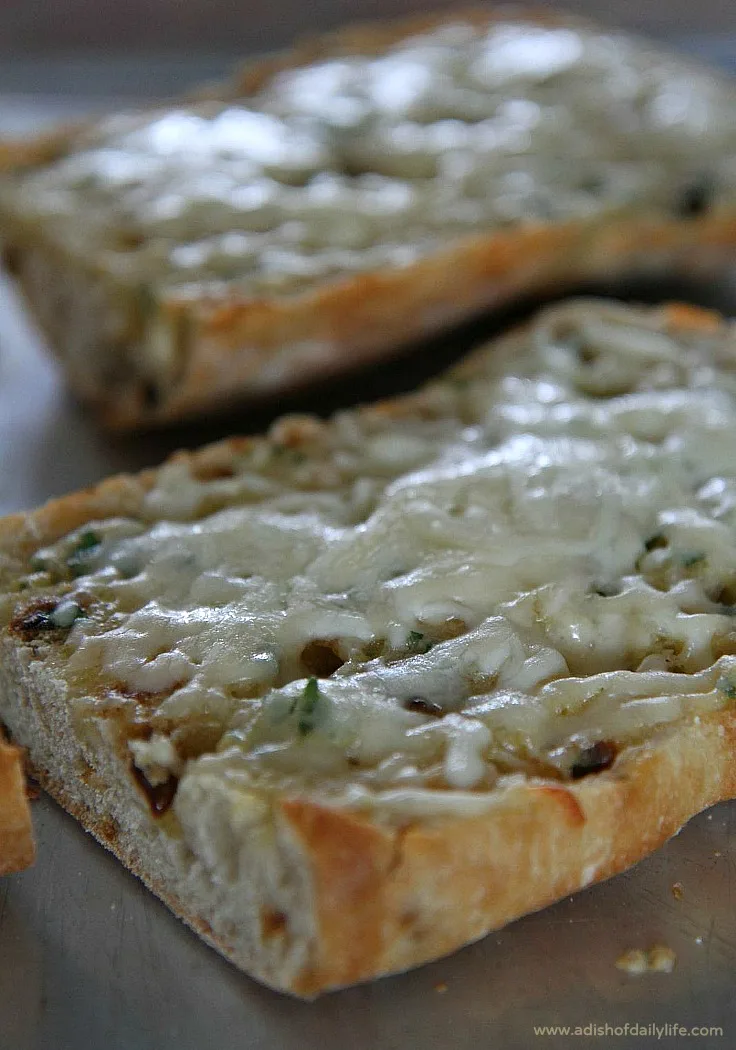 We always make our own garlic butter. The difference between the stuff you can buy in the store and homemade is like night and day. I tried it once, feeling a bit lazy, and thinking it really didn't make a difference. It really does though.
Garlic butter is actually pretty easy to make, if you have a mini food processor.
I use high quality butter, a little olive oil, and some roasted garlic cloves (or regular cloves, but not as many as you would with roasted, unless you want garlic coming out your pores for days on end). You can also add a little chopped parsley to the mix if you'd like.
And if you have extra butter when you're done, you can store it in the fridge for later…or even freeze it!
When I roast garlic, I like to make extra to have on hand for other recipes, like this yummy Roasted Garlic, Spinach, and Artichoke Dip!
To roast your garlic, cut the heads off the bulbs and place them on a square of tinfoil, drizzle olive oil over the top, and wrap tinfoil around each bulb. Place in a pan and roast for approximately 45 minutes. Once they've cooled, you can squeeze the individual garlic cloves out. Store your extra cloves in a jar, cover with olive oil, and put them in the fridge until you need them. And now you've got the added bonus of some garlicky olive oil as well!
Four Cheese Roasted Garlic Bread Recipe
Slather on the roasted garlic butter good and thick.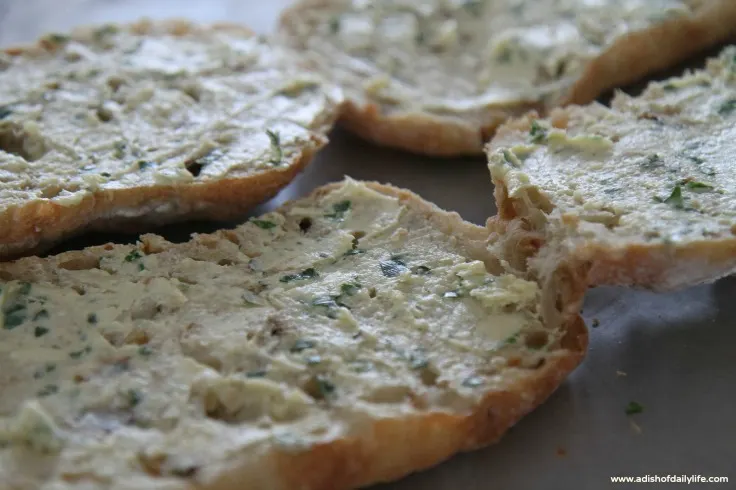 Load it up with a mix of mozzarella, provolone, fontina and parmesan.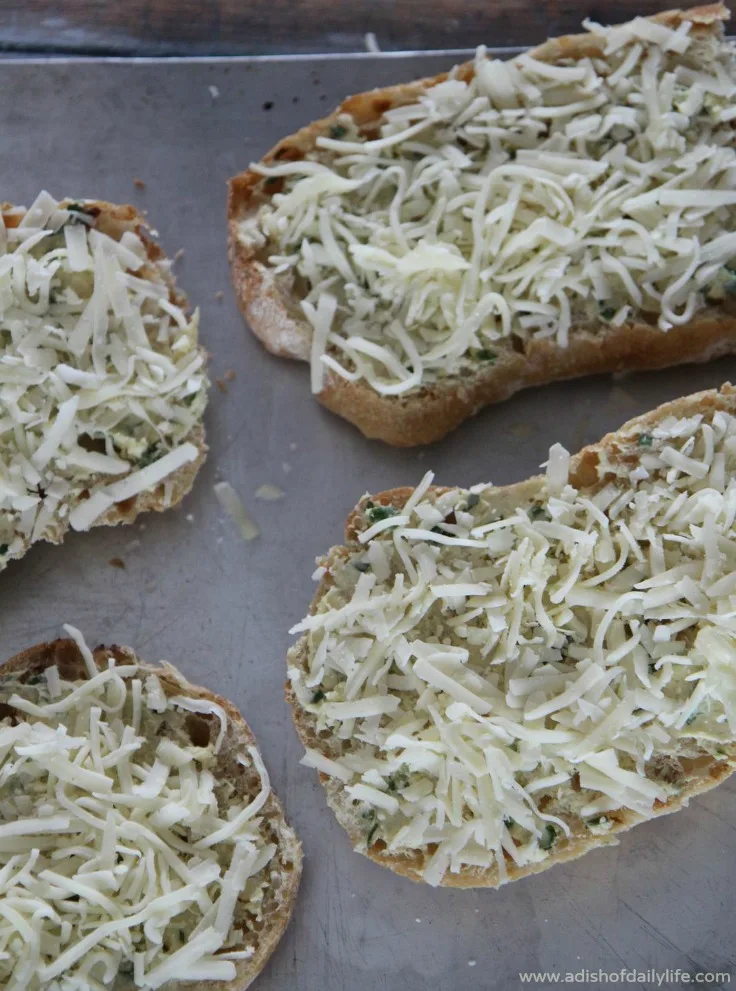 Then pop it in the oven for about 10 minutes or until the cheese gets nice and bubbly.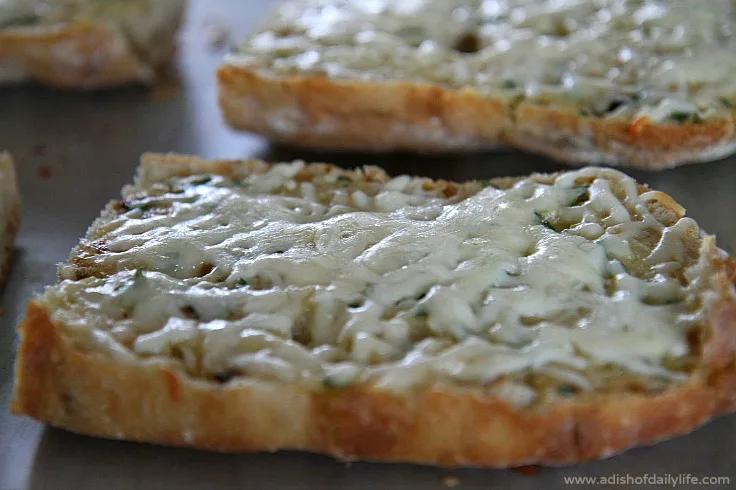 And watch your Four Cheese Roasted Garlic Bread disappear in no time flat!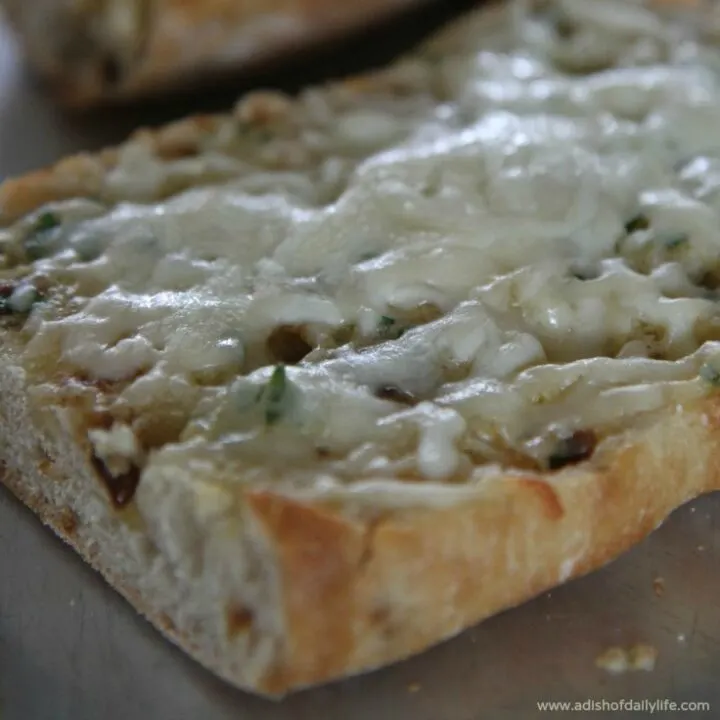 Four Cheese Roasted Garlic Bread
Roasting the garlic adds another flavor dimension to this Four Cheese Roasted Garlic Bread.
Ingredients
1 loaf of Italian bread, cut in half
1/4 cup good quality butter, cut into chunks
1 tablespoon extra virgin olive oil
10 cloves of roasted garlic
a handful of chopped parsley, optional
2 cups of cheese, shredded (mixture of mozzarella, provolone, fontina, and parmesan)
Instructions
Preheat oven to 350 degrees.
Add butter, olive oil and roasted garlic cloves to your mini food processor and process until smooth. Add in chopped parsley, if you'd like.
Spread roasted garlic butter on bread.
Top with cheese mixture.
Bake for about ten to twelve minutes, until your cheese becomes gooey.
Notes
I didn't include the time to roast the garlic in the recipe because I tend to keep it on hand in the fridge. If you are doing everything the same day, give yourself 45 minutes or so to roast your garlic.
If you liked this Four Cheese Roasted Garlic Bread recipe, pin it for later!