This delicious spring Baby Pea Shoot and Asparagus salad, topped with feta and a lemon vinaigrette, is perfect for a light lunch or as a starter for dinner. It's gluten free, vegetarian, and can easily be made vegan as well by simply omitting the feta and substituting an alternative sweetener for the honey in the dressing.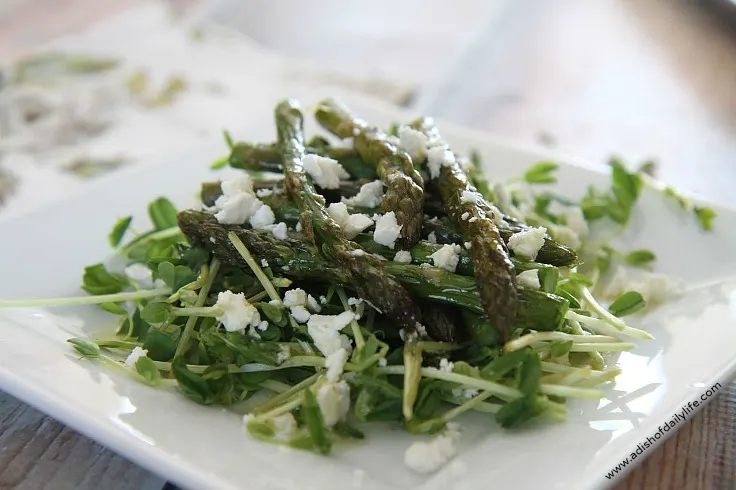 Lately I've been eyeing the microgreens in the grocery store. I think it's because I am so anxious for our CSA and Farmer's Market to start…I am really starting to crave those farm fresh veggies now! Thank goodness I don't have to wait too much longer.
My current favorite is baby pea shoots. They're so sweet and tender, and I've been adding them to salads for a little added crunch.
I think I am going to start growing them too. We do grow some of our own vegetables to supplement what we can get at our CSA and the Farmer's Market, but if I invest in a Grow Light Garden, I can grow my own microgreens once the outdoor growing season is over. That will help with my winter and spring cravings for fresh veggies!
[contextly_sidebar id="XlwBF4pFMK6NHitAu2hdWUtIr67Wgn2A"]Anyway…back to my salad. The other day I got to thinking that there really is no reason to limit baby pea shoots to being a salad topper. Why not use them for the base of a microgreen salad?
But what to pair them with?
I'm not sure why asparagus came to mind, but asparagus is another thing we eat nonstop here in the spring. I usually roast it and top it with lemon and feta.
I decided to try them together, and the end result was quite delicious. Thus, my Baby Pea Shoot and Asparagus Salad was born.
With my roasted asparagus, I usually just squeeze the juice from a lemon over the asparagus and feta, but in this case I decided a delicate lemon vinaigrette might be nice. I used the same vinaigrette that I use with my Lemony Kale and Quinoa Salad. If you have not tried it, you should! My teenage daughter asks me to make it constantly. It's that good, I promise!
You can do a lot more with baby pea shoots than just add them to salads…learn more about how to cook and eat baby pea shoots HERE. These yummy microgreens are a wonderful source of Vitamins A and C and folic acid. Asparagus has a whole host of health benefits as well, including anti-inflammatory and antioxidant benefits, support for your digestive system, heart health, blood sugar regulation, and anti-cancer benefits. Bottom line? This salad packs a punch in terms of health benefits!
[Tweet "Baby Pea Shoot and Asparagus Salad from @dishofdailylife #GlutenFree #Vegetarian"]
Now for the recipe!
Microgreen Salad: Baby Pea Shoot and Asparagus Salad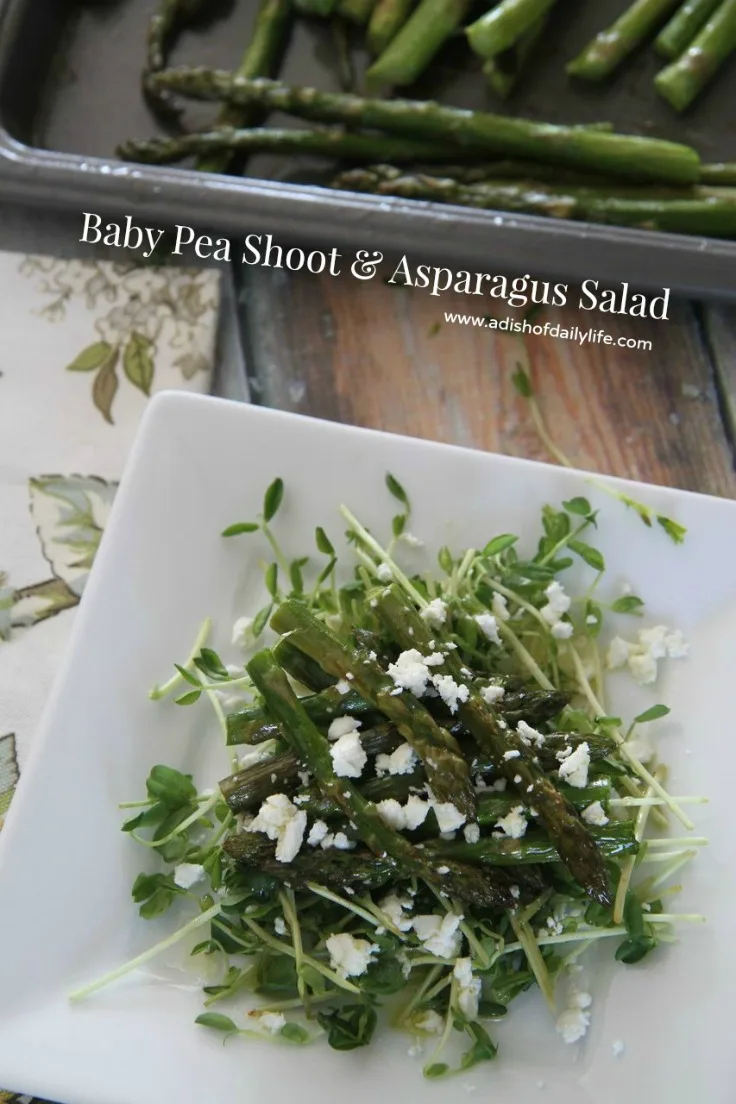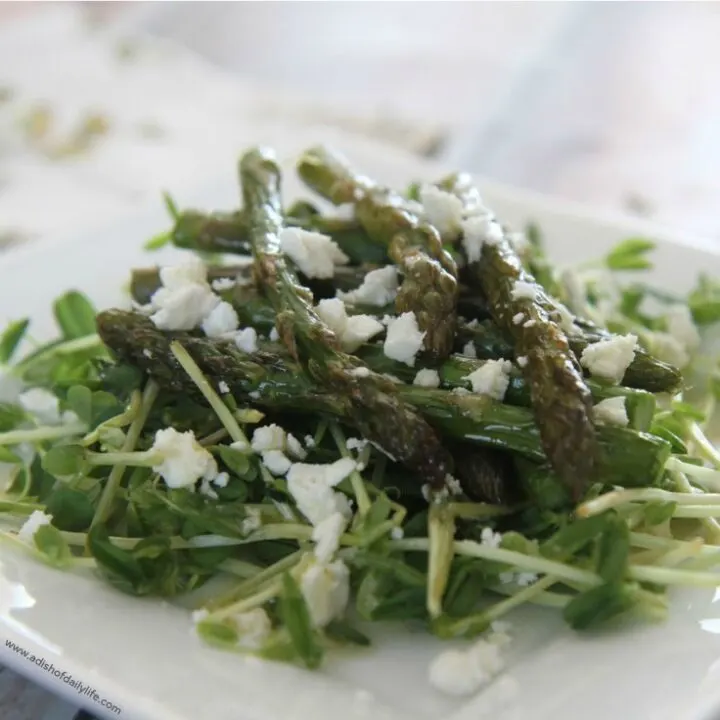 Baby Pea Shoot and Asparagus Salad
This delicious spring salad of tender baby pea shoots and roasted asparagus, topped with feta cheese and a delicate lemon vinaigrette, is perfect as a light lunch or as a starter for dinner.
Ingredients
Salad
6 oz of organic baby pea shoots
1 lb asparagus
3 oz feta sprinkles
Dressing
1/2 teaspoon of lemon zest
1 teaspoon honey
1/2 teaspoon dijon mustard
liberal grinding of sea salt
4 tablespoons lemon juice
3 tablespoons extra virgin olive oil
Ground black pepper
Instructions
Roasting asparagus
Preheat oven to 400 degrees.
Rinse asparagus and trim ends off.
Cut asparagus in half.
Drizzle with a couple tablespoons of olive oil and make sure all of the asparagus spears are coated with oil. Give a liberal grinding of salt and pepper. (I like to combine mine in a plastic bag to make sure everything is evenly coated).
Place on baking sheet (you may want to cover with foil first for easier cleanup) and cook for 10-12 minutes. Keep an eye on them and test to make sure you are happy with the degree of doneness.
Remove from oven and allow to cool. Personally I like to cool on a plate covered with a paper towel to soak up any excess olive oil, when using them in this salad.
Dressing
Whisk together lemon zest, honey, dijon mustard and salt.
Add the lemon juice and whisk together again.
While continuing to whisk, add in the olive oil slowly.
Season with black pepper and more salt, if needed.
Salad
Divide your baby pea shoots between 4 plates.
Top with asparagus and feta crumbles.
Drizzle dressing over the top.
Notes
If you prefer a vegan version of this salad, omit the feta and use a alternative sweetener in place of the honey in the dressing.
Save any excess salad dressing for another salad...it will keep several days in the refrigerator.
You can stretch this recipe to cover another serving or two if it is to be used as a starter for dinner.
I hope you enjoy this Baby Pea Shoot and Asparagus Salad as much as we did!