You're in for a treat today. I've got one of my favorite bloggers here guest posting, Eli from Coach Daddy.
If you haven't been on Eli's blog, you need to visit, especially if you have kids in sports. Scratch that. If you have kids, you'll appreciate his parenting, his humor, and his views on life. Eli is a coach. He happens to be a soccer coach, which is my kids' sport of choice, but that really doesn't matter. He's an all around good guy. He's the kind of coach you want your kids to have…the kind of coach who makes kids believe in themselves. He's the kind of parent you want to be friends with. And he's funny too. But don't take my word for it. Visit his blog!
Today he's over at my place talking about chances…specifically those given by a coach who has the opportunity to make a difference in a kid's life. Sometimes it just takes a coach to believe in a kid for that kid to believe a little more in himself.
I had a college coach like that. Q was known for giving kids a chance. I was recruited to run, but not at the school I went to. Not for a D1 school. But he gave me a chance. And believed in me…or at least he made me feel like he did. I walked on to the team my freshman year. I struggled. I'd never run so much in my life, and I was more tired than I'd ever been before. I still remember a track workout I couldn't finish my freshman year. We were doing something like eighteen 400's with almost no rest…and I kept having to stop and take breaks. I remember him saying to me "if you can ever finish a workout, you might be good." I heard "you might be good." I made varsity the following year, and he gave me some scholarship money. By the time I left school, I had worked my way up. Starting out as a walk on was a strike against me, yet he never treated me differently, and never made me feel like I couldn't get there. Jerry Quiller was the best coach I ever had. I will never forget him. I wish I would have had the chance to tell him that before he passed away last year. He was an extraordinary man and an amazing coach.
Please welcome Eli, who has some great words of wisdom for us today…and everyday.
# # #
There's something that happens when a kid scores her first goal.
Is it chemical? Biological? Just a shift in perspective? I'm not sure, but it's palpable.
Whether you envision it as a light bulb turning on, or a switch flipped, or letting the tiger out of the cage, there's a change. The game slows down, the goals get bigger, and confidence grows.
Before all that, there has to be the spark.
And that spark needs a chance to ignite. Too often, we coaches don't dole out enough of those chances. We don't entrust the kids, because what if they fail? What if on a random Saturday in November, we don't win the match? What will become of our legacy?
We have to remember without our kids' conquests and lessons and growth, we have no legacy.
# # #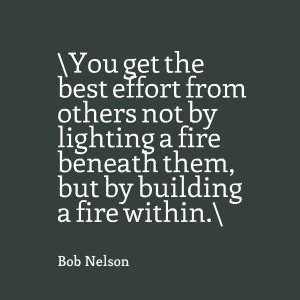 Coach Vinny grabbed my facemask and pulled me, front and center.
Our fullback, Robbie, had just been injured. Que the backup: Me.
I held my breath as he thumbed through his mental playbook, ready to absorb the play I'd have to relay to our quarterback, Chris.
Base 43 … he began.
Holy !@#%. The 4 meant I was going to run the ball. The 3 meant the play would go to the left.
No no no … he said.
He remembered who'd run the ball on that play for John Evans Junior High.
34 outside … he audibled, and I ran onto the field.
Part of me wanted to call my own number, to show him I could do it. That's me, with a burst through the gap, a juke on a linebacker, a bulldoze move on a cornerback and a strong-arm on a safety en route to the end zone. That could also be me, the one who fumbles the handoff.
So I delivered the play call, blocked for D.J., and returned to the sideline a play later when Robbie was ready to go back in.
I don't remember if we won or lost.
# # #
As a youth soccer coach, I move players around on the field. I don't want them to play the same position, game after game. They're too young for that.
This is often immediately detrimental for our team on a given Saturday. It is never detrimental–short-term or long-term – for our players.
Plus, it makes for good drama.
When you give a kid a chance, sometimes they fail. "I want to do the goal kick!" many kids have screamed, then proceeded to boot the ball right to the opposition for an easy save. Lesson learned.
But sometimes, sometimes that kid comes through. Often, even. They'll do something or show something or find something even I didn't see.
It gets better.
My kids feel my confidence in them. Many times, when a goalkeeper is injured in a game, a kid will pop up from the bench and say, "Let me go in coach. I'll go in for her." With the game on the line. Even those who don't like to play goalkeeper, they're willing and eager to step up.
So, I give them the chance.
Because you take a risk when you give a kid a chance on a soccer field.
But you fail as a coach when you take that chance away from them.
# # #
When he isn't trying to turn back the clock at school dances or hating on Disney, Eli writes a blog called Coach Daddy, all about "fatherhood, food and futbol." Follow him on Twitter.