Arabic food is a big favorite at our house. My husband is half Lebanese, and he comes from a family of great cooks. Our kids have grown up on grape leaves, toubouli, hummus, kibbe, lentils, and many other Lebanese favorites, including stuffed squash, or coosa. Stuffed squash is one of my favorites to make, especially when I can get the smaller yellow squash at our CSA or the farmer's market. It can be a bit time consuming to scoop out the pulp of the squash, but it is definitely worth it!
First, start with the smallest yellow squash (or zucchini) that you can find. I prefer to use yellow squash but you can also make this with zucchini.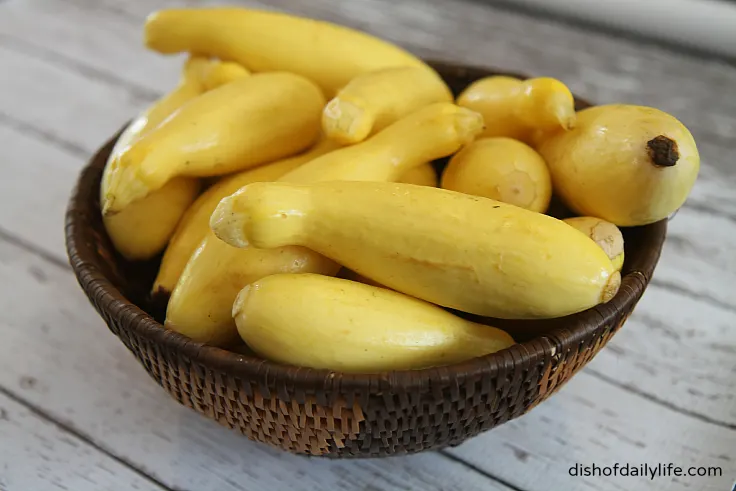 Then hollow out the insides. I sometimes borrow this tool from my mother in law, which makes it a lot easier to remove the squash pulp. It's called a zucchini corer, and you can get one on Amazon. It's probably time I bought my own.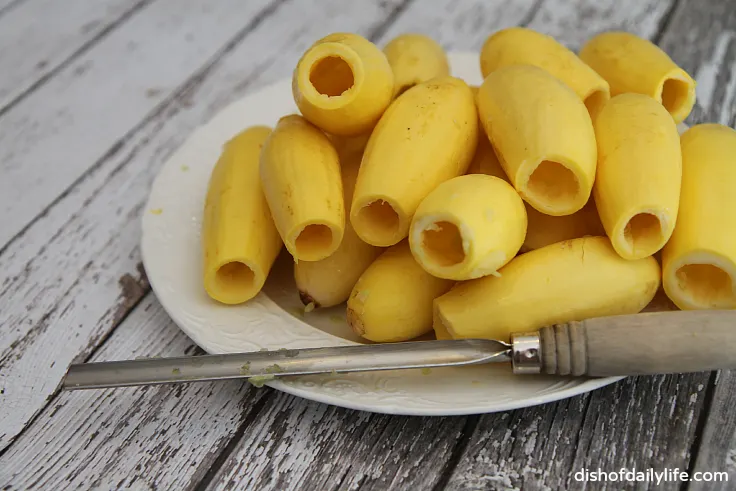 I typically mix my meat and rice mixture to stuff the squash (onion, rice, salt, pepper, allspice, ground meat, water and some tomato juice from the can), in the same pan I cook the onion in, because I don't want to get another dish dirty. You're not cooking this mixture though…only the onion is cooked now. The rest of it will cook when you cook the squash.
When stuffing the squash, you only want to fill them about 3/4 of the way full. The rice will expand during the cooking.
Once the squash are stuffed, place them in a pot, layered on top of a crushed tomato base, the insides of the squash (if you choose to include them…I usually do), and the extra meat and rice stuffing. I then add water and the rest of the tomato juice from the can.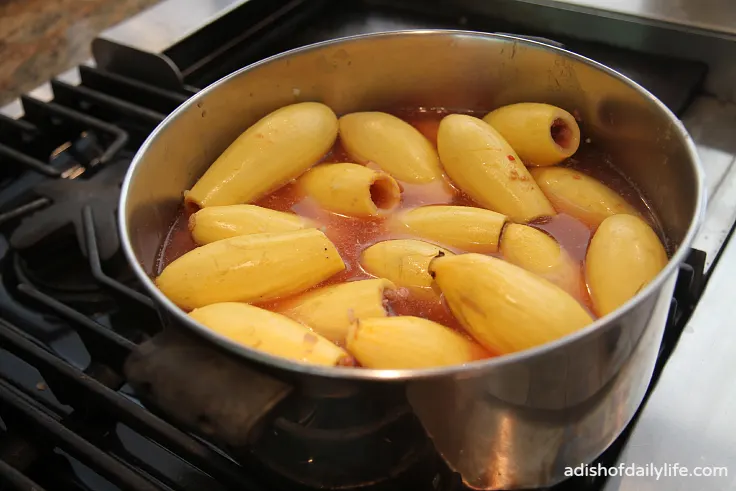 Bring your stuffed squash to a boil, then simmer until the rice is tender. In typical me fashion, I forgot about mine and overcooked it (it was still very good though), but usually it would be about 40 minutes to an hour. Keep an eye on it, and check it periodically.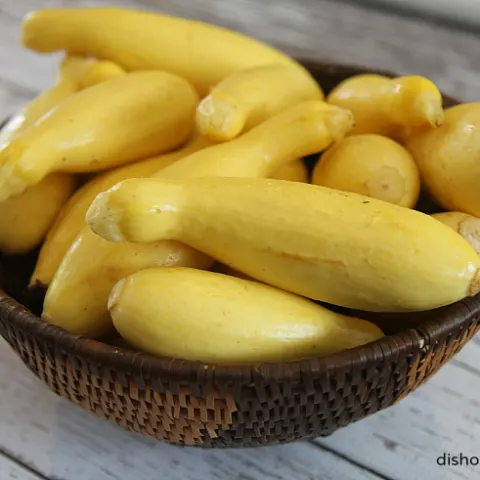 Kousa Stuffed Squash
Total Time:
1 hour
40 minutes
These delicious Lebanese stuffed squash are great paired with a side salad.
Ingredients
18 small yellow squash
1 28 oz can of plum tomatoes
1 onion, finely chopped
1 tablespoon ghee (or butter if you don't have ghee)
2 teaspoons salt
1 teaspoon black pepper
1 teaspoon allspice
1 1/4 cup rice, rinsed and drained
1 lb ground meat (I usually use a mixture of lamb and beef...typically it would be lamb)
4 1/2 cup water
Instructions
Wash the yellow squash and cut the tops off. Scoop out the insides with a zucchini corer. Try not to break the skin.
For the meat and rice mixture: Saute the chopped onion in 1 tablespoon of ghee, or butter, until soft. Combine with the rice, salt, pepper, and allspice. Add the meat, 1/2 cup water, and 1/2 cup tomato juice from the can and mix well. Other than the onion, you are not cooking this mixture, as it will cook with the squash in the pot.
Fill each squash about 3/4 of the way full. The rice will expand during cooking, so you don't want to fill them all the way.
On the bottom of the pot, layer the following in this order: chopped or squashed plum tomatoes (I just squash them with my hands as I put them in the pot); squash insides; extra meat and rice stuffing, stuffed squash.
Combine 4 cups of water mixed with any extra tomato juice from the can of tomatoes, pour over the top of squash.
Bring to a boil in covered pot; then reduce heat to low and simmer until rice is tender, about 40 min to an hour.

Enjoy! This dish takes a little more time to put together, but it's easy to make and so good! Take advantage of your local farmer's market and pick up some yellow squash to try this!
Have you ever had coosa?