Mediterranean Chicken Skewers…Juicy chicken marinated in a tangy, red wine vinaigrette, and served on a stick. Everything about that says fun. My kids love fun!
Glad to see you again A Dish of Daily Life readers! My name is Jennifer, and I create appetizers and tapas-portioned recipes over at TakeTwoTapas.com. Today, I am showing you a recipe that even my kids will eat! Getting tired of your kids eating chicken fingers and fries? I know I am.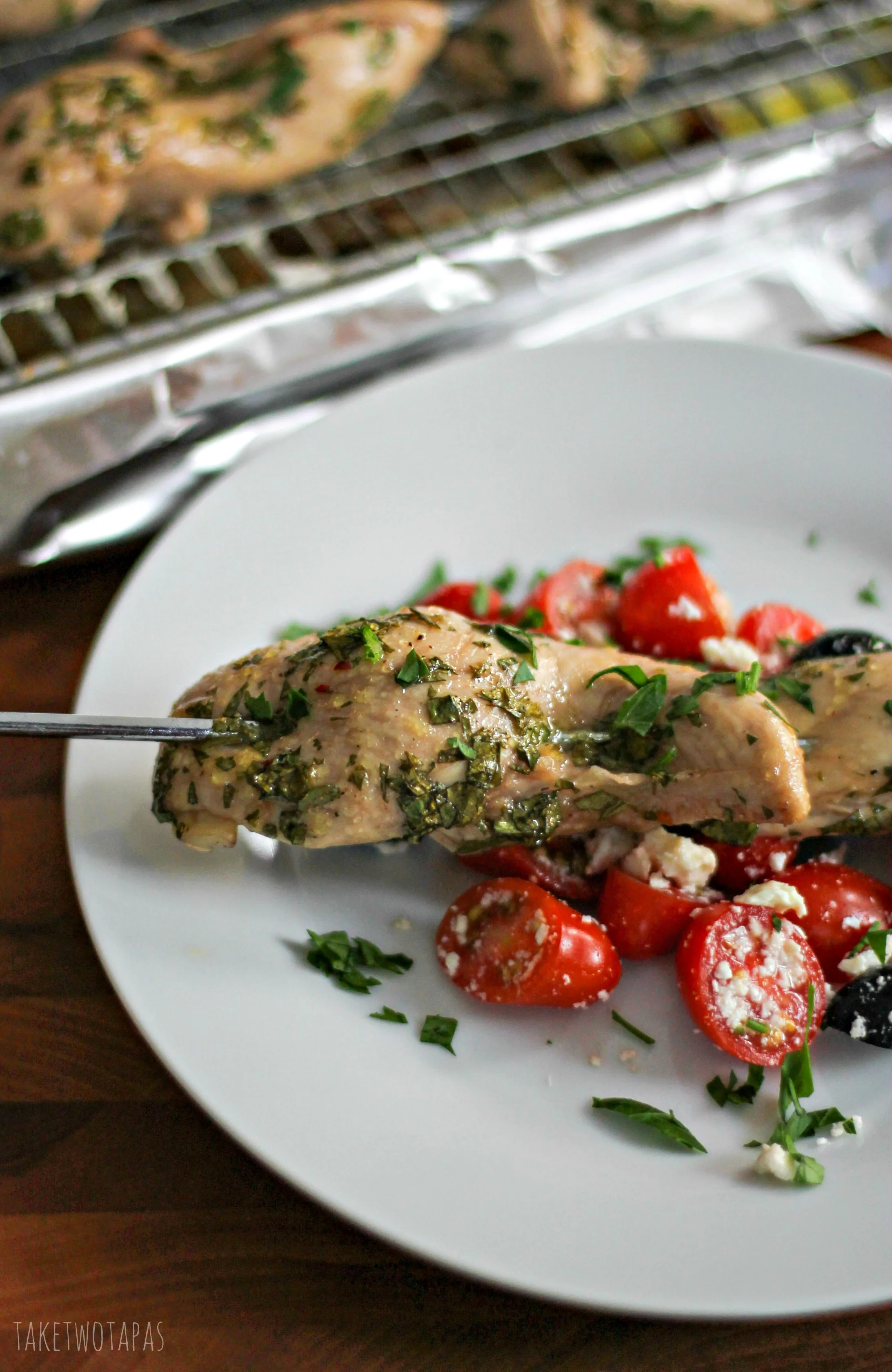 Mediterranean Chicken Skewers
Recently, I went on vacation to Palm Beach where I took my kids on a walking food tour. Hubby was on the golf course, so I needed something that would 1. fill their bellies at least for a little while, and 2. tire them out! Walking a mile and a half while listening to history will certainly get them headed that way! I just love to see them actually eating something that is not breaded, deep-fried, and served with fries.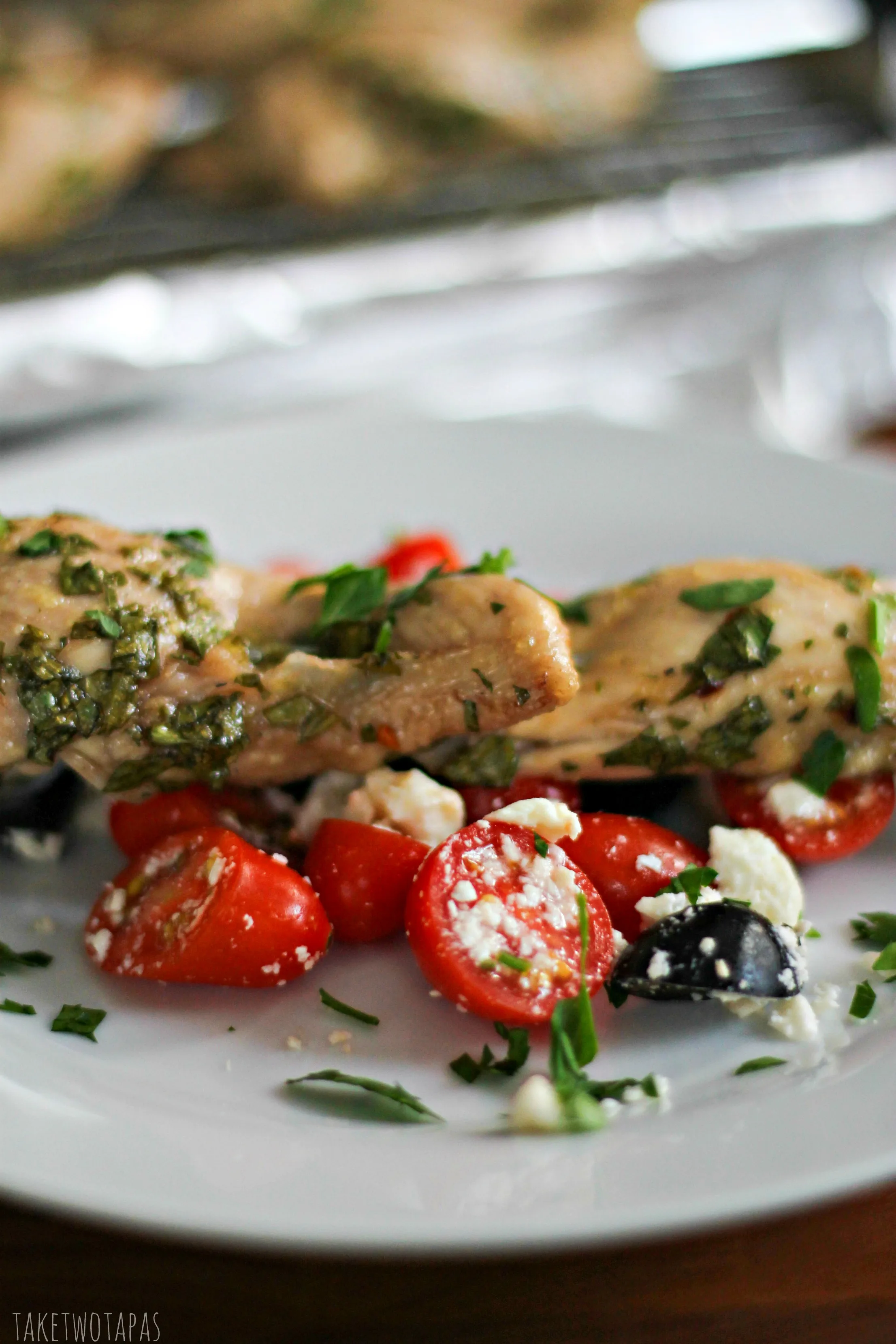 Marinading the chicken in a vinaigrette helps to break down the chicken and make it tender. The salt keeps it tender. After always having my pork chops come out dry, I started marinading my pork in salt water. Sometimes I even throw in some pineapple or orange juice for a tropical flavor. When I cooked it, it came out perfectly seared on the outside and tender and juicy on the inside. Because we eat mostly white meat chicken, I started doing the same thing with my chicken breasts and wings. I could easily throw my chicken in a zip top bag or storage container and cover with salt water. When I pulled them out later to cook, all I had to do was to pat them dry.
Dry chicken or pork NO MORE!
Adding in the vinegar, olive oil, and herbs just makes them that much more flavorful! Presto! Mediterranean Chicken Skewers!
How simple is this?
1. Grab your marinade ingredients and mix together
2. Throw in your chicken tenders.
3. Go on about your day like you don't have a care in the world.
4. Eat some bonbons while binge watching a "Housewives" marathon.
5. When the kids are banging on the door to come in after school, stab your chicken tenders with some skewers to remove any stress you might have had today.
6. Bake in the oven until done. About 20 minutes.
7. Eat together as a family instead of making 3 different meals.
8. Say thank you for your perfect life!~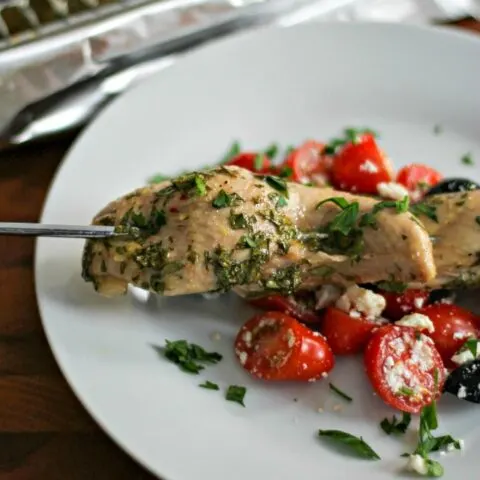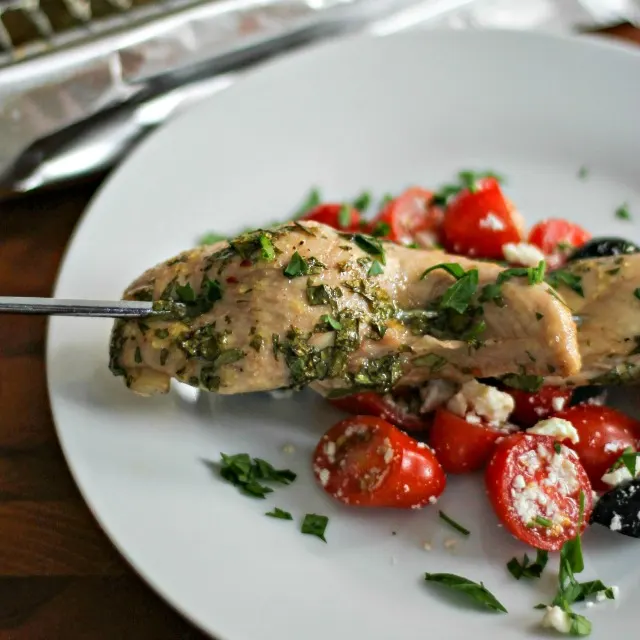 Mediterranean Chicken Skewers
Juicy chicken marinated in a tangy, red wine vinaigrette, and served on a stick atop a simple tomato and feta salad. Everything about that says fun!
Ingredients
Chicken Skewers:
12 chicken tenders, raw
1/2 cup olive oil
1/2 red wine vinegar
2 tablespoons cilantro, chopped
2 tablespoons parsley, chopped
2 teaspoons Kosher salt
1 teaspoon black pepper
1 teaspoon crushed red pepper
6 skewers (wooden skewers need to be soaked in water before adding the chicken. They will burn when cooking otherwise.)
Tomato Salad:
10 ounces cherry tomatoes
8 ounces feta cheese
one 14 oz can of black olives
Instructions
Preheat oven to 400F or fire up the grill!
Combine all the ingredients except the tomatoes and feta and let marinade for at least 1 hour up to overnight.
Thread two chicken tenders on each skewer.
Grill or bake until chicken is cooked through (about 20 minutes.)
While the chicken is resting, mix the tomatoes and feta together.
Divide the tomato/feta mixture and divide among 6 plates.
Place a skewer on each plate.
Serve!
Enjoy these Mediterranean Chicken Skewers with couscous if you want the full experience or make them for your next tailgating party! Meat on sticks makes for easy cleanup.