Ditch the canned sauce! This Homemade Enchilada Sauce recipe is very easy to make and tastes much better than canned! It's definitely worth a few extra minutes to make your own!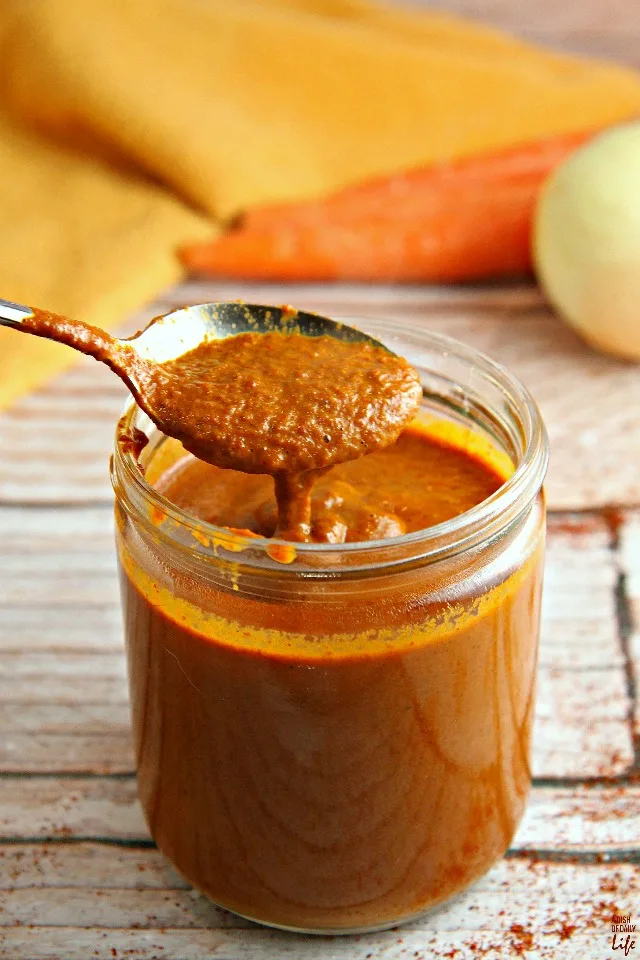 Homemade Enchilada Sauce
Over the next few weeks, you are going to see a lot of Mexican recipes show up on my blog.
A couple weeks back, I was wondering to myself why I don't share more Mexican recipes, since I cook it at least once or twice a week. But then I realized that it's because I've been making them so long that I don't have to think about them. We all have those recipes…they're our old standbys. We don't measure…and they come out pretty much the same each time.
I decided to start documenting these recipes for you, so be on the lookout!
My Homemade Enchilada sauce recipe is not one of those recipes I've been making forever though.
Years ago I took a cooking class where I learned how to make enchilada sauce. But to be perfectly honest, until this past year or so, I'd only made it a handful of times.
I don't have any good reason other than that I tend to make burritos more often than enchiladas. But…I like smothered burritos, and burritos smothered in enchilada sauce are quite good…another new discovery.
But back to our enchilada sauce recipe. I've been playing around with it and adapting it to my familys' tastes (meaning I add veggies), and this has become my basic enchilada sauce recipe! No more canned!
I add carrots to this homemade enchilada sauce, but I also have a Butternut Squash Red Enchilada Sauce that is out of this world good!
Best of all, my Homemade Enchilada Sauce is really easy to make and freezes well if you want to make a double batch. Try it with my Sour Cream Red Enchiladas!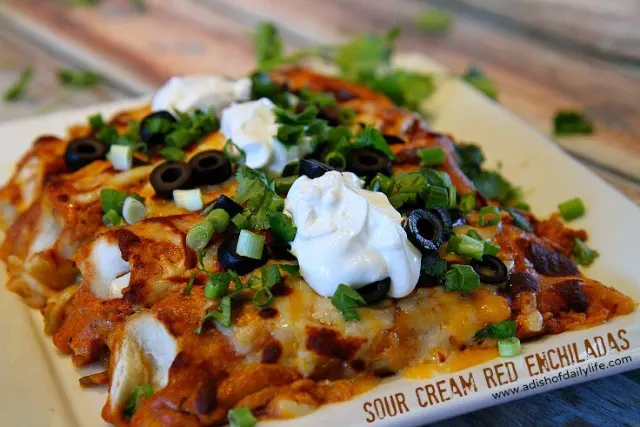 Just look at that thick rich sauce! It's definitely worth a few extra minutes to make your own!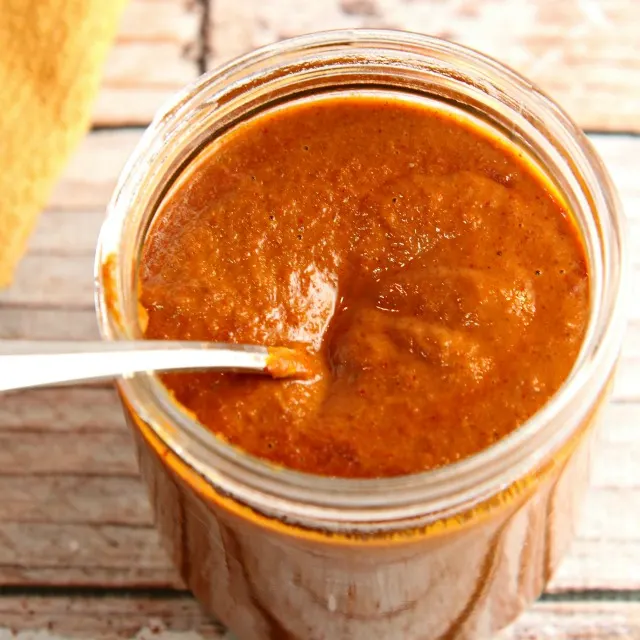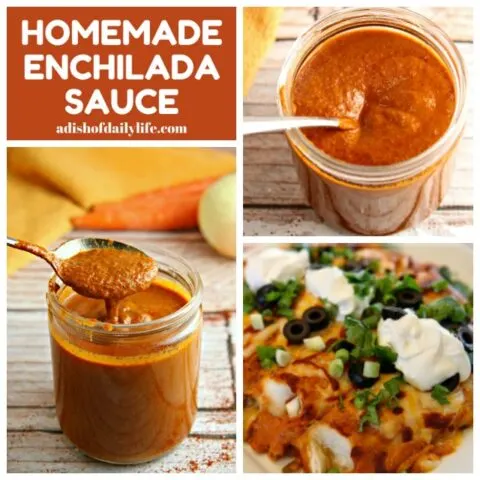 Homemade Enchilada Sauce Recipe
Skip the canned sauce. Homemade enchilada sauce is easy to make and tastes better too!
Ingredients
1/4 cup vegetable oil
1 medium onion, chopped
1 large garlic clove, minced
1 cup chopped carrots
2 tablespoons all purpose flour
1/2 cup chili powder
2 1/2 cups water
1 teaspoon Mexican oregano
1 teaspoon ground cumin
Salt to taste
Instructions
Heat oil in small sauce pot.
Add onion, carrot, and garlic, and saute until softened (about 3-4 minutes).
Stir in flour and chili powder and then add water slowly, stirring while adding it.
If there are any lumps in the chili powder, whisk to break them up.
Add oregano and ground cumin and bring the mixture to a boil.
Reduce heat; simmer for 20 minutes. The enchilada sauce mixture will thicken a little.
Puree with hand blender to smooth out carrot and onions.
Season to taste with salt.
Use or freeze for later.
Other Mexican / Tex-Mex recipes you may enjoy: