Welcome to Meet 'Em Mondays! This is a weekly Bloggy Boot Camp spotlight for those who were at BBC Charlotte, set up by Reese at The Importance of Being Reese. BBC Charlotte was my first full blog conference. I had the opportunity to get to know some of my blogging buddies better there, like Kristen from Four Hens and a Rooster and Ilene from The Fierce Diva Guide to Life. Ironically, I did not really meet Reese there, except in passing at the very end of the conference, but I connected with her soon after, and I have been a fan of her blog ever since.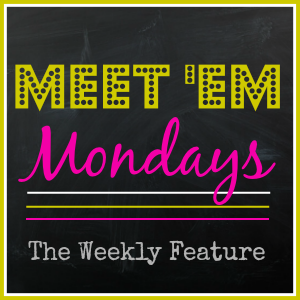 Since this is our very first Meet 'Em Mondays post, I hope I am setting this up right! I was sent the following questions to answer.
How long have you been blogging? I started blogging in September of 2011 but was pretty much clueless for several months until I discovered the SITS Girls early in 2012. Once I discovered the concept of blogging tribes, it became a whole lot more enjoyable. It's not a lot of fun when you feel like no one is listening!

Why do you blog? At first I had planned to share my knowledge about photo organizing and how to get your photos out of shoeboxes and the computer and back into your life again where you can enjoy them. But I also didn't want to just write about that, because I have other interests as well. So my blog has ended up being more of a lifestyle one where I talk about family life and parenting, sports, photography, social media, and even a recipe here and there. I don't think I had a real why when I first got started. My end game now is to use my voice to work with brands. I am a strong believer in the power of personal testimonials. Think about it. When you research a product, do you look to see what people are saying online or do you look at advertisements? Personally I put a lot more stock in reviews and testimonials than I do on advertisements. I often make my purchasing decisions based on what others have to say.

Who is your current blog crush? I don't really have a blog crush per se. I follow quite a few blogs that I like…if I comment on a blog pretty regularly, it would be fair to say that they are a blog crush. I am constantly finding new ones to follow as well!

If you were stuck on a deserted island indefinitely, and could only bring three things, which items would you bring and why? I hope I would never be stuck on a deserted island indefinitely! But if I really had to, I'd want a journal and pencils because writing would keep me from going bonkers, seeds (to grow food and preferably ones that reseed themselves, because I have no idea how to collect seeds from plants), and a lighter (or perhaps an unlimited supply) to start fires with (because I have no clue how to start a fire without one, and I can't even light a match because I am terrified of burning myself). Can I have a couple pots for cooking/boiling water too? And a knife? Can you tell I would not do too well in a survival situation? Can't I just go stay on an island without it being deserted?
You're given a $25,000 shopping spree at a store of your choice, which one do you choose? One store?! Do I have to spend it all at once? I think I would have a hard time spending that much money in one shot. If I did though, and I had to pick one store, it would probably have to be Amazon, because they have everything. I could get camera equipment, electronics, food, clothing, sports equipment, books…I could really stock up. Or at an appliance store, because so many of our household appliances are either broken or on their last legs right now.

If a movie was made out of your life, what type of film would it be? Which actor/actress would play you? It would probably be a really boring movie. Girl meets boy in college, gets married, has three kids and 7 pets, is not involved in any scandals, does not have affairs and get divorced three times, and lives relatively normal life. The biggest excitement in my life is the occasional drama on the sports sidelines. It's not exactly the type of movie most people want to go see.

What is your biggest addiction? I would probably say work. I am a workaholic. Whatever endeavor that I am involved in, I throw myself into above and beyond. But one of my words this year is balance, and I am going to try to keep things in check more this year.

What is your favorite flavor of ice cream? I know this sounds a little strange, but I really very rarely eat ice cream. I used to love it, but when I was nursing my two younger children, they were allergic to dairy, so I had to cut it out of my diet. After that, I never got in the habit of eating it again. If I did start eating it again, I imagine I would buy my old favorites…Ben & Jerry's Chunky Monkey or Cherries Garcia. I could eat a whole carton in one sitting in college. (Keep in mind though, that I was also running 60+ miles a week then…I could pretty much eat anything I wanted those days). My dessert of choice would probably be cheesecake or key lime pie.

Which celebrity annoys you the most? This a tough question because I don't really watch tv or follow any celebrities. I honestly don't care what they do. I'm not sure why any of us care. They don't really live like the rest of us, and I certainly don't want my kids to see them as role models. In a way, I feel bad that they get thrust into that role sometimes.
What is your dream job? I could be happy doing any number of things. I like working for myself because it gives me the flexibility to work around my kids' schedules and be there for their activities, and because I'm accountable to myself for my own happiness.
If you liked what you read here today, consider subscribing via email (sidebar) or bloglovin!