This easy Mexican Casserole has all the taco fixings that your family loves in a comforting casserole. It's perfect for Taco Tuesday, Mexican night or any night you need to get dinner on the table quickly!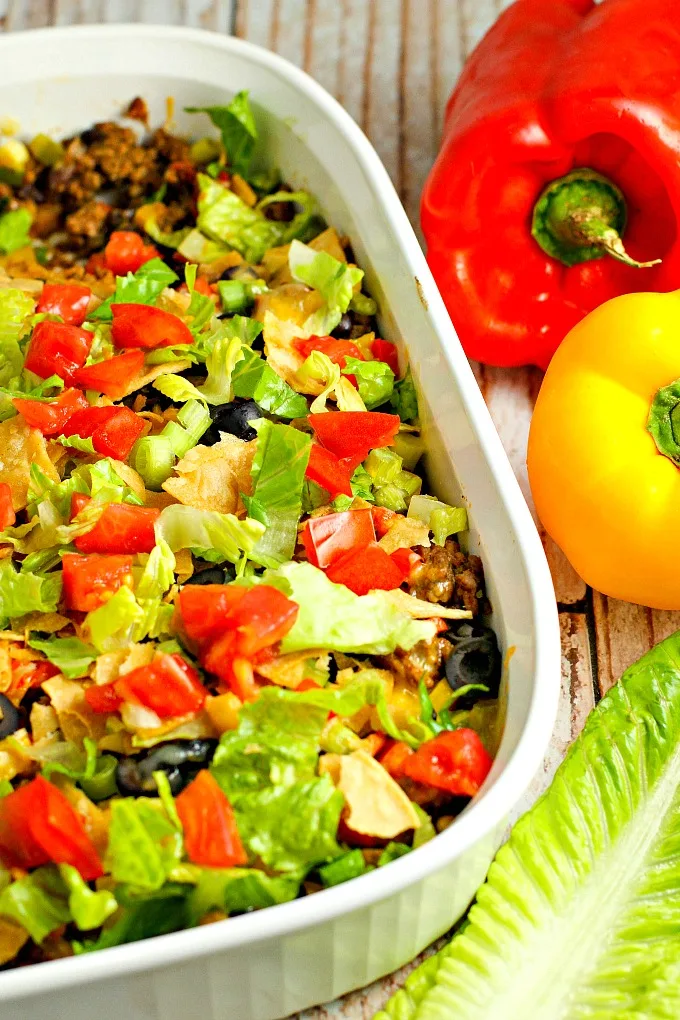 MEXICAN CASSEROLE
The kids are back to school now, and everything is more structured again. As my family will tell you, I'm not always great at planning my dinners ahead. If I do it on Sunday night, I'm in great shape for the week. If I cook night by night, well, that's a different story.
My kids are are teenagers, so you'd think I'd have a lot more free time to be more organized. Somehow it doesn't work out that way. I work from home, and I often get so caught up in my day, that I look up at the clock and it's just about dinner time!
The two in high school have sports after school (my oldest is in college), and my daughter drives, so she can usually bring her brother home. But once the soccer and cross country seasons are in full swing, there are games and meets that I want to go to, and there always seems to be other activities and events as well. I really need a collection of fast and easy dinners that I can throw together with ingredients that I have in the house.
This Mexican casserole is one of those meals!
Mexican food has always been one of my favorites. And one dinner all of my kids can agree on is tacos! This Mexican casserole is a great dish for us because it has all the taco fixings, but in an easy-to-cleanup casserole form. As far as I'm concerned, the less dishes the better!
Normally I wouldn't put the ingedients into all these separate dishes…I'd just chop and move them right from the cutting board to the casserole dish!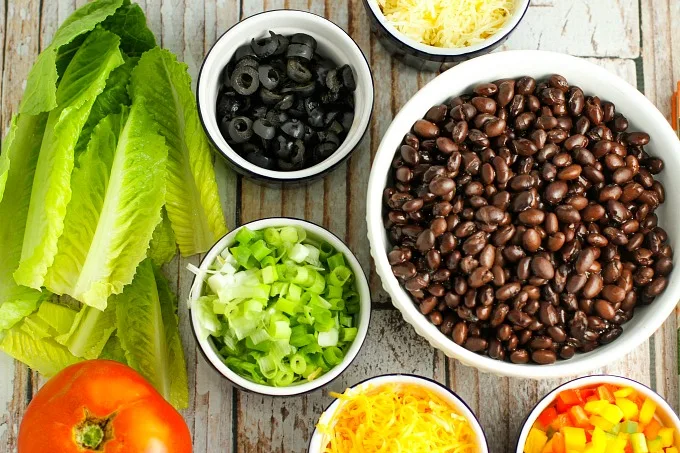 I use my homemade taco seasoning in this casserole. You could use one of those premade packets, but you probably have everything you would need to make your own taco seasoning in your spice cabinet, and it only takes a few minutes. Plus it's healthier…all the flavor but none of the preservatives!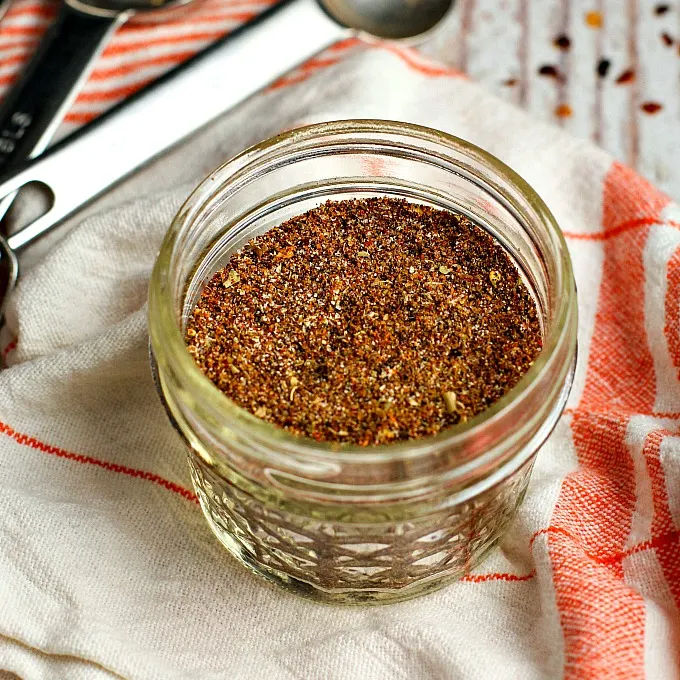 HOW TO MAKE THIS MEXICAN CASSEROLE
Start by browning your ground beef. Drain any excess fat, then add your black beans, salsa and taco seasoning and cook for a few more minutes.
In a large casserole dish, crumble 2 1/2 cups of your tortilla chips on the bottom of the dish. Top with the ground beef, black beans and salsa mixture.
Sprinkle the peppers, chopped green onions, olives and cheese on top, then bake uncovered for 20 minutes. Top with the chopped Romaine lettuce, tomato and the rest of the tortilla chips.
Dinner is served!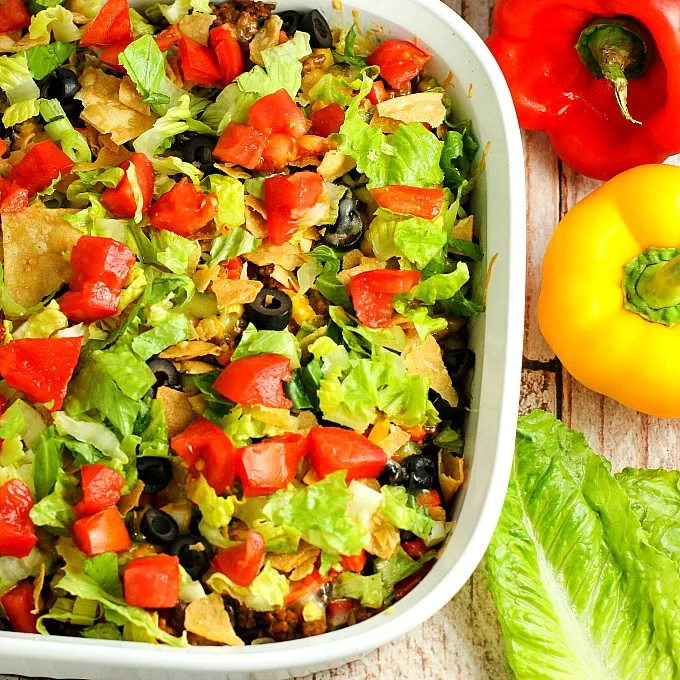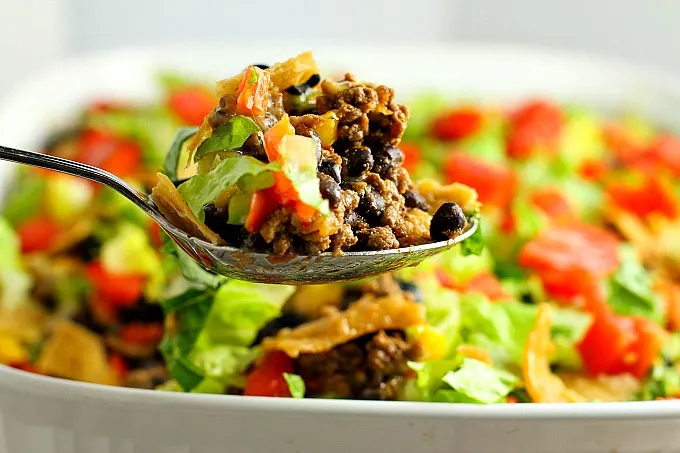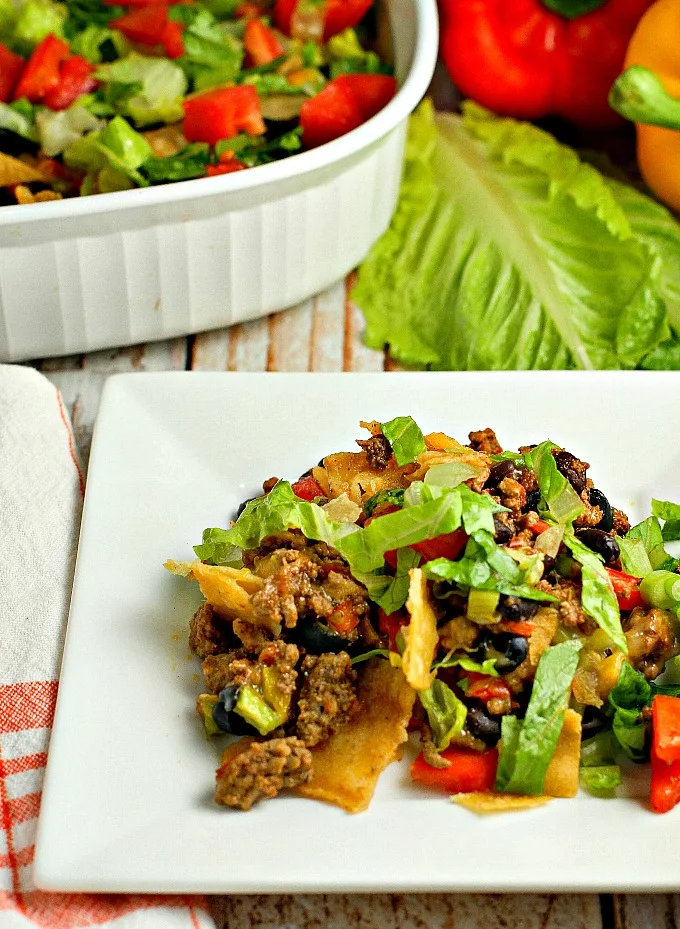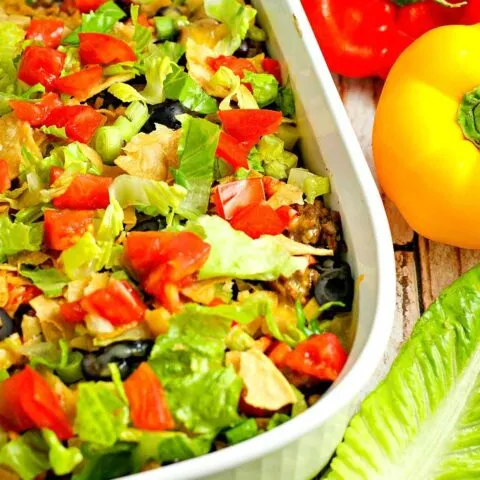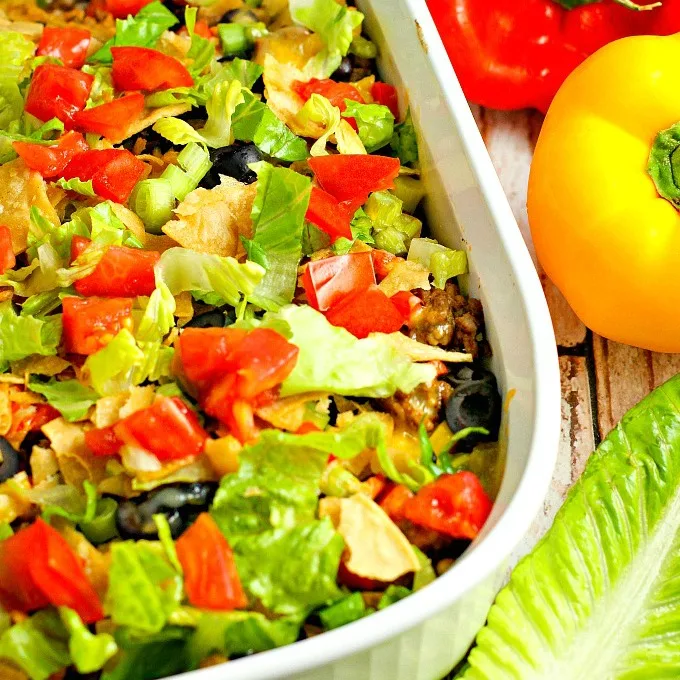 Mexican Casserole
Ingredients
2 lbs lean ground beef
3 cups broken tortilla chips
1 lb 13 oz can of black beans, drained and rinsed
16 oz salsa
1/4 cup taco seasoning
1 cup mixed bell peppers, red, yellow, and green, chopped
5 green onions, chopped
1 can sliced olives, drained
2 cups shredded cheddar and/or Monterey Jack cheese
1 large tomato, chopped
1 cup chopped or shredded Romaine lettuce
Instructions
Preheat oven to 350 degrees.
In a large skillet, cook ground beef over medium high heat until cooked thoroughly, about 5-7 min.
Drain excess fat from ground beef.
Stir in black beans, salsa, and taco seasoning. Reduce heat to medium and cook for a few more minutes.
In large casserole, place 2 1/2 cups of broken tortilla chips on the bottom of the dish. Top with ground beef, bean and salsa mixture.
Sprinkle the bell peppers, cut green onions, olives and cheese on top of the ground beef mixture.
Bake uncovered for 20 minutes until cheese is melted. Top casserole with lettuce, tomato, and the remaining 1/2 cup of broken tortilla chips.
Nutrition Information:
Amount Per Serving:
Calories:

82
Total Fat:

4g
Carbohydrates:

9g
Protein:

5g
This recipe first appeared on Amanda's Cookin'.
OTHER MEXICAN RECIPES YOU MAY ENJOY: