Disclosure: I was invited to preview the Microsoft Store in the Westfarms Mall prior to the opening. All opinions are my own.
I recently received an invitation to preview the new Microsoft Store in the Westfarms Mall the day before their Grand Opening. I couldn't resist the opportunity to take a sneak peek ahead of time as I love seeing new tech products. What I wasn't expecting was the full array of services that the Microsoft Store offers as well…I was definitely impressed!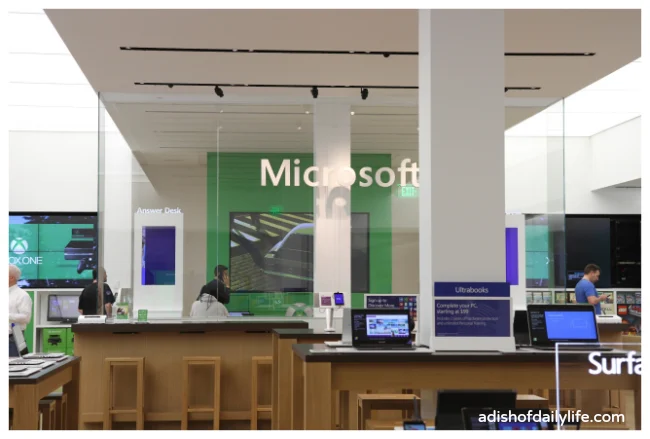 Product Offerings at the Microsoft Store:
Having not been to a Microsoft Store before, I was excited to see these great product offerings.
Windows Phone Nokia Lumia 1020
Those of you who know me know how much I love photography. So imagine my excitement at seeing a 41 megapixel camera on a phone! Rick, the Westfarms store manager, demonstrated to us how your photos are crisp and clear no matter how far you zoom. This has always been an issue for me with camera phones (and with point and shoots) and has been one of the reasons why I don't use mine more. Of course you can also edit, crop and share. The Lumia 1020 features 32 GB of storage and a 4.5" PureMotion display.
As a blogger, one thing that I could see coming in really handy for me is having access to Office on my phone, which comes installed on all the Microsoft phones. I could start a document at home, sync it to OneDrive before I head out, and edit while I'm sitting at soccer practice.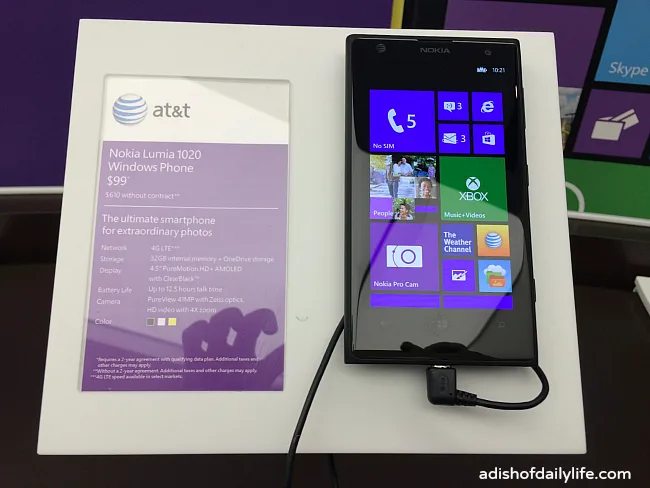 I've been looking for something small and compact that can handle a lot of the functions of my laptop…and I think a Surface might fit the bill. You can use it with touch as well as type, get all your work done and enjoy all the entertainment and gaming capabilities that you would expect from a tablet. Check out these helpful comparisons here.
The Surface 2 has battery life up to 10 hours, is powered by an NVIDIA Tegra 4 processor, making apps run faster and smoother, and features a dual kick stand for hands-free entertainment.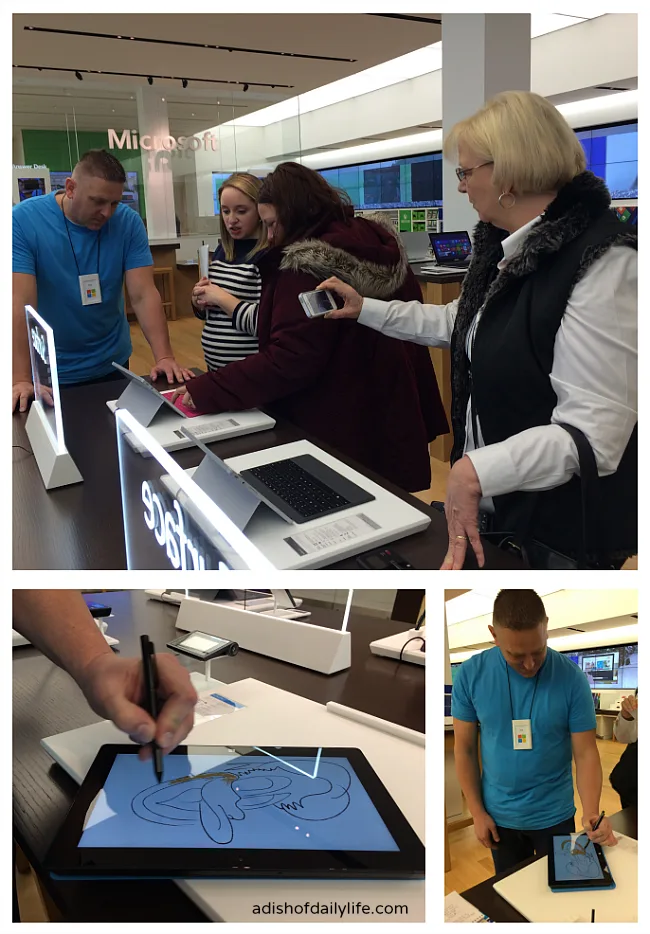 Having teenagers, this is quite familiar to me.
Xbox One offers instant access to live TV, games, music, movies, sports and Skype…an all-in-one games and entertainment system. The store had a big section dedicated to gaming.
One of the things highlighted during our tour was Titanfall, which is one of the most heavily anticipated Xbox One games for 2014. It was created by one of the co-creators of Call of Duty and other key developers from the Call of Duty franchise. The launch date is March 11, but you can be the first to get your hands on the game, and have a chance to win $2K in free prizes and free game swag by joining Titanfall fans at the Westfarm Microsoft retail store at 9 pm on March 10 for the launch party!
MakerBot Replicator 2 Desktop 3D Printer
One of the coolest things I saw during our store tour was this 3D printer. You can prototype 3D models right at your desk, accelerating the design process. The wave of the future? I think so!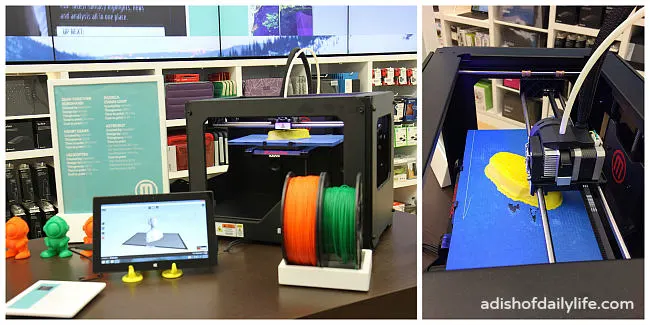 Services at the Microsoft Store:
The staff at the Microsoft store also shared with us the full array of services offered in store.
They will actually help you with any of your devices, whether Microsoft or not. For all services offered, check online here!
They also have a section in the store designated as theater space. Members of the community can reserve the space for free (yes, free) and use it for training, events and more! So if you want to teach a class, the Microsoft store allows you to reserve the space to do so. We inquired about having Microsoft staff train us on making videos, and they said they'd be happy to teach a class if we wanted to pull together a group! How cool is that?!
Check out the Microsoft Store nearest you to learn more about their products and services, and be sure to follow them on their social networks to stay up to date with new products and events!
And if you are in the greater Hartford area, be sure to check out the Westfarms Microsoft Store!
Westfarms Microsoft Store
211 Westfarms Mall Farmington CT 06032 Phone: 860.507.2660