This No Bake Cheesecake with Raspberry and Lavender is easy to put together and tastes amazing with creamy, sweet, tart, fruity flavours and a lingering floral sweetness and fragrance from lavender.
Hi there, A Dish of Daily Life readers! My name is Dini, and I'm the blogger behind Giramuk's Kitchen! I was very excited to be given the opportunity to create a special dish for Michelle's blog.
I wanted to stay true to both Michelle's and my styles and that's why I came up with this amazingly decadent and delicious yet simple dessert, that's perfect for this time of year!
No Bake Cheesecake with Lavender and Raspberry
I usually get a little obsessed with fruits, flowers and bright colors when early summer rolls around, and it's exactly that which inspired me to create this no bake cheesecake recipe! 🙂
Plus I love cheesecake, but I don't like cheesecake made with gelatin (which is how no bake cheesecakes are generally made). I don't know what it is about them, but the gelatin really turns me off of it.
I prefer baked cheesecakes for their creaminess but we don't always have the time to bake, wait for them to cool and then chill them. THIS recipe, however, will give you the classic flavors and creaminess of a baked cheesecake with much less hassle, in no time at all!
A few notes on the recipe:
The lavender syrup is super easy to make and you can find the recipe for that right here. The one change from that recipe however is that after you strain the florets from the syrup, I DO NOT want you to throw those away! You can swirl some of it through the cheesecake.
I have made a tart crust with Oreos here, which isn't hard at all, but it would be even easier and take less time if you make just the crust base without the sides (like I have done). In the recipe, I will be talking about how to make just the crust base using an egg ring (3.5 inches in diameter), or how to line a 3.5 inch mini tart mold. You can also assemble parts of this dessert ahead of time and then put everything together just before serving.
The Oreo crust thaws out quickly, so store it in the freezer till you're ready to use it. Pipe or spoon the cream cheese on the cookie base and then top them with extra fresh raspberries and a drizzle of the beautiful lavender syrup.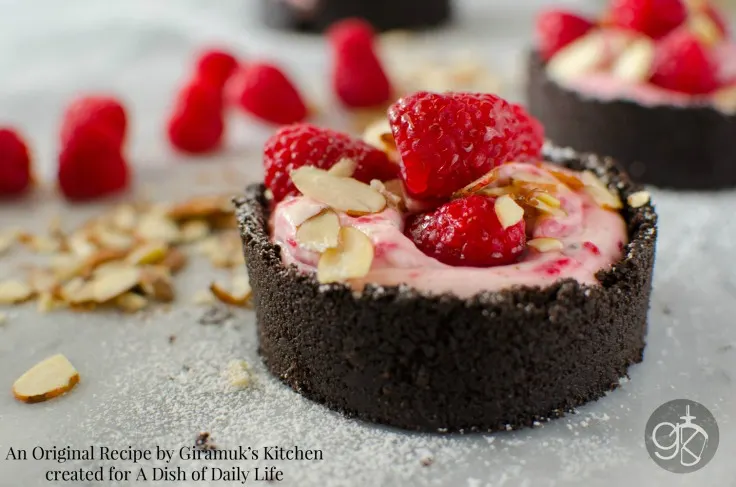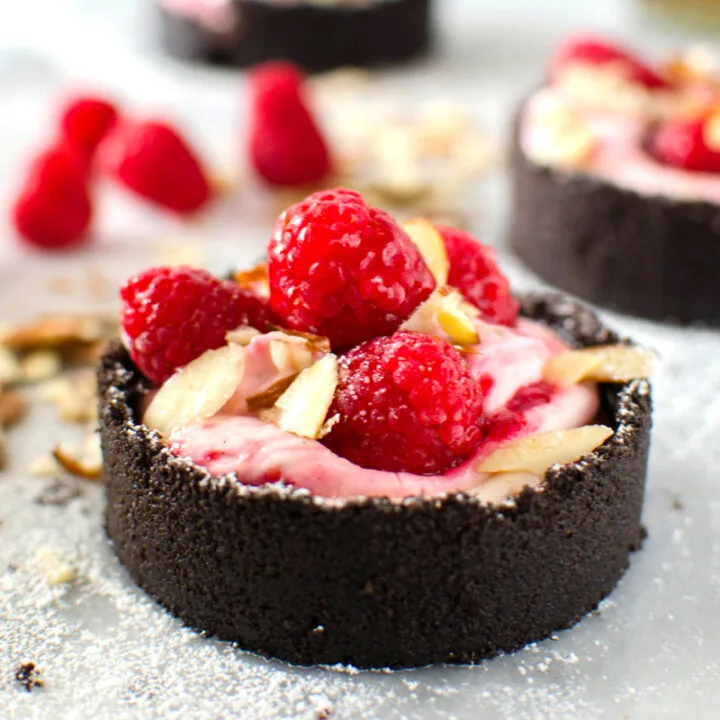 No Bake Raspberry Lavender Whipped Cheesecake
This No Bake Cheesecake with Raspberry and Lavender is easy to put together and tastes amazing with creamy, sweet, tart, fruity flavors and a lingering floral sweetness and fragrance from Lavender.
Ingredients
Crust
10 oz Oreo cookies
2 oz melted butter
pinch of salt
Cheesecake
4 oz cream cheese
2 tbsp cream
3 tbsp lavender syrup
1 tsp vanilla
1 tsp lemon juice
Raspberry Compote/paste
4 oz fresh raspberries
2 tbsp sugar (simmer for 15-20 minutes until thickened)
To serve
3-4 oz fresh raspberries
Sliced Almonds
Extra Lavender Syrup
Confectioner's sugar
Instructions
Crust
In a food processor, place the Oreos and salt, and process until you get cookie crumbs.
Then while running the food processor on its lowest setting, drizzle the butter in. This should make the cookie crumbs moist enough to be pressed into a cheesecake base.
Take 4 omelet rings or tart rings and butter the insides. Place these on a parchment paper lined cookie sheet or tray. (Alternatively, you can use 4 mini fluted tart pans as well).
Place some of the cookie crumbs inside and using a flat bottomed glass or tart tamper or the back of a spoon, press down the crust to form a flat base.
If you prefer, use your fingers to press the cookie crumbs onto the sides of your tart rings as well to form the sides of the cheesecake (this is optional, just the base would be sufficient, and easier)
Let the tart bases freeze for a few hours, or until you need them.
When you're ready to use the tart bases, carefully remove the tart ring by using a sharp knife to loosen the edges. Be careful not to break the base. If you have molded the sides as well, you may need a blow torch to warm up the sides slightly, to make unmolding easier.
Raspberry swirl (can be made ahead of time)
Place all the ingredients in a small saucepan. Bring to a boil on medium heat.
Lower the heat and let it simmer until you have a thick raspberry coulis/paste - about 10 minutes.
Set aside to cool and store in the fridge until ready to use.
Cheesecake
In a bowl, place all the ingredients. Whisk until you have a smooth paste.
Add as much of the raspberry paste/coulis as you need to create a ripple effect. You can alter the amount according to your preference. I added about half. Cover with plastic wrap and keep in the fridge until ready.
Optional - store the cheesecake in the fridge in a piping bag fitted with a wide round nozzle.
Assembly
Remove unmolded tart bases from the freezer (about 10 minutes before serving).
Spoon the cheesecake or pipe in the cheesecake evenly onto the four bases.
Stud the top with 3-4 fresh raspberries.
Drizzle a little extra lavender syrup on top.
Sprinkle some sliced almonds and confectioner's sugar.
Serve immediately.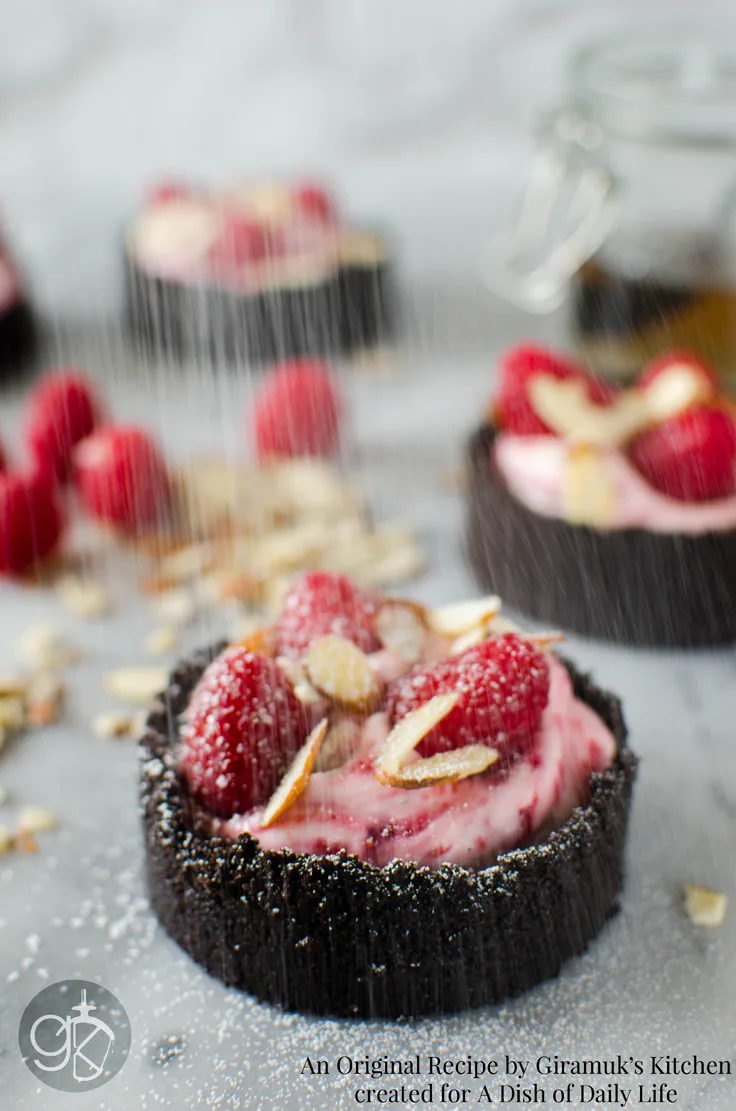 The much loved flavor of Oreo cookies in the base pairs really well with the tangy, creamy cheesecake flavor. The raspberries add beautiful color and a ripple on top of the sweet, tart, fruity flavour. And all that is complemented well by the lovely lingering floral sweetness and fragrance of lavender. It's an amazing dessert that I'm sure you will all fall in love with! 🙂
If you prefer not to use lavender syrup however, you can easily substitute it with normal sugar syrup, but personally I love the floral notes in this dessert. I think fruits and floral notes go so well together! Also, you can experiment with different types of berry too. Blueberry and lavender, strawberry and lavender are also fantastic flavor pairings! 🙂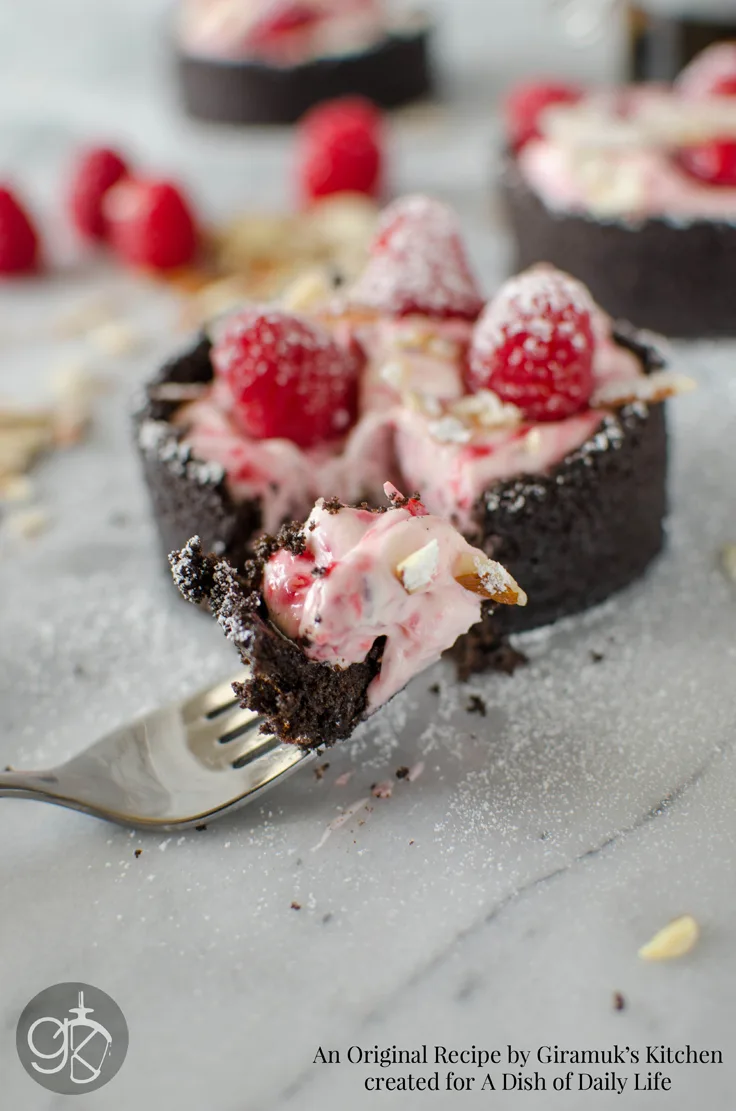 I hope you truly enjoy this No Bake Cheesecake with Raspberry and Lavender!
Found on The Flavor Bender – Formerly known as Giramuk's Kitchen