Your favorite sandwich just became a cookie! These PB&J Cookie Bars with Strawberry Jam are easy to make, and a delicious way to satisfy your sweet tooth craving.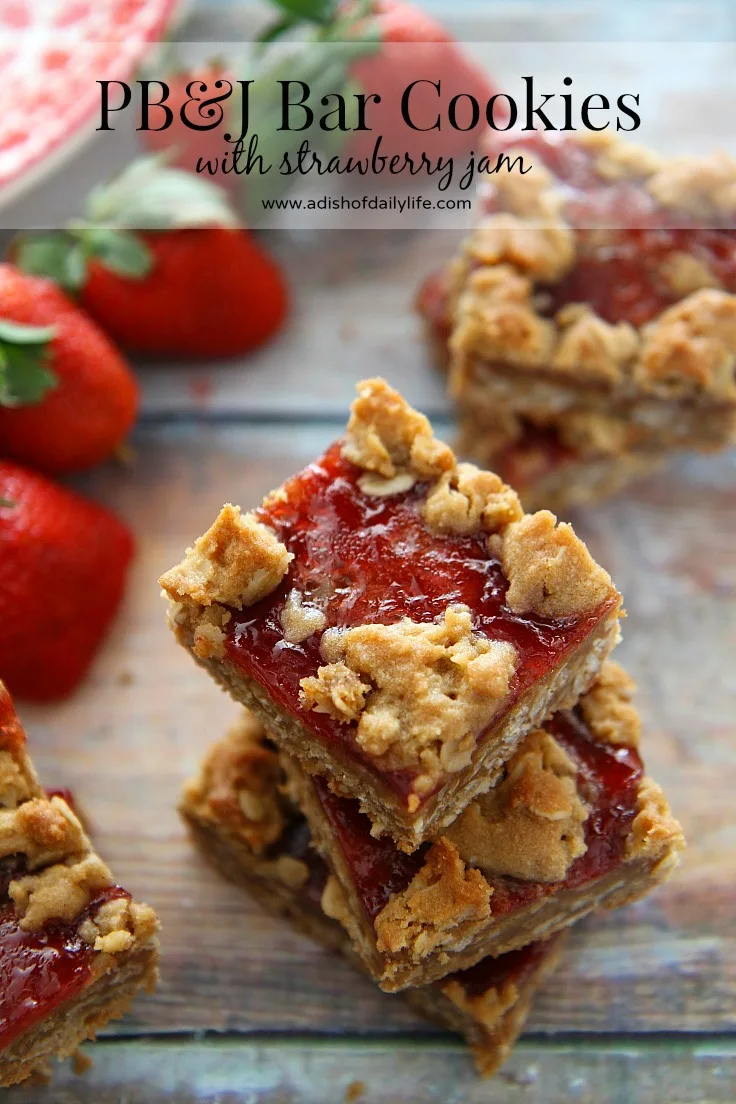 PB&J Cookie Bars
I've been doing a lot of baking lately. You've probably noticed a couple of recent cookie bars recipes.
And now I'm going to give you another one.
Cookie bars (or bar cookies, whatever you want to call them!) are my favorite dessert to make because they're so easy. When it comes to baking, I prefer easy.
I'm one of those people who forgets to watch the clock.
Cookie bars are a little more forgiving when they're in the oven a couple minutes too long. (Yes, I know I can set the timer. I just forget most of the time.)
My husband made peanut butter and jelly sandwiches the other day for us to eat on the way from our ski condo to the UConn – SMU championship game. It got me to thinking about how good PB&J cookie bars would be.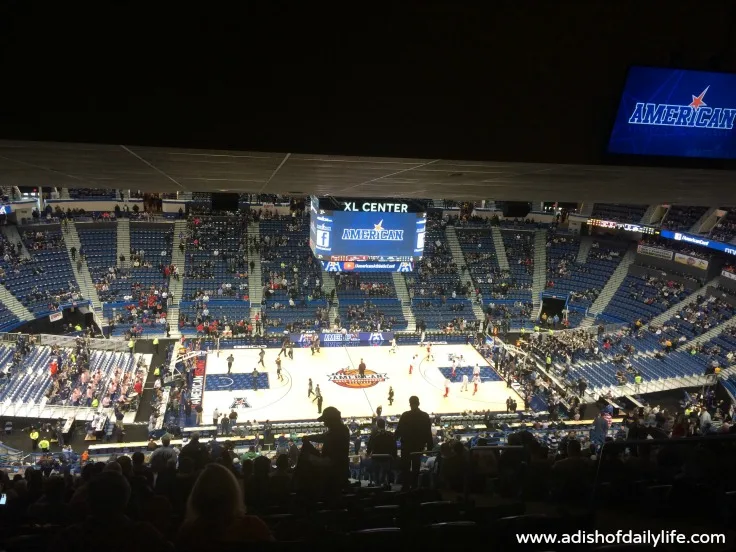 Here's the view from our nosebleed seats. I think we were like 3 rows from the very last one.
Unfortunately, UConn lost. It was an exciting game…they almost came back at the end!
And then I made these yummy PB&J Cookie Bars with Strawberry Jam today.
They're going fast. I hope you enjoy them too!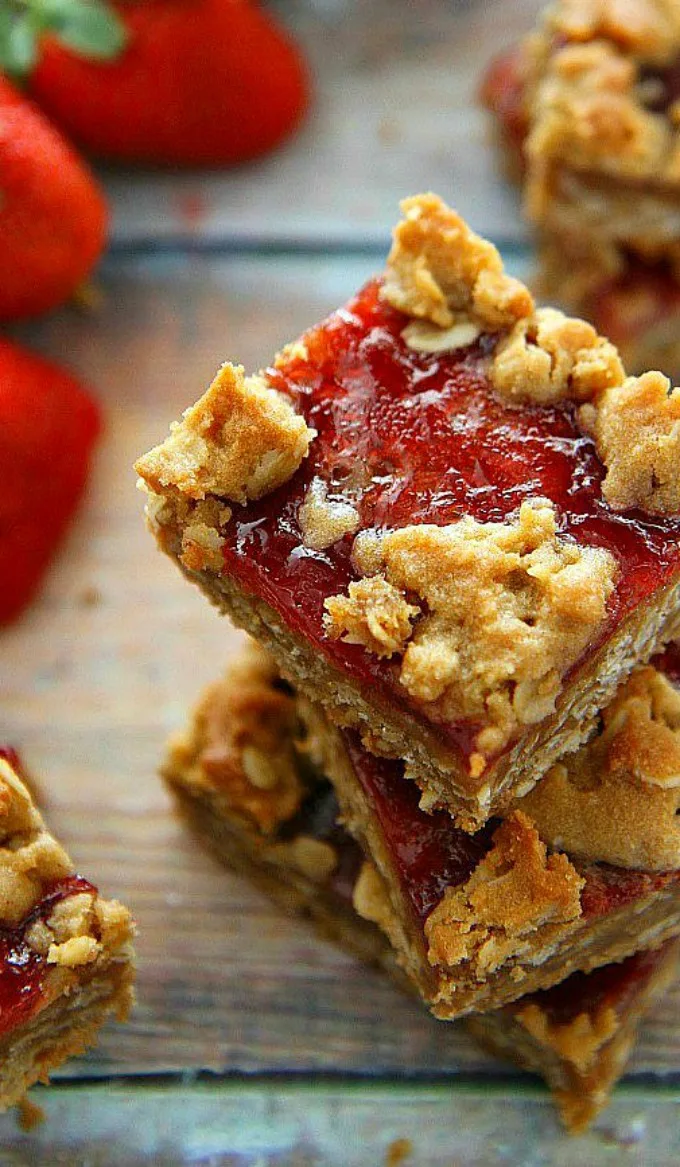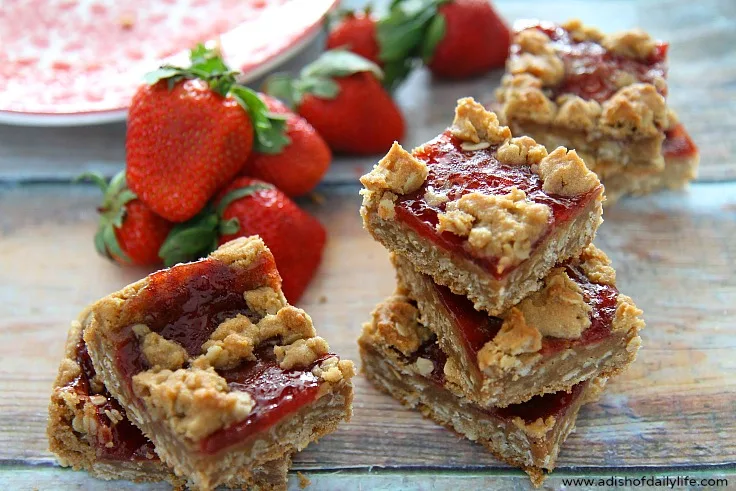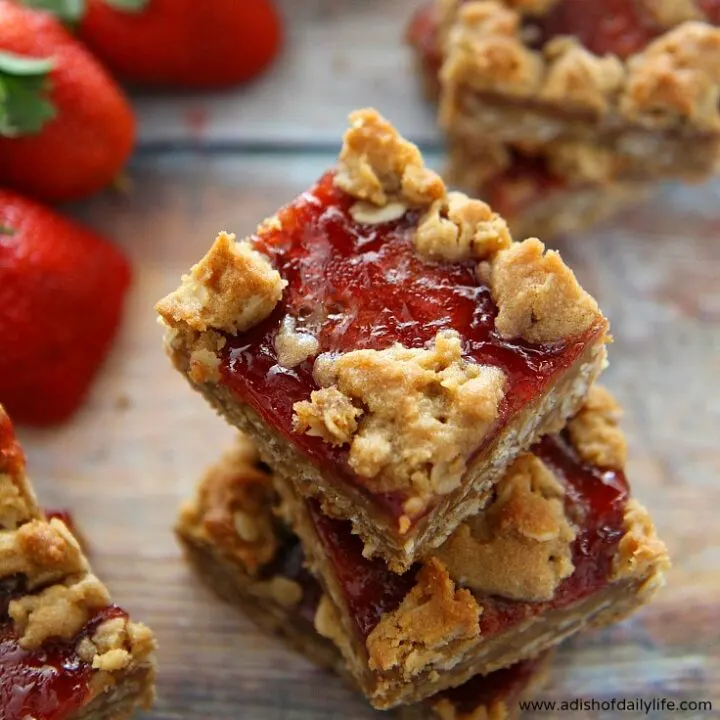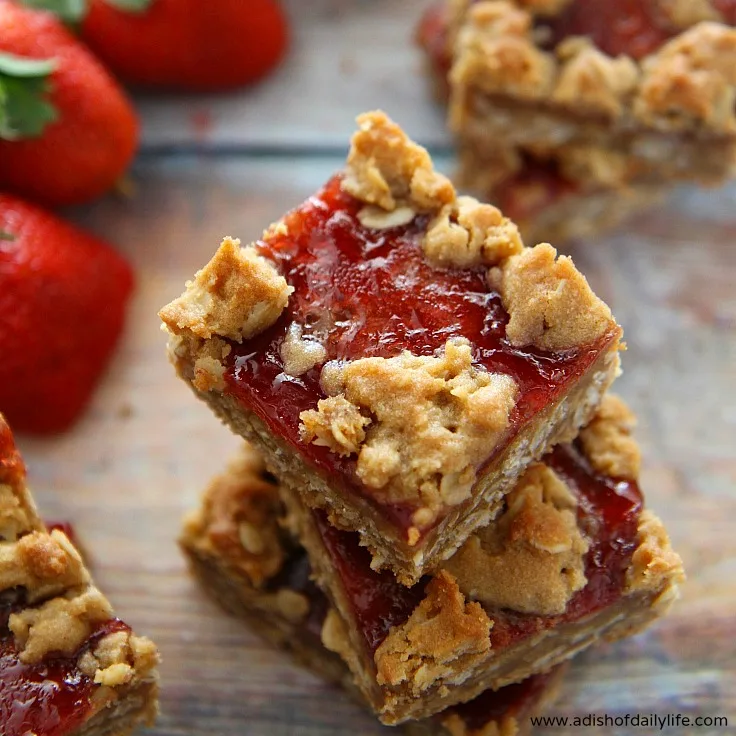 PB&J Cookie Bars with Strawberry Jam
Ingredients
2 sticks of butter, softened
1 1/2 cups of light brown sugar, packed
1/2 cup creamy peanut butter
2 teaspoons baking soda
1 teaspoon vanilla
1 egg
2 cups all purpose flour
2 cups of oats
1 cup strawberry jam or preserves
Instructions
Preheat oven to 350 degrees.
Line a 13 x 9 glass baking pan with foil, with extra over the edges. When your bars are done, you can simply lift them out of the baking dish.
Grease your foil with butter.
Using a stand mixer, beat the butter until smooth.
Add the brown sugar, peanut butter, and baking soda and continue to beat until combined.
Then add vanilla and egg, continue to combine.
Add flour to mixture slowly and continue beating until well mixed.
Remove bowl from stand mixer, fold in oats, and mix in by spoon.
Set aside about 1/2 cup of the dough, and press the rest of it into the bottom of your pan on top of the foil.
Spread strawberry jam or preserves across the top of the dough.
Sprinkle pieces of reserved dough across the entire top.
Bake for approximately 35 minutes or until you can insert a toothpick cleanly,
Remove from oven, allow to cool.
Once cool, remove from pan, and cut into bars or squares.
Nutrition Information:
Serving Size:

1
Amount Per Serving:
Calories:

5455
Total Fat:

199g
Saturated Fat:

85g
Cholesterol:

342mg
Sodium:

4102mg
Carbohydrates:

865g
Sugar:

532g
Protein:

79g