No need to heat up the kitchen…fire up the grill, and turn a pre-made FRESCHETTA® gluten free cheese pizza into a gourmet pesto artichoke chicken pizza!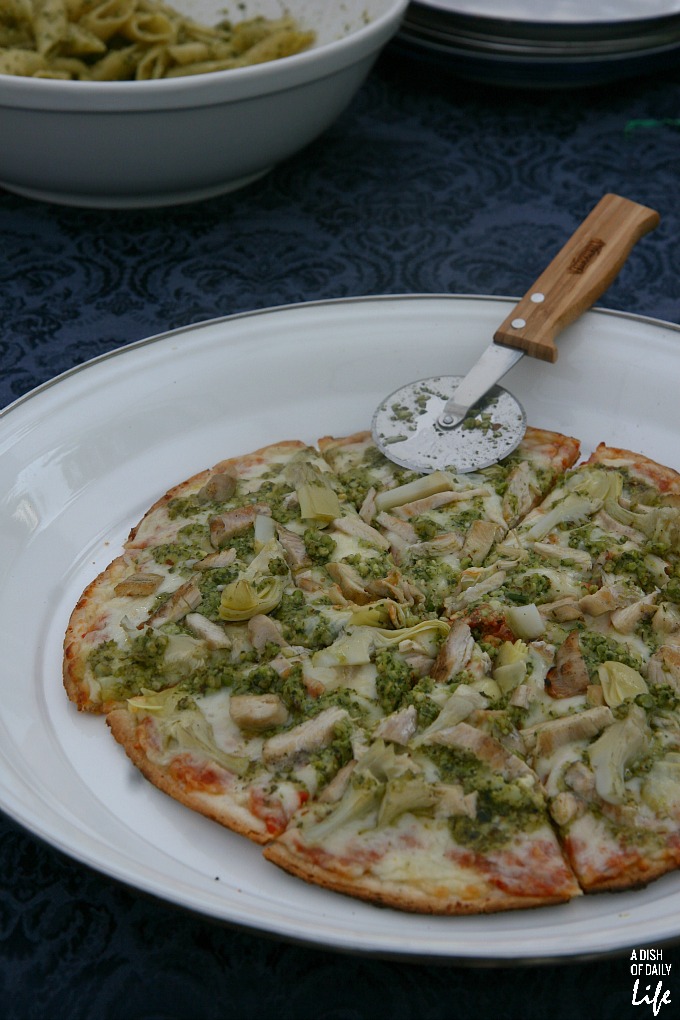 These days we're trying to avoid cooking inside as much as possible. Part of it is because we don't want to heat up the house, but the other part is that we had the longest winter ever (okay, maybe it just seemed like it), and we just want to be outside!
To be perfectly honest, this was the first time I have ever grilled pizza. But it was so good, I think we're going to be grilling pizza all summer long.
When my youngest son was little, he was allergic to wheat. It was a scary time for us. He was in and out of the hospital several times while the doctors tried to figure out what was wrong with him.
Once they realized he was allergic to wheat, we decided to go on a completely gluten free diet as a precaution. At that point I had three kids under the age of six, and I wasn't about to cook separate meals in the spare time that I didn't have. So the whole family went gluten free. We tried a ton of different food brands; some we liked, some we didn't. Some stuck with us. The pancake mix we still use to this day is gluten free, and my family loves it.
But more telling though, both pizzas were literally gone in a matter of minutes. I barely had a chance to take pictures for you!
Turn a Plain Cheese Pizza into a Gourmet Pesto Artichoke Chicken Pizza
This has been a really busy summer so far. We've had a lot of company. It's been nice to see everyone, but let's face it, sometimes you just want an easy dinner you can throw together quickly.
The night we made this, I thought I'd grab a couple frozen cheese pizzas, dress one of them up with our favorite toppings (leaving the plain cheese for the little kids) and cook them on the grill. It was mostly a leftover night…we had some leftover pesto pasta and hamburgers, and then we made a green salad…it was the perfect easy dinner!
One of our favorite pizzas comes from a pizza restaurant at the ski resort we frequent in the winter. It has pesto, artichoke hearts, and chicken on it. I had pesto already made, and we had grilled chicken leftovers. Perfect timing for this pizza!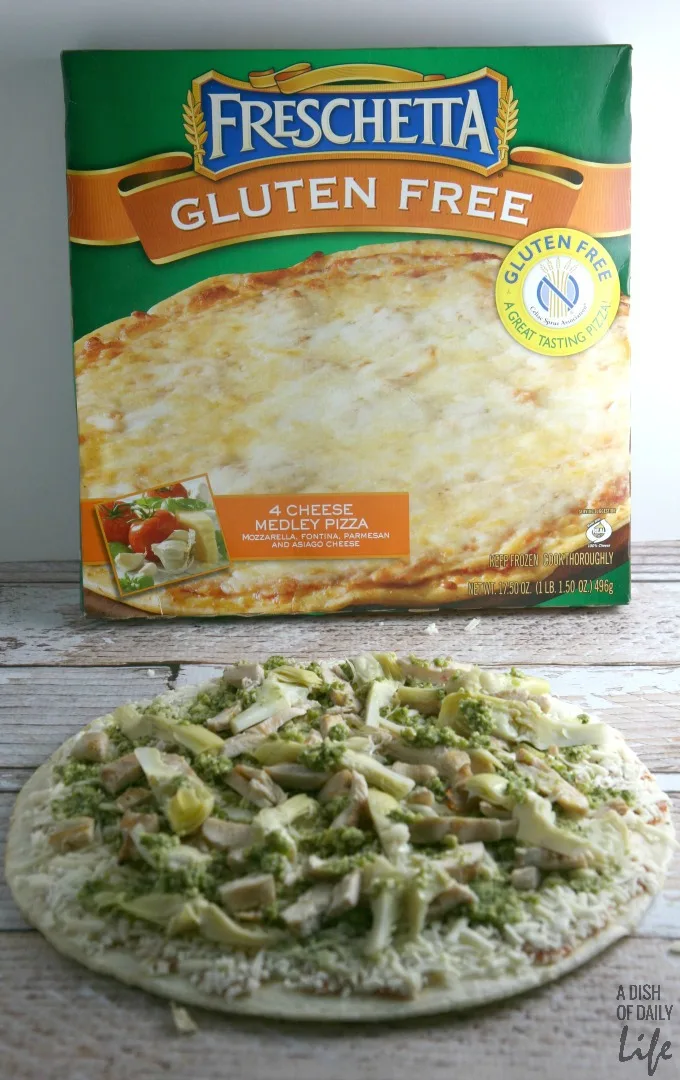 With the cheese already on there, I just decided to spoon pesto over the top in various spots. I knew it would spread out a little as it cooked. Then I added cut up grilled chicken and a 1/2 of a can of drained and quartered artichoke hearts. I actually took the quarters and quartered them again because I felt like the quarters were a little too big. Obviously that's just a matter of personal taste.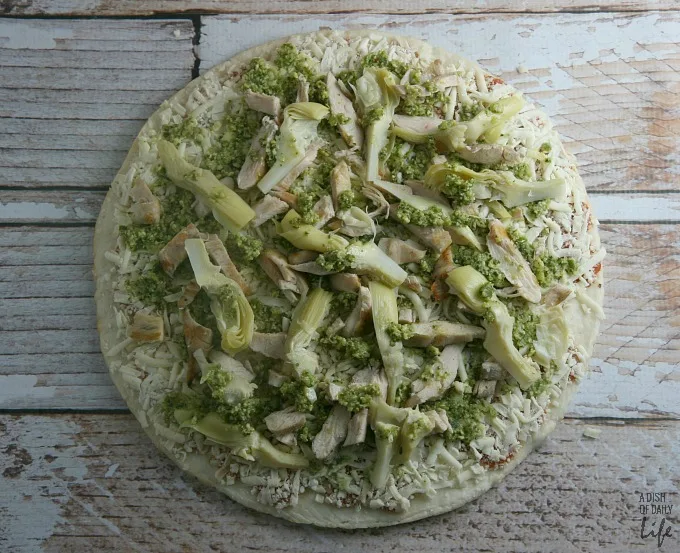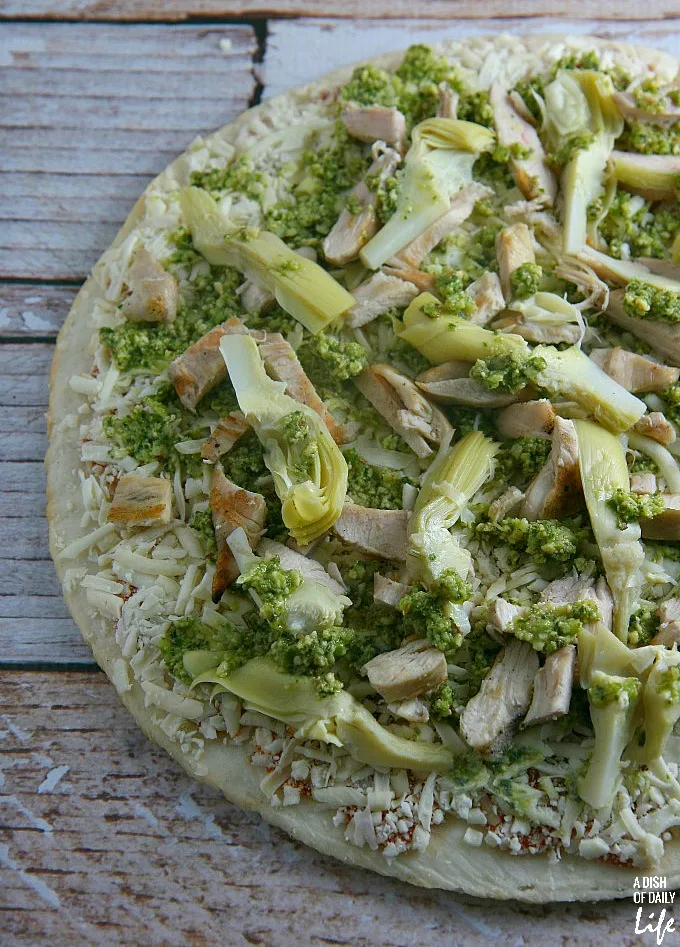 The secret with grilling, we found, is to try to keep your temperature down to under 400 degrees and keep the top down to help melt the cheese. Your pizza should be ready in 15-20 minutes or so. We cooked the pizzas right alongside of the hamburgers.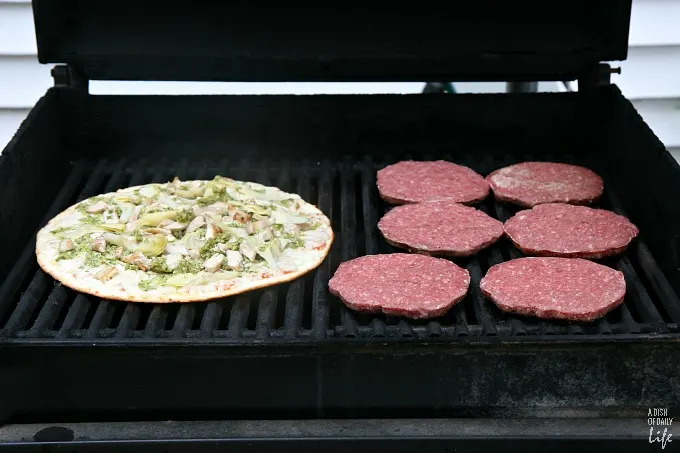 Dinner is served!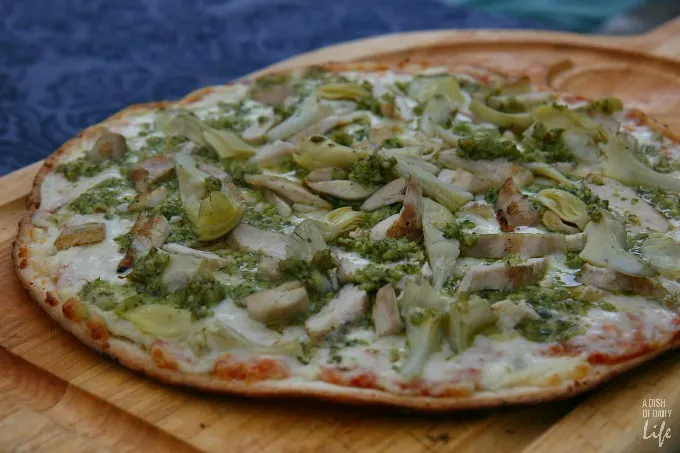 Here is one of our happy pizza eaters!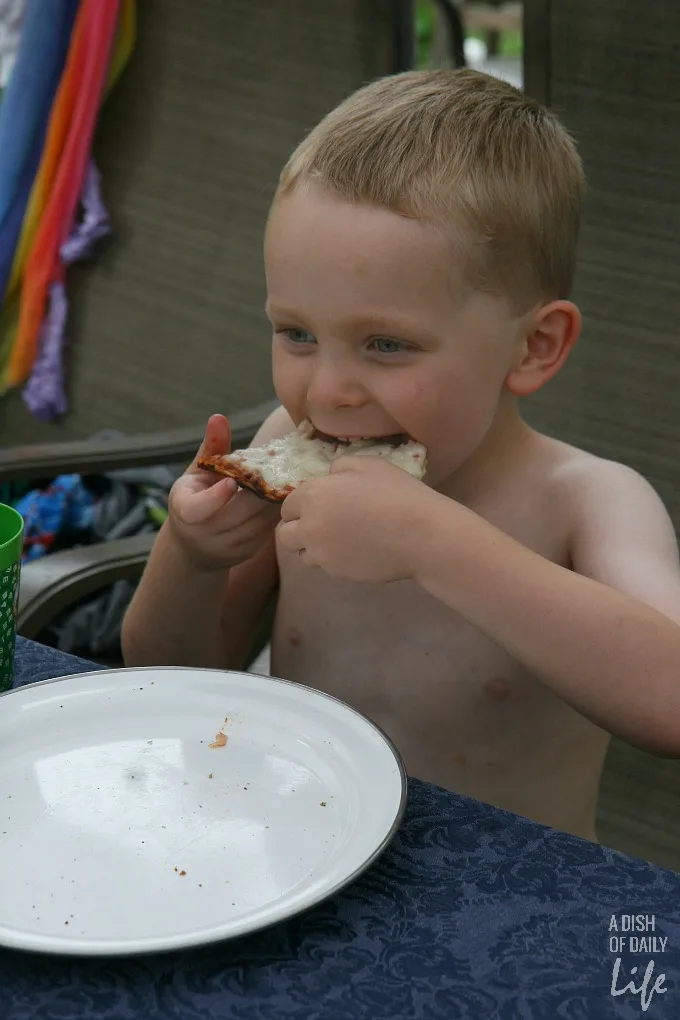 And now for the recipe!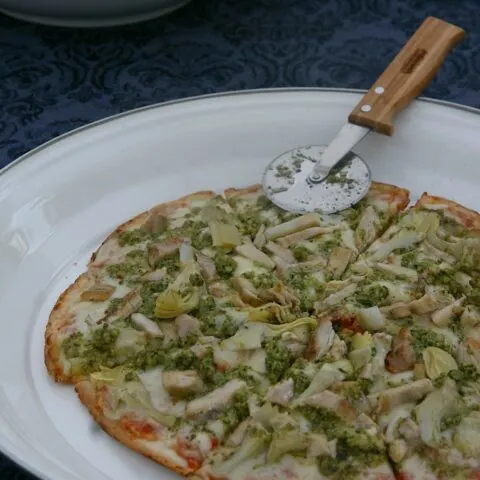 Pesto Artichoke Chicken Pizza
Ingredients
1 FRESCHETTA® Gluten Free Cheese Pizza
1 1/2 cups of pesto
2 cups grilled chicken, cut into bite size pieces
1/2 of a 14 oz can of quartered artichoke hearts, quartered a second time
Instructions
Add pesto to FRESCHETTA® Gluten Free Cheese Pizza.
Top with grilled chicken and artichoke hearts.
Cook for 15-20 minutes on the grill, at about 375 degrees.
Keep lid down so cheese melts.