Hello there, a Dish of Daily Life readers! It's me, Christie with A Kitchen Hoor's Adventures to bring you a deliciously tasty post. Michelle is on vacay and asked if I could guest post on her blog for a few, so, if you're new to A Kitchen Hoor's Adventures, it's a healthy-ish, realistic, food blog where I post about my good eats, life, the hubs, our dog, and whatever else strikes my fancy. If you like what you see here, then make sure to stop by and read some more! Thanks, Michelle, for inviting me to guest post on your blog today!
This Greek take on the Italian Bread Salad, Panzanella, uses toasted pita, cucumbers, red onions, and tomatoes as the base for this pre-cooked steak strips. It's a tasty and quick weeknight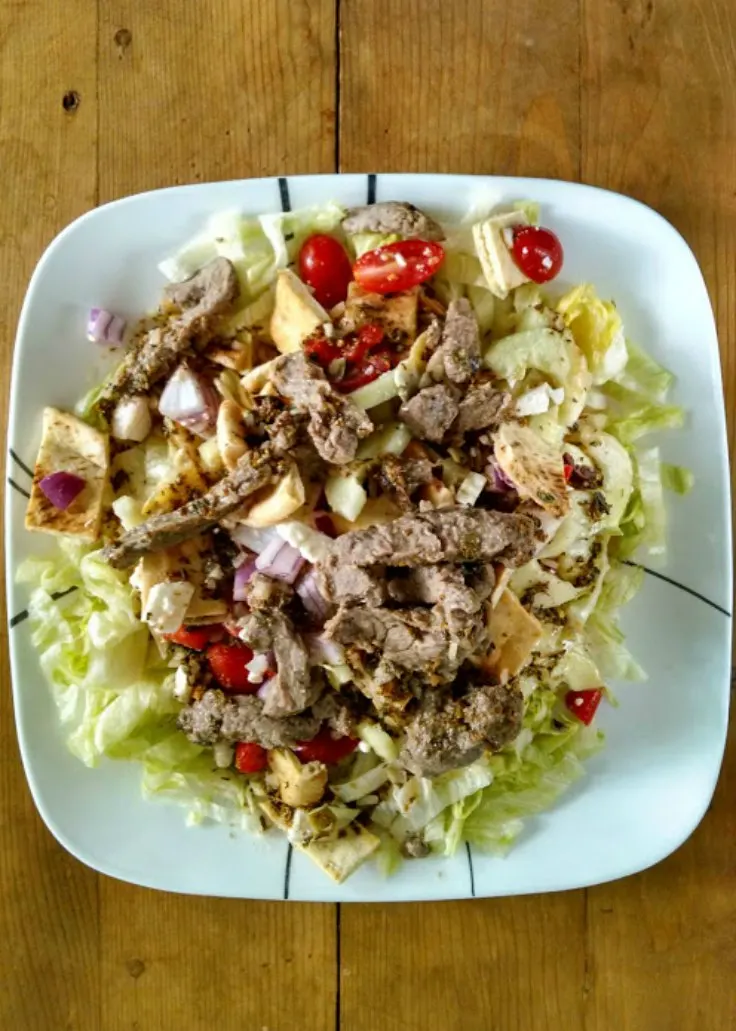 I mentioned it in my last guest post on Michelle's blog that I live in the DC area. If you're not familiar with the streets of DC, the main drag in and out of the city is Constitution Avenue. People are allowed to park there until 4. Yes. FOUR. IN THE AFTERNOON! If cars are still parked there, it takes away one whole lane in one of the busiest towns traffic wise in the country. You can't take away one WHOLE LANE and not have traffic issues.
Bear with me. This rant does tie into the recipe here.
The commute in the morning takes on average between 38 and 40 minutes. The commute home? Anywhere from at least 45 minutes to well over an hour to an hour and half. Yes. An hour and half. To go maybe 35 to 40 miles. Part of this can be due to these – let's call them tourists – not paying attention to the parking times and have parked well past the 4pm allotted.
The city used to tow the cars off the street, but I can only surmise that someone sued for damages and now they can't do that again. *sigh*
So, it's always nice to have – see, told you I'd get the point – a quick and easy entree salad recipe to fall back on on the worst of commuting days. Take this recipe, for instance. No, seriously, take it and make it at home. *snort*
This recipe comes together in a snap! You toast some pita breads, you make some dressing, and you toss it all together. Just like that, entree salad in a flash! And after some of the days and the commutes I've had, I don't want to spend an hour in the kitchen creating a meal. I just want to be able to toss some ingredients together, eat and then relax for the rest of the night.
This recipe allows you to do just that.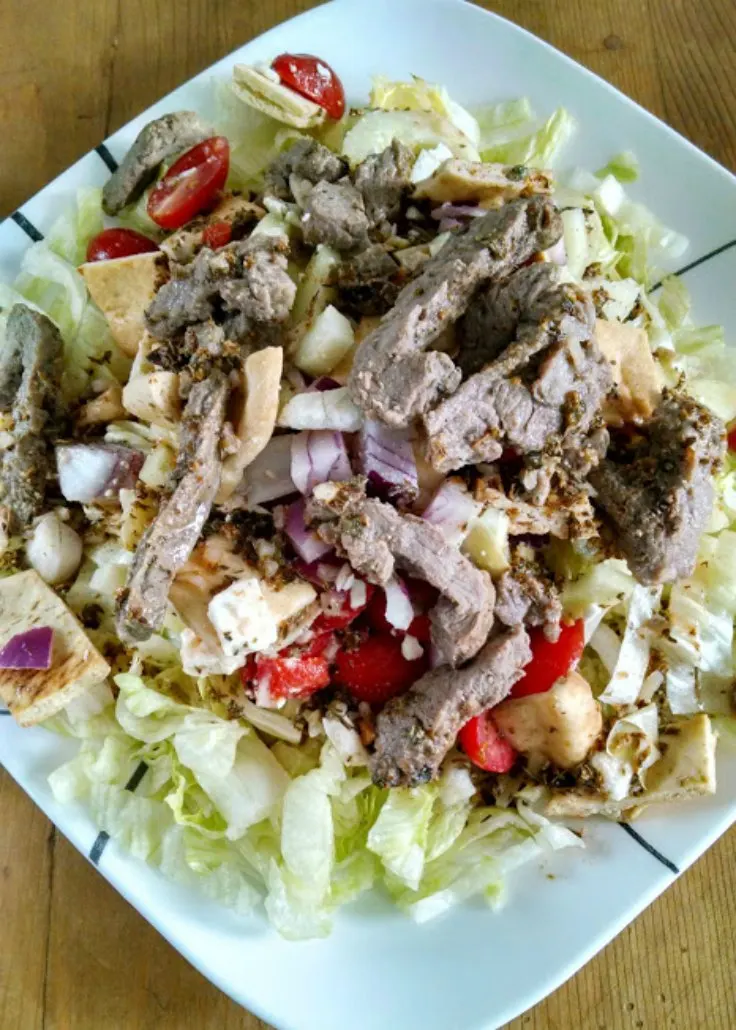 Yeah, I know. Just look at all that tasty goodness in that salad. This, paired with the grilled steak strips found in the deli section, makes for a hearty and delicious entree salad for dinner.
Pita Panzanella Salad with Steak
Ingredients
4 pita bread rounds
6 cups lettuce, torn
2 cups sliced cucumber
2 cups halved, cherry tomatoes
1 cup thinly sliced red onion
6 ounces fat free feta cheese, crumbled
1 cup nonfat Greek yogurt
1/2 cup skim milk
1 tablespoon fresh lemon juice
1 teaspoon lemon zest
1 tablespoon dill paste
1 tablespoon Greek seasoning
12 ounces grilled steak strips
Instructions
Preheat oven to 425.
Cut the pita into sixths and place on a baking sheet covered in aluminum foil coated with cooking spray. Bake at 425 for 10 minutes, flip then bake an additional 5 to 10 minutes until golden and slightly crispy.
Divide the lettuce evenly between 4 plates.
Combine the next four ingredients in a mixing bowl and top the lettuce evenly.
Stir together the next six ingredients in a small mixing bowl with a whisk. Allow to set 5 to 10 minutes.
Top each plate with three ounces of steak and then drizzle with the dressing.
PEP Counts – Yields 4 servings: