Pulled Pork Quesadillas…pulled pork, sweet corn, and melted cheese layered between flour tortillas, and topped with a tangy tomatillo guacamole…a delicious alternative for Mexican night!
I've been cooking with it a lot lately. I tend to cook a fair amount with cream anyway, and I especially love the rich, thickness of the BK Creamery Double Cream. I've added it to pesto and other pastas, and for this recipe, I turned it into a delicious tomatillo guacamole to use as a topping for my pulled pork quesadillas.
Not only is it versatile, but I love the healthy aspect too. This cream uses rBST Free Milk, and has no artificial ingredients, added salts or sugars, or carbs! It's also kosher and gluten free…AND has half the fat of butter.
We love Mexican food here. I probably cook it at least once a week. Leftover grilled chicken usually gets made into burritos, as does leftover black bean soup (I cook it down to thicken it).
Likewise, when I make pulled pork, I generally try to make enough for several meals. I like to use this Pork Roast Recipe from Add a Pinch. Using this recipe, you'll definitely have extra. You only need about a pound and a half for this recipe here. Consider making my Slow Cooker Spicy Pork Green Chile Stew with your leftovers!
Pulled Pork Quesadillas with Tomatillo Guacamole
These Pulled Pork Quesadillas with Tomatillo Guacamole are really easy to make. First you're going to get your pulled pork ready with the slow cooker. Make sure to leave yourself about 12 hours because that is how long it's going to cook.
Then you're going to make your tomatillo guacamole.
First you start by roasting your tomatillos. After they cool, you'll add your tomatillos, avocados, jalapeno, onion, double cream, lime juice, and cilantro to a food processor. The result will be a topping that is perfect for this quesadillas, or any other Mexican meal. Or you can even dig in with chips!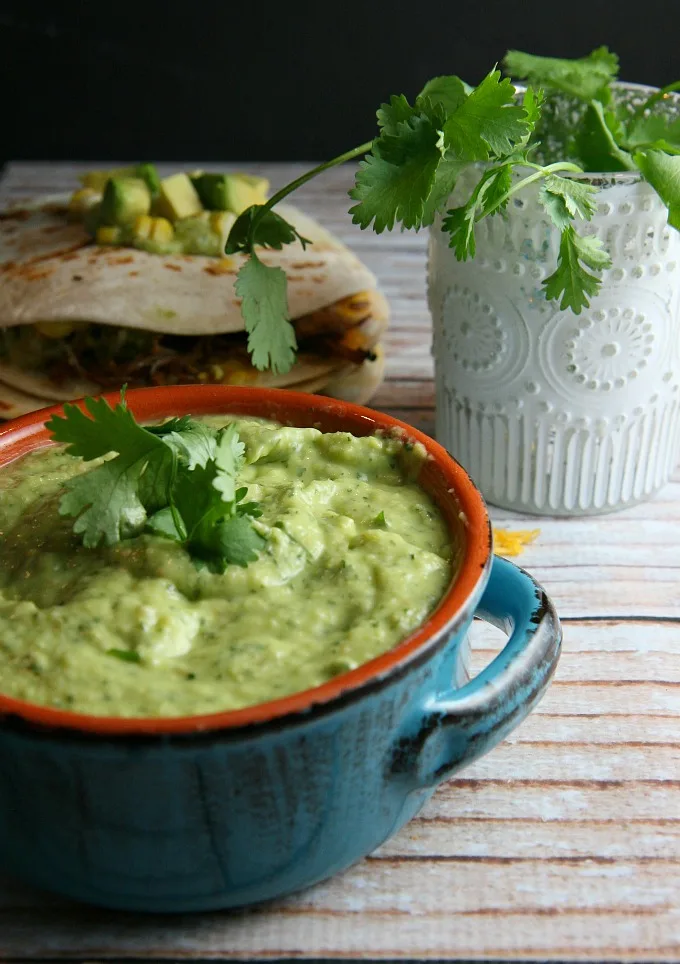 Once that is done, you're ready to assemble your quesadillas.
I heated my oven to 250 degrees and melted a little cheese on the bottom of one of the flour tortillas, then added the pulled pork, some corn (leftover from the night before), and a couple tablespoons of the tomatillo guacamole on top of the melted cheese after I pulled the tortillas out of the oven.
You don't have to melt the first layer of cheese ahead of time, but I have a gas stove and what happens to me sometimes is that the quesadillas get a little too brown while we're waiting for the cheese to melt, so I like to quickly get it started while I'm assembling them.
Another alternative to melting the cheese without turning your tortilla too dark is to keep the heat on low and put a lid over the top…we're just an impatient family here.
Add a little more cheese on top (the more cheese, the better, in my opinion), and then top with a second flour tortilla.
I like to use the fajita size for this personally, because they're easier for me to flip but you can use whatever you're comfortable working with.
Then go ahead and heat up a pan with a little olive oil and start cooking your quesadillas!
Brown your quesadillas in a pan until the cheese is nice and melty, and then top them with this delicious tomatillo guacamole. Add some chunks of avocado as well, if you'd like. I had some leftover corn so I threw that on there too.
I think I could eat Mexican food every single day and never get tired of it!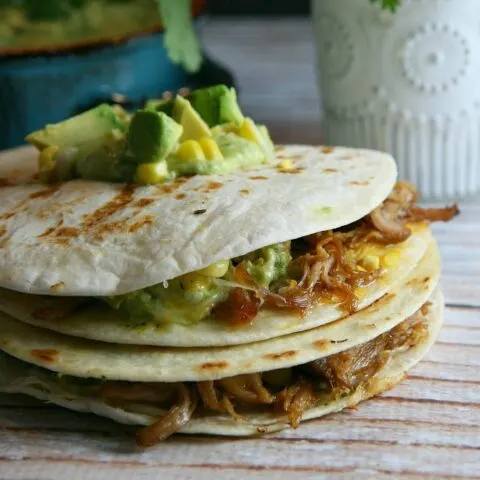 Pulled Pork Quesadillas with Tomatillo Guacamole
Cook Time:
12 hours
25 minutes
Total Time:
12 hours
55 minutes
Ingredients
Tomatillo Guacamole
1/2 lb of tomatillos (about 6-8 average size tomatillos; I used 6)
2 avocados, peeled and pitted
1 jalapeno, seeded and chopped
1 cup white onion, chopped
1/2 cup Brooklyn Creamery Double Cream
1/4 cup freshly squeezed lime juice
1/2 cup cilantro, chopped
Pulled pork quesadillas
12 flour tortillas, fajita size
1.5 lbs pulled pork
2 ears of corn on the cob, kernels sliced off
2 cups shredded cheese (I use a mix of white and yellow cheddar)
tomatillo guacamole
several teaspoons of olive oil
Instructions
Tomatillo Guacamole
Preheat oven to 400 degrees.
Remove papery skins from tomatillos and rinse to get the sticky stuff off.
Roast tomatillos for about 15 minutes, turning once.
Allow tomatillos to cool for a few minutes.
Add all ingredients to food processor, and blend.
Pulled pork quesadillas
Layer cheese, pulled pork, corn, and a couple tablespoons of tomatillo guacamole, and more cheese on top of a flour tortilla. Top with a second flour tortilla.
If you'd like, melt the first layer of cheese in the oven on low first.
Heat a teaspoon of olive oil in a pan. Add your quesadilla to it, and cook until slightly browned on both sides and cheese is melted. Repeat until your quesadillas are all cooked.
Top with tomatillo guacamole.
Notes
The pork will take about 12 hours in the slow cooker.
Have you tried the single or double cream from The Brooklyn Creamery yet?