I'm thrilled to be introducing you to Katie Webster from Healthy Seasonal Recipes today. Katie is sharing a Quick Beef Stew, made in just 45 minutes. This stove-top version features lean ground beef, is naturally gluten free and full of rich flavor…truly a comfort food dish the whole family will love!
Hi folks, so glad to meet you! And thank you so much to Michelle for having me.
Lately I have been on a kick of making over classic dishes with a healthy twist, and making them convenient enough for a weeknight meal. You know those recipes that automatically conjure images of the food-splattered pages of an old copy of the Joy of Cooking? Those are the ones!
I've spent that last several months, making over recipes like Chicken Divan, Chicken Cacciatore, Chicken a la King and so-on. But there is so much more out there to tackle! So I've been keeping a running list of ideas for classics to take-on next.
I have to get to lasagna at some point, but the thought of all those dishes brings me to my knees. How am I going to get around that?
It hadn't really occurred to me to try a beef stew in anything less than an hour. If you had asked me a month ago, if it was possible to make beef stew in only 45 minutes I would have probably said something nerdy (and unimaginative) about the collagen in the stew meat needing at least 4 hours to break down into elastin. (My own eyes are glazing at the thought.)
But then when Michelle and I were talking about ideas for recipes for me to share here, I had a little epiphany… If it was the tenderizing of the meat–the above mentioned collagen needing 4-hours… if that's what was holding me back from making beef stew in 45 minutes or less–why not change the beef! Instead of chunks of stew meat, why not try ground beef? And so that's when I mentioned I wanted to try making a weeknight beef stew with lean ground beef.
Michelle agreed, and I hit the kitchen with my stop watch running. 45 minutes… Go!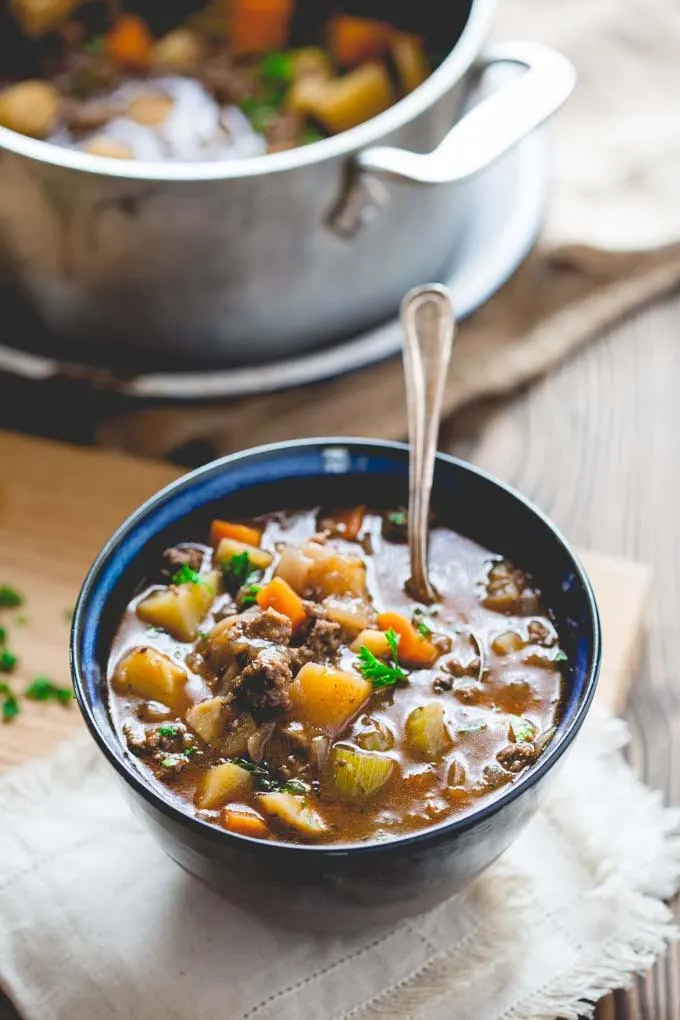 How to make Beef Stew in under 45 minutes
First Fond! Fond is a word I am fond of. Ugh. Sorry, have I mentioned the fact that I call my self a culinerd? Fond, is a French culinary word for the tasty crusty bits on the bottom of the pan when food is browned. Fond is flavor, and creating that, and capturing it is the difference between blah and heck-yeah flavor. To get fond, you need heat, oil and as little moisture as possible. In this recipe we do that by heating oil on high heat and then browning the ground beef. The wider your soup pot, the more fond you'll get. After the meat is brown, take it out, and you'll see the tasty crust bits of fond on the bottom of the pot and along the sides of the pot.
Add your allium, garlic and onion. I next took the time to brown the garlic and onions in oil, but I reduced the heat to medium. Reducing the heat, means the onions will cook more slowly, and release their liquid, this will deglaze the fond a bit.
Add more flavor. This is also a trick to getting around the 4 hour simmer- you get flavor by adding plenty of seasoning. I used paprika, thyme and salt. Stirring it into the onion before the liquid blooms the flavors in the spices.
Wine Time. Wine, or any alcohol added to a dish, will increase the flavor. True fact: the alcohol makes your taste buds perceive the flavors better. The wine also acts to further deglaze any remaining caramelization in the pot.
Make it Healthy. Next add a ton of veggies and broth and cook it until the veggies are tender. Thicken the sauce with a cornstarch slurry.
Done in under 45 minutes. Add the beef back in and…Boom! Done. 45 minutes and you've got rich, thick beef stew!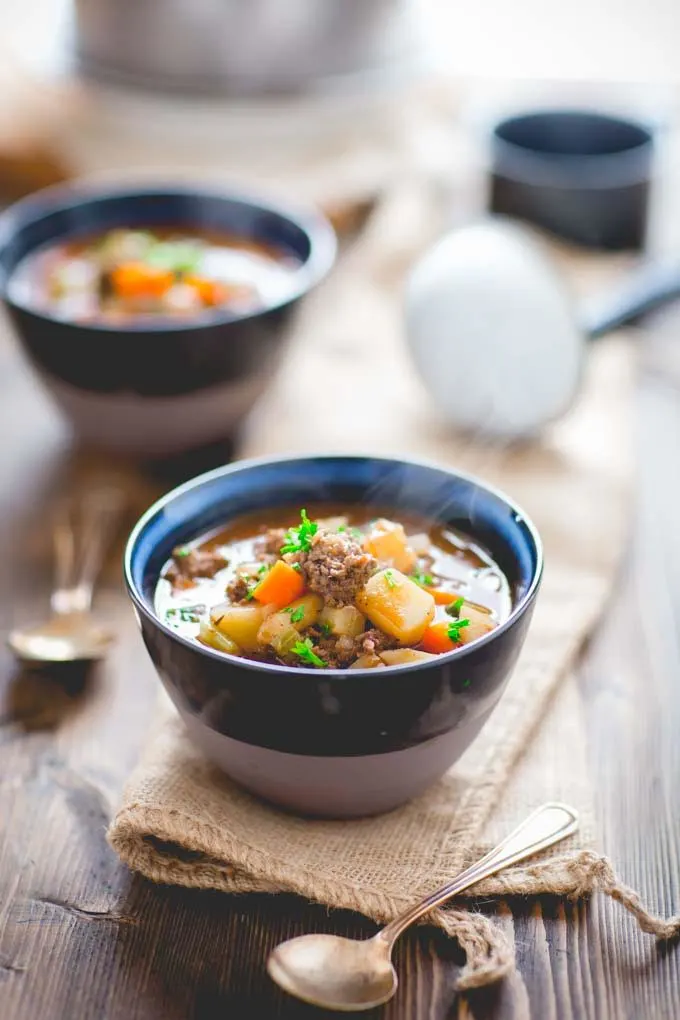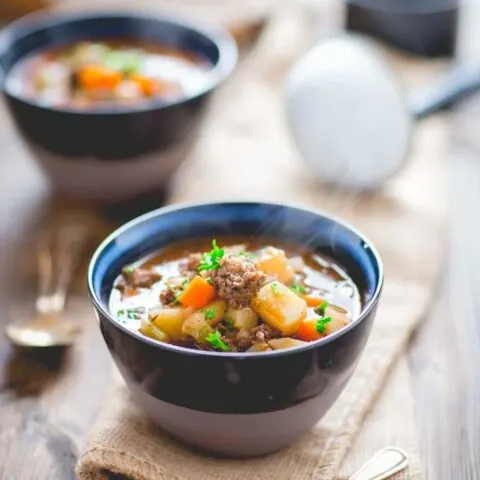 Quick Beef Stew
This quick stove-top Beef Stew, featuring hamburger is made in 45 minutes. It's naturally gluten-free and full of rich flavor!
Ingredients
2 tablespoons avocado oil or organic canola oil. Divided
1 pound lean ground beef, preferably 92% lean
2 cloves garlic, minced
1 onion, diced
2 teaspoons paprika
1 ¼ teaspoon salt
½ teaspoon dry thyme
pinch red chili flake, optional
½ cup dry red wine
1 4-cup box beef broth or stock, divided *see tip
2 medium Yukon gold or red potatoes, peeled and diced
2 carrots diced,
2 stalks celery diced
1 cup peeled and diced parsnips
1 ½ teaspoons Worcestershire sauce
1 tablespoon corn starch
chopped parsley for garnish
Instructions
Heat 1 tablespoon oil in the bottom of a large heavy bottom soup pot over high heat. Add beef, and cook, stirring occasionally and crumbling the meat with a wooden spoon until it is no longer pink, 7 to 9 minutes. Remove the meat to a bowl, along with any juices from the pot, and cover with foil.
Return the pot to the stove and reduce heat to medium. Add the remaining 1 tablespoon oil to the pot. Add garlic and onion, and cook stirring until the onion starts to brown in spots, 3 to 5 minutes. Sprinkle with paprika, salt, thyme and red pepper flake if using, and cook, stirring until the spices are fragrant, about 30 seconds. Add wine, increase heat to high and cook, stirring until the wine has almost evaporated, 2 to 3 minutes.
Add 3 ½ cups broth, potatoes, carrots, celery, parsnips and Worcestershire and stir well. Bring to a simmer, stirring occasionally.
Reduce heat to medium to maintain a simmer, and cook, stirring occasionally, until the vegetables are just tender, 15 to 18 minutes. Stir the remaining ½ cup broth with cornstarch, and stir into the simmering stew. Increase heat to high and bring to a simmer, stirring. Stir in the beef and return to a simmer. Remove stew from the heat and ladle into bowls. Top with parsley.
Notes
*tip: To speed this recipe up even more. While you brown the meat in step 1, bring the 3 ½ cups broth used in step 3 to a simmer in a separate pot or in the microwave. Once it is added to the pot in step 3, the whole stew will come to a simmer more quickly, shaving 7 minutes off your total time. Just make sure not to pre-heat the ½ cup that's mixed with the cornstarch in step 4.
Nutrition Information:
Serving Size:

2 cups
Amount Per Serving:
Calories:

233
Total Fat:

15g
Carbohydrates:

25g
Protein:

2g