It's no secret here that I adore seafood. I grew up far from the ocean, and it was a rare treat back in those days. Living on the east coast now, we have it on the menu much more often. So I am excited to put together this collection of wonderful seafood recipes for you that I think you'll like. From appetizers to main dishes and pastas, there is something for everyone here!
My kids, like me, also love seafood. In fact, my youngest son was requesting lobster before he even knew what it was called. When he was really little and I would ask him what he wanted for dinner for his birthday, he would tell me the "pink meat!"
While we all love lobster, it's usually reserved for special occasions. Shrimp, however, is one of my go-to easy meals…it defrosts fast, it marinades well (and quickly) and it cooks fast. During the school year, I would say we have shrimp several times a month because inevitably there are nights I completely forget to prep anything (or didn't have time) and I can put together a delicious dinner with shrimp in no time flat!
This easy Lemon Pesto Grilled Shrimp is one of my favorite seafood recipes because not only is it really good, but I always have the ingredients on hand too. We make pesto all summer long (every week!) and we stockpile our extra in the freezer.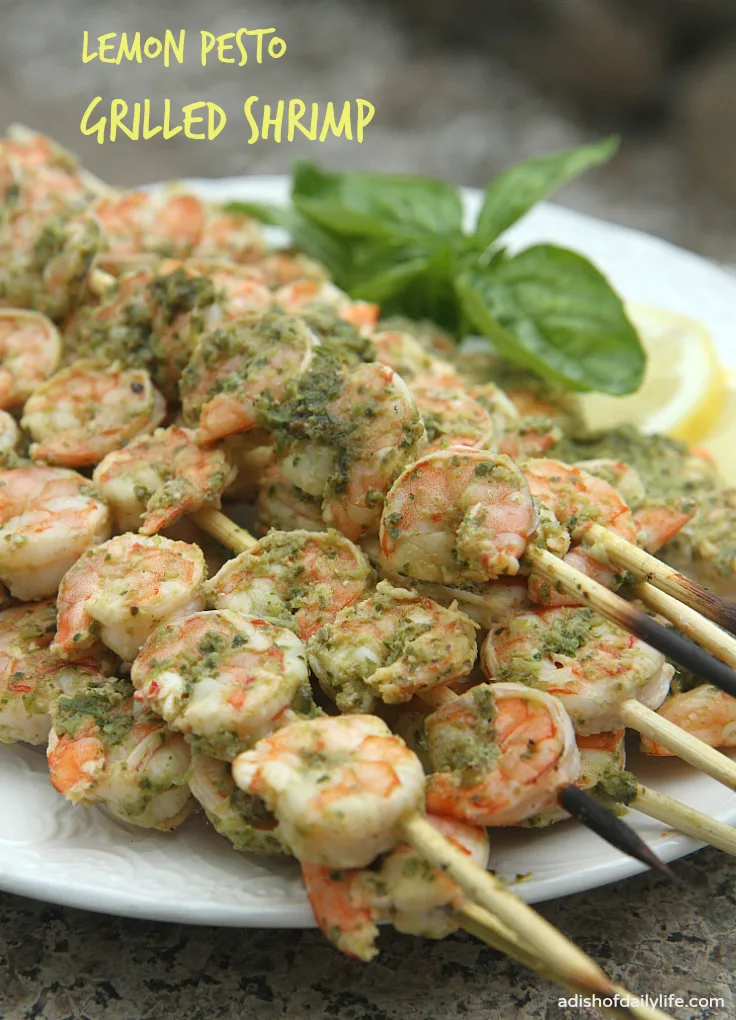 Basically all I do is marinate them in lemon juice for an hour, and brush on the pesto. That's it!
When you're grilling, you can skewer them or use a grill basket. If you're using skewers, you might want to soak them ahead of time. I usually forget though, so when I do, I just use a makeshift tin foil pan. An added benefit is it catches the juices too, so I can brush that extra pesto juice right back on!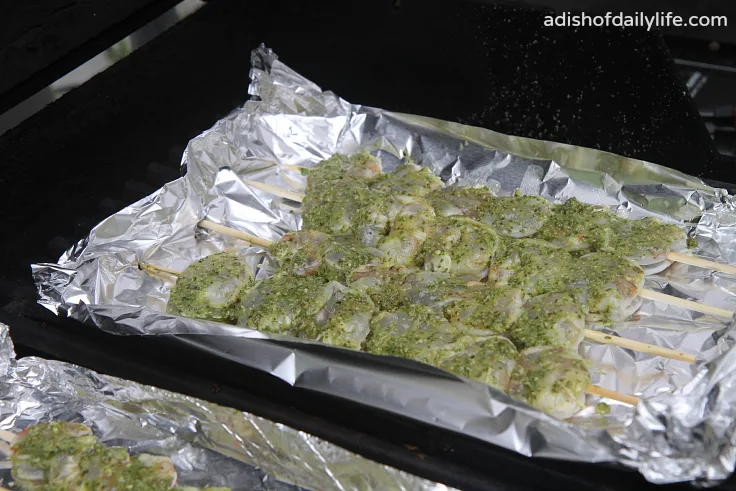 Sometimes I don't even bother with the skewers though…if you're in a hurry, a grill basket will work just fine!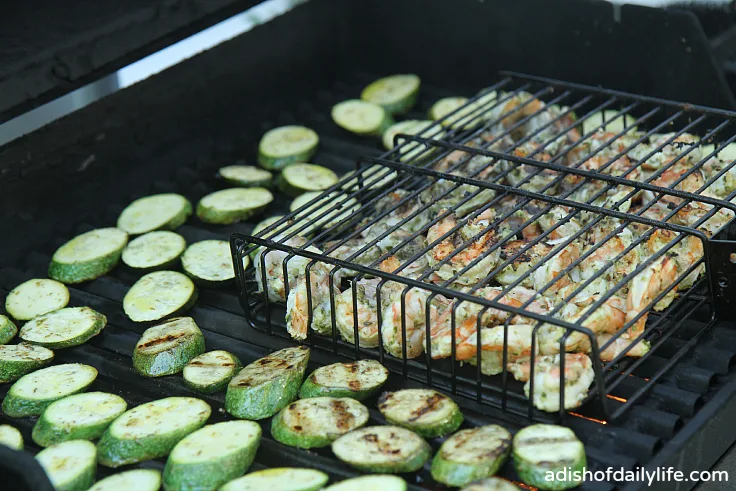 You might recognize my Grilled Zucchini with Italian Marinade from a couple weeks ago here.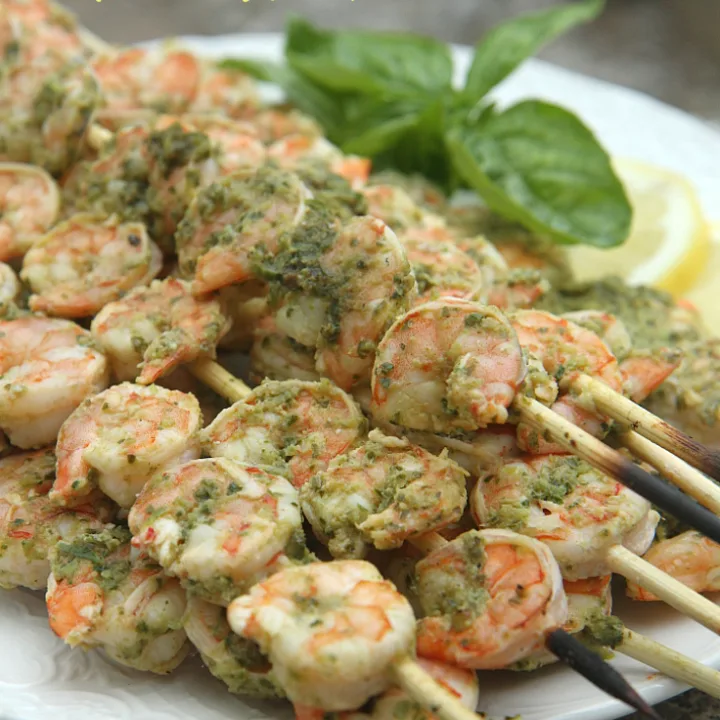 Lemon Pesto Grilled Shrimp
Prep Time:
1 hour
30 minutes
Total Time:
1 hour
36 minutes
If you've made your pesto ahead of time, this lemon pesto grilled shrimp is an easy and delicious meal that you can put on the table fast!
Instructions
Peel shrimp, pat dry.
Place in plastic bag with the juice from 2 lemons. Marinate for an hour in the refrigerator (you can go longer or shorter, depending on your time, but I usually aim for an hour).
Remove shrimp from lemon juice and skewer them. If you are using wooden skewers, you probably should soak them first, but I always forget. If you don't want to skewer them, you can use a grill basket.
Brush pesto over the skewered shrimp.
Grill until pink, about 5-6 minutes. Flip your skewers halfway through the cooking. Be careful not to overcook. I usually place my skewered shrimp in a makeshift tin foil pan, to capture the juices (and to avoid having my skewers burn).


[img src="https://www.adishofdailylife.com/wp-content/uploads/2014/08/Lemon-Pesto-Grilled-Shrimp2.png" width="736" height="491" class="aligncenter size-full" title="Lemon Pesto Grilled Shrimp" alt="Lemon Pesto Grilled Shrimp"]

Notes
The prep time includes the time to peel the shrimp, marinate, make the pesto, and skewer the shrimp. If you purchase shrimp that has already been peeled, have your pesto made ahead of time like we do (or use store bought), and skip the skewers, there is virtually no prep time except the time the shrimp is marinating in the lemon juice. So this really can be a quick and easy meal!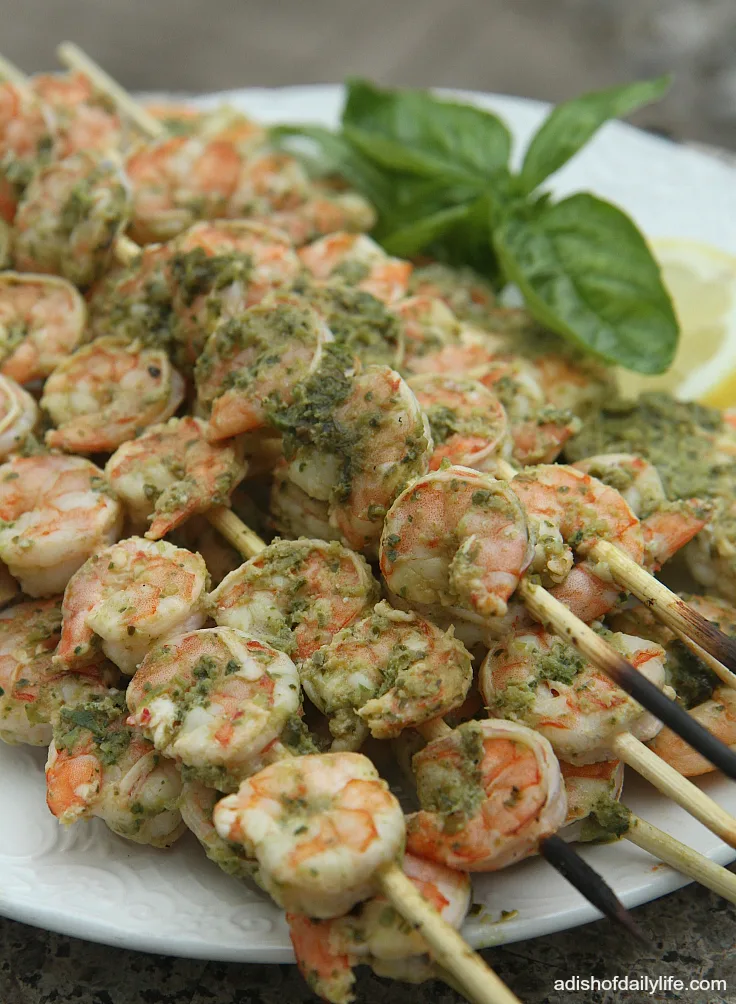 What's your favorite seafood dish to make?
Did you check out my collection at the top? Which one of these seafood recipes do you most want to try?
If you liked this recipe, you might also like these quick and easy meals: