I like it chunky…I like it smooth. You can give me pretty much any homemade salsa, and I will be happy. The jarred stuff…not so much. There's a couple brands I like, but they're pricey. That's not to say I don't ever buy jarred salsa, because I do. I've got a jar from my favorite brand in my pantry right now. But if I can, I prefer to make my own.
Homemade salsa is great for so many different things…we use it as a topping for Mexican food, which we love; we bring it to parties as an appetizer; and the kids love it as an afterschool snack. If I have plans for my salsa though, I have to hide it at the back of the fridge, because it WILL get eaten if I don't.
A lot of times I take the easier way out and just chop my tomatoes and peppers, onion and garlic, add some lime and cilantro and salt and pepper and leave it at that.
Other times I like to roast my tomatoes. This particular salsa recipe uses slow roasted tomatoes with cilantro, and the cilantro paste adds another dimension to the flavor. A delicious dimension, I might add.
Besides salsa, my favorite thing to make with these slow roasted tomatoes are these Roasted Tomato, Corn and Shrimp Quesadillas. They are so good…especially with summer corn! I promise you, if you like tomatoes, and the rich taste you get with slow roasting, you are going to love this recipe.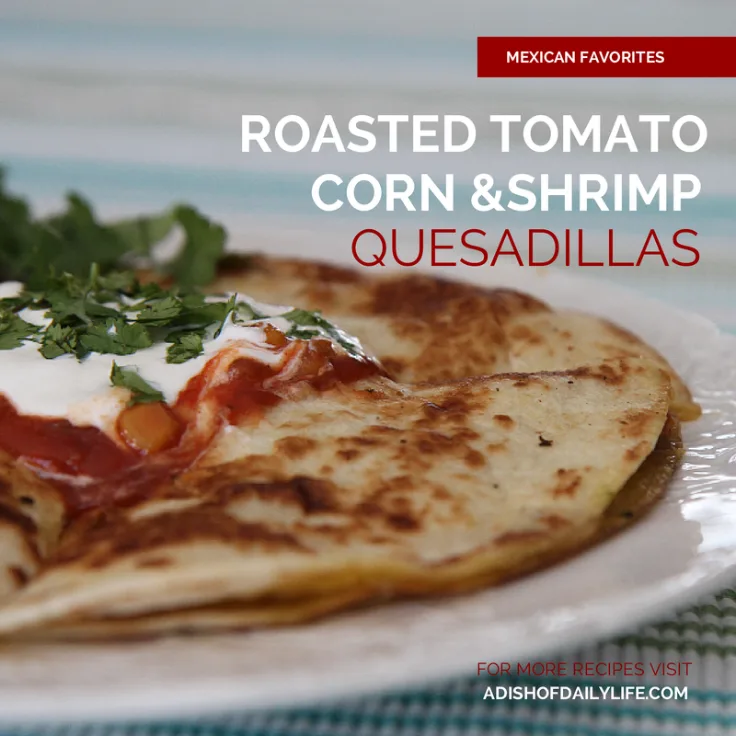 But back to our recipe…
This isn't a time consuming recipe, but you do have to plan because the tomatoes need a good 4-5 hours to slow roast. When I make these, I usually pop them in the oven early in the day and then when they are done, I just set them aside for when I'm ready to use them. The last batch I made sat in the refrigerator for a couple days before I got around to making the salsa. (I made the quesadillas, minus the shrimp, the other night for dinner!) If you are looking to make a bigger batch, check out my post on making Slow Roasted Tomatoes.
[Tweet "Slow Roasted Tomato Salsa from @adishofdailylife! Delicious healthy snack! #RealFood #CleanEating"]
Ready for the salsa recipe?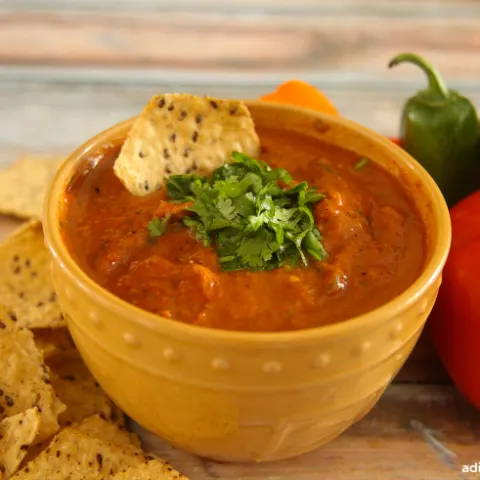 Slow Roasted Tomato Salsa
Total Time:
5 hours
15 minutes
Ingredients
*For Salsa:*
5 tomatoes, cored and cut in half
5 peppers (I use a variety of colors, usually red and yellow, but you can use green too), seeded and cut in half
1 jalapeno, seeded and cut in half
1 red onion, papery skin removed, cut in half
Juice from 1/2 lime
Cilantro for garnish
Salt and pepper to taste
*For roasting the tomatoes:*
2 garlic cloves
1 bunch of cilantro (reserve a small amount for garnish)
1/4 cup olive oil
Salt and pepper to taste
Instructions
In a mini cuisinart, finely chop the garlic cloves. Add the cilantro (some stems are ok), and then add the olive oil to make a paste. Season with salt and pepper.
Top the tomatoes with the cilantro paste.
Cook over low heat in the oven for 4-5 hours at 200 degrees.
You'll roast your peppers and onion separately, because these are roasted over high heat. Preheat your broiler.
Coat your halved peppers and onion lightly with vegetable oil.
For the peppers, when dark spots start to appear, you can take them out of the oven...definitely keep an eye on these as they are cooking!
Let the peppers cool before removing the outer skin.
For the onion, simply remove it from the onion when it starts to soften.
Place the tomatoes, peppers, and onions in a blender...I used our Magic Bullet because it's the perfect size for salsa.
Reserve 1 tomato and 2 of the peppers to be chopped into chunks, if you like your salsa to have a little "chunk" versus completely smooth.
Mix the pureed roasted tomato and pepper mixture together with the chopped tomato and peppers.
Add juice from 1/2 of a lime, and salt and pepper to taste.
Garnish with extra cilantro.
Enjoy with chips, or as a topping for burritos and tacos!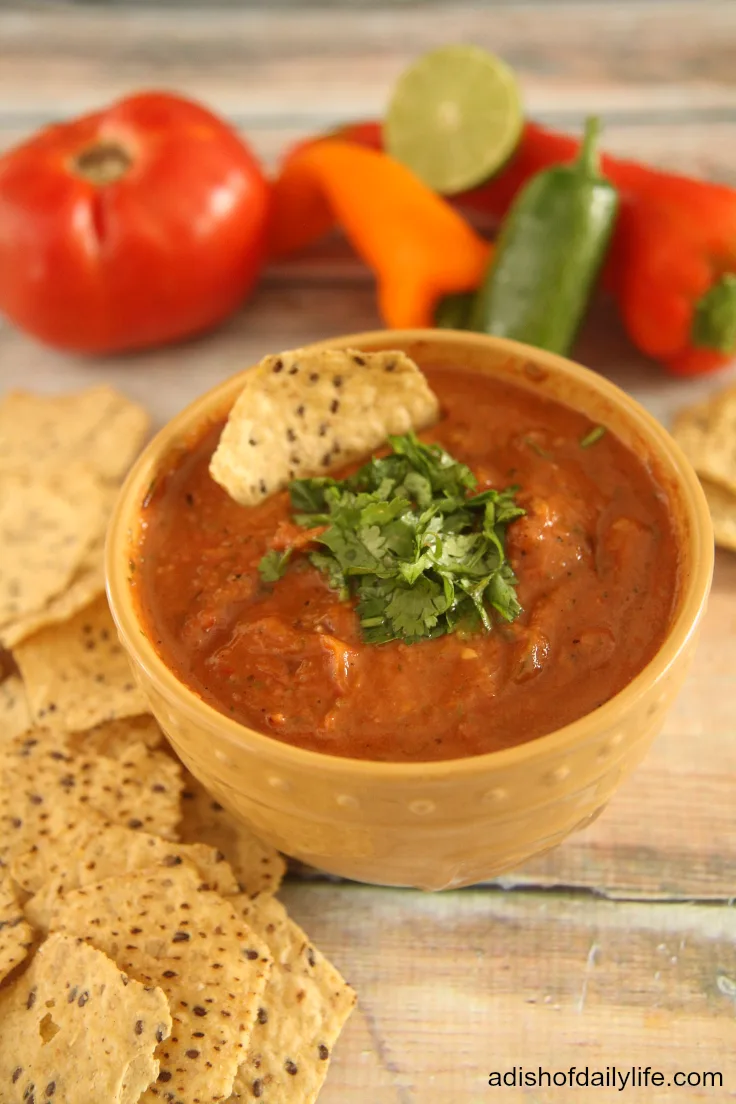 If you liked this recipe, you might also like: