The summer is my favorite time of year. Sunny days and the great outdoors are certainly part of it, but I think the biggest reason is it is the only time of year that I ever really relax. We don't have sports, there is no carpool to drive, and I don't ever have to be anywhere at a specific time. On the flip side of that, the kids are home, so sometimes it's a challenge to get work done. But that's another story.
We entertain a lot in the summer out by the pool, so a lot of our meals are cooked outside, either on the grill or in the smoker.
We got the smoker a few years back…I won bought it at a silent auction. I wanted it so bad I hovered over it, eyeing everyone who was thinking about bidding on it, re-bidding anytime someone upped my bid. Yes, I know I could have just bought one. But there were cocktails involved, and I wanted the thing. When I won it at the end of the night, my husband was not really amused with me. It wasn't really something he wanted, and it sat in the garage for a year.
Now I'm not sure what we would do without it. My husband uses it all summer long and loves it. He makes ribs for every single outdoor party we have, and they're all cooked in the smoker. They're always a huge hit. You're looking at the pictures from the first batch made this year, and we'll be making them again for the 4th of July.
If you don't have a smoker, you could do them on the grill. But we really do love having a smoker…it definitely makes a difference in taste.
Apparently there are things we could be doing to increase the flavor. Many grill experts say you should remove the membrane on the ribs before applying the rub; we have never done that. We're also probably not using the right combination of woods, since quite honestly we use whatever we have on hand. We'll play around with this over the summer, and I'll report back. The good news is though, even though we clearly are not "masters of the smoker," these ribs are pretty darn amazing anyway!
First you need to start out with a dry rub.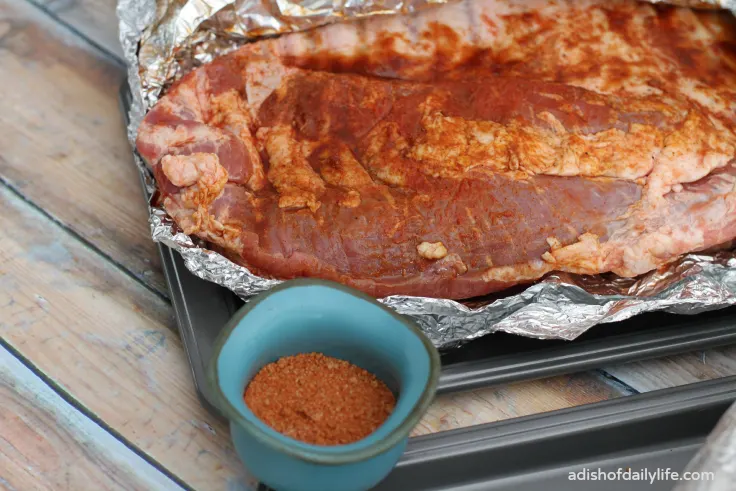 Then, wrap them in tinfoil and bake them in the oven at 275 degrees for 3 hours.
Now it's time for the smoker! Keep the lid on when you're cooking though. You'll want to smoke them for about an hour. The internal temperature of your meat should be 160 degrees before it is ready to eat.
If you're going to cook them on the grill instead, you'll probably want to cook them for about 15 minutes or so on each side. You may want to brush them with a sauce if you're putting them on the grill.
My husband is of the opinion that you don't need a finishing sauce, but I'm a sauce person. You can use whatever barbeque sauce you like, but I like to make my own. I don't always measure though, so I haven't included it here. But my last one was made with apple cider vinegar, ketchup, brown sugar, a little bit of tabasco sauce, and a pinch of salt. You don't need a sauce for the ribs though…they are great on their own.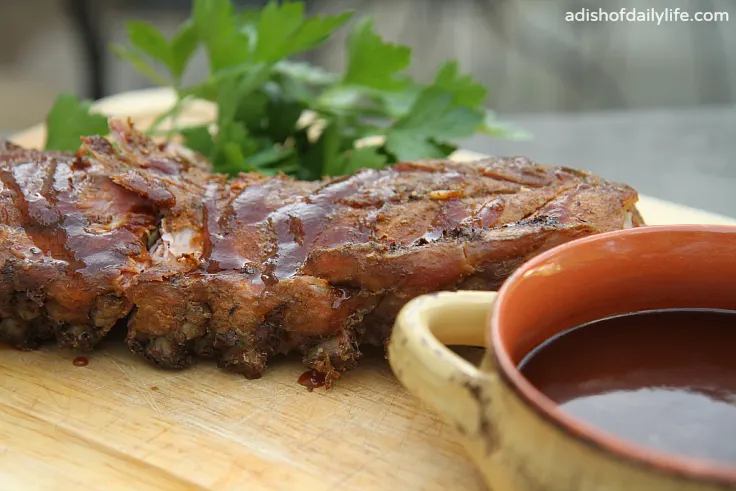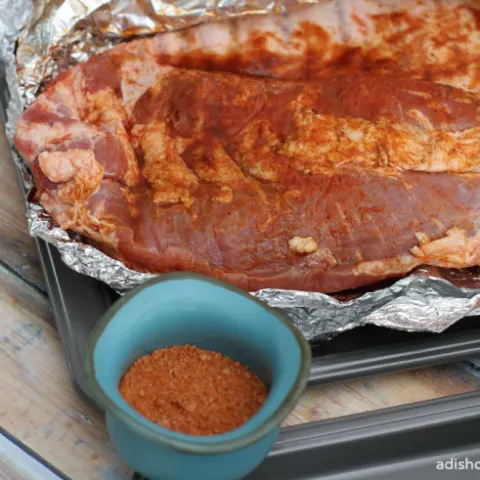 Dry Rub for Ribs Smoked Ribs: Backyard Barbeque Favorite
Total Time:
4 hours
10 minutes
This is the dry rub blend for ribs that my husband has been using for years...everyone loves them!
Ingredients
1/2 cup brown sugar
1 tablespoon chili powder
1/2 teaspoon chipotle chili powder
1 tablespoon salt
1 tablespoon garlic powder
1 tablespoon onion powder
1/2 tablespoon black pepper
2 tablespoons paprika
Rack of ribs (determine the amount by the size of your gathering)
Dry Rub for Ribs
Drizzle with barbeque sauce, if desired. I usually make my own.
Instructions
Mix all spices together well.
Apply dry rub to ribs.
Wrap in tin foil.
Cook in oven at 275 degrees for 3 hours.
Cook on the smoker for approximately an hour.
Remember the internal temperature of your meat should be 160 degrees before eating.
[img src="https://www.adishofdailylife.com/wp-content/uploads/2014/06/Smoked-Ribs-2.png" width="736" height="491" class="aligncenter size-full" title="Smoked Ribs 2" alt="Smoked Ribs 2"]
Notes
This is enough for 10+ lbs of ribs. If you have extra, just store it in an airtight container for next time!