These cheesy sour cream red enchiladas with homemade enchilada sauce are sure to be a hit on Mexican night!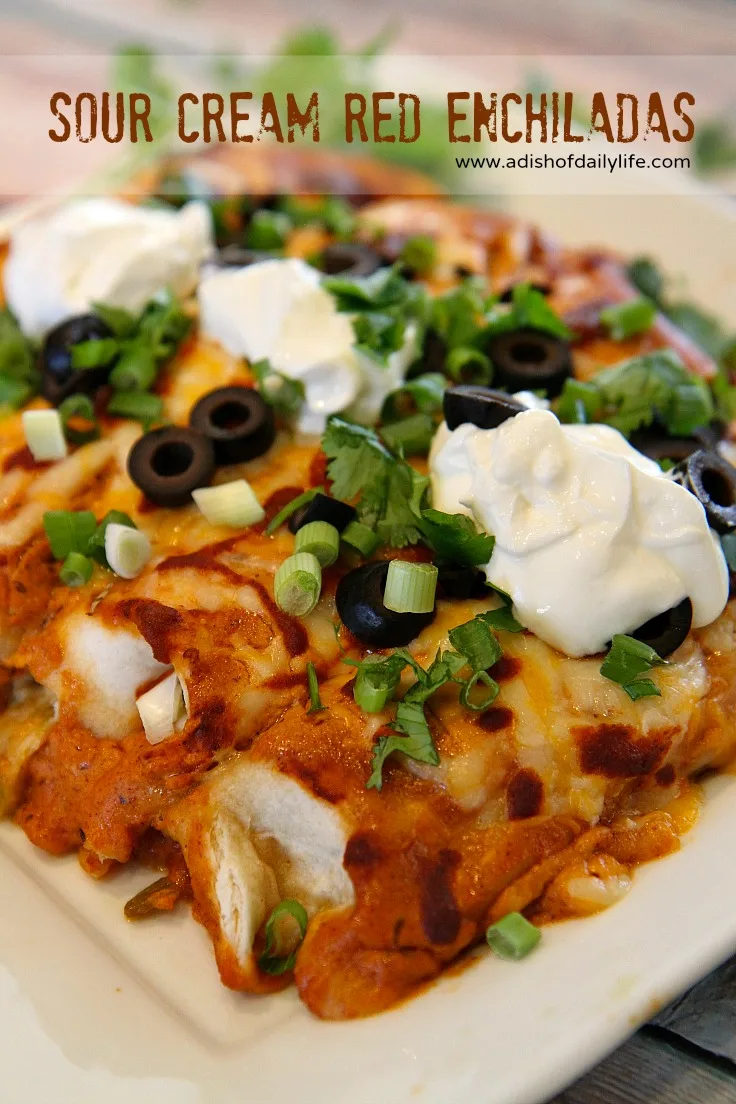 I could probably eat Mexican food every night of the week. It's one of my favorite foods.
Luckily my kids like it too.
We don't eat it every night, but I would say we usually eat Mexican food at least once a week.
Enchiladas and burritos are a staple in our house, party because they're so easy, and partly because it's a good way to use up leftover chicken.
Skip the canned sauce and use my Homemade Enchilada Sauce! You won't be sorry. The last batch I made I used for these enchiladas, and then my Fiesta Chicken Enchilada Soup, which was really good.
I know enchiladas are supposed to use corn tortillas, but my kids and husband don't like them. My husband's grandmother, who emigrated to the United States from Lebanon, through Mexico, used to make her enchiladas with rolled up Syrian bread. She made a molé sauce that was absolutely amazing. I don't have the recipe, but I'm wondering if one of my husband's aunts does. It would be a nice treat to find that recipe!
One thing that I do nowadays when I make enchiladas is I put parchment paper down on the bottom of the dish. I've tried greasing the dish with a little oil, and spreading sauce at the bottom of the dish, but inevitably, some of the bottoms of the enchiladas get stuck and I end up scrubbing. Not my favorite chore. Parchment paper takes care of that problem.
[Tweet "Cheesy Sour Cream Red Enchiladas, easy dinner, perfect for Mexican night! #MexicanFood"]
And now, onto the recipe! I hope you enjoy these yummy sour cream red enchiladas!
Sour Cream Red Enchiladas
Ingredients
parchment paper
12 flour tortillas
3 cups diced or shredded chicken
2 4.25 oz cans of green chiles
3 cups grated cheddar cheese (I usually use a mix of white and yellow, or a mix of cheddar and Monterey Jack)
2 1/2 cups sour cream
1/2 cupe
sliced olives, chopped green onions, chopped cilantro, and more sour cream for garnish
Instructions
Heat oven to 350 degrees.
Line rectangular baker with parchment paper.
For filling, mix chicken, green chiles and 2 cups of the cheese. Spread evenly among the 12 tortillas, roll, and place in your baker.
Mix 2 1/2 cups sour cream with 1/2 cup red enchilada sauce. Feel free to add more enchilada sauce if you'd like. Spread over the top of enchiladas.
Top with the last cup of cheese.
Cover with foil and bake for 20 minutes. With about ten minutes left, remove the foil, and let the cheese get bubbly..
After removing them from the oven, let them sit for 5 minutes or so before serving..
Notes
This recipe should feed 6 people, assuming everyone eats 2 enchiladas.
Does your family like Mexican food? What's your favorite recipe to make?