Steak Frites with Chimichurri Sauce – an easy gourmet dinner in 30 minutes or less!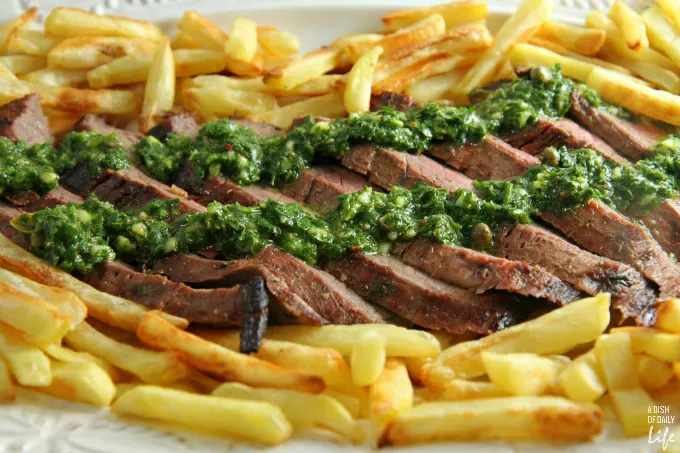 Steak Frites
We all start out the year with grand plans. We're going to eat better, exercise more, and adopt a healthier lifestyle. But oftentimes we don't stick with our plans, mainly because they're unrealistic.
If you start with a plan that is doable, you're more likely to stick to it.
We eat pretty healthy here. I'm not going to say we never enjoy a treat or indulge, because that wouldn't be true. But the choices you make on what to eat are important to your health.
My top tips for eating healthier are a way of life for us, and they're all relatively easy to follow.
Shop the outer aisles of the grocery store as much as possible. That's where you find the fruits and vegetables, meats, fish, and other healthier food choices.
Read your labels. Calories aren't always the most important thing. Look at the portion size and the calories per portion size.
Retrain yourself to add less sugar, and use alternative forms of sweeteners. I use local honey as a sweetener a lot of the time, which also gives us the added benefit of boosting our immune systems. My mother-in-law is an amazing baker, and she always reduces the sugar. No one misses it. As a result, my kids no longer care for really sugary sweets.
Choose healthy snacks. Apples with peanut butter, carrot sticks, and guacamole are big favorites here.
Variety is the spice of life. Add different colors to your plate. Oftentimes we have two vegetables at dinner. We mix our dinner menu up with vegetarian, chicken, fish, and red meat. My kids are really active with sports, and it's important to me to make sure they have a varied diet with all the protein and nutrients they need…and enough calories to have the energy they need to do well.
I was thrilled to have the opportunity to create a recipe using Alexia Smart Classics all-natural fries. Alexia Smart Classics are roasted, rather than fried, and they're made with U.S.-grown Yukon select potatoes. These premium fries are 98% fat free, and have only 100 calories per serving. Now you can have your fries without feeling guilty!
For my recipe, I chose to use the Roasted Straight Cut Fries with Sea Salt.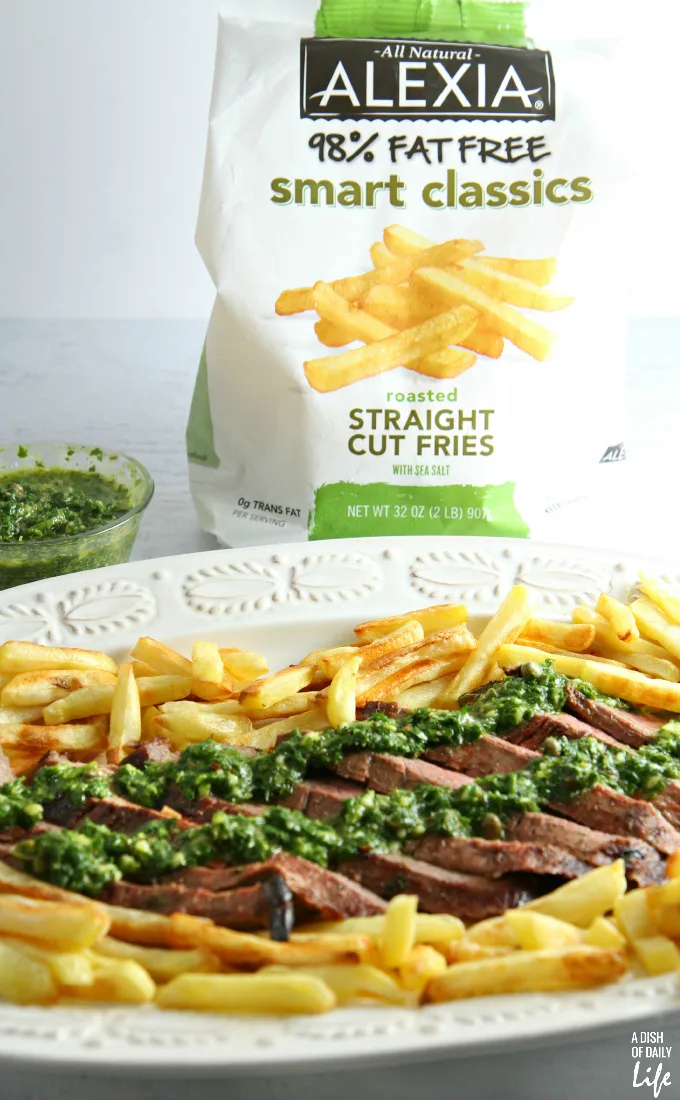 You know how sometimes you have a meal at a restaurant, and you never forget it? Well, this recipe is one of those meals.
A couple years back, I ordered steak frites at a restaurant while we were vacationing. It was so good, it's been in the back of my mind all this time. I just knew I had to try to recreate it.
I started off by marinating my flank steak overnight in a mixture of white vinegar, vegetable oil, chopped cilantro, garlic, lime, chili powder, and a liberal grinding of salt and pepper. The marinade will literally take you minutes to put together. I scored the meat to allow the flavors sink in more.
This is one of those dinners you can pull together really fast, which is key for me most nights. Often we're out at games or meets after school or early evening during the sports season. When we get home, I need to get dinner on the table fast. You can have this dinner on the table in 30 minutes or less!
While you preheat your oven, you can pull together the chimichurri. Add your parsley, dried oregano, garlic, capers, red pepper flakes, olive oil, white vinegar, salt, and pepper to the food processor, and chop until you get a mixture that looks like this picture.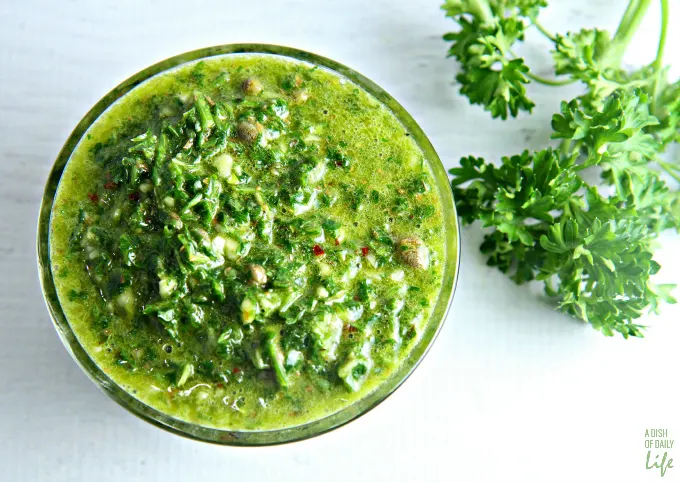 Once your oven is ready, start baking your fries. They'll take just over 20 minutes, so you'll want to plan accordingly with your steak. Flank steak will only take 4 to 5 minutes a side on the grill.
Serve your sliced steak over the top of, or to the side of, your fries (based on preference), and top with chimichurri sauce. Allow for extra chimichurri for dipping your fries.
Doesn't that look delicious?! Plus, look at all that green! Parsley also has many health benefits…it's rich in antioxidants and serves as an anti-inflammatory, among other things.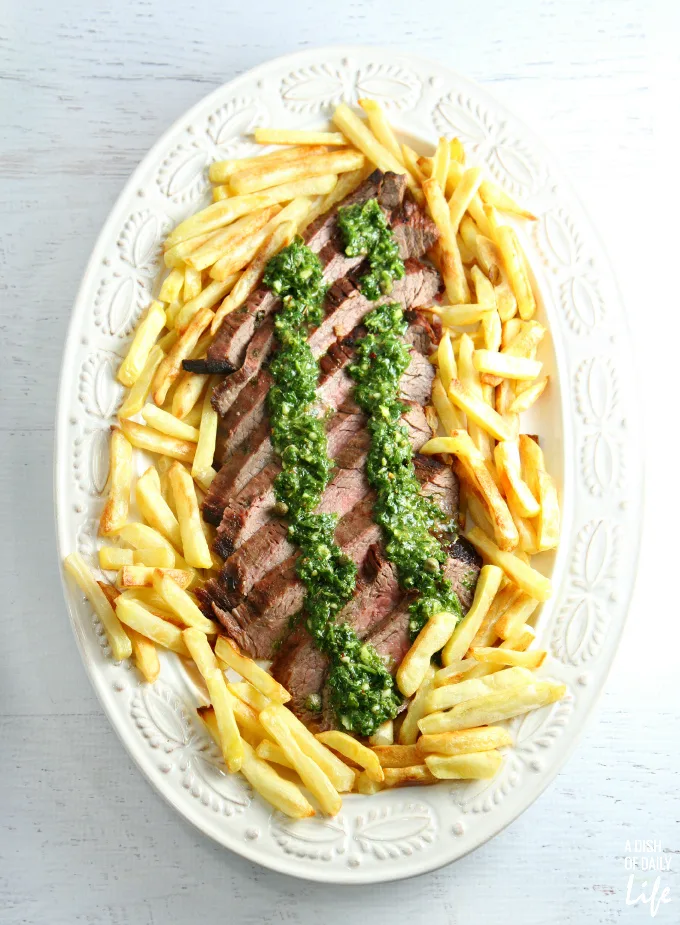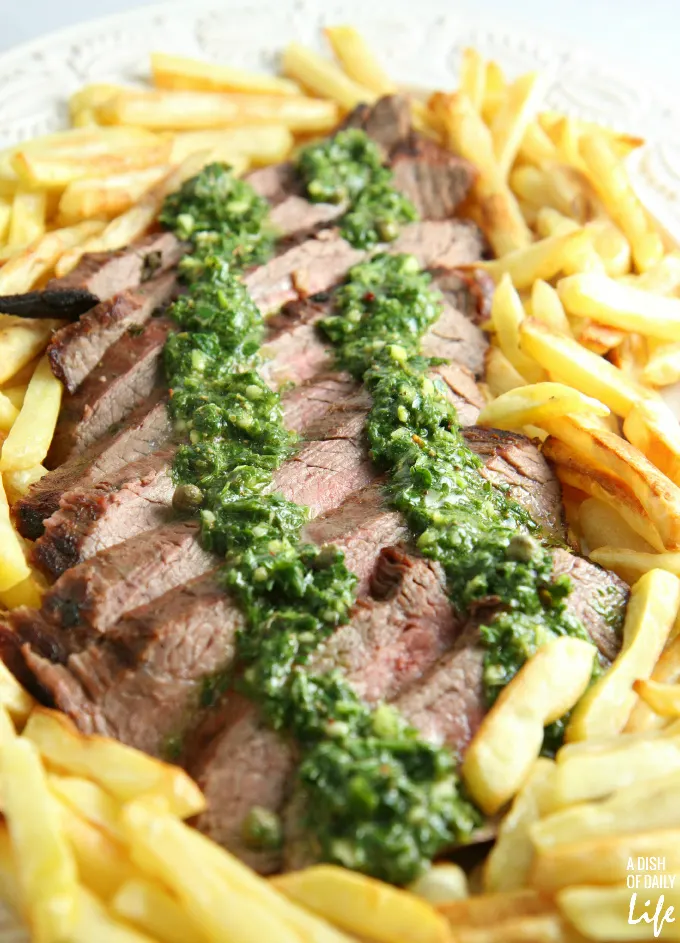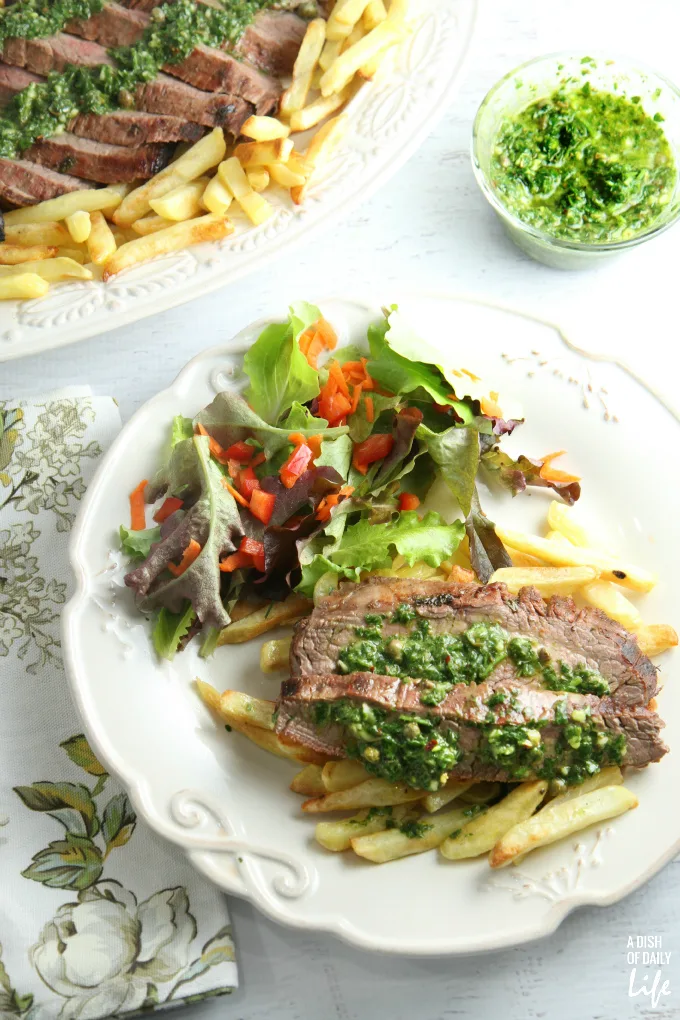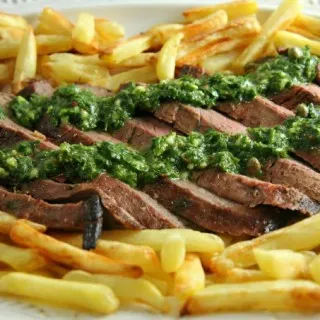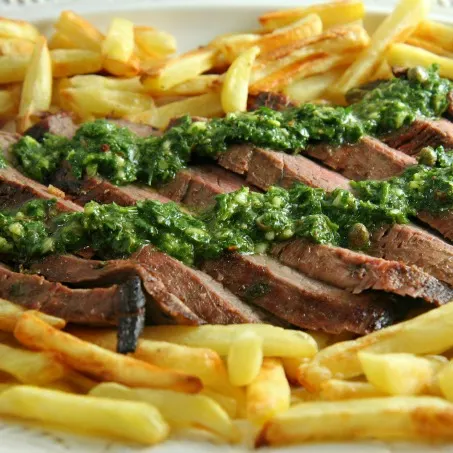 Steak Frites with Chimichurri
Steak Frites with Chimichurri Sauce...an easy gourmet dinner in 30 minutes or less!
Ingredients
Flank steak (1.5 to 1.75 lbs)
Alexia Roasted Straight Cut Fries with Sea Salt
Marinade for Steak
1/3 cup white vinegar
1/3 cup vegetable oil
1 bunch cilantro, stems removed and chopped
1 clove garlic, minced
Juice of 1 lime
1 teaspoon chili powder
Liberal grinding of salt and pepper
Chimichurri
1 bunch of parsley, most stems removed, chopped
3 garlic cloves, minced
2 teaspoons dried oregano
1 tablespoon capers
1/4 teaspoon red pepper flakes
1/2 cup + 1 tablespoon extra-virgin olive oil
1/4 cup white vinegar
Liberal grinding of salt and pepper
Instructions
Marinade
Whisk together white vinegar, vegetable oil, chopped cilantro, garlic, lime juice, chili powder, salt, and pepper; marinate meat overnight.
Fries
Preheat oven to 450 degrees.
Cook fries for 22 minutes.
Chimichurri
Add chopped parsley, garlic, dried oregano, capers, red pepper flakes, extra-virgin olive oil, white vinegar, salt, and pepper to food processor, and chop until well blended.
Steak
While fries are cooking, grill marinated flank steak for 4 to 5 minutes per side.
Serve sliced steak with chimichurri sauce, and allow extra for dipping with fries.