Disclosure: Thank you to WD for providing me with their EX2 to try out private cloud storage for my own small business.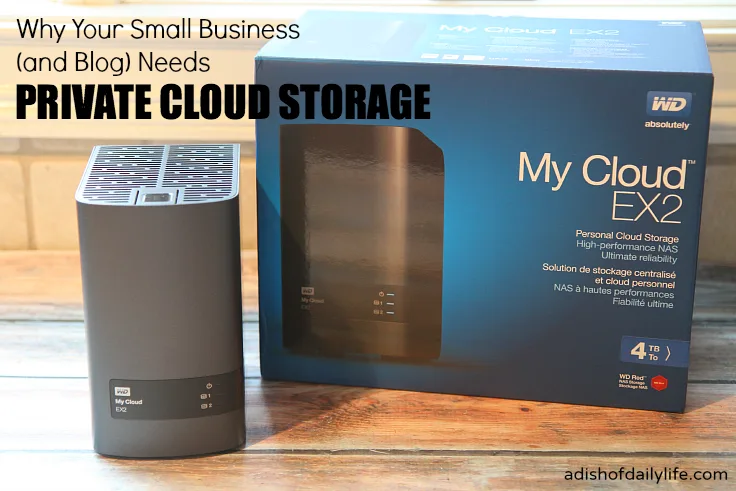 For the past 10 years or so, I have been running my own small business out of the house. Over that time frame, I've transitioned from direct sales in a photo related industry to photo organizer to social media consultant and blogger. Interestingly enough, all of these businesses tie together and the transition makes sense, but that's a story for another day.
When I was first contacted about trying the Western Digital My Cloud EX2 private cloud storage, I wasn't sure if I really needed it. After all, I'm just a one person business. I don't have employees, I have an external hard drive, and I back up key things to the cloud.
But I quickly found that the Western Digital My Cloud EX2 gives me so much more flexibility. Here's why, and why I think your small business needs one too!
Secure Backup
Your small business (and home files) should always have a backup. If you were to lose the data on your computer permanently, it would be devastating. Think about your website, your blog, your customer files, reports, photos…without a backup, if something happens to your computer, these could be gone forever. When I was working as a photo organizer, I was often amazed by the number of people who never backed up their photos, as most people say they would be devastated if they lost their pictures.
The reality is that computers fail. External hard drives fail. Offsite cloud storage systems lose files on occasion, and they're not always secure…there are constantly stories in the news about businesses and celebrity accounts that have been hacked, and sensitive files and photos compromised.
The difference here is your private cloud storage resides in your location, not somewhere else in the cloud. For more information on your data protection options, check out the WD site.
Time Saver
The WD My Cloud EX2 is a NAS device (network attached storage) that can store all your files from multiple computer computers and devices. It's simple and easy to use, and a huge time saver.
The key word here is multiple. For a small business with several employees, that means you can backup the files from multiple computers automatically without doing a thing, once it's set up. No uploading, and no attaching an external hard drive and waiting for it to complete a backup!
Let's face it, if your backup plan is complex, you're not going to do it. I'll be honest, I did have my sons help me set this up, but I probably could have done it myself. We set up the TimeMachine backup for my Mac, and it's running a complete backup right now, as I type this.
While I'm just a one person business, I also like the fact that I can back up my family's devices too…we have 3 other laptops in the house, plus multiple other devices!
Access your data anywhere
Your files are accessible from wherever you might be. On the road? You're all set. Sitting waiting at soccer practice? You're good there too.
Being a WAHM has its challenges. With three active teenagers, I occasionally find myself working in the car while I sit and wait for practices to end, or on the road when away at weekend events. It's really nice to be able to access to my files through a mobile device without having to bring my laptop and use my hotspot on my phone.
Simple digital delivery to clients
This is a big feature in my eyes. You can create a link for files or file folders right on your Western Digital cloud storage that you can send to a client. You don't need to upload the files to a second source. When I was working as a photo organizer and creating keepsakes for my clients, I would work on a project and send it over to them via Dropbox for modification and approvals. This eliminates that step of uploading to a second place, and then having the client set up an account, which could get confusing for them on occasion.
For me personally, it will also be nice to be able to send photos I take of my kids' teams this way. Right now I am sending photos through another site which means I have to upload them…another step.
Peace of mind
And of course, having secure private cloud storage will give you peace of mind, knowing your files are safe. As a business owner, the last thing I want to be worrying about is how safe my files are. I have enough things on my mind; I want to concentrate on the tasks at hand!
[Tweet "Keep your #smallbiz and blog files secure with @WesternDigital's #MyCloudEX2! #blogging"]
WD My Cloud EX2 Specifications include:
Capacity
• MAP is $199.99 USD for the diskless My Cloud EX2, $369.99 USD for 4 TB, $469.99 USD for 6 TB and $569.99 USD for 8 TB.
Compatibility
• Windows 8.1 or earlier, Windows 7, Windows Vista or Windows XP (32 bit) SP 3 operating systems
• Mac OS X Mavericks, Mountain Lion, Lion or Snow Leopard operating systems
• DLNA/UPnP devices for streaming
• Router with Internet connection
Package Includes
• Private cloud storage
• Ethernet cable
• AC adapter
• Quick install guide
• Assembly kit (included in 0 TB/diskless model)
Learn more about cloud storage for small businesses here!
Do you have a backup plan for your small business? Would you consider private cloud storage? Why or why not?
Disclosure: Thank you to WD for providing me with their EX2 to try out private cloud storage for my own small business.