Disclosure: This shop has been compensated by Collective Bias, Inc. and its advertiser. All opinions are mine alone. #ProPlanPet #CollectiveBias
Do you work out with your dog? Working out with your dog plays an important role in both your AND your dog's healthy lifestyle. But in order to maintain that active lifestyle, just like you, your dog needs the proper diet and nutrition!
I run (and snowshoe in the winter) with my dog, Murphy, on a regular basis, as does my husband. In fact often times, Murphy works out with my husband and I separately and gets two runs in some days. If he could get one of the kids to take him too, he'd go again…that's how much he loves it! But even if he only gets one run, he is in and out all day long, playing and running around outside. He has a very high level of energy, and definitely craves that workout high!
Working Out with your Dog: 5 Good Reasons
Motivation to get that workout done
Even if you don't really feel like going working out, your dog isn't going to let you off the hook. If he's used to getting his exercise, he's going to be waiting by the door! Having a workout partner that is always ready to go definitely helps you stay in shape.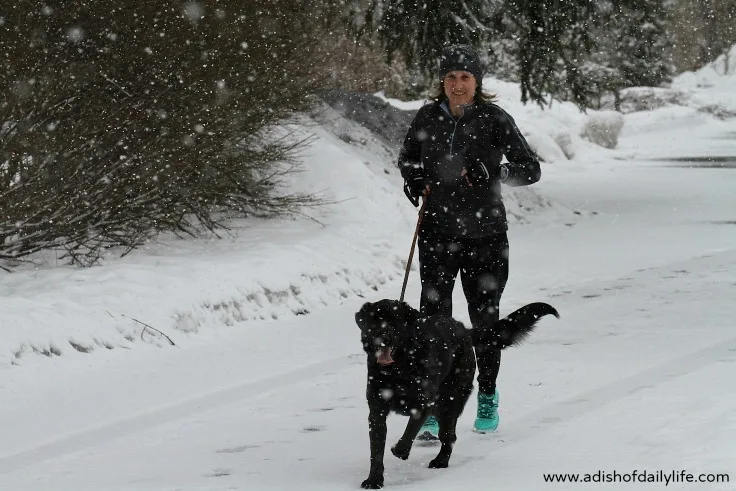 Teaches us to enjoy the moment
Have you ever noticed how excited a dog gets to go out for a walk or run? Dogs live life in the moment…they enjoy every moment for what it is. As soon as my dog sees me picking up my running shoes, he's doing a little dance, prancing and jumping around. He's beside himself with excitement very single time. We could all stand to learn a little from our dogs.
Workouts are bonding time
When you spend time with family and friends, you're strengthening those relationships. Spending time with your dog doing something that you both love has the same effect. Just like people, dogs love attention…and they will shower you with love right back. Ever have a bad day and come home to a wagging tail? A dog with a bond with his human can put you in a better mood instantly!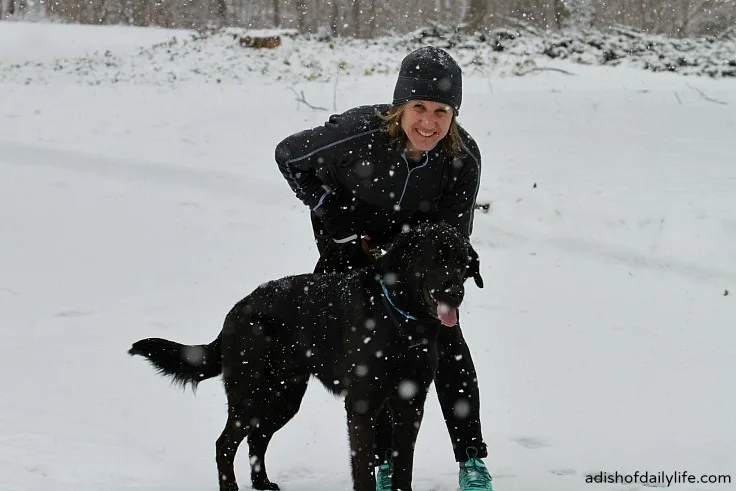 The safety factor
It's always safer to have a running partner. As a woman, I feel safer running with my dog, especially at dusk and dawn, or when I am in secluded areas, like the trails. Murphy is very friendly, but dogs are protective by nature, and Murphy is no exception. I know no one is going to bother me with this big guy by my side.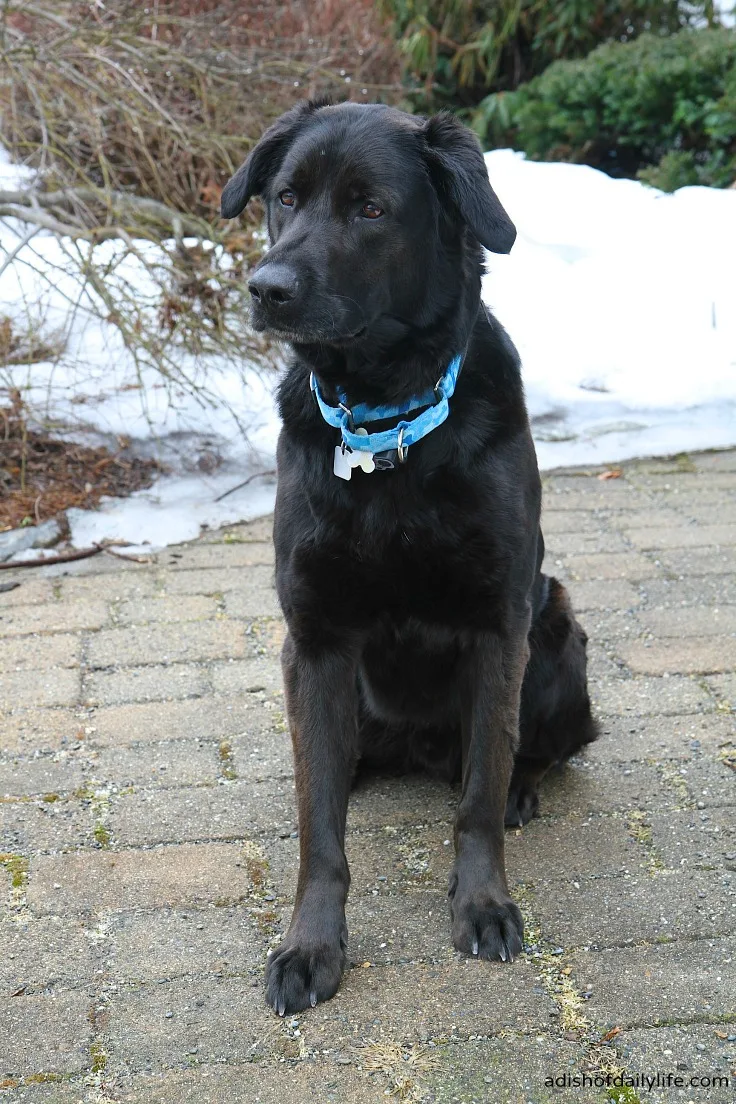 A tired dog is less mischievous dog.
I speak from experience. Murphy is very busy when he doesn't get his exercise. He steals things throughout the house and brings them out through his dog door to play. He's taken shoes, clothes, dog beds…if it's not nailed down, and he can pick it up or drag it, it's fair game. Once on a snowy day, he stole my wallet right off the counter and took it apart in the yard. Let me tell you, it was not a lot of fun searching for credit cards and my driver's license in the snow. Fortunately I did find everything but my husband and I were out there for a long time looking.
He's also been known to get into the toilet paper.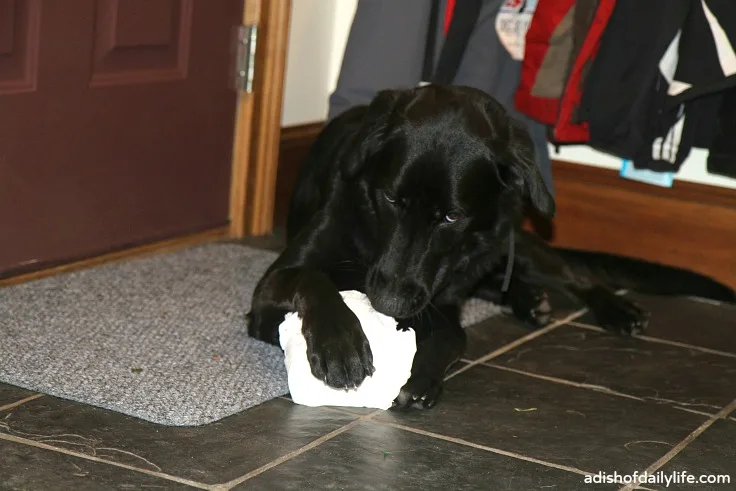 And this is what I woke up to today. No, he hasn't had his run yet.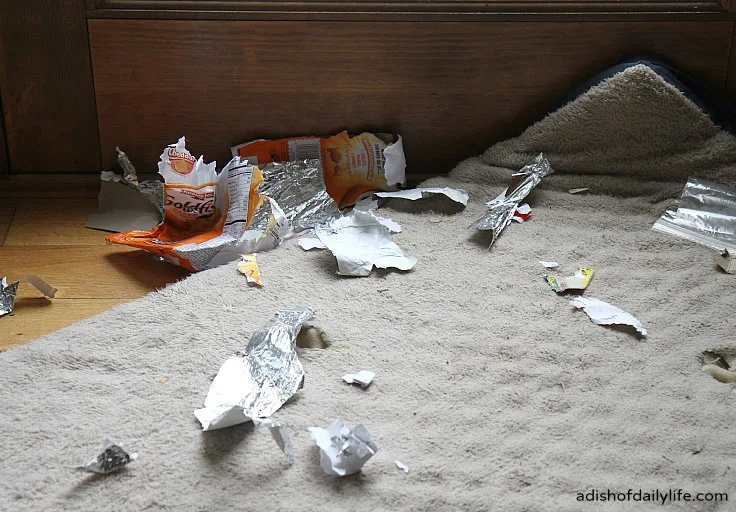 With all of the exercise Murphy gets, I feel it is important to make sure he is eating as nutritiously as possible. Fueling our bodies with good food is important…it's just as important for our dogs!
Because Murphy works out so much, we feed him Purina® Pro Plan® Sport. I picked the Sport formula for Murphy because he is such an athletic and active dog. But Purina® Pro Plan® has a variety of formulas developed especially to fit your dog's needs. Their goal is to give your dog the nutrition to be the absolute best he can be in terms of energy level and maintaining his ideal body condition, as well as a healthy coat and skin. In fact, real chicken, beef, lamb or salmon is the #1 ingredient in all of Purina® Pro Plan® dry formulas. Having fed my all of my dogs (we have 2 others in addition to Murphy) Purina® Pro Plan® for years, I am confident they are getting the nutrition they need for a healthy lifestyle.
Here he is waiting somewhat impatiently for breakfast!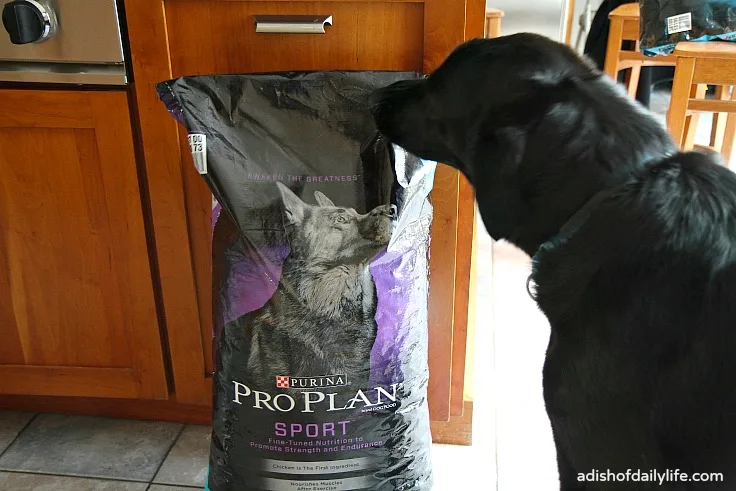 I purchase my Purina® Pro Plan® at PetSmart. I like shopping there because the people are always so friendly, and everything in the store is well laid out and easy to find. The Purina® Pro Plan® dog food was located on the lower shelves in the dog food section, so it was very easy for me to pick it up and bring it to the register. I also love how you can bring your dog with you right into the store. I didn't bring Murphy with me this time though, because I was running other errands, and I don't like to leave my dog in the car for any kind of extended time, no matter what time of year.
How would you like to try Purina® Pro Plan® for FREE?!
Because every dog has different nutritional needs, Purina® Pro Plan® offers a wide range of dry and wet foods, snacks and supplement bars on five specialized formulas, each containing products catering to your dog's taste preferences, age and dietary needs, and activity level or lifestyle. Check out the myPLAN website to find out which formula is right for your dog. Then take advantage of their rebate offer for a FREE bag of Purina® Pro Plan® dry dog food (4-6lbs, up to $18.99.)* I have a feeling your dog will thank you!
What about you…do you spend time working out with your dog? What are your best reasons?
*Good only in U.S.A. A.P.O's, F.P.O's. Void where taxed, prohibited, restricted. Allow 6-8 weeks for shipment. LIMIT ONE REQUEST PER INDIVIDUAL, ADDRESS, or EMAIL ADDRESS. Offer expires 04/30/2015.