These glazed lemon blueberry muffins, made with a premium imported butter, are melt in your mouth good…perfect for breakfast or a pick-me-up snack any time of day.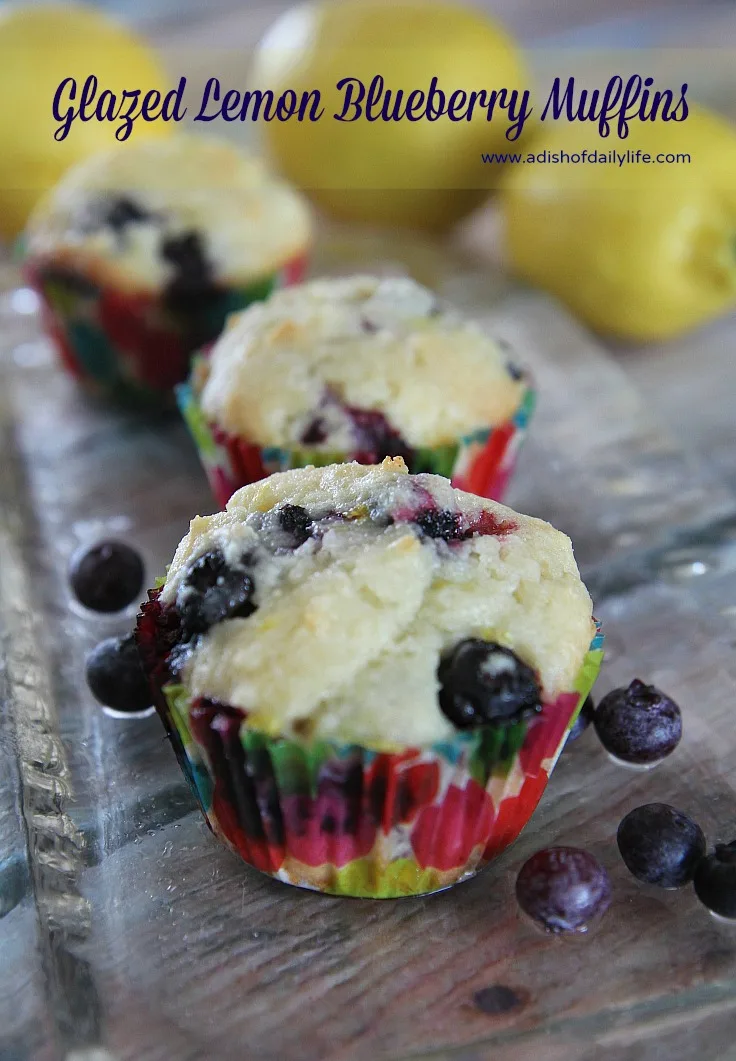 You might be thinking to yourself butter is butter. And honestly, a few days ago I might have been right there with you. But not now.
Finlandia butter is imported from Finland, a country known for its lush green pastures and more than 100,000 clean lakes. This creamy, delicious butter is still made the old fashioned way. It starts with the purest milk in Europe from small Finnish family-owned farms where the cows are well cared for and not given rBST or any artificial hormones. This is something that is important to me in feeding my family, so I was thrilled to learn this.
And the taste? I have to say that it was quite the treat! There was a big different in the taste between the butter than I normally buy and Finlandia gourmet butter. It was wonderfully creamy and smooth…making Finlandia the ultimate butter for baking, cooking and of course eating, in my humble opinion!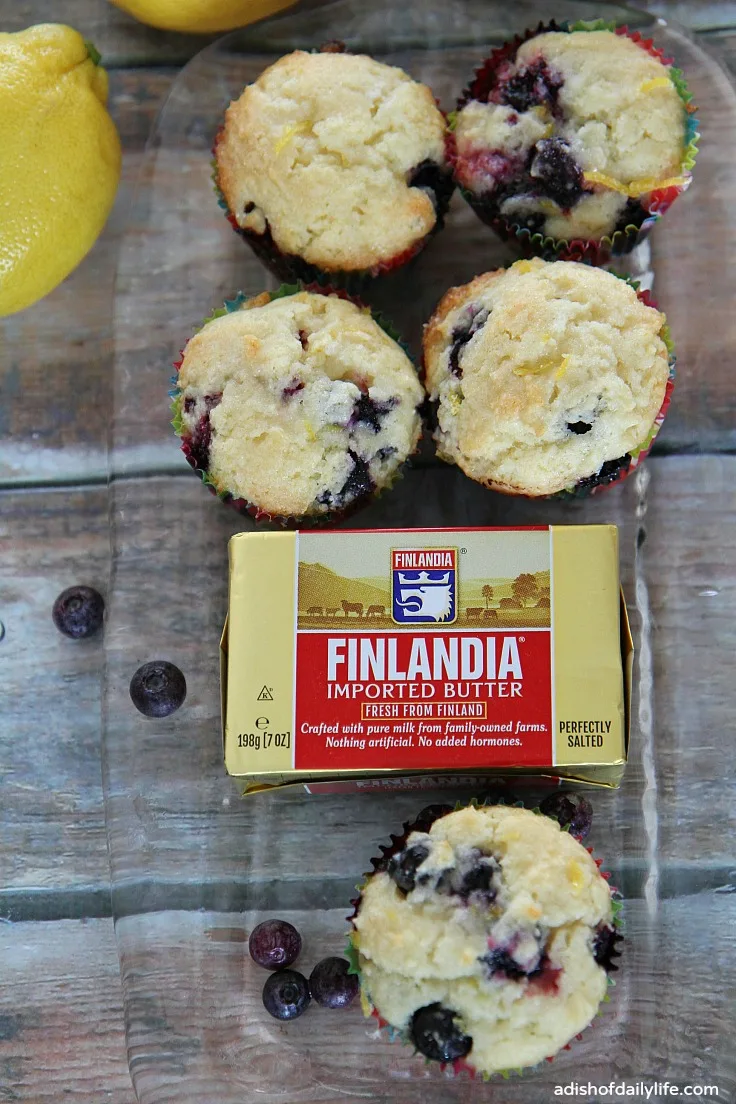 This is a recipe my mother in law uses to make a lemon blueberry bread. My mom in law makes the best baked goods…my kids love it when she bakes. Luckily for us, she only lives a hop, skip and a jump away (next door), and often brings us her baking goodies!
I made muffins instead of bread for the simple reason that I could not find my loaf pan. If you really want to make bread, you'd simply cook it for about an hour or until a toothpick can be inserted cleanly.
I used the Finlandia's unsalted version in baking my muffins, and then we used the salted version for eating.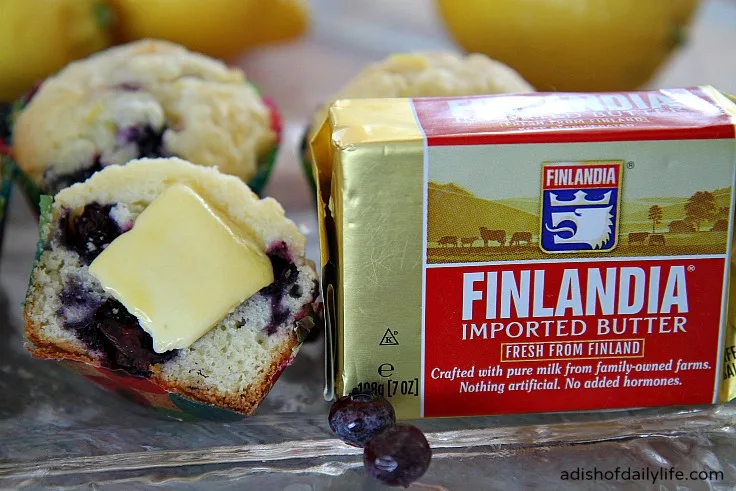 My lemon blueberry muffins disappeared in short order. I tried hiding a few to make them last a little longer. Those disappeared too. It seems that you can't get anything past a houseful of teenagers.
Glazed Lemon Blueberry Muffins with Gourmet Butter
Glazed lemon blueberry muffins are delicious perfect for breakfast or brunch, or even snack time. Topped with gourmet butter, they're full of melt in your mouth goodness!
Ready for the recipe?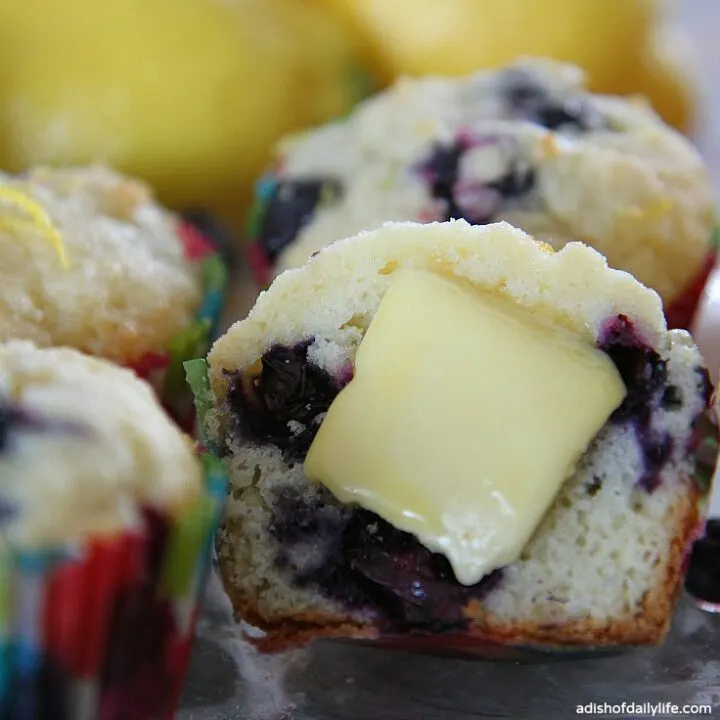 Glazed Lemon Blueberry Muffins
These glazed lemon blueberry muffins are a great way to start your morning or the perfect pick-me-up snack!
Ingredients
For muffins
3/4 cup of sugar
6 tablespoons of Finlandia imported butter
2 eggs
1/4 cup milk
1 1/2 cups flour
1 1/2 teaspoons baking powder
1/4 teaspoon salt
1 teaspoon lemon zest
1 cup fresh blueberries, rinsed and dried
For Glaze
1/4 cup sugar
2 tablespoons lemon juice
Instructions
Muffins
Preheat oven to 350 degrees.
Beat butter and sugar together.
Add the eggs, one at a time, while continuing to beat.
Add milk.
Mix your flour, baking powder, and salt together in a separate bowl. Add half of lemon zest; reserve the rest.
Add your flour mixture to the butter and sugar, and mix until your flour is moistened. (Do not overmix)
Add muffin or cupcake baking cups to your muffin pan.
Spoon even amounts into the 12 muffin cups.
Bake at 350 degrees for 25 minutes, or until a toothpick can be inserted cleanly.
For glaze
Mix sugar, lemon juice and the other half of the lemon zest together.
Pour over the top of muffins while still in the pan.
Allow muffins to cool before removing them from pan.

I hope your family enjoys these Glazed Lemon Blueberry Muffins as much as ours does!