Zucchini Corn Salad with Lemon Yogurt Dressing…a simple, colorful salad packed with farm fresh flavors!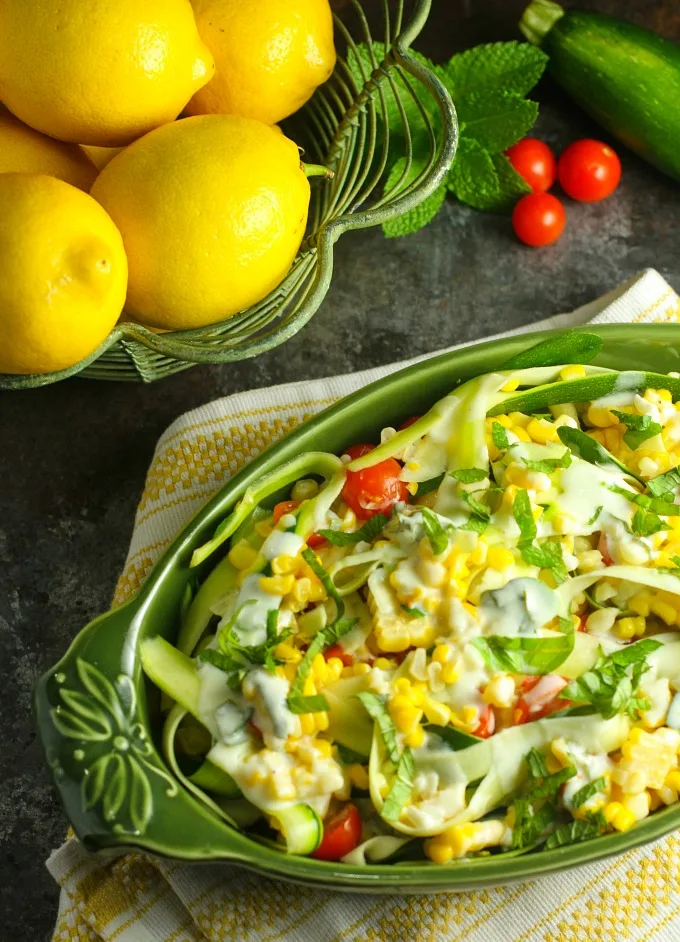 This Zucchini Corn Salad recipe is sponsored by the dairy farm families of New England as part of an ongoing partnership. All opinions are my own. Thank you for supporting the organizations and brands that make A Dish of Daily Life possible!
I really love when our farmer's market opens. It's such an appealing way to shop for produce, wandering from stall to stall. The community aspect of it is really important to me, knowing where our food is coming from. Buying local helps our local economies, plus it's healthier as the produce is freshly picked. It hasn't been sitting on a truck for days. When you buy from your local farmers, you're also helping reduce our footprint on the earth, as you're not supporting the energy output required to ship food around the country.
However, the farmers market isn't the only place to get local food. The vast majority of the milk and other dairy products in your local supermarket also comes from our region making it one of the original farm to table foods. Milk actually goes from farm to fridge in just 2 days!
The personal aspect of buying my produce at the local farmer's market is appealing to me as well. I really don't like to shop, so if a store owner (or in this case, farmer) makes the effort to know their customers, that's a place I want to support. Those kind of relationships are common at our farmer's market.
One of our local farms knows how much I love tomatillos, and now brings plants for me every year. In fact one year, when they weren't growing them, they actually dug up a plant that popped up in their fields for me. THAT is customer service at its best! That same farm makes the most amazing hummus' and salads and brings them to market to sell, and they've even given me some inspiration for my own recipes. A number of the farmers have also joined our gym, allowing me to get to know them better, which is nice as well.
ZUCCHINI CORN SALAD WITH LEMON YOGURT DRESSING
As I've mentioned before, I almost always make my own salad dressings. They're so easy to make, plus when I make them myself, I know exactly what is going into them, unlike what I can buy on the grocery shelf.
I've been cooking a lot more with Greek yogurt lately. I really like the tangy flavor, and it is actually a great substitute for mayonnaise because of its thicker consistency. Not to mention that it has far fewer calories and a much lower fat count than even light mayonnaise!
The other great thing about Greek yogurt is that it has double the protein of regular yogurt. Given that I come from a family of runners, that extra protein is particularly important. Actually, it's important for anyone who works out on a regular basis. When you work out, you are breaking down muscle fibers. Protein assists in the repair process.
The Lemon Yogurt Dressing is quite easy to make. You're going to whisk together the Greek Yogurt, lemon juice, olive oil, minced garlic, mixed herbs (basil and mint work well), and a little bit of heavy cream to thin it out. It's so simple…and so good! You could also use it as a Crudité dip!
Before I forget, if you like using Greek yogurt in dressings, you may also want to consider trying this Feta Dill Dip…another recipe I created recently for New England Dairy & Food Council!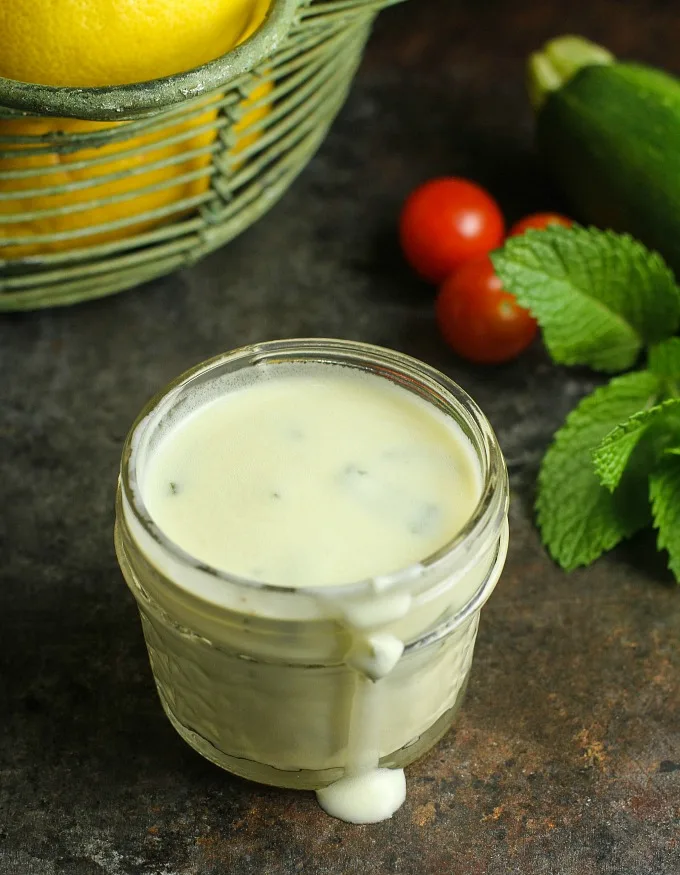 Getting back to the recipe…
I was feeling inspired by a zucchini ribbon salad recipe that I sampled during a recent trip to the Milk Street Cooking School in Boston when I created this Zucchini Corn Salad recipe. I am happy to say my new recipe creation went over big in our house!
To make Zucchini Corn Salad, use your peeler to create long ribbons of zucchini. When you get down to the seeds, stop peeling and discard the core. While you're peeling the zucchini and halving your cherry tomatoes, cook your corn. Drop the ears into boiling water for 4-5 minutes, then remove them and drain. Cool them by running them under cold water. That will stop the cooking process. Once they are cool, you can slice the corn off the cob. Toss the zucchini ribb0ns with the corn and cherry tomatoes, and drizzle the dressing over the top to your taste.
You won't need all of the Lemon Yogurt dressing. A little will go a long way. You don't want to drown the flavor of the vegetables. Keep the extra dressing aside and use it as a vegetable dip or for another salad. It will keep in the refrigerator for a few days.
Top the Zucchini Corn Salad with a little crmbled Cotija cheese and some additional basil and mint if you'd like!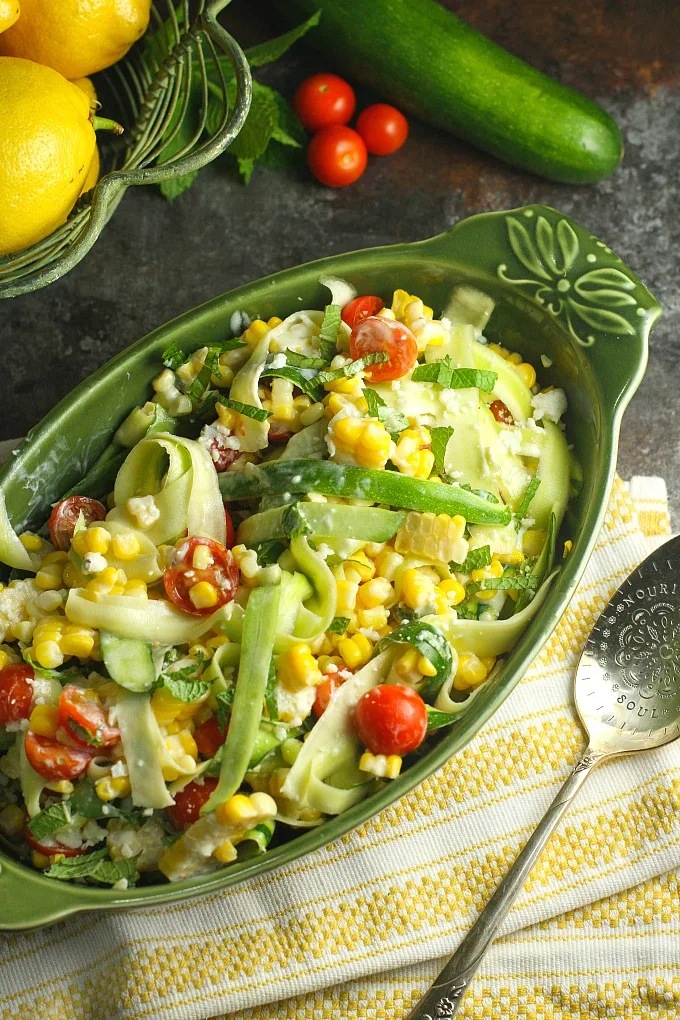 The tanginess of the Greek yogurt and the lemon makes for a wonderful flavor combination with the zucchini, corn and tomato…a taste of summer in every bite!
[click_to_tweet tweet="Zucchini Corn Salad with Lemon Yogurt Dressing…a simple, colorful salad packed with farm fresh flavors!" quote="Zucchini Corn Salad with Lemon Yogurt Dressing…a simple, colorful salad packed with farm fresh flavors!"]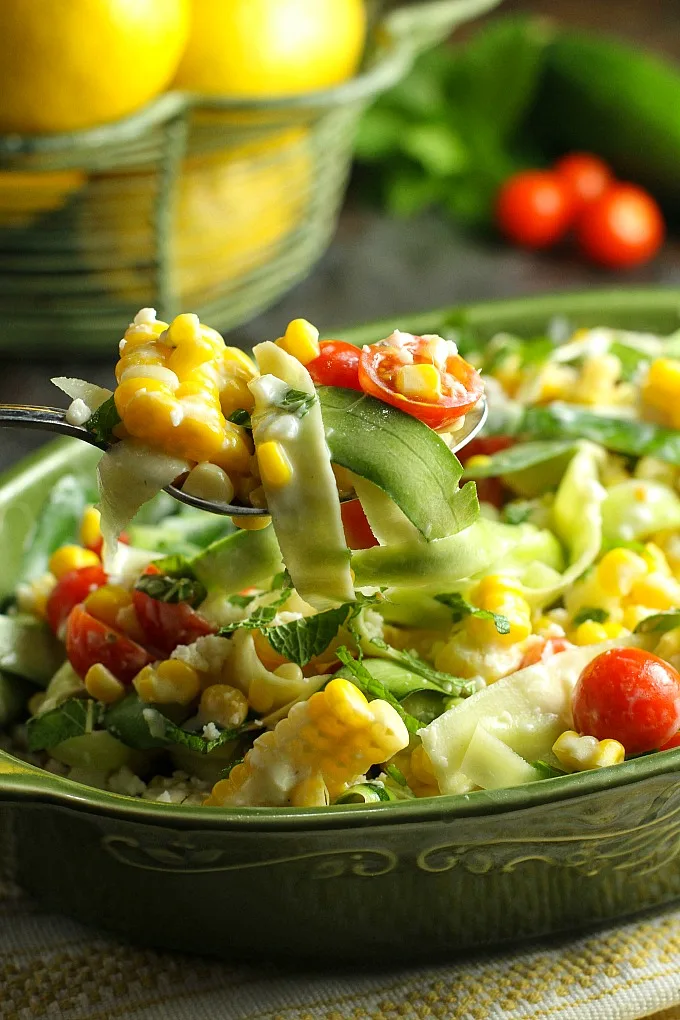 MORE SALAD RECIPES YOU MAY ENJOY
Before I share the recipe for this Zucchini Corn Salad, I want to give a shout out to the New England Dairy & Food Council and Must Be The Milk. I'm thrilled to be working with them again this year, sharing information on the dairy farm families of New England as well as health and wellness topics. Their websites are a wonderful source of information…check them out!
Are you ready to make this Zucchini Corn Salad?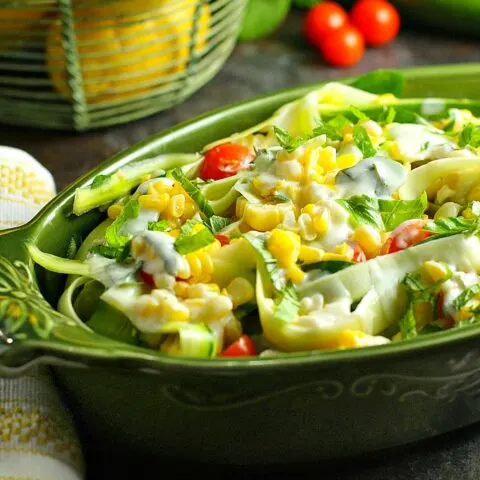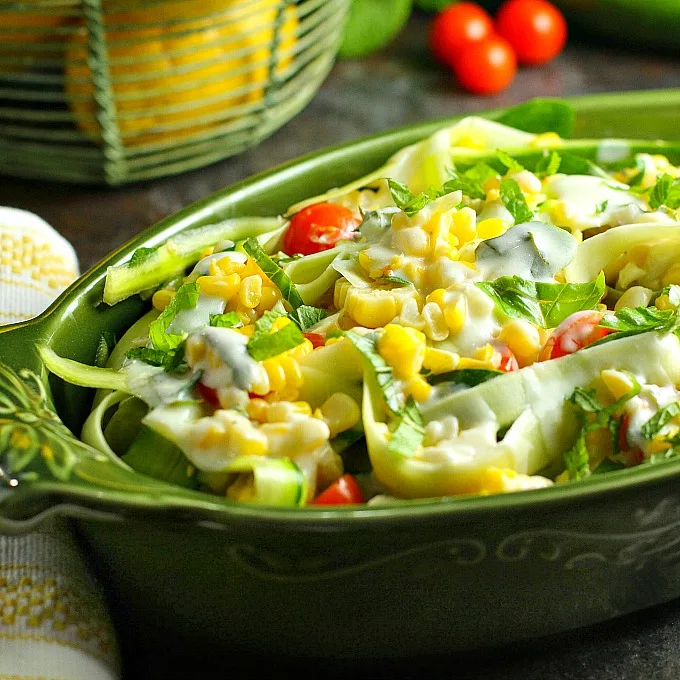 Zucchini Corn Salad with Lemon Yogurt Dressing
Ingredients
Zucchini Corn Salad
3 medium zucchini, peeled into ribbons
4 ears of corn, cooked, cut from the cob
1 cup cherry tomatoes, halved
Garnish: additional basil and mint, crumbled Cotija cheese (optional)
Lemon Yogurt Dressing
1/2 cup Greek yogurt
1/2 cup lemon juice, freshly squeezed
1 garlic clove, minced
2 tablespoons olive oil
1 tablespoon heavy cream
1 tablespoon fresh basil, cut in a chiffonade
1 tablespoon fresh mint, chopped
salt and pepper, to taste
Instructions
Whisk together Greek yogurt, lemon juice, chopped garlic, olive oil, heavy cream, herbs and salt and pepper. Set aside.
Peel zucchini into ribbons.
Halve cherry tomatoes.
Cook corn in boiling water for about 4-5 minutes. Drain and cool by running under cold water to stop the cooking process, and cut corn from the cobs.
Toss the zucchini, cherry tomatoes and corn together; drizzle Lemon Yogurt dressing over the top.
Top with additional chopped basil and mint and crumbled Cotija cheese, if desired.
Nutrition Information:
Amount Per Serving:
Calories:

271
Total Fat:

12g
Saturated Fat:

3g
Cholesterol:

10mg
Sodium:

923mg
Fiber:

6g
Sugar:

12g
Protein:

9g