This Avocado Dressing is quite versatile…use it as a dip for vegetables, slather it on a sandwich or use it as a salad dressing! Shown with a Southwestern style salad, this is a great way to use up your leftover Thanksgiving turkey or a rotisserie chicken.
One thing I love about New England is that we have four very different seasons. And I can find things I like about each of them.
In the fall and winter, it's cozy fires, wool socks, winter boots, watching my dog running and jumping through leaf piles, just like the kids used to do when they were little, and of course, the approaching holidays.
I think the anticipation of the holidays is as wonderful as the holidays themselves. There is a festive feel in the air. I start to think about food even more than I already think about it, which is a lot! I'm planning menus, making cookies, and eating a little bit more decadently than I normally would.
' Tis the season, right?
And then there is the gift giving. One of my favorite parts of the holidays is finding that perfect gift that will put a smile on that special someone's face.
Imagine my smile when I opened up my Holiday Acorn Box and found this inside. Talk about an early Christmas!
Avocado Dressing
My recipe for you today is quite versatile. You can use it as a dip with vegetables, on sandwiches, or as a salad dressing, which is what I did. I'm thinking it would also be good with fish, but I haven't tried that yet. It's also a healthy recipe…hopefully that will make you feel better about all the holiday indulgences!
Plus it's really easy to make, giving you more time to spend with family and friends!
First I cut my avocado, and chopped my green onion and cilantro with my new Chicago Cutlery knives. I found them to be easy to handle, very sharp, and I loved the fun colors as well. They have a great price point too! They'd be a perfect stocking stuffer for anyone who loves to cook or even a college student living in his / her own apartment as well.
Then I added my ingredients to the blender in the order I have them listed in the recipe below. When filling your Nutri Ninja Auto-iQ Blender, you want to add your fruits and vegetables first, then powders, seed, nuts or other dry ingredients, and then your liquids. If you are adding ice or other frozen items, those go in last. I can honestly say I have never been so impressed with a blender. You know how you'll often get chunks and a "sludgy" type consistency in a regular blender? The Nutri Ninja breaks down and emulsifies fruits, vegetables, nuts and seeds for a smooth blend…in seconds! And I've never seen anything break down ice like this!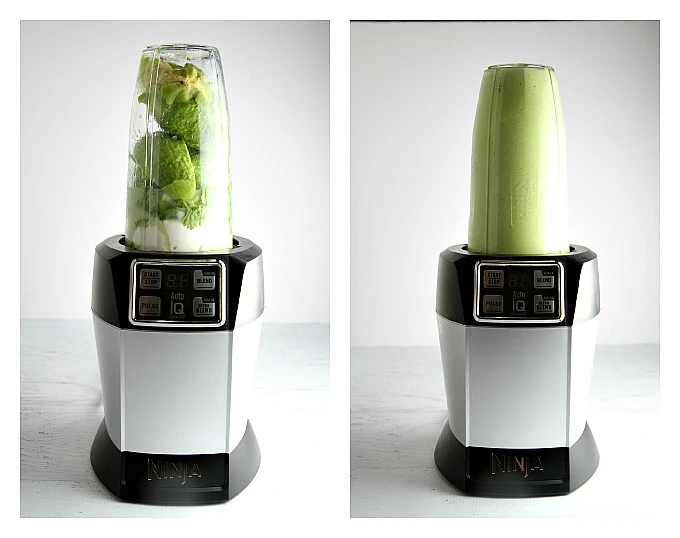 I stored my leftovers in the Rubbermaid 5 cup Premier Food Storage container that I received. I don't know about you, but my food storage container drawer is a mess…I can never find matching lids and everything is a jumble. I've been saying that I am going to get a set of products that works together, but I haven't found anything that really works for us. Until now, that is. What I like about the Rubbermaid Premier Food Storage containers is that the container bases are made with Tritan™ plastic that resist stains and odors. They have Flex & Seal™ lids that are easy to seal and remove. And, their lids are part of the Easy Find Lids system, which means they snap to bases and other lids so no more searching! Plus you gain space (and organization) in your cabinets since they nestle together. Problem solved. I'm picking up more of these at Walmart and donating my old stuff.

Did you notice the washi tape label? In our house, we are always running around like crazy. Labeling makes it easy for the kids and my husband to find something fast, rather than wondering what is in the container. But I don't just use my Sharpie Extreme permanent markers for food! My kids are all heavily involved in sports…we have waterbottles and sports equipment galore. Sharpie Extreme permanent markers have a high-contrast ink that resists fading when exposed to the elements. After losing (and misplacing) many waterbottles and balls, we now write our names on them just in case. Sharpie Extreme permanent markers can be used on most surfaces, including plastic, glass and wood.
I did enjoy a nice steaming hot cup of tea with my Southwestern Salad and Avocado Dressing. It's been really damp here lately, and there is nothing like tea to warm your bones when a chill sets in. I was sent four different flavors of Signature Tea: Earl Grey, Jasmine, Peppermint and my personal favorite, an Antioxidant Green Tea. Green tea has some great health benefits, so that is a big plus for me. I'm trying to be more conscious of taking care of myself these days!
Are you ready for my Avocado Dressing recipe?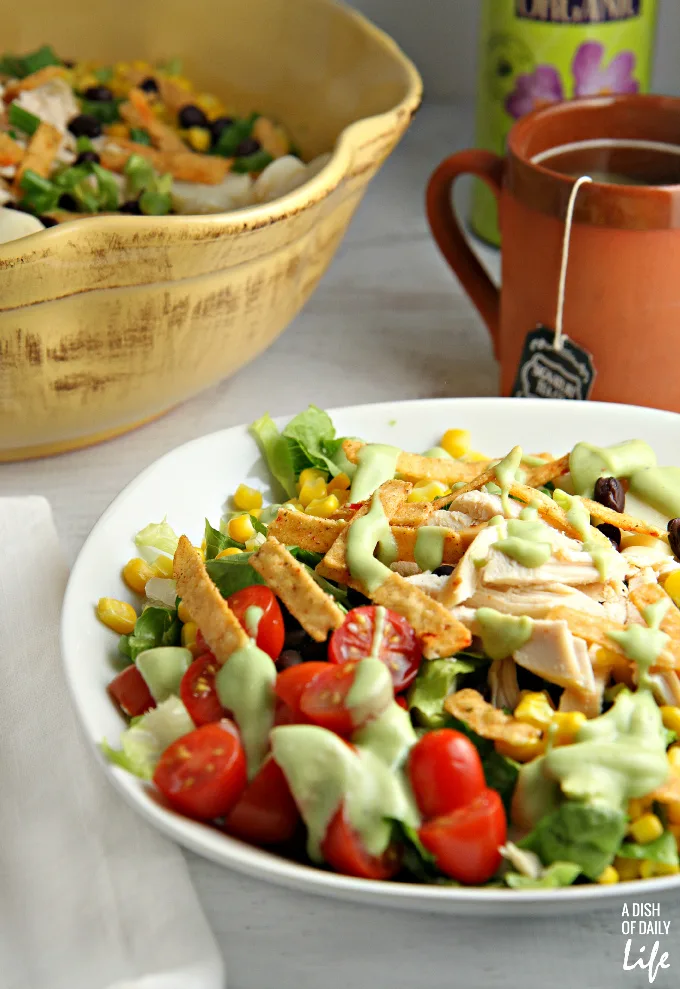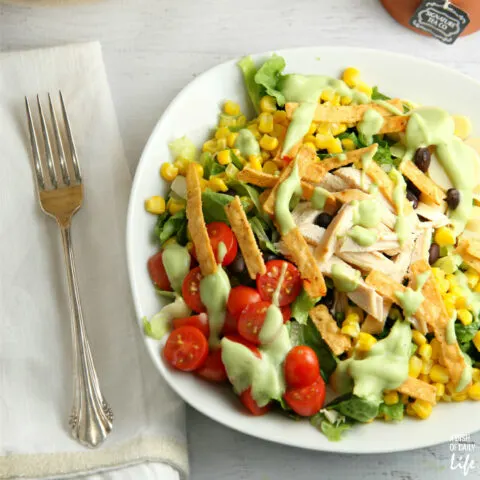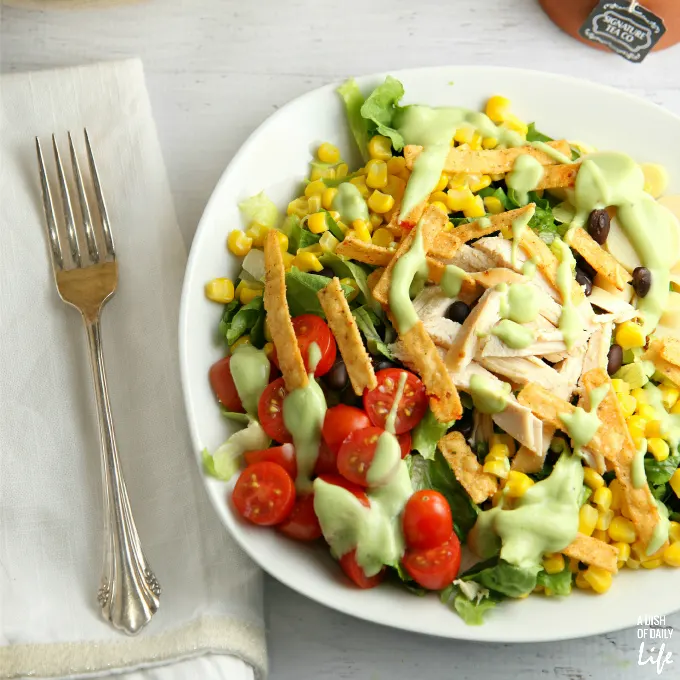 Avocado Dressing
A heart healthy dressing, this smooth avocado dressing can be used with salads, sandwiches, or even as a healthy dip.
Ingredients
Avocado Dressing
2 avocados, peeled and pit removed
1/2 cup cilantro
1 green onion, chopped
1 clove of garlic, crushed with garlic press
zest from one lime
1/2 cup greek yogurt
1 tablespoon olive oil
1/4 cup + 2 tablespoons lime juice
1/2 cup water
liberal grinding of salt and pepper
Southwestern Salad
1 head of Romaine lettuce, chopped
1 cup corn
10.5 oz container of cherry tomatoes, sliced in half
1 14 oz can of Hearts of Palm, sliced into rounds
1 15.5 oz can of black beans, rinsed and drained
2 green onions, thinly sliced, for garnish
Tortilla strips, for garnish
Instructions
Avocado Dressing
Add ingredients to Nutri Ninja in order listed.
Tighten lid with blades, flip cup over and attach to base. Click into place.
Select "START" and blend for 15 seconds or until desired consistency.
Feel free to stir in a little more liquid to get your desired consistency and taste.
Southwestern Salad
Toss all ingredients together.
Spoon dressing over individual salads.
If you are looking for an easy meal to put together with your leftover Thanksgiving turkey or rotisserie chicken, this is it!