These Pumpkin Muffins with Pumpkin Spice Coffee Glaze are perfectly moist and have just the right amount of sweetness. And you will love the pumpkin spice coffee glaze…it adds a wonderful depth of flavor!
THE FLAVORS OF FALL
What's your favorite part of fall? For me, it's the changing of the leaves and the fall flavors, especially pumpkin and apple. I love the undertones of flavored coffee, and that's why I was so excited to see New England Coffee's seasonal flavors — Pumpkin Spice and Caramel Apple! They're available in both bagged ground coffee or single serve pods, so no matter how you brew your coffee, New England Coffee has you covered.
We do have the ability to brew one cup at a time here, which for me is nice, because by the time I'm ready for coffee, I'm the only one home. I usually go out for a run right after the kids leave for school, so I usually have my coffee around mid morning.
Lately I've been enjoying my Pumpkin Spice coffee so much, I started brainstorming ways to cook with it. That's the life of a food blogger…we're always thinking about eating and cooking!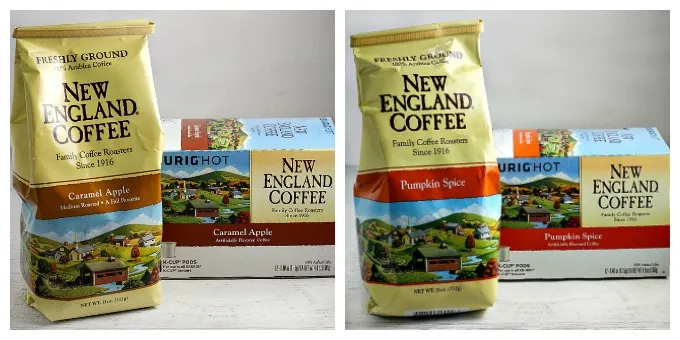 PUMPKIN MUFFINS WITH PUMPKIN SPICE COFFEE GLAZE
I had all sorts of recipe ideas I wanted to try, like Caramel Apple Cheesecake Muffins or Caramel Apple Truffles…don't those sound delicious?! I'm getting hungry just thinking about them!
But it the end, pumpkin muffins won out. The other day my husband made some Banana Pumpkin squares for our son's team pasta party before their first race. They were so good! I'm planning on getting that recipe on the blog soon. But since then, I've been obsessed with cooking with pumpkin.
These Pumpkin Muffins are easy enough to make. You beat your brown sugar, pumpkin puree, and butter together, add your eggs and milk, then fold your dry ingredients in. But what really made these pumpkin muffins special was the glaze.
You know where I'm going with this, don't you?
I decided to make my glaze using New England Coffee's Pumpkin Spice coffee. Have you ever made a glaze using coffee? The depth of flavor it gave it was fantastic! Of course, you don't need an entire cup of coffee for the glaze. Feel free to drink the leftover coffee…I did!
You really could enjoy these Pumpkin Muffins with Pumpkin Spice Coffee Glaze any time of day…breakfast, as a snack, or dessert! Personally, I like them for a mid morning snack (which is really breakfast for me) with my coffee!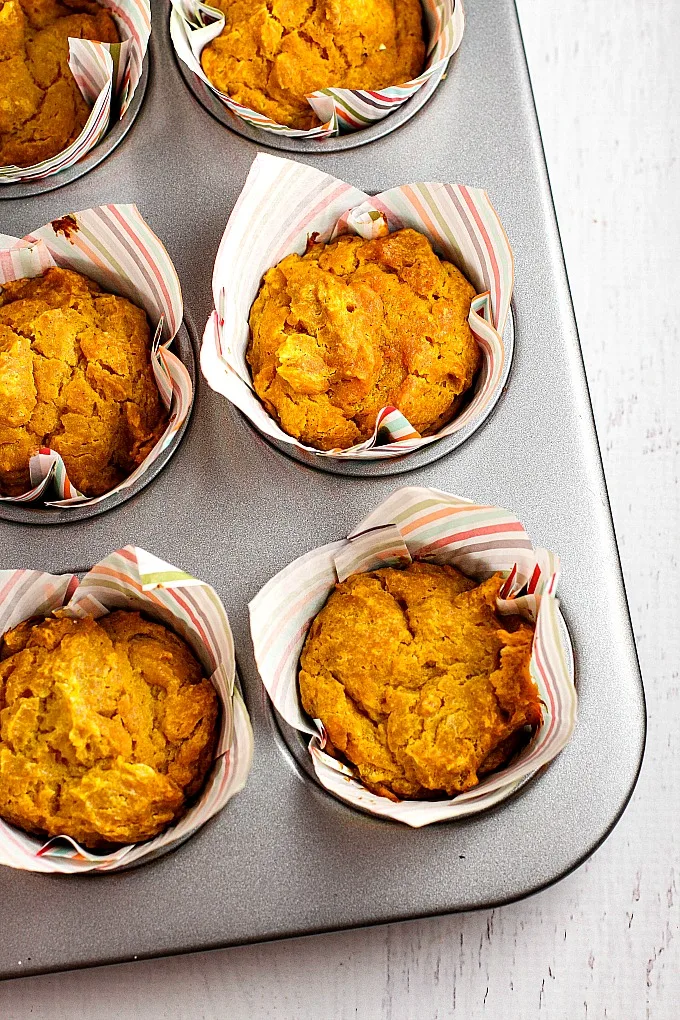 Add that pumpkin spice coffee glaze, and all of the sudden, your pumpkin muffins have turned into an extra special treat!
CELEBRATING EXTRAORDINARY PEOPLE AND 100 YEARS AT NEW ENGLAND COFFEE
A while back, I shared my my delicious Grilled Pork Tenderloins with Coffee Chili Rub made with New England Coffee's Centennial Blend (if you haven't tried that recipe, fire up the grill and do it…everyone raves about it!), and told you about New England Coffee's 100 year celebration.
And now for the recipe!
Pumpkin Muffins with Pumpkin Spice Coffee Glaze
Ingredients
Pumpkin Muffins
3/4 light brown sugar
1 15 oz can pumpkin puree
6 tablespoons unsalted butter
2 eggs
1/4 cup milk
1 3/4 cup flour
1 1/2 teasponn baking powder
1/4 teaspoon salt
1/4 teaspoon ground nutmeg
1/4 teaspoon ground ginger
1/2 teaspoon cinnamon
1/4 teaspoon allspice
Glaze:
1/4 cup New England Coffee pumpkin spice coffee
1 1/2 cup powdered sugar
Dash of cinnamon
Instructions
Pumpkin Muffins
Preheat your oven to 350 degrees.
Beat brown sugar, pumpkin puree, and butter together.
Add eggs, one at a time, while continuing to beat.
Add milk.
Combine flour, baking powder, salt, nutmet, ginger, cinnamon and allspice together in a separate bowl.
Fold flour into mixture, a little at a time.
Add muffin cups to muffin pan.
Spoon even amounts into muffin cups.
Bake at 350 degrees for 25 min, or until toothpick can be inserted cleanly. (Mine were finished at 23 min)
Glaze
Whisk together hot coffee and powdered sugar.
Add a dash of cinnamon and stir.
Spoon a tablespoon or so over each muffin.
Nutrition Information:
Serving Size:

1 muffin
Amount Per Serving:
Calories:

1792
Total Fat:

6g
Carbohydrates:

403g
Protein:

38g