Sprinkle a taste of honey into dinner time with this easy Sticky Honey Mustard Chicken recipe. Chicken thighs drizzled with a sweet and tangy honey mustard sauce, and flavored with bacon and chili powder, are sure to be a new family favorite!
Sticky Honey Mustard Chicken
I've been making this Honey Mustard Chicken recipe since the beginning of my married life. Since we'll be celebrating our 24th wedding anniversary this summer, I can promise you this recipe is a keeper.
Not only has this Honey Mustard Chicken stood the test of time, it's also a very easy recipe. With teenagers in the house, most weeknights are fairly busy around here. I don't have time to be cooking for hours. Plus, if we're going to eat together as a family, I only have a short window of opportunity. Our kids are involved in sports and other activities, and one works a couple evenings as well, so I try to keep to recipes that I can get on the table with a minimum of fuss during the school week.
The great thing about this recipe is while it's easy enough for busy week nights, it's also elegant enough for a special occasion or celebratory dinner. I'd be thrilled if someone made me Honey Mustard Chicken for Mother's Day!
I will readily admit that I have a bit of a sweet tooth, and honey is my sweetener of choice. One thing I don't love about cooking with honey though is the sticky mess that gets all over the bottle and in the cabinet, and the fact that I have to turn the bottle upside down and wait for it to drip down at an insanely slow pace so I can get that last bit of honey out of the bottle. Can you tell I am not the most patient cook?!
That's why I was really excited to discover Domino® Honey Granules. They're actually a free-flowing mix of granulated pure cane sugar and honey.
Domino® Honey Granules are much easier to measure than fluid honey. They don't stick to my measuring cup, allowing me to get a more accurate measurement when I'm cooking. And they come in an easy-pour canister with a recloseable flip-top lid…no sticky mess and no waiting game.
Honey Granules are quite versatile. You can add them to tea or cereal for that sweet honey taste, and you can also substitute them for some, or all, of the granulated sugar called for in a recipe.
Keep in mind that the sweetness of Domino® Honey Granules is equal to 1 ½ times that of honey. So if a recipe calls for a teaspoon of honey, then you'll want to use 1 1/2 teaspoons of honey granules to obtain the same sweet taste. You can also use this conversion in cooking: 1 cup liquid honey = 1 cup Domino® Honey Granules + ¼ cup additional recipe liquid.
For the Honey Mustard Chicken recipe I am sharing with you today, I substituted Honey Granules for honey, and I really like the way it came out. The recipe still retains that flavor of honey without the mess, and the Honey Granules mixed very nicely with the other ingredients in the sauce.
While this Sticky Honey Mustard Chicken does take over an hour to make, most of it is time spent in the oven. The prep time is minimal, and there are only a few ingredients. Plus you can also play around a little bit with the Honey Granules and adjust the sweetness to your own liking.
Let's get started cooking, shall we?!
I start by cooking a few slices of bacon, then I drain the cooked bacon on paper towels and remove most, but not all, of the bacon grease. Leave a tablespoon and a half of bacon grease in the pan and reserve the rest in case you need a little more, depending on how many pieces of chicken you'll be cooking. I like the flavor that the bacon grease adds, and we've had a running joke around here that bacon makes everything taste better ever since my father-in-law cooked an entire Thanksgiving meal with bacon in every dish. (But it's really not a joke…bacon does make everything taste better!)
Dredge your chicken in flour and brown it in the bacon grease. You can use breasts or thighs, bone in or boneless, with skin or without. I usually use boneless thighs, but I went with bone-in, skin-on thighs this time around because that's what they had at the grocery store when I was shopping for dinner.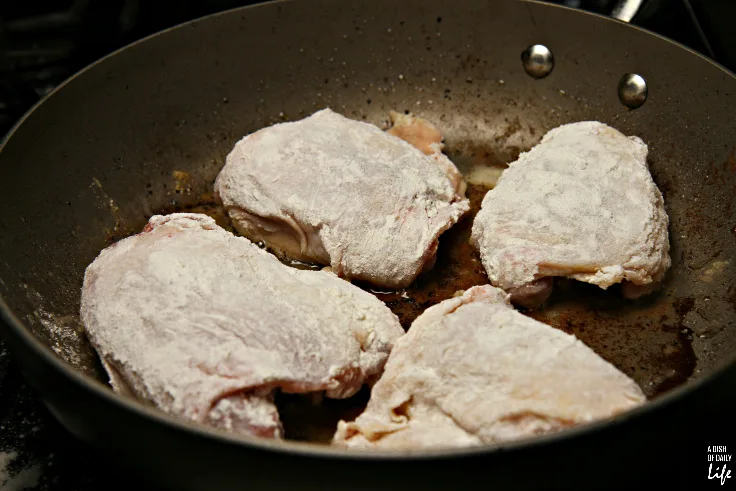 Once your chicken is browned, add it to a baking dish…it will finish up cooking in the oven.
While the chicken is browning, you can make the honey mustard mixture. Mix together your Domino® Honey Granules, Dijon mustard, chili powder and apple cider vinegar and stir to combine. You can use either a regular or grainy Dijon mustard…I've used both, and it comes out well either way.
Drizzle the mixture over the top of the chicken and bake. I told you this recipe was easy!
Honey Mustard Chicken
Total Time:
1 hour
5 minutes
Ingredients
5 slices of bacon
8 chicken thighs (can use boneless, skinless or skin-on, bone-in)
flour for dredging
1/4 cup Honey
3 tablespoons Dijon mustard
1 teaspoon chili powder
1 tablespoon apple cider vinegar
Instructions
Preheat oven to 350 degrees.
Cook bacon in skillet until crisp. Remove and drain on paper towels. Remove all but about 1 1/2 - 2 tablespoons of bacon grease in the pan. Reserve extra bacon grease in case you need a little more, since you'll be browning your chicken in batches.
Dredge chicken thighs in flour; cook in bacon grease over medium low heat until browned on both sides, about 10 minutes.
While chicken in browning, combine Domino® Honey Granules, Dijon mustard, chili powder and apple cider vinegar; mix well.
Transfer chicken to baking dish.
Drizzle with honey mustard sauce.
Bake chicken uncovered for approximately 45 minutes. Thigh meat looks different than breast meat when cooked (pinkish brown vs white) so test with a meat thermometer to be sure they are cooked all the way through. The thermometer should read 170 degrees F.
Crumble bacon over the top of the chicken before serving.
Nutrition Information:
Serving Size:

1
Amount Per Serving:
Calories:

541
Total Fat:

12g
Saturated Fat:

4g
Cholesterol:

38mg
Sodium:

1763mg
Carbohydrates:

91g
Sugar:

85g
Protein:

13g