Get ready for game day with these Reuben Sliders with Homemade Russian Dressing…they're an easy to make appetizer that everyone will love!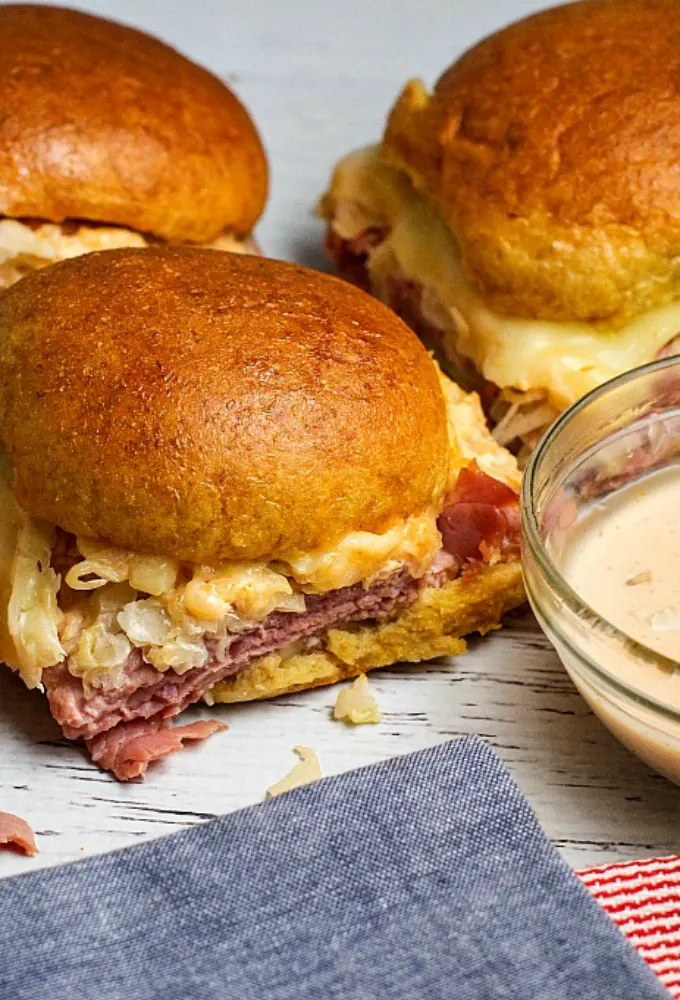 Are there any football fans in the house?! Today is all about game day and tailgating recipes!
I'm a transplant from Colorado. I was a big John Elway fan back in those days. But I've lived in Connecticut for the past 25 years, and most people here are either Giants or Patriots fans. I happened to marry a Giants fan.
New York is well known for fantastic restaurants and good food. When I think about my own New York favorites, bagels come to mind (if you haven't had a NY bagel, you are missing out!) and delis. You see, I am a sucker for a great sandwich, and one of my favorite places in NY is Carnegie Deli. When I was in college, I waitressed in a kosher deli in NJ, and I think it was there that my sandwich obsession began.
Of course when it comes to game day food, one of the first things that comes to mind is sliders. When I was thinking about recipes that would go along with a NY theme, I kept coming back to Reubens. I went back and forth between creating a Reuben dip or making Reuben sliders.
REUBEN SLIDERS WITH HOMEMADE RUSSIAN DRESSING
I consider this a major success that my boys really liked these. When I made them, it was a trial for game day and we weren't having people over, so there were a lot of sliders to eat.
AND…this is important to note, I am the ONLY one in the house that likes sauerkraut. It would be fair to say I love sauerkraut. But I hardly ever get to eat it, because any time I buy it, I get those side eye looks and "Mom, really?" But since I couldn't get my mind off Reubens for this post, I was determined to find a way to make this work.
You know what I did? I rinsed the sauerkraut so the fermented taste wasn't so strong and squeezed the extra liquid out of it. That's it. Every single one of those sliders was eaten. No one removed the sauerkraut or even complained. You know what this means? Sauerkraut will be making a comeback in my house!
For the rest of us who like sauerkraut, I would still recommend squeezing the extra liquid out because you don't want a soggy sandwich. Personally I love a that fermented taste so next time I'll make them that way and see if I can slowly bring my boys around even more.
THE ORIGIN OF THE REUBEN SANDWICH
The origin of the Reuben sandwich is not definitive, according to Wikipedia, with one account crediting it to Arnold Reuben, owner of NYC's Reuben Delicatessan and another to Reuben Kulakofsky, who served it as his weekly poker game in the Blackstone Hotel in Omaha Nebraska. The owner of hotel, who participated in the weekly poker games, put it on the hotel menu. Later, when a former employee of the hotel won a national recipe contest using the recipe, the sandwich became even more popular.
However the sandwich came to be though, clearly the Reuben sandwich does have roots in New York.
MAKING RUSSIAN DRESSING
Have you ever wondered what the difference is between Russian dressing and Thousand Island? Mainly it's in the spice factor. Russian dressing tends to have more of a kick and be more on the spicy side; Thousand Island is generally sweeter.
For my Russian dressing, you'll be mixing the mayonnaise, sriracha ketchup, chopped pickles, grated onions, lemon juice and paprika together and then storing in the refrigerator for at least a couple hours to allow your flavors to blend.
ASSEMBLING REUBEN SLIDERS
When you're ready to assemble your reuben sliders, start by preheating your oven to 350 degrees. Line your baking tray with parchment paper ahead of time. I find that this just keeps cleanup easier!
Cut the bottom half of the slider rolls. Try to keep the tops and bottoms attached. I was able to keep my bottoms attached, but I didn't fare as well with my tops. It looks nice and neat if you can, but it won't make a difference on taste, so don't worry too much about it, if you have trouble keeping the tops together.
Place your bottom half of the slider rolls on the baking tray on top of the parchment paper, and cover it with half of your sliced cheese (8 slices). Layer your corned beef on top of the cheese, and the sauerkraut on top of the corned beef. Then spoon your Russian dressing over the top. Lastly, layer on the last 8 slices of swiss cheese. Add the tops to the rolls, and brush melted butter over the top. If there is any extra butter, drizzle the extra over the top.
Cover the sandwiches with foil and bake them for 20 minutes. Then remove the foil and bake for another 10 minutes. Cut the sliders apart and serve warm.
Save your extra sauce for dipping.
Now you're ready to sit down to some football!

Reuben Sliders with Homemade Russian Dressing
Get ready for game day with these Reuben Sliders with Homemade Russian Dressing...they're an easy to make appetizer that everyone will love!
Ingredients
Reuben Sliders
12 pack slider rolls
16 slices swiss cheese
1 lb corned beef
8 oz sauerkraut, drained, extra moisture squeezed out
2 tablespoons butter, melted
Russian dressing
1/2 cup mayonnaise
2 tablespoons sriracha ketchup
2 tablespoons pickles, chopped
1/2 tablespoon grated yellow onion
1 tablespoon lemon juice
dash of paprika
parchment paper for baking tray
tin foil to cover while baking
Instructions
Russian dressing
Mix all ingredients together and store covered in the refrigerator for a couple hours to allow flavors to blend.
Reuben sliders
Preheat oven to 350 degrees.
Line baking tray with parchment paper.
Cut top half from bottom half of slider rolls. Keep tops and bottoms attached to each other.
Place bottom half on baking tray on top of parchment paper.
Cover with half of the swiss cheese, 8 slices.
Layer corned beef on top of cheese.
Add sauerkraut on top of corned beef.
Spoon Russian dressing over the top of the sauerkraut.
Top with the last 8 slices of swiss cheese.
Add tops of rolls.
Brush melted butter over the tops of rolls. Drizzle any extra butter over the top.
Cover with foil and bake for 20 minutes.
Remove foil and bake for another 10 minutes.
Serve warm with extra dressing.
Nutrition Information:
Serving Size:

1
Amount Per Serving:
Calories:

204
Total Fat:

23g
,
And now I've got even more game day recipes to share with you!
I've joined a group of football fan foodies this season— bloggers from all over the country — to bring you football-inspired recipes this season. Last month we shared our favorite tailgating recipes, and now we are sharing more than 60 recipes ideas for you to enjoy on game day. Click on their links below to check out their recipes!