Always a crowd favorite, this Homemade Mac and Cheese recipe is a comfort food classic! Quick and easy to make, with only 5 ingredients, it's perfect for potlucks or a weeknight dinner.
Homemade Mac and Cheese
There is nothing quite so comforting as a gooey cheesy homemade mac and cheese. I actually grew up on the boxed stuff, and didn't discover how wonderfully delicious homemade mac and cheese was until partway through my kids' childhood.
Hard to believe, isn't it? Once I started making it, I was sold.
So when All-Clad challenged me to come up a 5 ingredient stove top recipe perfect for Memorial Day cookouts using their All Clad d5 Stainless-Steel All-In-One Pan, I knew immediately what I was going to make.
We go to the same friends' house every year for a Memorial Day potluck. There are a lot of great cooks in this group of friends so the food is always good! This year my contribution will be this homemade mac and cheese. Not only is it a crowd favorite, but it's quick and easy to put together as well.
Plus I always have all the ingredients in the house (and I bet you do too)!
I personally like to cook everything in the same pan to keep the dishes to a minimum, and the All-Clad d5 Stainless-Steel All-In-One Pan is deep enough to cook your pasta in, plus your other ingredients and any kind of add-ins you might want. Just take a look at the sides of the pan…it is perfect for family meals!
When I'm cooking an all-in-one recipe, I tend to use a no-drain pasta, but you can definitely use the traditional type of pasta as well, and simply drain it. Either way, you want to make sure the pasta is Al Dente, which means it is cooked to be firm to the bite.
This is important because you're adding other ingredients and cooking it a little longer after draining the pasta…the last thing you want is mushy pasta in your mac and cheese!
Once your pasta is done, you'll cut a stick of butter into small pieces and toss them in with the pasta and allow them to melt. I have the heat off for this part of the process. The butter will melt fairly quickly and then you can add the half and half, beaten eggs, and the shredded cheese. Turn the heat on low while stirring it until everything combines into a gooey cheesy pasta.
At that point, you can turn the heat off and you are done!
Doesn't it look delicious?!
If you'd like to bake your pasta to give it a golden crust as a finishing touch, then when adding the cheese, hold aside about a cup's worth, and sprinkle it on top before putting it in the oven.
You can do this all in your All-Clad pan, if say, you were just making the recipe for dinner, rather than transporting it to a party. This pan is both oven and broiler safe, which is really nice.
This is a very basic easy recipe, but homemade mac and cheese is great with all sorts of add-ins. Two of our favorites are bacon or ham. I also love buffalo chicken mac and cheese, but I'm still perfecting my recipe for that.
You can add panko bread crumbs and drizzle a little butter over the top before baking.
For extra creaminess, you might try adding in a bit of cream cheese when you're cooking it on the stove. This is one of those recipes that is really hard to mess up.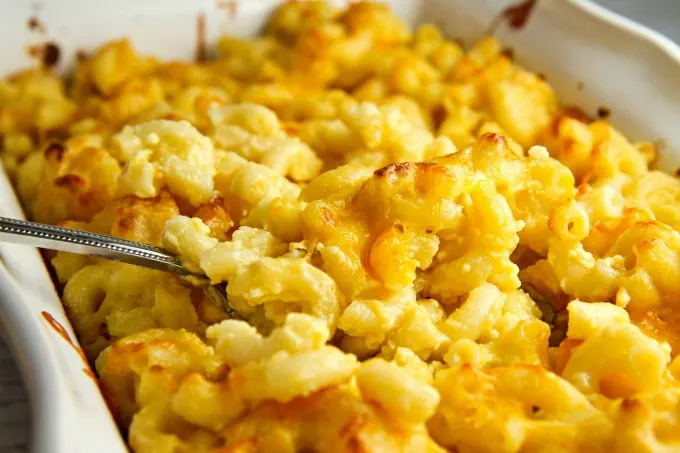 If you're looking for a great pan that can "multitask," the All-Clad d5 Stainless-Steel All-In-One Pan is it. The All-Clad d5 collection has a patented technology with five bonded metal layers, including responsive aluminum layers that conduct and sustain heat, and a stainless-steel core that diffuses heat.
So what does that actually mean to you, the home cook?
In a nutshell, it means you get consistent cooking results! This pan heats slowly and evenly, which was absolutely perfect for my gooey homemade mac and cheese. The pasta didn't stick anywhere on the pan, despite the fact that ooey gooey cheese often does just that. If you're browning meat, it'll be browned perfectly throughout, from the center to the edges.
The flat cooking surface allows you to sear and sauté with efficiency, and the sloped sides minimize splattering, which helps with cleanup. The last thing I want to do after a busy day is spend time scrubbing the stove top. And as I mentioned above, the depth of this pan is perfect for cooking full family meals…another benefit in the cleanup area.
I'd prefer to use as little pots and pans as possible when I'm cooking so cleanup is faster. The pan also comes with a lid for simmering and braising. It truly has all-in-one capabilities, and it has quickly become my go-to pan!
Homemade Mac and Cheese
Ingredients
12 oz elbow macaroni
1 stick of butter
1 1/2 cups half and half
4 cups shredded cheese (mix of Monterey Jack and cheddar)
2 eggs, beaten
salt to taste
Instructions
Cook pasta according to package directions. Drain. Return pasta to pan, but do not turn heat back on.
Cut the stick of butter into smaller chunks and stir into pasta until butter melts.
Add beaten eggs, half and half, and shredded cheese and return heat to slow, stirring until cheese has melted. Season with salt if you wish.
Turn off heat, and transfer to a serving dish.
Notes
*If you are planning on baking your mac and cheese afterwards to get that golden crust, reserve 1 cup of the cheese to top the pasta with before putting in your preheated oven (400 degrees), and bake until you see that golden crust forming (about 20 minutes).
Enjoy!