This Thai Chicken Noodle Soup recipe takes classic chicken noodle soup ingredients and mixes in a blend of Thai herbs and spices into a creamy coconut broth. It's an easy way to get a perfect bowl of soup with specialty flavors.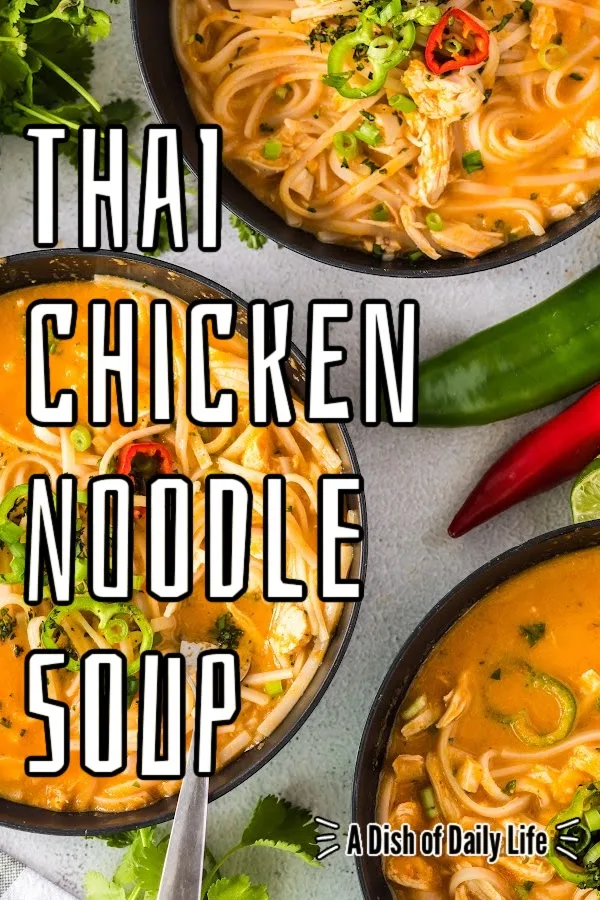 The next time you are in a grocery store or drive by your local Asian market, be sure to head to the Thai aisle to pick up ingredients for the best Thai Chicken Noodle Soup you will ever make. It will make you feel like you have flown to Thailand.
It really is the perfect balance of flavors. With its creamy coconut broth, tangy lime, savory fish sauce, sweet red pepper, and umami goodness in the stock, you get a completely satisfying dish.
But the best part about this Thai noodle soup recipe is how your house smells when you make it. It will fill your house and make everyone excited to eat.
Whether you make it mild or spicy Thai Chicken Noodle Soup, this recipe is one you will come back to again and again.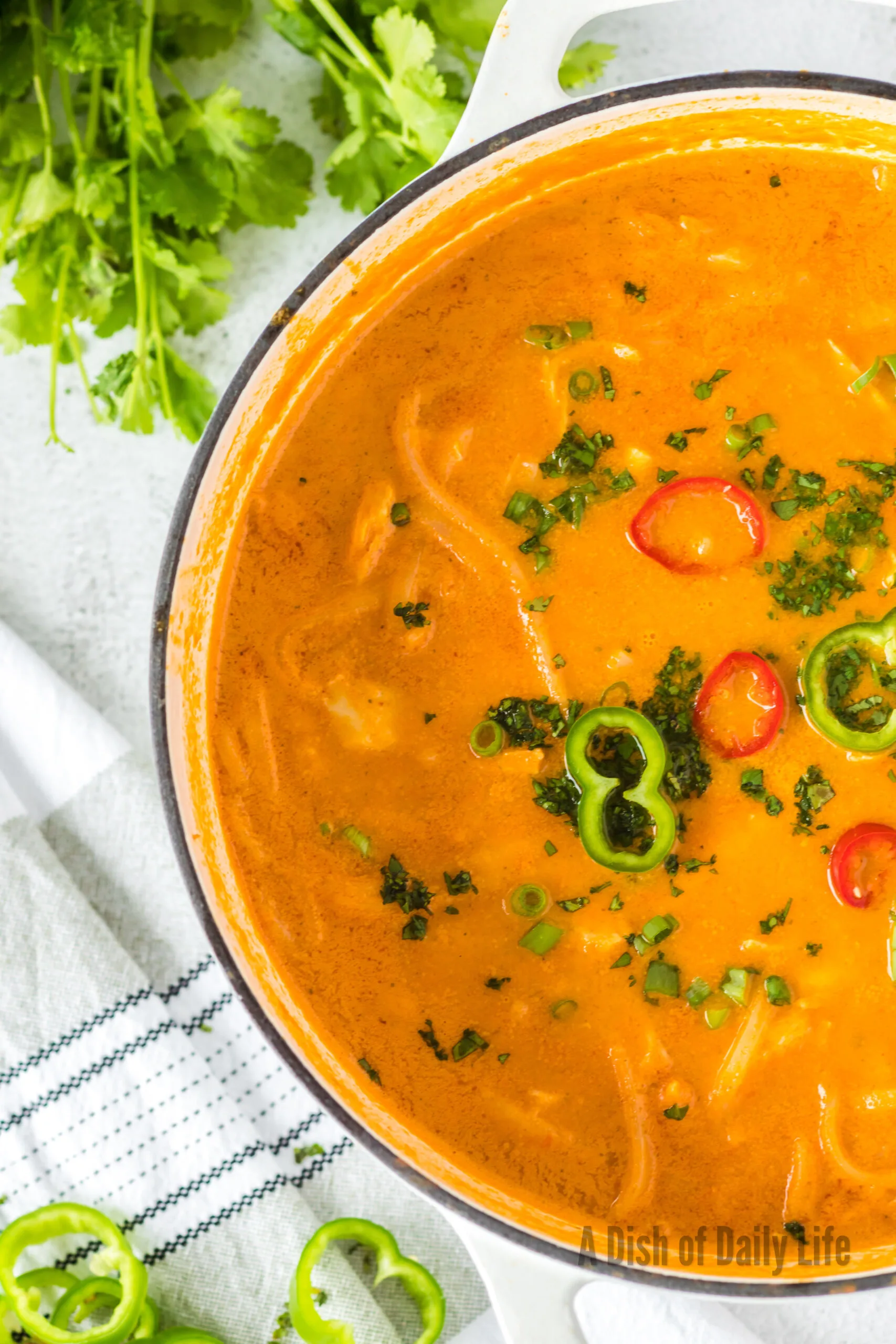 What is Thai Chicken Noodle Soup?
Thai Noodle Soup is a traditional Thai dish that uses shredded chicken, rice noodles, and a broth infused with ginger, lemongrass, red curry, cilantro, and coconut milk. The blend of Thai spices gives the soup its signature bold and flavorful taste.
What ingredients are in Thai Chicken Noodle Soup?
Garlic: this adds perfect garlic notes to the paste
Onion: this savory base gives a great flavor to the soup paste
Red Bell Peppers: this adds a sweetness to the base of the paste
Fresh Ginger: this is one of the classic Thai spices that gives flavor to the soup
Lemongrass Paste: another spice that brings a distinct Thai food taste to the dish
Red Curry Paste: this blend of spices mixes perfectly with Thai flavors
Cilantro Paste: this adds depth to the broth
Red Chili Paste or Fresh Red Chilies: use this to control how spicy your soup is
Coconut Oil: use this to sauté the paste
Lime: zest and juice bring a zingy tang to the soup
Fish Sauce: adds savory umami notes to enhance the overall taste
Chicken Stock: provides a rich and savory base for the soup
Coconut Milk: brings creamy lusciousness to the chicken broth
Shredded Chicken: tender, cooked chicken adds protein and substance to the soup
Rice Noodles: a classic choice for Thai noodle soup recipes; I like to use thin rice noodles
Cilantro: fresh herbs make a perfect garnish; they bring the flavors together
Green Onions: I like the crunch these add as a garnish
Green Chili and Red Chili: peppers on top look great and add a little extra spice to the soup.
Pro Tip: This Thai-inspired chicken noodle soup is a great recipe to use leftover chicken. If you know you are going to make soup the next day, shred your leftovers so you can easily toss them into your large soup pot.
How to Make Thai Chicken Noodle Soup:
Blend paste ingredients in a food processor until smooth.
Simmer paste in a pot over medium heat.
Add chicken stock and coconut milk, bring to a boil over high heat, then turn to low and let it simmer.
Add shredded chicken and cook.
Cook rice noodles separately and drain them.
Add fish sauce, lime juice, lime zest, and rice noodles to the soup.
Garnish with cilantro, green onions, and sliced chilies.
Pro Tip: For an extra burst of freshness, add a squeeze of fresh lime juice just before serving.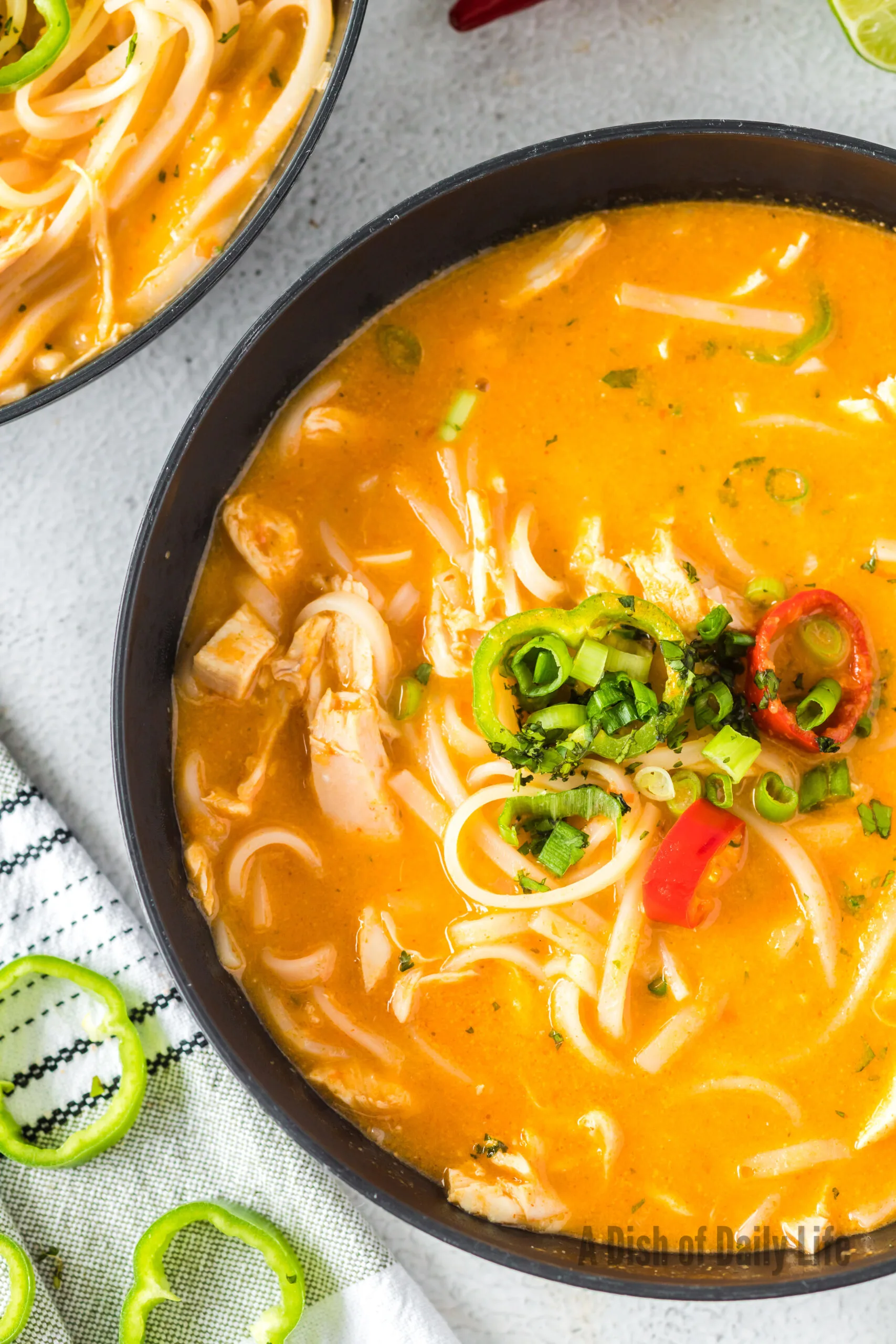 Is Thai Chicken Noodle Soup Spicy?
Yes, Spicy Chicken Thai Noodle Soup can be spicy, depending on the amount of red chili paste or fresh chilies used. You can also make this thai-inspired soup not spicy by using less chilies.
Pro Tip: If you are a first time Thai food chef, go easy on the chilies. You can make this mild or very fiery depending on how much you add, but it's always better to start light if you are nervous about it being too spicy.
Can You Freeze Thai Chicken Noodle Soup?
Yes, you can freeze Chicken Thai Noodle Soup, but it's best to do so without the noodles. Noodles will get very soggy and soak up extra broth.
When you are ready to eat Thai Chicken Soup with Noodles, pull it out of the freezer, gently heat it, and add the noodles separately.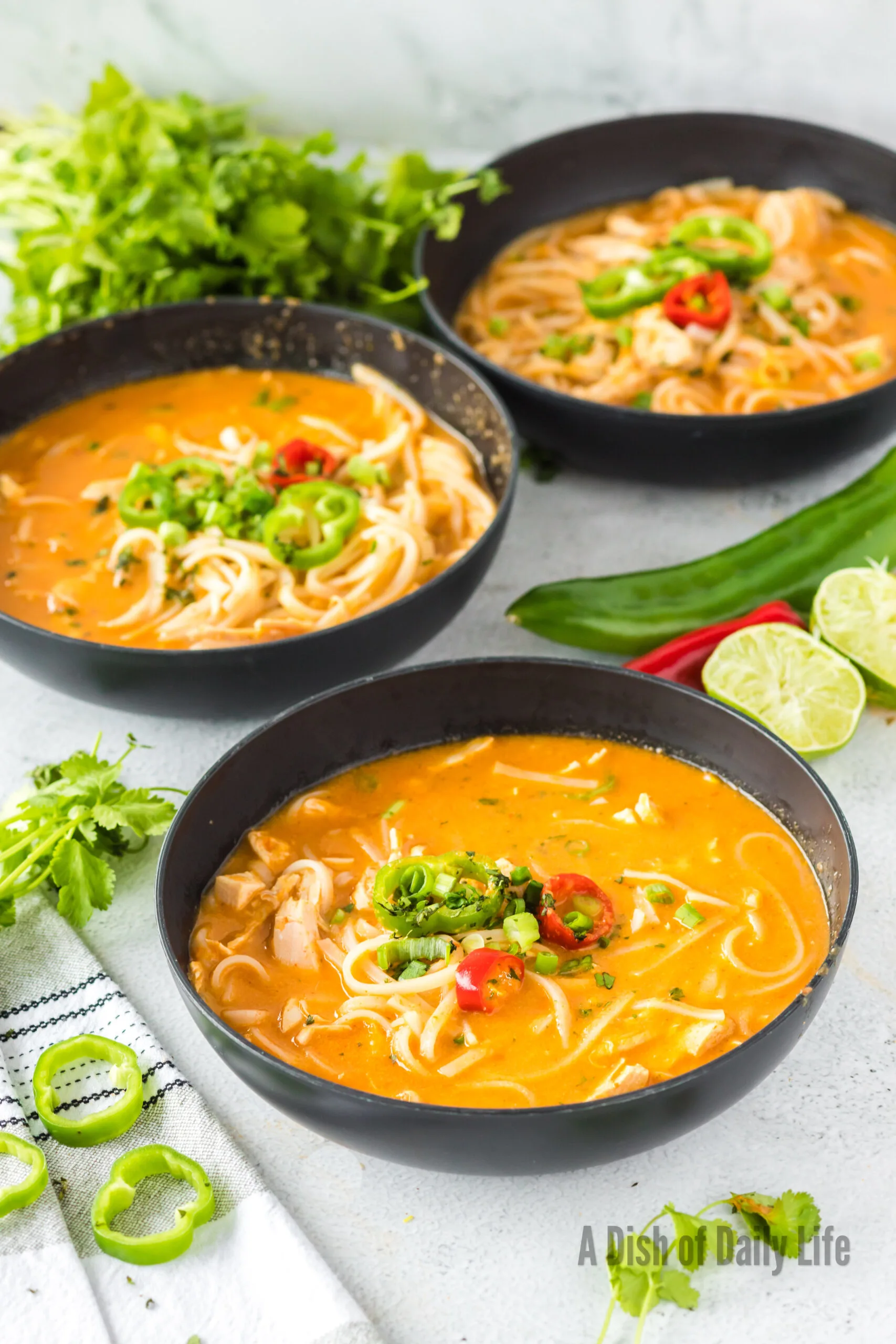 How to Store Thai Chicken Noodle Soup:
Store any leftover Spicy Thai Soup in an airtight container in the refrigerator. You can also store it in a freezer safe bag or container that is also airtight.
Pro Tip:Let your soup cool in the fridge overnight before sticking in the freezer to avoid extra ice crystals building up.
How Long Does Thai Chicken Noodle Soup Last?
Thai Chicken Noodle Soup can last about 4 days in the fridge. It can also stay fresh for up to 3 months in the freezer if stored properly. Be sure to keep it cool when not eating it, and only reheat the portions you are ready to eat!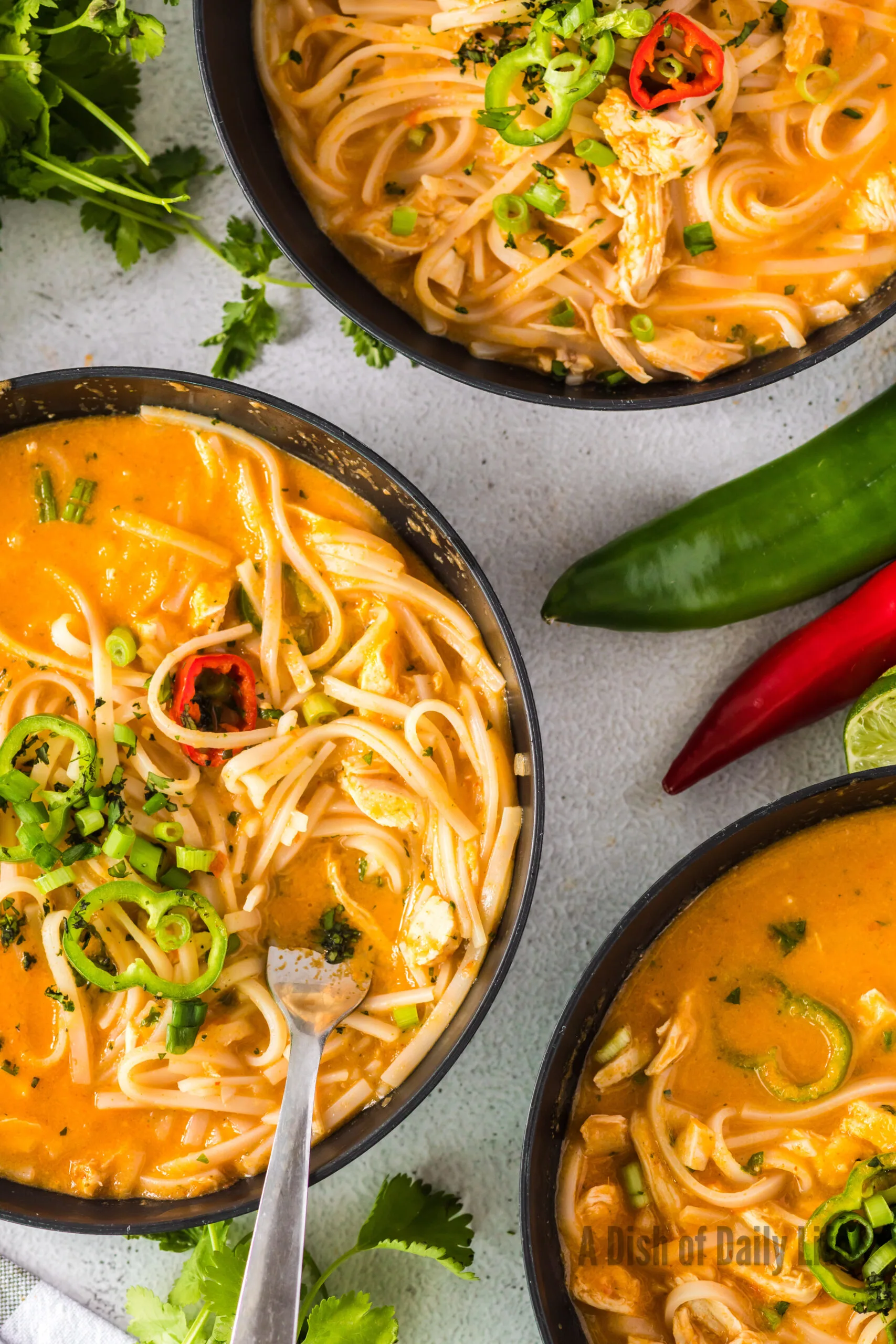 How to Reheat Thai Chicken Noodle Soup:
Reheat Thai Chicken Noodle Soupgently on the stove top over low heat. I like to add extra broth as I reheat it to get the right consistency. Sometimes noodles will soak up too much broth, and I want my soup thinner.
What to Serve with Thai Chicken Noodle Soup:
Serve this Thai Chicken Noodle Soup with garden fresh vegetables like snow peas and red bell pepper. You can also sautee bok choy for a delicious veggie side. My family likes to serve it with rice or bread to help soak up the yummy broth. And sometimes I serve it by itself as my better than Thai takeout homemade dish.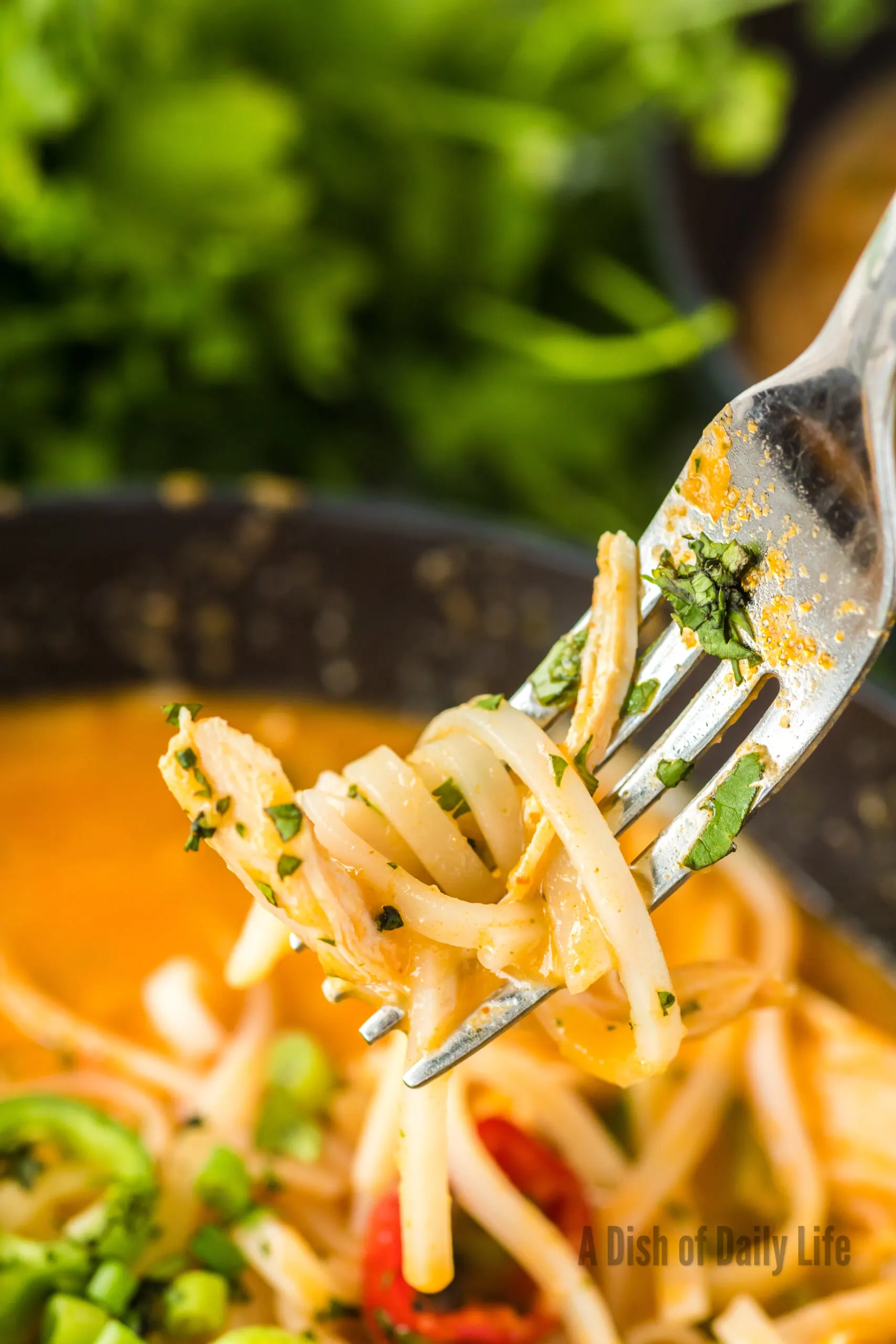 More Soup Recipes You'll Love…
This Thai Chicken Noodle Soup is full of great flavors, has a nice amount of spice, and is the chicken soup recipe I reach for again and again. If you like Thai food, you will love this recipe.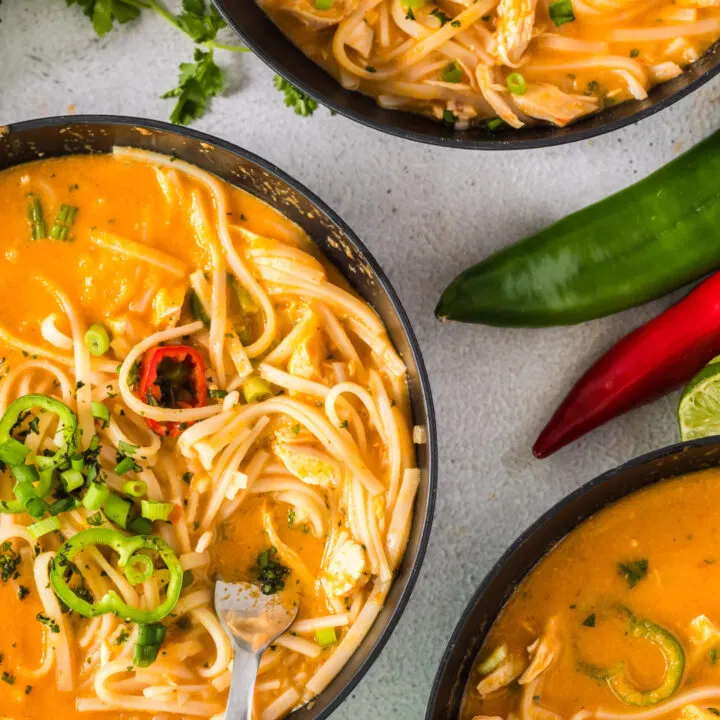 Thai Chicken Noodle Soup
Skip the takeout! This Thai Chicken Noodle Soup is easy to make at home with ingredients you can find in your local supermarket. If you love Thai food, you need to try this recipe!
Ingredients
Soup Recipe:
Garnish:
Instructions
Combine garlic, onion, red pepper, ginger paste, lemongrass paste, red curry paste, cilantro paste, red chili paste and coconut oil in a food processor, and process until a paste forms.
While you are making your paste, start boiling water for the rice noodles.
Add the paste to a medium pot and fry it for a couple of minutes, just until it's fragrant.
Add the chicken stock and coconut milk and bring to a boil, Reduce heat to a simmer and simmer for about 10 minutes.
In the last couple of minutes, add your shredded chicken.
While the soup is simmering, cook your noodles according to the package directions and drain.
Add your fish sauce, lime juice and zest and rice noodles to the soup.
Garnish with chopped cilantro, green onion and green and red chilies.
Notes
If you plan on making enough for leftovers, add the rest of your noodles when you're heating the leftovers or they'll soak up a lot of the liquid!
Nutrition Information:
Serving Size:

1
Amount Per Serving:
Calories:

410
Total Fat:

4g
Saturated Fat:

3g
Sodium:

39mg
Carbohydrates:

91g
Sugar:

38g
Protein:

11g
Originally Posted: September 9, 2016
Photos & Text Updated: August 14, 2023
Recipe Inspired by: An Affair from the Heart